CANTERBURY
St. John's Lane & Watling Street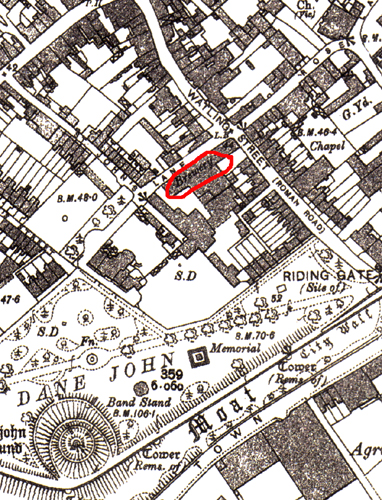 October 1802, married at Canterbury, Mr. J. Fletcher, butcher, to Miss M. Ash, daughter of Mr. Ash, brewer. - The Monthly Magazine 1802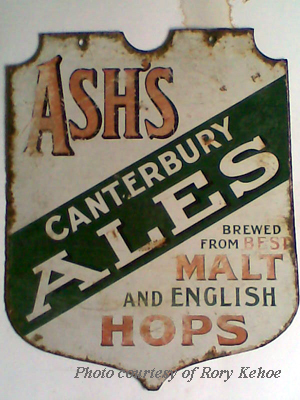 Ash's - Image of the c.1910 sign which used to hang outside the brewery offices on St John's Lane (from Rory Kehoe's collection)
1873 (return of owners of Land, Kent) Thomas Ash, St. John's lane, Canterbury - 61 1 34 (acres) 459 12 (rent)
1873 (return of owners of Land, Kent) Michael T. Bass, Burton-on-Trent (This property was sold by Mr. Bass, in 1875, the Calcot Estate to Mr. George Ash, of Canterbury, Brewer, and the Mayton Estate to Thomas Sidney Cooper, R.A. of Canterbury)
1874 T. Ash, Dane John Brewery, Canterbury (The London and Suburban licensed victuallers', hotel and tavern keepers, 1874)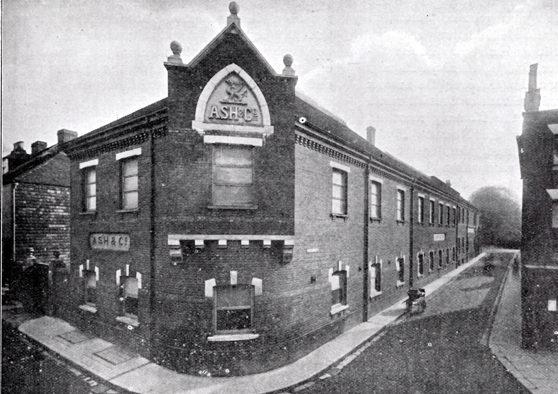 Watling Street and St. John's Lane (now Marlowe Avenue)
ASH'S
CANTERBURY ALES,
STOUTS AND PORTER,
IN CASK AND BOTTLE.
LONDON STORES: 91A WATERLOO ROAD, S.E.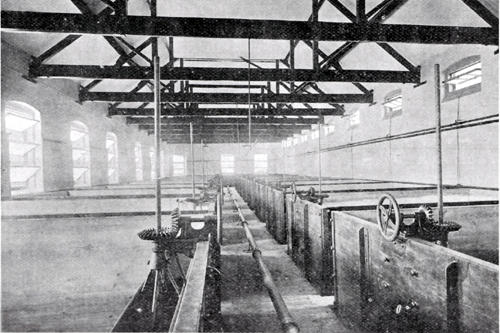 The Fermenting Room
An Indenture - 5th Day of December, 1868 between Thomas and George Ash (from my collection)


Signed sealed and delivered by the within named Thomas Ash and George Ash in the presence of Edward C. Jewkes, Solicitor, Clerk of Messrs. Callaway & Furley, Solicitor's, Canterbury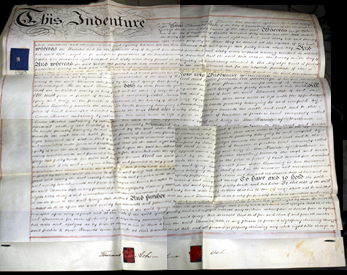 1889 Gardner & Co. Ash Brewery office: J. Clinch, Storekeeper
Dec 1896, Gardner & Co. Ash Brewery, Family Bitter Ale, 4 1/2 Gallons 4/3 & 4/9 For Cash on delivery. Porter and Stout, 4 1/2 Gallons 4/3 & 6/3 For Cash on Delivery. Full price list on application at the stores. Canterbury, Dover, Hastings, Ashford, Ramsgate, Sittingbourne
1917 Gardner & Co. (ltd), ASH Brewery office; E. J. Martin, Manager
1917 Ash and Co. (Moxon and Collard)
This brewery was closed in 1936.
The building was bought in 1936 as the future site of the civic centre. Purchased for 8250£
The building was torn down and the space was turned into a parking lot. Recently St. Andrew's United Reformed Church was built on the old site (see below)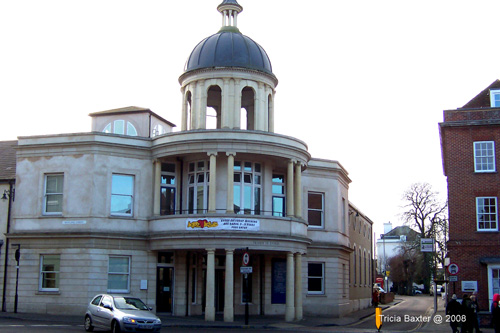 ---