~ BAKERS TEMPERANCE HOTEL ~
30 & 31 ST. GEORGE'S STREET & 1 ROSE LANE, then moved to IVY LANE 1934
Est. 1634
The buildings were destroyed in the bombing of 1942
The building in Ivy Lane in the '60s was called the Chaucer Hotel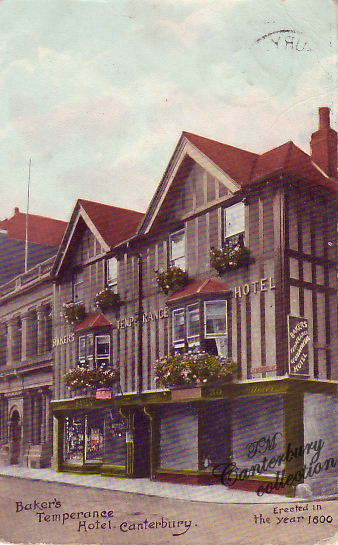 Bakers Temperance Hotel - from my postcard collection, mailed to France 1908
In the early 1870's George Baker was single and working as a cook for Robert Worters an Eating House Keeper at 13 Mercery Lane. George's future wife Ellen Worters is the sister of Robert who owns the Eating House where he is working. Ellen and George were married in 1875, in Canterbury after he became the proprietor in 1874 of the Baker's Temperance Hotel. Robert Worters was still located at 13 Mercery Lane in 1899, with his "dining rooms".
1880's George Baker, Temperance Hotel Keeper
1882 directory "TEMPERANCE HOTEL" George Baker (est. 1874)
1903 - Alfred G. Baker, Temperance & Commercial Hotel, 31 St. George's Street, opposite Corn Exchange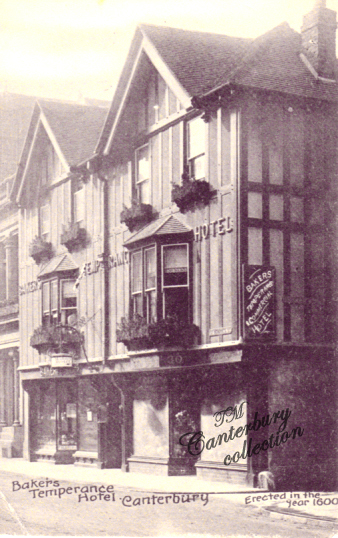 Bakers Temperance Hotel - from my postcard collection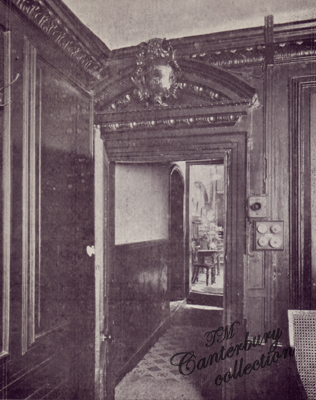 Bakers Temperance Hotel - Doorway in the Old Hotel
Around the shield mounted over the Doorway, the carving is of the "Egg and Arrow" pattern, known to some as the "Egg and Dart," signifying Life and Death
Extract from "Canterbury" by Rev. Dr. Cox. F.S.A. published 1905..."As it is a house of entertainment - Baker's Temperance Hotel, a most comfortable sojourning place-mention may be made of the good acanthus - leaf frieze of a room on the first floor, with a shield over the door, bearing "Anno Domini, 1632." There is also some good Tudor and earlier work at the back of this and the adjacent house."
Bakers Temperance Hotel - The Old Lounge, which is one of the original rooms of the building.
The Old Building
Patrons will wonder no doubt what is going to happen to the old building, and we have pleasure in informing them that we are advised by Messrs. Amos & Dawton, of 3 The Parade, Canterbury, who are agents for the Purchasers, that the shop tenants will remain whilst the remainder of the building will be made into offices for suitable tenants, - Thus the old building will not disappear.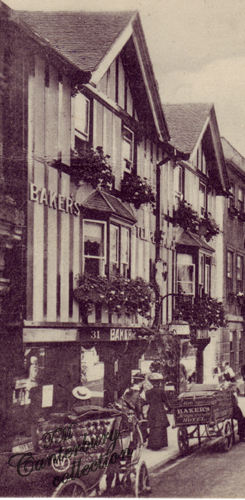 ______
Bakers Temperance Hotel - from my postcard collection, and a detail of the card
1917 - Baker's (Temperance) 31 St. George's Street and 1 Rose Lane, C.G. Sheppard
1920 Ad - Canterbury. Baker's Temperance Hotel & Restaurant, St. George's Street. This old-established and well-known Hotel continues to be recognised by visitors to Canterbury, as one of the Most Comfortable in the City. Extra Bedrooms, Stock Rooms, and Cycle Stores Recently added. The Charges are Moderate, and it is under the Personal Supervision of the Proprietor. Electric Light. Baths (H. & C.). Motor Garage adjoining. Especially adapted for Ladies' accommodation. C. G. Sheppard.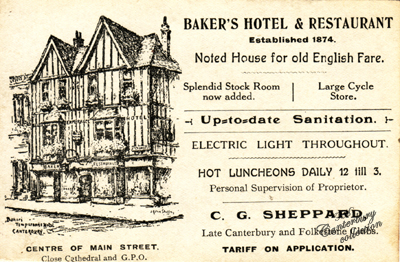 1922 - Proprietor C.G. Sheppard - Baker's Hotel and Restaurant: Centre of Main Street close to Cathedral and C.P.O. noted for home comforts. Luncheons, Dinners, Teas, Suppers. Hot Joints 12 - 3. Soups, Fish, Chops, Steaks, at any time. Open Sundays. Cycle Store and Garage at Rear. Tariff on application. Tel 177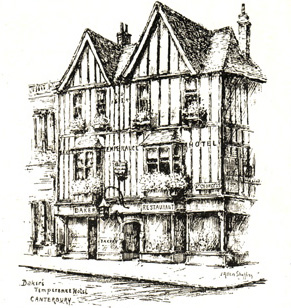 Bakers Temperance Hotel - closed Friday, 21st December, 1934
1934 - The hotel moved from St. George's Street to Ivy lane. The hotel was renamed Baker's Hotel. C. Stilwell was the proprietor. The hotel was moved to be free of the noises of the main street. The new Hotel was built by John E. Wiltshier & Co. (Stour Street) Builders since the days of King George III. and now builders of the New Baker's Hotel. Constructed throughout in 12 Weeks. Only First Class Craftsmen Employed. Architect, Mr. H. Anderson, F.R.I.B.A.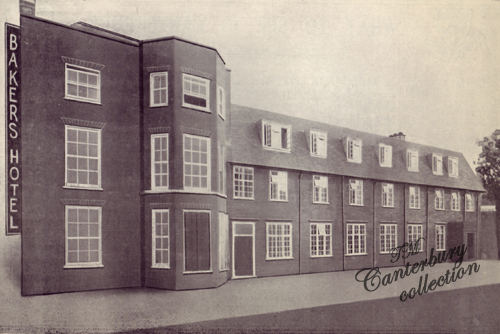 The New Bakers Hotel - Directors, C. Stilwell, A.E. Wilkinson. Ivy Lane, opened on December 31st, 1934
A pretty garden has been designed by Mr. Smith of the Franciscan Gardens
Solly & Vane, St. Dunstan's Mews, Canterbury. Appointed Taxi Service for Baker's Temperance Hotel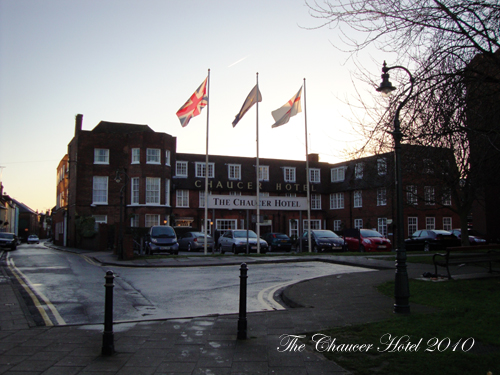 1946 guide listed as "Baker's Hotel" Ivy Lane, Canterbury - Proprietors (nothing listed), Telephone 217711, Baker's Temperance Hotel, Ltd.
---