~ BARTON COURT ~
CANTERBURY
Barton Court was demolished and rebuilt in 1750 as a fine mansion house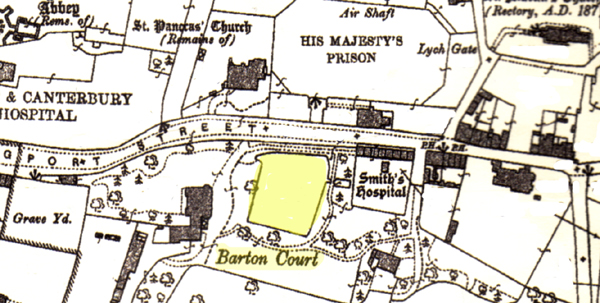 The Manor of Barton, alias Longport. The Berton, (Bertona) or Barton, mentioned before, was the court or mansion of the farm of the abbot's manor of Langeport, now called Longport. It is situated within the bounds of that borough, on the south side of the highway called Longport-street, and is at this time called BARTON-HOUSE, which, with the other buildings, consisting of two spacious barns, being the repository of the corn and other increase of their adjoining demesnes, was, with the manor itself of Barton, alias Longport, and the adjoining demesne lands, surrendered up, with the sites of the abbey and other possessions of it, in the 30th year of king Henry VIII. to the use of him and his heirs for ever; and the fee of it seems to have remained in the hands of the crown, till Edward VI. in his 7th year, granted this manor of Langporte, lately belonging to the above dissolved monastery, and the capital messuage in Langporte, in the parish of St. Paul, in the tenure of Clement Kempe, and the messuages and lands called le old Park, together with sundry other premises, to Sir Thomas Cheney, to hold in capite by knight's service. He died possessed of this estate in the 1st year of queen Elizabeth, leaving Henry Cheney his son and heir, who had livery of it in the 3d year of that reign, and was afterwards created lord Cheney, of Tuddington; he dissipated all the great possessions left him by his father, and alienated this manor to Sir Edward Herbert, who, in the 21st year of queen Elizabeth, passed it away by sale to Thomas Smith, by the description of the manor of Langport, alias Sturrey Barton, and twenty-one messuages in Langport, Barton, St. Paul's, &c. and the tithes of grain (granorum), &c. in the parish of St. Paul, St. Laurence, St. Martin and St. George, in the city of Canterbury, in which name it continued down to John Smith, esq. who died possessed of it about the year 1657, whose widow afterwards became entitled to it; after which it passed next into the name of Hougham, for Solomon Hougham, esq. descended from those of Weddington, in Ash, near Sandwich, was become possessed of this manor in the reign of king Charles II. he served the office of high sheriff of this county in the year 1696, being then of St. Paul's, in Canterbury; the year after which he died, æt. 73, and was buried in St. Mary's church, in Sandwhich, leaving no issue; his nephew, Sol. Hougham, merchant, of London, became his heir, and possessed this manor, but dying likewise without issue in 1714, was buried near his uncle, upon which Charles Hougham, his next brother, became his heir in this manor, and was succeeded by his son Mr. Henry Hougham, gent. who died possessed of it in the year 1726, leaving his widow, Sarah, daughter of Mr. William Hunt, surviving, and the inheritance of this manor to his son, then an infant, William Hougham, esq. who afterwards rebuilt the present mansion of it, and resided in it till of late, when he gave the possession of it up to his only son and heir Wm. Hougham, jun. esq. who now resides in it. A court leet and court baron is held for this manor. At a small distance eastward from Barton-house, is Smith's hospital, or alms-houses, so called from their founder John Smith, esq. in 1657, being built on the demesnes of Barton farm, of which, and the manor of it, he was owner, for the dwellings of four poor men and four poor women, who repair their several dwellings, and have each paid to them eight pounds yearly, out of lands which he devised in his will for that purpose.
*Smith's hospital in the suburb of Langport, without the liberties of the city, for four brothers and four sisters born within the manor of Barton, was founded in 1662, by Mrs. Ann Smith, who endowed it with lands, and with a reserved rent payable to the proprietor of Barton Court, who has the sole patronage, amounting together to £171 7 4 1/2 per annum, of which sum she appropriated £32 to the inmates of the hospital; £20 to the apprenticing of poor children of Hornsey, in the county of Middlesex; £20 to the minsiter of St. Paul's in this city; and the residue to the apprenticing of children of that parish, with which eight children are placed out annually.

BARTON COURT
Owned by the Hougham family from 1657 until it was sold in 1902
1795 Mrs. Hougham, Barton Court near Canterbury, subscriber to "A Tour to Milford Haven in 1791" by Mary Morgan
William Hougham, died 1802 (1), Margaret Hannah Roberta, d. 1755, daughter of John Corbet esq. of the county of Salop (2) Mary, widow of John Brakenbury, gent. who died in 1788, aet. 70, without issue, and was buried in Deal church. Mary d. 1788, daughter of Charles Knowles (sic), buried in Canterbury, St. Martin
William Hougham, d. 1838, married Sarah, d. 1839, daughter of Charles Robinson, barrister at law and recorder of Canterbury. They are buried at St. Martin's
*the elder son and heir, Richard Sandys, in holy orders, m. first. Catherine, daughter of William Hougham, esq. and had by her
Richard Edwin Sandys, lieutenant in the royal navy, killed in action off Copenhagen, 2nd April 1801. d. unmarried
Catherina Sandys, co-heir of her brother, m. in 1803, John Chesshyre, esq. captain in the royal navy.
Mr. Sandys m. secondly, Lady Frances-Alicia Aslong, widow of William Aslong, and daughter of Charles, third Earl of Tankerville, by whom (who wedded, thirdly, the Rev. Edward Beckingham Benson, rector of Deal), he had another daughter,
Alicia Arabella Sandys, co-heir of her half brother, m. in 1804, to Francis Cockburn, esq. son of the late Sir James Cockburn, bart of Langton.
The Rev. Richard Sandys, died in 1782.
1839 (The Gentlemen's Magazine) Died January 17th, At Barton-court, near Canterbury, aged 80, Sarah, relict of William Hougham, esq.
1842-42, Additional Subscribers for the ecclesiastical Gazetter, Rev. W. J. Chesshyre, Barton Court, Canterbury
1846 - Sermons by George William Kershaw - subscribers - Rev. W. J. Chesshyre, Barton Court, Canterbury (3 copies and £1 1 0 donation)
Sept 29, 1863 Mrs. Chesshyre, Barton Court, Member of the Kent Archaeological Society
June 9th, 1865, At St. Martin's, Canterbury, Henry Wedderburn Isacke, esq., Lieut. R.A. to Louisa, sixth surviving daughter of the late Rev. W. T. Chesshyre, of Barton Court, Canon of Canterbury. The Gentlemen's Magazine
1868 from a list of subscribers - Mrs. Chesshyre, Barton Court, Canterbury - Euthanasia, sermons and poems by George Cole
1886 - Mrs. Chesshyre, Barton Court, Canterbury, Member of the Kent Archaeological Society
1889 James Page, Gardener
1889 Mrs. Chesshyre, Barton Court (Mary Elizabeth Townley wife of Rev. William John Chesshyre, vicar of St. Pauls)*William John Chesshyre died February 1, 1859 at age 53 in Canterbury *Whitehall, April 3, 1858 - The Queen has been pleased to grant unto the Reverend William John Chesshyre, M.A., the place and dignity of Canon of the Metropolitical Church of Canterbury, void by the cession of the Reverend Arthur Penrhyn Stanley.
William John Chesshyre of Barton Court, Canterbury was educated at Harrow and at New College, Oxford.
1890's James Page, Gardener
*Mary Elizabeth Chesshyre nee Townley died 06.01.1902. The house was sold in 1902 to Major General John Cecil Russell
1917 Arthur Walters
Barton Court Estate - Solomon Hougham purchased Barton Court in 1671 and his family remained in possession until 1828 when it passed through the female line.
The Chesshyres of Barton Court, in Canterbury, now represent, the Houghams of St. Martin's (this was in 1877; the last Hougham of Barton Court died in 1828, and his wife in 1839) and the parish clerk of St. Martin's informed me that he had searched the Registers (for the family of Chesshyre) without sucess to find the baptism of one of hte Houghams who settled in Sussex; he was not at all sure about the Christian name, but thought it was Thomas, and the date about 1620-30.
William Hougham, the only son (of Henry Hougham, d. 1726, and Sarah Hunt), had a long minority, and the accumulated money thus obtained is said to have enabled him to greatly embellish, if not entirely rebuild Barton Court. He was married at the age......(notes and queries)
On top of the wall-plate was found a very interesting chrismatory, now in the possession of Mrs. Chesshyre of Barton Court.... Not even the most enthusiastic devotee of St. Martin's could claim this chrismatory as having been used at the baptism of Ethelbert, for it is clearly of the date of the fourteenth century.
At a meeting of the Society of Antiquaries on December 16, 1880, it was thus described: - "It is a brass box 6 inches long, 2 inches broad, and 2 inches high. The lid is high-pitched, with slanting gable-ends nearly equilateral, and surmounted by a vertical crest or ridge pierced with quatrefoils. The extreme height of the lid is 2 3/8 inches; that of the vertical crest is 7/8 inch. The lid is attached behind by two hinges, each 1/2 inch broad, and of which the raised plates are riveted to the back and lid of the box. The lid is fastened, not locked, by a hasp attached by a plate, and dropping on to a moveable catch on the face of the box. The upper and lower edges of the box, and its ridge, are mounted with mouldings attached by rivets. On opening the lid, we found three oil-pots, all of them in fragments, and to none of them are the lids still remaining. At the bottom of the pots, however, are traces of some fibrous material. The pots, unlike the box itself, are of pewter." The necessity of keeping the three oils (that for (1) the holy chrism, (2) the oil for the sick, (3) the oil for catechumens) in distinct compartments is insisted upon by Archbishop Aelfric: "Ye ought to have three flasks ready for the three oils, for we dare not put them together in one oil vessel, because each of them is hallowed apart for a particular service." The oil was contained in tow or cotton-wool, on a metal prong, and so moistened either the thumb of the priest or the person of the sick." R.C.R. 1891
.....Chrismatory, lately in the possesion of Mrs. Chesshyre of Barton Court, but now placed in a vestry-drawer used as a museum for curiosities connected with the church. It cannot lay claim to the same renown as the ampulla said to have been (The Church of St. Martin, Canterbury - by Charles Francis Routledge, pg 83) *pg 186