~ BUCKLEY FAMILY ~
CANTERBURY
John BUCKLEY of Canterbury, Watchmaker, and Sarah his wife (formerly Sarah COURT, spinster)
John BUCKLEY of St. Mary Magdalen, watchmaker, bachelor (24) and Sarah COURT of St. Margaret, Canterbury spinster (24), at St. Margarets. October 20th, 1784.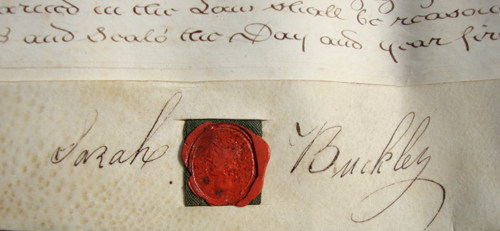 John Buckley, Canterbury from 1782. Retired 1805.
Freeman of Canterbury 1782.
1786 - John BUCKLEY, watchmaker of Canterbury and Thomas DAVIS pattern maker of Canterbury - tenements as in BB74/416
1808 - assignment of lease. John BUCKLEY, silversmith of Canterbury - executors assign the premises in BB 64/51 to Buckley for a sum of 350 pounds (a tenement built on the piece of ground in BB 64/50** and a stable in the Forrens)
**a piece of ground in the Mint Yard of Canterbury Cathedral Precincts, approximately 50 feet square. It bounded the Kings School garden to the north and Mint yard to the east. (1695)
1810 - John BUCKLEY surrenders his lease of the stable in the Forrens for 41 pounds
1811 - John BUCKLEY surrenders the lease of the tenement in the Mint Yard for 350 pounds
Lessee - John BUCKLEY, silversmith of Canterbury Premises (as in BB/62/89-90*) Made Dec 9, 1815 CCA-DCc-BB/62/94
*A house in the mint yard of Canterbury Cathedral, with the room above it, formerly part of the house of the ninth prebend
1827 - leased from the Dean and Chapter to John BUCKLEY, gent. of St. Dunstan's, Canterbury. A tenement in the Mint Yard, with a little house called the Lime House.
Was also a marriage of a George BUCKLEY of St. Andrew Canterbury, Silversmith, Batchelor (25) and Ann FLETCHER of St. Mary Magdalen
There was a death of a John BUCKLEY in Canterbury in 1848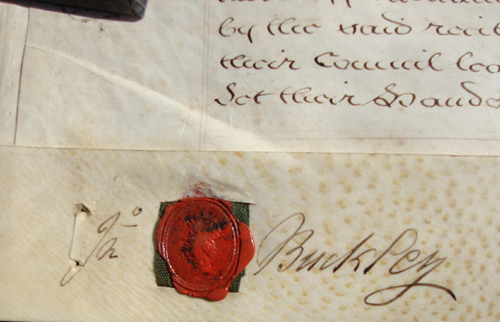 A copy of an indenture c. 1788 in my collection
There is a book called "British clockmakers & watchmakers apprentice records 1710-1810" in which John Buckley and Thomas Buckley are mentioned.
Death, May - At Enfield Chace-side, aged 73, John BUCKLEY, formerly a watch-maker in London. He was the last of the followers of Muggleton. "The Muggletonians were the followers of Ludovie Muggleton, a journeyman-tailor, who, with his companion Reeves (a person of equal obscurity), set up for great prophets in the turbulent times of Cromwell. They pretended to absolve or condemn whom they pleased; and gave out that they were the two last witnesses spoken of in the Revelations, who were to appear previous to the final destruction of the world. Like other sectaries, who derive their name from their respective founders, they were mere ephemeral productions, who just appeared and then passed away." Evan's Sketch the Denominations of the Christion World. GM1806
Freemen of Canterbury 1392 to 1800 - Joseph Meadows Cowper
Thomas BUCKLEY, tailor, son of William BUCKLEY bookseller. 1681
Thomas BUCKLEY, haberdasher of small wares, son of Thomas BUCKLEY, tailor. 1721
Thomas BUCKLEY, haberdasher. 1765
John BUCKLEY, watchmaker. 1782
John LOFT, starchmaker married Anne daughter of William BUCKLEY, barber. 1663
William BUCKLEY, barber, apprentice to Thomas SCUDAMORE. 1720
William LANE (LAEN), stationer, apprentice to Joseph BUCKLEY. 1610
Edward MORGAN, tailor, apprentice to Thomas BUCKLEY. 1710
Gabriel RICHARDES, stationer, apprentice to Joseph BUCKLEY, stationer and haberdasher. 1617
Joseph BUCKLEY, stationer. 1590
1830 Stapleton's Directory
George BUCKLEY, Harbledown Hill (listed under nobility, gentry, clergy and retired persons)
PLEASE CAN YOU CONTACT ME IF YOU HAVE ANY FURTHER INFORMATION TO SHARE ON THE FAMILY