~ CALLAWAY FAMILY NAME ~
CANTERBURY
*please take note that all these "Callaway's" are not necessarily related
He founded a Friendly Society (originally for his fellow weavers) for the Cultivation of Useful Knowledge (became Canterbury Philosophical and Literary Association) with Thomas Ridout (Redotte) and the rule book records that it was 'founded by the advice and assistance of John Callaway, meeting at the [public] house of Michael Davis, City Arms, Northgate, Canterbury and begun on the 23rd day of September 1769' and that 'it should have an annual meeting and feast on 5th November'. (in theory there are portraits by Stephen Hewson of both John Callaway and Thomas Ridout in the Beaney) Thanks to S.W. for the above info

1778 John CALLAWAY, silkweaver, freeman by redemption (which means he paid his fee to become a freeman, which could have been quite a large sum)
1785 John CALLAWAY, the younger, silkweaver, freeman by aprenticeship (*7 years after his father received his)
Licence 1785 - John CALLAWAY of St. Alphage Canterbury, silk mercer, bachelor & Elizabeth PARKER of St. George, Canterbury Spinster at St. George. 26 Dec 1785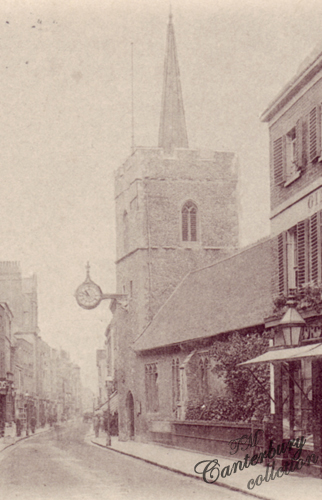 December 27th, 1785, John CALLAWAY of St. Alphage and Elizabeth PARKER by Licence. - Rd. JENKINS, James PARKER, Witnesses, at St. George, Canterbury, Kent
February 12th 1787, Richard JENKINS and Sarah PARKER both of this parish. by Licence. John CALLAWAY, Junior, James PARKER, witnesses, at St. George, Canterbury, Kent
Licence - 1787 James RIDOUT of St. Alphage, Canterbury, Tallow Chandler, bachelor and Mary CALLAWAY of the same age 20 (father is John CALLAWAY, senior, silk manufacturer), Jan 30, 1787
In 1787, however, a revival occurred, due to the efforts of Mr. John CALLAWAY (CALLAVE), the then master of the SILK WEAVERS' COMPANY. His name is long associated with the introduciton of the Canterbury muslin, and the manufacture gave employment for some time. (mixing Sir Richard Arkwright's level cotton twist in his own looms of silk warps)
*Some of the richest silks that this country has produced, have been wove in Canterbury; but as brocade and enamelled silks, for which our silk-weavers were most celebrated, are now little used, the trade has of course fallen off. The manufacture of worsted has likewise much declined. To supply the loss of the silk trade, the late Mr. John CALLAWAY, an industrious and ingenious silk manufacturer, introduced in 1789, looms in the cotton branch, and erected mills for the purpose of carding and spinning the wool into yarn; which by a mixture of silk in the fabric, he converted into the light and elegant piece goods, known by the name of Canterbury and Chamberry muslins, Canterbury damasks, &c. These articles were so well received by the public, as to induce many manufactures in other parts of the kingdom to imitate them, to the injury of the original inventor. They have not been made now for several years, and the mills have been pulled down. Our silk-weaving is still carried on, though on a small scale; but it has revived considerably within the last two years, and affords every prospect of its increasing to a much greater extent." WG 1825
*at one time fifty women and children were employed at a mill he constructed on the Stour below, "Deane's Mill," in the parish of Hackington, and which gave the name to the meadow, the Cotton Mill Field, whereon it was constructed. Both mill and manufactory are now no more. 1879
1791 John CALLAWAY and Son, (F.) Muslin-weavers to her Majesty
An 1802 lease for one year from James PRICE, cork cutter to John Zacharia PLUMMER gentleman and John CALLAWAY, manufacturer, Messuage or tenement, gardens, backside, in or near Mulberry Tree Green or Palace green, parish of St. Paul, Borough of Longport, Canterbury. Piece or parcel of land (One part where an old tenement formerly stood), Ambrey Green, parish of St. Paul, Borough of Longport, Canterbury. CCA-U72/1/21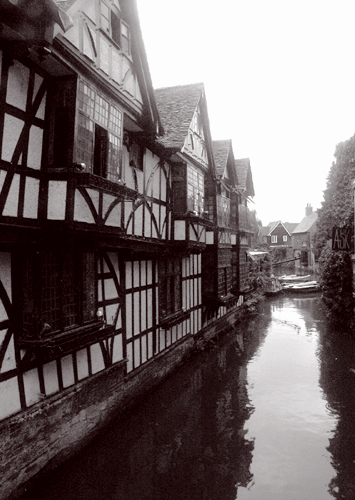 Old Weavers Houses Canterbury
There was said to be approximately 126 master weavers and another 1174 regular weavers in Canterbury, weaving silk, cotton, wool, and making worsted and crewel yarns about the year 1665. In 1676 the weavers were granted a charter by King Charles II. of which they became a company known as the master, wardens, assistants, and fellowship of weavers. In 1685 King Louis XIV. revoked the "Edict of Nance" causing many more families to flee the country and find refuge in Canterbury. John Callaway who was master of the weavers company about the year 1787, introduced a new fabric mix of cotton and silk, which was called Canterbury Muslin. He later erected a cotton mill on the river at Shoal Oak near Canterbury.
-------
I cannot quit this subject without making mention of that ingenious manufacturer, Mr. John Callaway, the present master of the weavers' company, who, during the unhappy American war, when such was the falling off of the silk trade, that many skillful workmen were so much reduced, as to be forced to apply for relief to the General Workhouse of the city, travelled into the western and northern parts of England, in search of something new for the employment of them, and his ingenuity effected it, for he introduced to the public a new manufacture, which afforded employment and subsistence, not only to those in Canterbury, but in other parts of the kingdom likewise. This beautiful new article of fabric was called Canterbury muslin, and the manufacture of it spread so rapidly, that from the time of its invention, which was about the year 1787, it has employed all the weavers in this city, and many hundreds more in London and elsewhere, whence they still retain the name of Canterbury muslins.
But the flourishing hopes of this trade felt a severe check here, though perhaps not less than the other manufacturers of this kingdom elsewhere, by the late ruinous war with France, though at present the number of men, women, and children employed in the silk, cotton, and wool trades, such as combers, spinners, weavers, and winders are about 1000.*
*In the year 1789 I saw, in Mr. Callaway's silk looms, the richest and most beautiful piece of silk furniture, for the Prince of Wales's palace of Carlton-House, that was ever made in this or probably any other kingdom. Edward Hasted c. 1802
The chief manufacture carried on in Canterbury is that of silk-weaving ; this trade has, however, of late considerably declined, not only from the quantity of silk manufactured in Spitalfields, but from the manufacture of an intermixture of silk and cotton, Called Chambery
muslin, introduced in 1789, by the late Mr. John Callaway; besides these, there is a manufactory of parchment, for which this city is famed, a slight one of worsted, and that delicious article, brawn, the quantity of which made in this city being very considerable.1838
"The manufacture of silk, established by the Walloons, under the auspices of Queen Elizabeth, and which flourished in such a degree as to obtain from Charles II. a charter of incorporation, gave place, in 1789, to the introduction of the cotton manufacture by Mr. John Callaway, master of the company of weavers, who discovered a method of interweaving silk with cotton in a fabric still known by the name of Canterbury, or Chamberry, muslin."1848
Hugeunots of Canterbury - St. Alphage
Bullin, Delmar, Callaway, Dumez, Dernocure, Fowtell, Gambier, Le Hook (LeHoeg), Ridout
Of these, that of Casaubon - D'Ombrain, whose ancestors escaped from France in an open boat in the XVI century, and whose descendents are settled in Kent; Le Geyt - (a family traced also to Jersey). Monsieur Mieville, for forty years pastor of the French Church; Peronnet, one of whose lineage was Vicar of Shoreham in Kent, and a voluminous writer: Callaway, whose ancestors were connected with the silk weaving in 1799; Six, also associated with that industry; Delasaux, a name known.
There are at present a great quantity of mixed goods made with silk and cotton, called Canterbury muslins, the invention of Mr. John CALLAWAY, who, at a great expence, has brough them to their present perfection. He has lately erected a cotton-mill at Shoaloak, near this city, where he employs some of the numerous poor who have been reduced to great distress by the decline of the silk trade. 1791
Death, January 4, 1795 - Mrs. CALLAWAY, mother of Mr. John CALLAWAY, senior, silk manufacturer of that city.
"Death, July 15th, After a lingering illness, aged 68, Mr. J. Callaway, senior, of Northgate, Canterbury. During the American War, when the falling off of the silk trade was so considerable that many skilful workmen were much reduced, this very ingenious character introduced a new manufacture, which afforded them employment and subsistance. This article of fabrick was called Canterbury Muslin, and still retains that name, and is the cause of many hundreds being employed in London and elsewhere. He also established, in 1768, an Historical Society; and always appeared happy in diffusing the extensive knowledge of which he was possesed." The Gentlemen's Magazine 1807 (Historical Chronicle, for the year MDCCCVII Volume LXXVII, part the second)
Died, August, at Canterbury, at his house, Northgate Street, Canterbury, in the 69th year of his age, Mr. John Callaway, sen. an ingenious and formerly eminent silk weaver, from whose looms some of the most beautiful and costly fabrics have been produced that adorn the palaces of royalty. On the abundant introduction of cottons, and consequent decline of the silk trade, he successfully invented that mixture of those materials, known by the names of Canterbury damasks, Chambery and Canterbury muslin's, &c. Of a strong, though uncultivated mind, he was indefatigable in the acquirement of science, and being equally desirous of communicating what he thought good to others, he founded, in 1768, an Historical Society, at first principally among that class of ingenious mechanics with whom he was associated, but which has been since extended and strenuously supported by his mental knowledge and personal abilities.
The Universal Magazine 1807
Died, August, at Canterbury, at his house, Northgate Street, Canterbury, in the 69th year of his age, Mr. John Callaway, sen. an ingenious and formerly eminent silk weaver, from whose looms some of the most beautiful and costly fabrics have been produced that adorn the palaces of royalty. On the abundant introduction of cottons, and consequent decline of the silk trade, he successfully invented that mixture of those materials, known by the names of Canterbury damasks, Chambery and Canterbury muslin's, &c. Of a strong, though uncultivated mind, he was indefatigable in the acquirement of science, and being equally desirous of communicating what he thought good to others, he founded, in 1768, an Historical Society, at first principally among that class of ingenious mechanics with whom he was associated, but which has been since extended and strenuously supported by his mental knowledge and personal abilities. The Universal Magazine 1807
*John Callaway's will 1805 mentions six messuages, two of which are noted as the Fortune of War, then called Queens Arms
1823 Will of John CALLAWAY Junior (re messuages in Coldharbour Lane)
John Callaway, Silk Manufacturer, Burgate Street Directory 1824
Marriage of John Callaway of St. George, Canterbury, Bachelor and Jane Furley of the same, spinster. November 17, 1830
1838 Post Master, John CALLAWAY, 47 St. George's Street
"Apothecaries' Hall - names of gentlemen who passed their examination in the Science and Practice of Medicine, and received certificates to practise on Thursday, August 1st, 1861 - Edward Callaway, Canterbury." The Medical Times and Gazette 1861 - in Tamworth, Staffordshire in 1871, boarding with a family, Edwards Father John Callaway was the Postmaster in 1851
A death of a John Callaway in 1855 in Canterbury
MARRIAGE - August 25, 1860. The Solicitors' Journal & Reporter - MURTON-CALLAWAY On August 23, Walter Murton, Esq., of Gray's Inn, Solicitor, to Mary Callaway, second daughter of the late John Callaway, Esq., of Canterbury
The Solicitors' journal and reporter - Notices of Admission (Admission of Attorneys), Hilary Term 1861 - William Parker CALLAWAY - J. Callaway, Canterbury; R. Furley, Ashford & George NEWINGTON, Messrs. Sankey and Son, Canterbury
August 2, 1913 - Mr. John Callaway, of 15 Palmeira Avenue, Hove (formerly of Guildcroft, Guildford, and many years ago a solicitor in Canterbury), who died on the 17th June last, aged 80, left £124,247. (Kentish Gazette and Canterbury Press)
"William A. Hales, Rector of St. Margaret's Canterbury, visiting with John Callaway, Solicitor at 43 St. Margaret's street (county court office), in Canterbury." 1861 - William Atherstone Hales, Rector, wife Agnes Hales (staying with John Callaway, 43 St. Margaret's Street?) - Member of the Kent Archaeological Society 1860, St. Margaret's Street
PLEASE CAN YOU CONTACT ME IF YOU HAVE ANY FURTHER INFORMATION TO SHARE ON THE FAMILY