~ COLD HARBOUR LANE ~
"Coal Harbour Lane"
CANTERBURY
St. Mary Northgate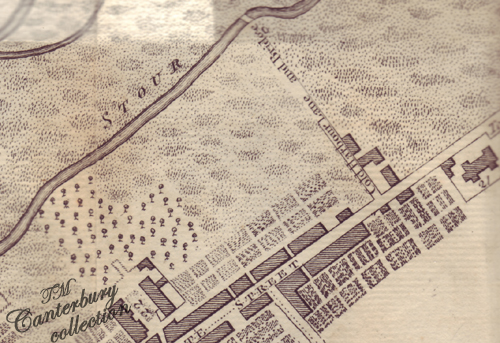 Detail from my map c. 1777 of Cold Harbour Lane off of Northgate Street
*1796 - in this year a road was made to the bridge (now removed) at the bottom of Cold Harbour Lane, Northgate JB
"Cold Harbour," or "Coal Harbour," near the bottom of Northgate Street, was one of the places where good were landed."JB
1867 - The river below Barton Mills was once navigable to the sea, and called Coal Harbour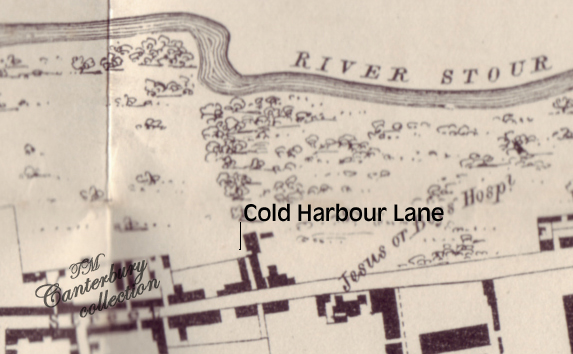 George BATEMAN owned 8 cottages in Coal Harbour, Northgate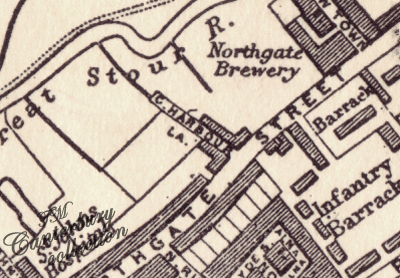 ..he had to content himself with bare walls, supplied by the ruins of deserted Roman villas, which, at least as late as the period we now have reached, were often used by travellers who carried their own bedding and provisions. To these refuges for the destitute, the name of Cold Harobur was often given. We have still a Cold Harbour at Wye, on an ancient line of road under the Downs. There was another at Northbourne, one near the New Cross railway staion, and I assume there was one outside the Northgate of Canterbury, for, as a boy, I well remember Cold Harbour Lane. A history of the Weald of Kent
Clxxviii. An Act for enabling the commissioners of the pavement of the city of Canterbury to improve and alter the line of certain streets called Palace street, the Borough of Staplegate, and Northgate street from the entrance into the archbishop's palace in Palace Street to Cold Harbour Lane in Northgate street aforesaid, within the said city of Canterbury, and the county of the same city, and the county of Kent. AR 1825
8 Cottages built by Allen Grevell
*John Callaway's will 1805 mentions six messuages, two of which are noted as the Fortune of War, then called Queens Arms
1828-29, small piece of land south of the north end of Cold Harbour, sold with Kingsmead C
1830 unpolled freemen of Canterbury - E. HADLEY, Bricklayer, Cold Harbour Lane
No. ?
Edward HADLEY, Bricklayer
Daughter Mary A. Hadley - died from a gunshot wound? (there was another Mary A Hadley in Broad Street) August 20th, 1857
"The engagement is off!" Mary Hadley, 25, stormed at her fiancé Stephen Fox. "Here, take your ring back!" She had just heard that Fox had made another girl pregnant and understandably, perhaps, she no longer wanted to marry him.
Fox, 23, nursed his wounded pride for a couple of days, then told a neighbour in St. Mary Northgate, Canterbury, that he was going to shoot Mary. The neighbour warned the Hadley family and Mary left her house to sleep that night with a woman friend. But next morning Fox, armed with two pistols, waylaid her outside the city's cavalry barracks. He fired both weapons, and one bullet hit Mary in the thigh. She died a few minutes later from loss of blood.
Fox was hanged on Thursday, August 20th, 1857, with George Edwards (Hung at Maidstone Prison)