~ COLLARD FAMILY ~
CANTERBURY
1584 - "Collard, the son of a rich brewer at Canterbury, killed a poor man there in the open street. Manwood, the Lord Chief Baron threatened to hang him, but by means of £240, paid by the father, the son had his pardon by the Chief Baron's means, and ever after wore the Chief Baron's livery, and walks the streets of Canterbury to the disparagement of justice and the great grief of all the honest inhabitants there." Ibid. p. 270
Indenture of Apprenticeship dated 7th April 1666
Whereby the churchwardens and overseers of Chislet with consent of two Justices bound Edward Hall (a poor fatherless child) to Samuell Collerd of the City of Canterbury Cordwayner for 7 years from date. Premium £9
Witness Ambrose Rose - Thomas Kidder
Allowed by Edward Master. Arnold Braems (The Two Justices)
from The Parish of Chislet, Kent
(On the South Side of the same Monument) The Parish of Chislet, Kent
In the vault beneath, are deposited the remains of Mr. Thomas White Collard, late of Little Barton Farm, near Canterbury, son of Mr. John Collard, late of the parish of Herne; who departed this life the 22nd of December 1793, aged 52 years.
also of three children
issue of the above Thomas White Collard, and Ann his wife,
whom he left surviving.
Jacob who died the 8th of December 1788, aged 10 years.
and Robert and Sarah, who died in their infancy
likewise Ann, relict of the above Thomas White Collard,
and third daughter of David and Ann Denne,
formerly of the court lodge in this parish;
who died November 22nd, 1824, aged 82.
also of Ann Collard, eldest daugther
of the above Thomas White Collard
who died December 26th, 1851, aged 82 years.
*Thomas married Ann DENNE, who was the daughter of David Denne and Ann Young. Children: David Collard (m. Elizabeth KINGSFORD), John Collard (m. Emma REYNOLDS), Ann Collard (unknown), Henry Collard (m. Margaret MUNDAY), Mary Collard (m. Henry MOUNT), Margaret Collard (Thomas DENNE), Thomas Collard (m. Sarah Maud MOUNT), Robert Collard (d. infant), Jacob Collard (died young), Robert Collard (m. Maria LARKIN), Sarah Collard (d. infant) and Hester Collard (d. infant)
1801 .....Borough of Longport....of a field belonging to Nutt and Walker, and mark upon an ash tiller; from thence keep straight along the hedge for something more than half a mile until you come to land called Hompits, in the occupation of Mr. Collard, of Little Barton farm, and about forty rods before you come to the corner of the field, where mark upon an ash tiller; then carter up into a little wood at the lower side of Lieudown....
1807 - Nov. 18 - List of Bankrupts - Wine merchant - J. Collard the younger, Canterbury
John Collard jun. of Canterbury, hop-dealer (Wright and Co. Temple. July 2)
1812 - James Collard, of West Langdon, Kent, was lately convicted before John M. Fector, Esq. in the penalty of ten pounds, for poaching in the Earl of Guildford's woods, at Waldershare, and committed to his Majesty's gaol, at St. Augustine's, near Canterbury, for not paying the penalty.
1841 - No. 1 Victoria Place, St. Dunstan's - George Collard, age 30, Navy, born in county, son George age 1, Jane age 25, Jane age 2 - Bennet TERRY, age 28, Female Servant, born in Kent
1841 - Southgate House, St. Mildred - Nelson Collard, age 25, Corn Factor, born in county, Louisa age 30, Harriett age 6, Nelson age 5, George age 4, Belinda age 2
1851 - Prospect, Herne - Belinda Collard is staying with her grandfather John Collard and aunts, M. P Collard, M. Collard, C. Collard.
1861 - 24 Castle Street, Nelson (corn factor) and Louisa H. Collard with children, Harriett, Nelson (corn factor's assistant), Belinda and William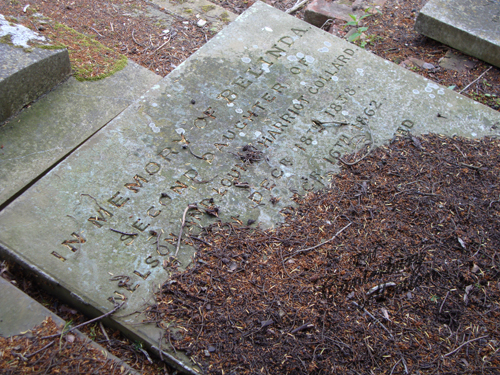 Belinda Collard, St. Martin's Canterbury age 23, passed away 2 days before her 24th birthday
IN MEMORY OF BELINDA
SECOND DAUGHTER OF
NELSON AND LOUISA HARRIOT COLLARD
BORN DECR 18TH 1838
DIED DECR 16TH 1862
**1862 Canterbury, Kent, vol 2a page 368 qtr Oct/Nov/Dec
1844 - Statues at Large, William COLLARD, Castle Street (Land Tax Commissioners)
1849 - Royal Agricultural Society of England
Edwin COLLARD - Chislett Park, Chislett, Canterbury, Kent
Thomas W. COLLARD, Canterbury, Kent
1851 - Village Boughton House, Boughton under Blean
Henry Stockton, Schoolmaster
Brice COLLARD age 11, St. Nicholas, Kent
George COLLARD age 12 born Canterbury
Filmer COLLARD age 10 born Canterbury
George COLLARD age 14 born Canterbury
Henry COLLARD age 14 born St. Lawrence, Kent
Nelson COLLARD age 14 born Cantebury, Kent
Thomas COLLARD age 12 born Canterbury, Kent
1854 - January 24th, Canterbury - Mr. W. Thomas COLLARD, Land Surveyor, &c.
1891 - Industrial School, Lewisham, London - George COLLARD age 14, born Canterbury
1891 New Road, Barton Fields - The Gables
George COLLARD, head, married age 50, Brewer and Wine Merchant born Canterbury, wife Ann
Eliza Annie Oldfield, servant age 28 born Hoodneborough
Maria Ann Wrench, cook
1891 1 Hawks Lane, St. Margaret
Stanley A. COLLARD, Wine Merchant, wife Helen, son Bernard S. Collard
April 1896 - On the 23rd, Ex-Quarter Master S. COLLARD, of the East Kent Yeomanry received a gratifying testimonial in recognition of his long service in the regiment.
Deaths
George COLLARD, 1837 died Oct-Dec, Canterbury
George COLLARD, c. 1834, died 1882, Oct-Dec, Canterbury
George COLLARD, c. 1853, died 1887, Oct-Dec, Canterbury
George COLLARDd, c. 1814, died 1902, Jan-Mar, Canterbury
George COLLARD, c. 1880, died 1917, Jan-Mar, Canterbury
George COLLARD, c. 1841, died 1921, Apr-June, Canterbury
George Percy COLLARD, died 1856, Apr-June, Canterbury (birth George Percy Collard 1855 Jan-Mar, Canterbury)
George Plomer COLLARD, c. 1811, died 1895, Apr-June, Canterbury
Reginald George COLLARD, c. 1880, died 1880, Jan-Mar, Canterbury (birth Reginald George Collard, 1879 Oct-Dec, Canterbury)
Newspaper Saturday May 8th, 1897

FUNERAL OF THE LATE MR. CHARLES COLLARD

The remains of Mr. Charles Collard, J.P. of Little Barton, Canterbury were interred on Thursday afternoon in the family vault in Nackington churchyard, amid many evidences of the widespread respect and regard in which the deceased gentleman was held. A large number of carriages joined in the …. A noteworthy feature was the long procession of farmers, yardmen and others, who attired…to his last resting-place, the ..of a beloved….in whose service many of them have grown grey. Some of them have been..the farms, others have served for 25 years and upwards, and the high appreciate of the good qualities of their late employer expressed by one or two of them was evidently the general feeling. The procession also comprised the low four-wheeled carriage in which Mr. Collard was wont to drive in the latter years of his life, filled, on this occasion with the wealth of lovely wreaths sent by sorrowing friends and acquaintances. The cortege reached Nackington churchyard punctually at half-past two o'clock and was met at the entrance by the Rev. J. J. White-Thomson of St. Paul's, Canterbury whose desire it was to do honour to once who many years ago was a churchwarden of that parish, by conducting the services. The attendance was so great that accommodation could not be found in the church for all who wished to be present, but the concluding solemn rites at the graveside were, of course, taken part in by all. The remains were placed in the family vault in which had already been deposited the bodies of the late Mr. G. P. Collard, his wife, and daughter, also two children of the late Mr. Charles Collard. Only one of the wreaths – that bearing the touching legend "in Memory of a dear husband' was left upon the coffin after it had been deposited in the vault.
The chief mourners were Mr. and Mrs. Louis Collard, Mr. and Mrs. George Mount, Mr. Ernest Collard, Mr. and Mrs. Charles Collard, Mr. and Mrs. Spencer Collard, Mr. Percy Collard, Mr. Edward Collard (brother), Miss Englehardt, and three grandchildren – Cecil Collard, George Mount, jun. and Charles Collard.
Those present at the church or graveside included: Messrs. Stanley Collard, Douglas Collard, Edward Collard, Thomas Collard, Albert Collard, Frank Wacher, E. Kelcey, J. W. Robinson, Alfred Slater, G. Slater, S. Dawson – Marzatti, J. Crowhurst, Luther Bell, the Rev. T. Hurst, Miss Chesshyre, Mr. T. W. Palmer and Miss Palmer, Mr. Henry Cooper, Mr. H. H. Mount, Mrs. Robert Collard, Miss Bertha Collard, Miss C. Mount, Messrs. M.N. Coates, C. T. Mudford, W. Horne, J. Harvey, W. H. Wacher, R. A. DeLasaux, C. R. DeLasaux, Edward Cladish, William Dettson, T. Denne, W. J. Crotch, W. G. Solly, C. Petley, L. Laslett, T. W. Young, T. R. Holman, Cephas Maxted and others.
Besides those from the more immediate relatives, wreaths or crosses were sent by Mrs. B. W. Tassell, and Mr. D. S. M. Taswell, Wanstall's Mr. and Mrs. R. Wilding Cole' Mr. C. T. Mudford; Mr. and Mrs. C. H. Ritherdon, Breakspear's Road, S. E." To our dear old grandfather from his little grandchildren at Windsor"; Miss Sayer; Emma Minter; Mrs. And Miss L. Chesshyre, "In kind remembrance and with deep regret"; Mr. and Mrs. Crouch, "In affectionate remembrance from the Denne family"; Mr., Mrs. and Miss H. M. Baker; Mr. and Mrs. Prisgrove and family: "From Luther as a mark of respect"; Mr. and Mrs. T. Denne; R. Nicholson, Brokley; "With deep sympathy from the employees"
Marriages
Edward Pigg of St. Paul's Canterbury, Sailor, bachelor (24) and Catherine COLLARD of the same (16) father George Collard, husb., 24 Feb 1798
1800 - At Elmstead, Mr. Henry COLLARD, of the Hoath-farm near Canterbury, to Miss Monday.
1860 - Marriage at Canterbury, 8, Gordon M'Dakin esq., of the 42nd Royal Highlanders, only son of Capt. M'Dakin of Boultham, Lincoln, to Emily, eldest daughter of H. COLLARD, esq., of All Saint's, Canterbury
George COLLARD, 1874, July-Sept - Ann Ash, Emily Pilcher
George COLLARD, 1908, Apr-June - Ethelberta Bowen, Ethel Hills, Zara Leila Von Liteburg
George COLLARD. 1914, Oct-Dec - Octavia Collard
Births
George COLLARD, 1927, Jan-Mar, mother Collard, Canterbury
Kings School Register
1824 - Charles COLLARD
1836 - Alfred COLLARD
1853 - George COLLARD, William O. COLLARD
1866 - Percy White COLLARD, Egerton COLLARD (sons of Thomas White Collard & Harriet Ashenden)
1868 - Frederick E. W. COLLARD
1865 - Montagu COLLARD, George COLLARD
1869 - Stanley Ash COLLARD (married Helen BING, daughter of Edwin BING)
1870 - Spencer COLLARD (son of Charles COLLARD J.P. and Ellen SAYER)
1877 - Macintosh Hills COLLARD (son of Ambrose Collard and Sophia Ann HILLS)
1881 - Nelson COLLARD
1888 - Cecil Maylam COLLARD (son of Thomas Louis Collard and Martha ROBINSON)
1890 - Charles John COLLARD
1897 - Bernard S. COLLARD