~ CORN & HOP EXCHANGE ~
ST. GEORGE'S STREET, CANTERBURY
Erected 1825, Destroyed by the bombing in WW2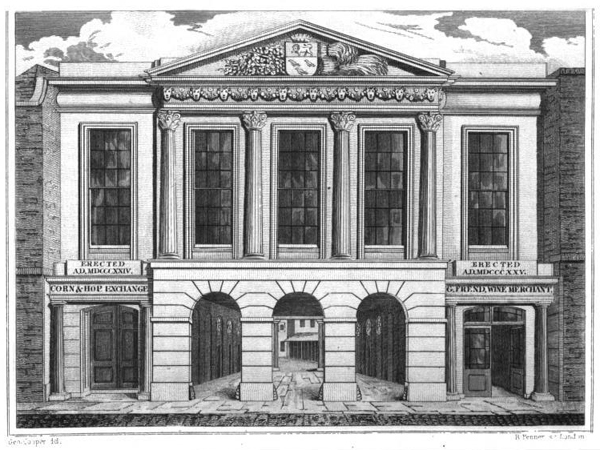 Showing the Corn & Hop exchange and G. Frend, Wine Merchant
(pre corn & hop exchange) Sept 30, 1770- Was far the greatest hop market ever known in the city of Canterbury; about 2500 bags and pockets were sold; bags from 2l. 15s. to 3l. 10s. to 4l. and 41. 4s. and one parcel up to 4l. 10s. Pockets form 3l. 10s. to 4l. 10s. very fine 5l. The number of planters assembled from many parts of the county having engaged many merchants and speculative gentlemen in that branch, it is thought the Canterbury market will become the greatest country market in the kingdom. GMv40 1770
"The market for cattle, corn, hops and seeds, is on Saturday, and the market for provisions daily.....the corn, hop and seed market is held in a spacious room in the Corn and Hop Exchange, a handsome building of the composite order, recently erected, and ornamented with the city arms and appropriate devices, behind which is a spacious area for the daily market for meat and vegetables; the marked for eggs, poultry and butter, is held in the ancient butter market, near Christ Church Gate; and there is a convenient market place for fish in St. Margaret's street; these markets are under the regulation of the corporation, by an act passed in 1824. The annual Michaelmas fair commences on the 10th of October, and continues during three market days." A Topographical Dictionary of England 1831
"The Corn and Hop Exchange, situate in St. George's Street was erected by public subscription, aided by the Corporation in 1824. The style of the building is similar to that of the Guildhall; it is commodious, an conveniently adapted for the despatch of business. On the market day it presents a very animated scene, and considerable quantities of corn and hops are sold, chiefly by sample, this being the principal market for the farmers and corn millers of the eastern parts of the county. The area under the building is used as a vegetable and fruit market, while at the rear, towards Burgate street, stalls are constructed for the sale of meat, &c."
Directory 1847
"The Corn and Hop Market-room is in St. George's street; it is a handsome building, with a stone front, and beneath is the Public Meat Office."
1858 Directory, Melville & Co.
"The Corn Exchange, a commodious building, erected in 1824. Underneath it is the market for vegetables and the meat shambles. The facade of the Corn Exchange is modelled after a temple at Tivoli."
Felix Summerly

"The Corn & Hop Exchange", a detail from one of my old postcards
"The Corn and Hop Exchange in St. George's Street, is a building of stone, of the Ionic order, erected in 1824 by public subscription, on the site of the old Shambles and has been considerably enlarged."
Kelly's Directory of Kent 1882
1882 - Robert Wilkinson, market attendant
1903 - James Johnston, market attendant
"....But to return into the city, through St. George's gate. At a small distance on the right is the parish church of St. George; a little lower, on the opposite side, is the gate-way of the White Friars. Farther on, on the right, are the shambles, which, till the year 1740, stood in the middle of the street; here also is a fish-market, lately established, for the sale of fish, toll-free. Adjoining is a public engine for weighing loads of hay; and near this is the corn-market with a granary over it. This part of the street had a middle row of considerable length, consisting of the shambles, a fine conduit or water house of stone, and the parish church of St. Andrew.
The Kentish Traveller's Companion 1776 *this is prior to the Corn & Hop exchange being built
---