~ THE COUNTY HOTEL ~
30 & 31 HIGH STREET, CANTERBURY
1539 Once the Saracen's Head Inn (All Saints), Lessee William Firth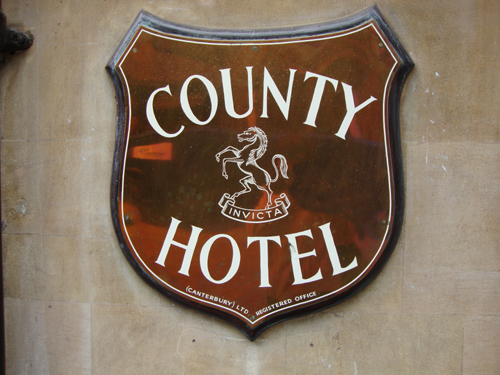 Now the site of the Abode Hotel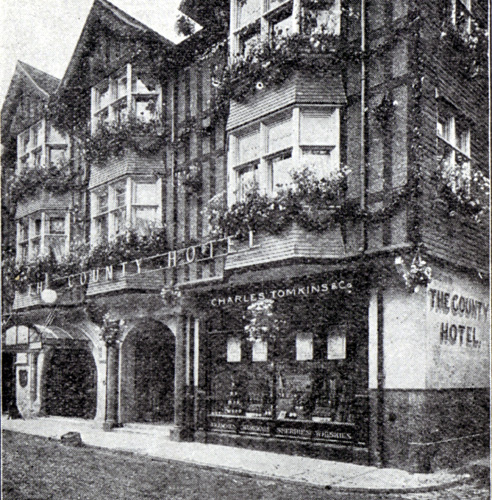 Picture detail from County Hotel Ad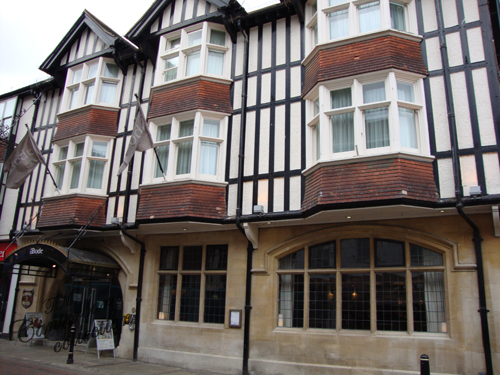 `
The Abode Hotel 2010
1901 County Hotel Canterbury. For Families and Gentlemen. Patronzied by His Excellency THE AMERICAN AMBASSADOR.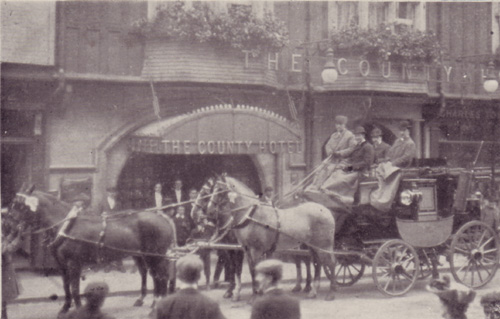 County Hotel Postcard sent August 17th, 1910 from Canterbury to 2 Dean Villas, Fairside, Surrey, Cobham
1917 Directory
No. 30 C. Tomkins & Co. (M.A. Tomkins) wine and spirit merchants (Tel 66) *Tomkin's was here from 1902 to 1920
No. 31 The County Hotel (Tel 66)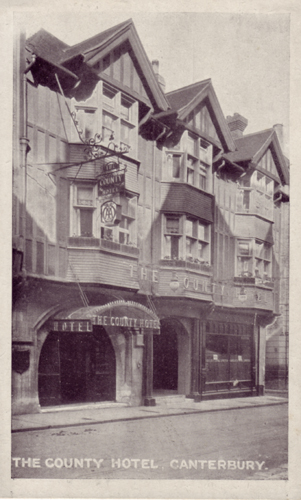 __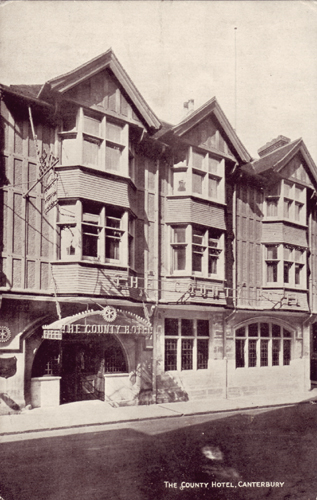 The County Hotel Postcards, notice the entrance in the centre is now blocked up with windows in the postcard on the right
Own Garage and Pit. Electric Light throughout, Finest Wines and Spirits, Perfect Sanitation, Excellent Cuisine, Moderate Charges, Officially Appointed R.A.C & A.A. The largest, best appointed, and most modern Hotel in Canterbury. In the principal thoroughfare, close to Cathedral, Royal Museum, Post Office, and all the chief places of interest for which the City is famous. The Hotel Omnibus meets all Trains at the East Station.
Write up from an 1922 Ad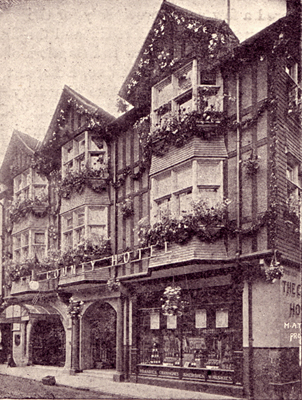 "The County Hotel in Cricket Week" Photo from my old Canterbury Views Book c. 1902 and ad
The largest, best appointed and most modern hotel in Canterbury. Unequaled for comfort and convenience. In the principal thoroughfare, close to the Cathedral, the Royal Museum, the Post Office and all the chief sights of the City. Central & Healthy Situation. Perfect Sanitation. Electric Light Throughout. Excellent Cuisine. Finest Wines and Spirits. Moderate Charges. American and Continental Visitors will find The County Hotel one of the pleasantest hotels in Europe. Well warmed in winter and cool in summer. Table d'Hote Luncheon 2/6. Dinners 5/-, served at separate tables. Single Rooms 2/6. Suites for families. Inclusive Terms in Winter from 10/6 per day. All travellers to and from the Continent should break their journey at Canterbury. On the main line between London and Paris. 16 miles from Dover. Easily accessible. Frequent express trains from Victoria, Charing Cross, Cannon Street and St. Paul's. By far the most interesting resort within easy distance of London for week-end visitors. The Hotel Omnibus meets all trains at Canterbury East Station.
M. A. Tomkin's wife worked at the Hotel.
A lovely old luggage tag from the County Hotel - courtesy of a frequent visitor to the site (thank you)
An advertisement from the 1946 Pilgrims Guide states:
The County Hotel Canterbury
Bed and Breakfast
Luncheons
Teas
Dinners
Rooms with Private Baths
Suites
Hot and cold water in all rooms
Bedrooms heated by gas fires
Stock Rooms
Rooms for Meetings
Wedding Receptions
Night Porter on duty all night
Large Garage at rear of hotel
Telephone 2066__________________________________________FRANK MASON, Proprietor
Telegraphic Address "County, Canterbury" _____________________A.S.P. MASON, Manager
HEADQUARTERS OF THE CANTERBURY ROTARY CLUB
---