~ DELASAUX FAMILY ~
CANTERBURY
Death of Peter DELASAUX, Junr. April 21, 1789 (All Saints parish)
Death May 25th, 1854 of Miss Delasaux at Canterbury, aged 68, 1854
"Death, March 10th, at Canterbury, aged 54, Elizabeth Delasaux, wife of T. T. Delasaux, esq. Coroner." The Gentlemen's Magazine 1855 (wife of Thomas Thorpe)
Thomas Thorpe Delasaux, Law Attorney ^
*Attorneys to be admitted - "The Legal Observer, 1835" - Richard COOK, Herne Bay, Articled to Thomas Thorpe Delasaux, Canterbury
1843 Thomas Thorpe De Lasaux, coroner for Kent and Canterbury & clerk to commission of pavement of Herne Bay, and clerk to commission of land and assessed taxes for city of Canterbury (no address listed)
Christening of a Jane De Lasaux to Thomas Thorpe De Lasaux and Elizabeth, April 18, 1832 in Canterbury. An Ann Stock Delasaux on June 23, 1830, Canterbury, Elizabeth Jane Delasaux on July 14, 1819, and Mary Anne Augusta Delasaux on November 21, 1820, Canterbury.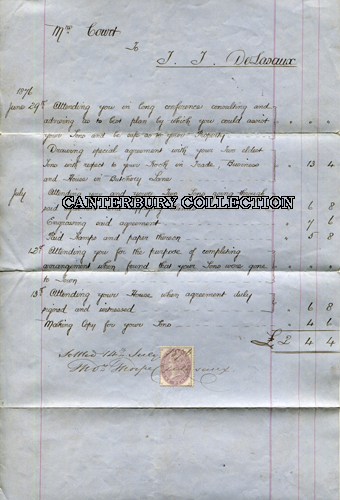 To Mrs. Court from T. T. De Lasaux - bill for legal work with regards to the business and her sons, July 14, 1876. Signed by Thomas Thorpe De Lasaux - from my collection
Thomas Thorpe De Lasaux died in 1884 in Canterbury
CORONER FOR KENT. An early 19th century notice of nomination of Mr Thomas Thorpe de Lasaux of Canterbury as Coroner for Kent on the resignation of Philip Boghurst, Esq. It is issued by Charles Sandys, Chairman of the Freeholders of the County of Kent, and dated 10 April 1820. Tear to the blank top left hand corner and several minor edge chips, but in good condition.
335mm x 205mm. Wood, Printer, High-Street, Canterbury. 1820. Credit for this information - Ken Spelman Rare Books, York

May 1884 - Death of Mr. T. T. Delasaux - We regret to announce th death of Mr. Thomas Thorpe Delasaux, the East Kent Coroner, which occured at his residence in Canterbury on Wednesday night. The deceased gentleman was the oldest Coroner in England, having held the office for 64 years. He had recently attained his 87th birthday.
PLEASE CAN YOU CONTACT ME IF YOU HAVE ANY FURTHER INFORMATION TO SHARE ON THE FAMILY