~ DENT FAMILY ~
CANTERBURY
Freemen - Robert DENT, cordwainer, apprenticed to Thomas NEWMAN. 1637
1645 from the will of John WATSON, rest of my surviving children.."House at the Bulstake in the said city wherein Robert DENT now dwelleth"
Freemen - Robert TAPPENDEN, cordwainer, apprenticed to Robert DENT. 1656
Freemen - Samuel SEATH, cordwainer, apprenticed to Robert DENT. 1664
Arches Court of Canterbury - Michaelmas Term, December 3. An executrix condemned to pay legacies. DENT, by his Guardian, against DENT. Robert DENT made his will 29th November, 1746; made his wife Ann executrix and residuary legatee, and gave her 500l. three percent. Bank Annuities for life, and the reversion thereof equally to be divided betweeen his two sons, Robert and Benjamin, and gave said Benjamin 100l towards his maintenance, which he leaves tot he discretion of his executrix and gives him some specific legacies; in October 1748, the wife proved this will; 5th November 1748, she made her will, and appointed said Robert her son executor, who proved her will and took administration cum testamento to his father: the widow died in said month of Nov. 1748, a very short time after her husband.
4th Sess. Hill. Term, 1753, Benjamin Dent , by his guardian, commenced a suit against Robert for the aforesaid legacies, left him in his father's will: Robert appeared; libel given in on behalf of Benjamin, and a negative issue; Benjamin's proctor exhibited copies of the wills of Robert the father, and Ann the executrix of Robert; the adverse proctor confessed the subscriptions and identities; on 16th July 1753, Robert was excommunicated for not giving in her personal answers.
1 Sess. Mich. 1753, the excommunication was returned, and the cause was called on; Robert did not plead a plene administravit.
Per Curiam - I gave sentence ex parte, condemned Robert to pay the legacies sued for by Benjamin with interest, for the pecuniary legacy of 100l. and the dividens that had become due since the mother's death on Benjamin's moiety of the 500l. three percent Bank Annuities, and condemned Robert in 24l. costs.
N.B. I had no other evidence before me but the clause of the father's will, by which the legacies were given, which Robert's proctor had confessed.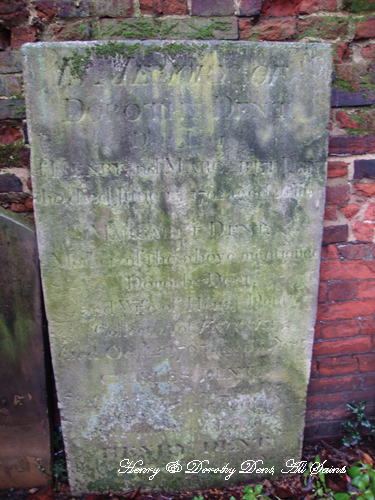 In Memory Of
DOROTHY DENT
daughter of
HENRY and MARGARET DENT
who died JUNE 15 1792 aged 26 years
MARGARET DENT
Mother of the above mentioned
Dorothy Dent
and Wife of HENRY DENT
Collector of Excise
died October 12th 1793 aged 51 Years
CHARLES DENT
Son of Henry and Margaret DENT
died February 23 1799 aged 22 Years
Also the above named
HENRY DENT
died Feb 27 1802
aged 66 years
And also of GEORGE DENT
1791 - Henry DENT, Collector of the Excise Office
(Bridget Dent b. April 1773, d. January 12, 1816, daughter of Henry Dent) she married Sir Charles Forster Goring, 7th Bt., married Nov 9, 1799 at All Saints Church, Canterbury.
Died at Canterbury, Mr. Charles DENT, eldest son of Henry Dent esq. collector of the excise. - The Monthly Magazine 1799, pg 251
March 12, 1845, death at Canterbury, aged 63, George DENT, esq. MD - GM vol 178
PLEASE CAN YOU CONTACT ME IF YOU HAVE ANY FURTHER INFORMATION TO SHARE ON THE FAMILY