~ FAGG / FAGGE FAMILY ~
CANTERBURY
_+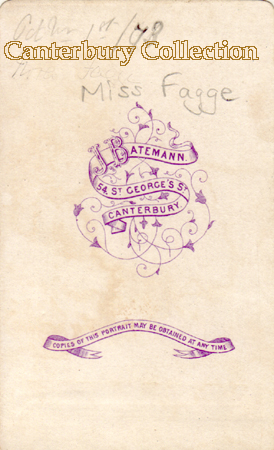 "Miss FAGGE" my photo by J. Batemann, Photographer, Canterbury
J. BATEMANN, 54 ST. GEORGE'S STREET, CANTERBURY
COPIES OF THIS PORTRAIT MAY BE OBTAINED AT ANY TIME
October 1st/73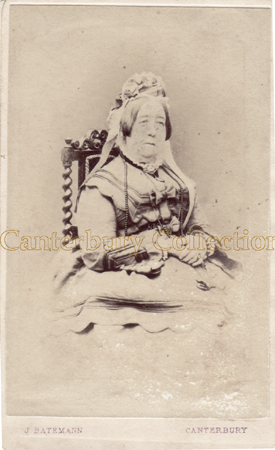 __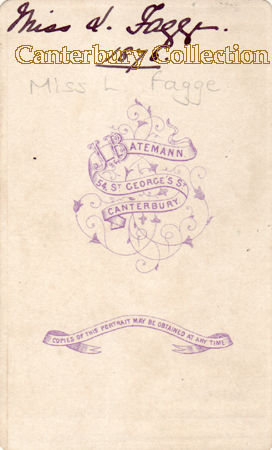 "Miss L FAGGE" my photo by J. Batemann, Photographer, Canterbury
J. BATEMANN, 54 ST. GEORGE'S STREET, CANTERBURY
COPIES OF THIS PORTRAIT MAY BE OBTAINED AT ANY TIME
1876
Canterbury, December 9, 1846 (Ford V. Oxenden)
Sir, We have reason to believe that Miss Fagge's answer will not be called for. We are ready to pay her mortgage debt, and take an assignment, which is, we think an answer to your improper note.
Charles Sandys, Esq. Canterbury
We are, sir, yours, &c., Kingsford, Son & Wightwick
My reply:
Canterbury, December 10, 1846
Ford V. Oxenden
Sirs, I received your letter last night, and agree with you that o pay Miss Fagge's mortgate debt is the best answer you can give to my "improper" note. On what day do you propose to pay it? I presume you will at once see the propriety of retracting the expressin "improper" which I doubt not was hastily used, current calamo. I should be sorry to be obliged to vindicate the propriety of my note by bringing forward the whole of the proceedings which gave rise to it.
Messrs. Kingsford, Son & Wightwick, Solicitors, Canterbury
I am, sirs, yours, &c. Charles Sandys
Canterbury December 12, 1846
Ford V. Oxenden
Sir, Will your client execute transfer of her security on payment of principal with interest to the day of payment, and costs? If so, we will at once send you draft transfer for your perusual.
C. Sandys, Esq. Bridge Street, Canterbury
We are, sir, yours, &c. Kingsford Son & Wightwick
Canterbury, December 12, 1846
Sirs, In reply to your letter this morning, I beg again to refer you to my letter of 30th November. Miss Fagge of course insists upon her full legal rights, and it rests with you to determine whether you will settle her claims now, or at the expiration of the notice you gave me. In order to put an end to all this trifling, I must repeat my demand for the papers.
Messrs. Kingsford, Son & Wightwick.
I am, sir, yours, &c. Charles Sandys
Finding I could obtain no further answers from Messrs. Kingsford and Co. and suspecting that there was no real bonafide intention to come to a stisfactory arrangement of Miss Fagge's claim, I sent the papers to my agents on the 15th Dec. 1846, with instructions "t write to Messrs. Kingsford and Co., peremptorily demanding the papers, and stating Miss Fagge's determination to proceed personally against them, in case they do not hadn of a good marketable title and available security for her money; and that Miss Fagge will not waive her claim to six months' interest in lieu of notice.
My agents having made the application accordingly, it produced the inculpatory letter of 17th Dec. 1846 (Ante. p.30) I will now call the reader's attention to an astounding discovery.
Nothing is more painful to a generous and honorable mind than to entertain suspicisons of fraud. But the shuffling treatment which Miss Fagge had experienced, at length excited my strongest suspicions. It will be recollected that one of the documents handed over to me as a security is "a notice dated 29th Sept. 1840, from Elizabeth Fagge to George C. Oxenden, and others fo the mortgate for £1800 (p.37). The legal object and effect of that notice is, to secure to Miss Fagge a priority over all subsequent mortgages. And it was the bounden duty of Mr. Kingsford to see that that notice was duly given in 1840 to the trustees and all other necessary parties. It is, therefore, obvious that if that notice wer not really and bona fide made (and perfected by due service) at the time it bears date, it is a mere delusion, utterly worthless, and can afford no protection whatever to Miss Fagge.
etc. etc. (The Vindication)
PLEASE CAN YOU CONTACT ME IF YOU HAVE ANY FURTHER INFORMATION TO SHARE ON THE FAMILY