~ FRANCIS BENNETT-GOLDNEY ~
FRANCIS EVANS
ABBOTS BARTON, CANTERBURY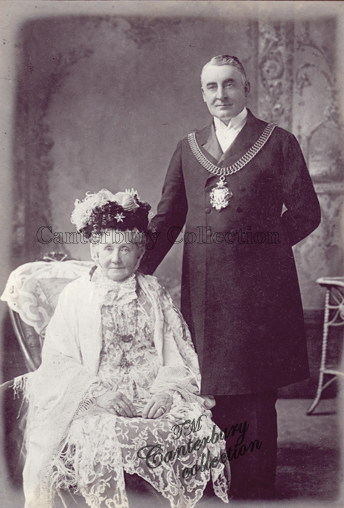 Francis Bennett Goldney and his mother Elizabeth Evans
Written under the photograph is "Francis Bennett Goldney M.P. Mayor of Canterbury 1905 to 1910 with his mother the Mayoress Elizabeth Evans Abbots Barton Oct 20th, 1910"
Francis Bennett-Goldney was born in 1865, under the name EVANS
...youngest daughter of Francis Bennett Goldney, one of the founders of the London Joint Stock Bank. Of two sons, Sebastian and Francis, the latter assumed the name of Francis Bennett-Goldney.
Former M.P. and Mayor of Canterbury (Mayor 1905-1912), and Honorary Military attache to the British Embassy in Paris
Spoke French fluently
Honorary Curator of the Beaney (Royal Museum)
"Francis Bennett-Goldney, former MP and mayor of Canterbury has died in France in an American hospital in Brest following a motor accident. He was the Honorary Military Attache to the British Embassy in Paris and Athlone Pursuivant in Ulster's Office."
Died July 27, 1918 in Brest, and was buried at St. Germain-en-Laye, near Paris. Why didn't they bring his body back to Canterbury to bury him there?
Brother was Sebastian EVANS, M.A., L.L.D.
He wrote a book about the Westgate...History of the Westgate by the late Francis Bennett-Goldney F.S.A. M.P., The Corporation 1906 Canterbury 1920, Paperback
Canterbury, the official Guide....by Francis Bennett-Goldney and Sebastian Evans (Barrister at Law, his brother) - Canterbury, Cross & Jackman, 1909 & 1912 - 96p.
Canterbury, the official guide, Francis Bennett-Goldney, published by the Canterbury and District Chamber of Trade, with the sanction of the City Council, 1912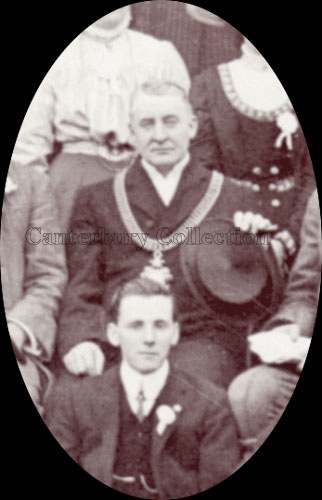 Francis Bennett-Goldney a detail from one of the photographs in my collection.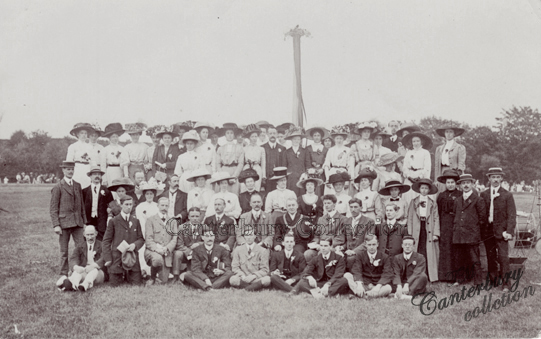 A group photo with Francis in the centre. He was mayor at the time (possible maypole in the background)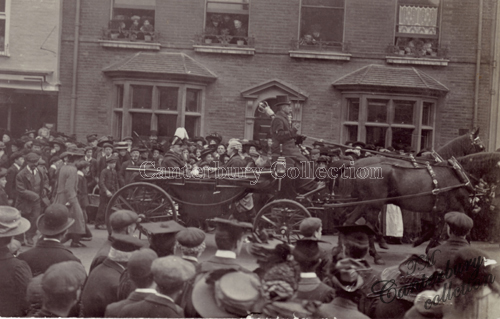 He was a Conservative. Elected to Parliament 1910 - 1918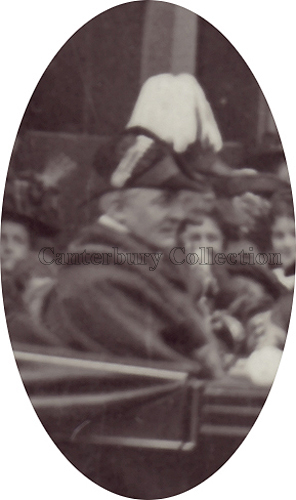 Mayor from 1906 to 1911
Abbot's Barton was the private residence of Francis Bennett-Goldney (leased).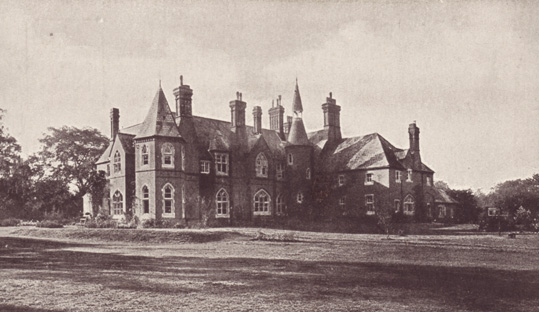 Francis gave the use of the premises "Abbots Barton" as a hospital in WW1
Francis Bennett Goldney and the French Beauty Queens August 19, 1909 after the Folkestone Show
back of the card reads "Were invited to Tea at Abbots Barton, and stood under the Mayoress's window and sang to her."
Looks like he has a crutch and cane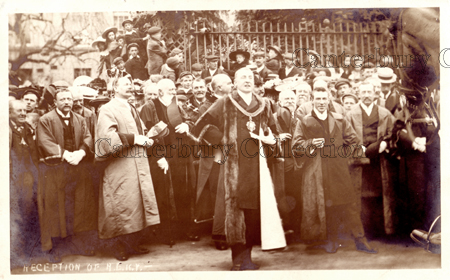 Reception of the Royal East Kent Yeomanry in front of the Hospital - a postcard in my collection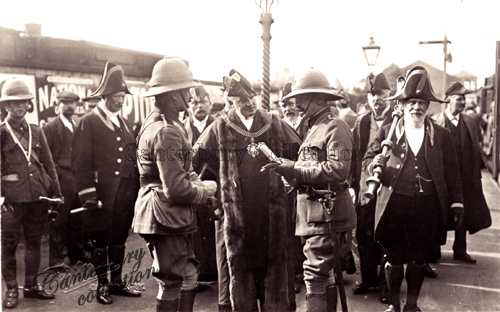 Francis at the Canterbury West train station platform. The departure of the 7th Dragoons. General Fanshawe (2nd Calvalry Brigade), Colonel Dietz, Alderman Mason, Sheriff Whittaker and councillors.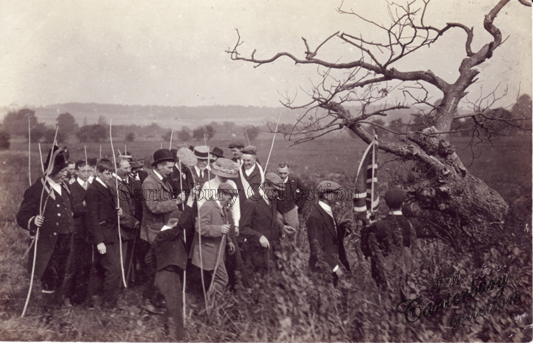 Beating of the Bounds 1910 (before the crossing of the Stour where his hat fell in), Bennett-Goldney on the right with the white scarf
Pilgrims' Signs, or Tokens, Made of Lead; Phial or Ampulla (lower right corner): Bell (lower centre); Bust of St. Thomas; Glove of Mail; Feather in Memory of the Black Prince; Swords. Mr. Bennet Goldney's collection, Canterbury. Eng. (1910) * a glass slide in my collection
*He was also honorary curator of the Beaney Museum (c. 1903 - 1913)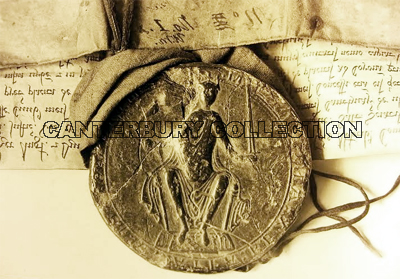 Charter of the City of Canterbury, Manuscript on Parchment, Drafted by Henry II. Attested by Signature of Thomas a Becket; Great Seal of England. Collection of Mr. Bennet Goldney, Canterbury, England (1910) glass slide in my collection
1898 - donated a wedgwood plate to the British Museum
1901 - donated a stone axe to the British Museum
There is a shield commemorating the death of Bennett-Goldney in the House of Commons Chamber
....misappropriation of city records
..records stored in the Guildhall were moved to Westgate, and then moved c. 1910 by Goldney to the Beaney
French Gymnasts visit to Canterbury, July 2, 1907
1891 - The Upper Ten : a story of the very best society, by Sebastian Evans and Frank Evans. [Adapted from "Le Monde Où L'on S'ennuie" of E. Pailleron.] *shown for sale in The Publishers' Circular, No. 1306, July 11, 1891 (Derny 8vo. paper covers, 1s.) *Also shown in The Academy, July 4, 1891 - No. 1000
1903 - Some works of art in the possession of George A. Cooper at 26 Grosvenor Square, Francis Bennett-Goldney. (Royal collection) *twenty five copies privately printed (a catalogue with plates) J. M. Dent & Company, 1903
1906 - A Descriptive catalogue of one hundred and eight miniatures in the collection of His Grace the Duke of Bedford at Woburn Abbey, by Francis Bennett Goldney. (Royal collection) 66 pages Publisher J. M. Dent & Company
February 1911 - a photograph was taken of Francis Bennett Goldney by Frank Bailey, Castle Studio, Castle Street, Canterbury
---