~ ARGRAVE FAMILY ~
CANTERBURY
_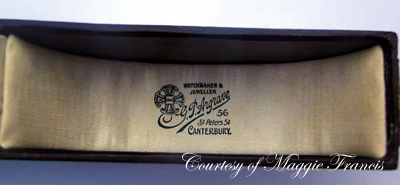 __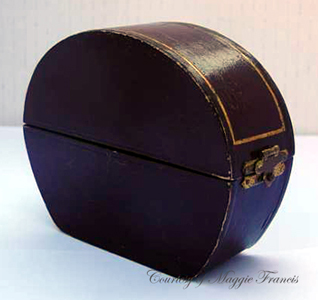 A special thank you to Maggie Francis for the photographs above. The lovely bracelet belonged to her great aunt Mollie RALPH (nee Driscoll) from Dover. It was likely a gift to her from her husband Raymond. In Dover, prior to the Second World War, Raymond was a butcher down in Snargate Street. He provided meat to the boats using the port of Dover at the time (which he stored to keep cool, in the caves at the back of Snargate Street).
George P. ARGRAVE, Shopkeeper, Watchmaker, etc.,
1889 - 28 St. Peter's Street
*56 St. Peters Street in the early 1900's noted as Shopkeeper, Watches etc., their son A. G. Argrave* died Sept 25, 1915, a private in the 6th Battalion, The Buffs at age 20.
*likely is George A. Argrave
The name is noted on Historical Clock & Watch Research (www.clockswatches.com)
A George Percy Argrave was born in Canterbury in 1864
31 Burgate Street, George Palmer ARGRAVE, Watch & Clock Maker with wife Martha Elizabeth of Barham, Kent and children Flora Edith, George Harry, Amy, George Percy and Frank Miles
Was a George H. Argrave, Watchmaker born in Canterbury, living in Deal in 1891
Both are sons of George Palmer Argrave a watchmaker, originally from Devonshire
Mr. G. P. Argrave, Burgate Street, subscriber to Charles Carrick: Poems: serious, humours and satrical
Burials of ARGRAVE Canterbury
George Harry Argrave - April 7, 1916 age 56 at St. Dunstan's
George Palmer Argrave - April 9, 1900, age 80 at St. Dunstan's
[Tombstone] In loving memory of George Palmer ARGRAVE born April 9th 1819 who fell asleep April 4th, 1900 Also of Amy MUMMERY daughter of the above who died May 7th 1898 aged 37 years Also Martha Elizabeth ARGRAVE wife of the above died September 30th 1916 aged 91 years. [plus footstone]
Martha Elizabeth Argrave, October 5, 1916, age 91 at St. Dunstan's
Marriage of ARGRAVE Canterbury
Marriage - Mary Anne Fanny Argrave August 23, 1876 to John ELLIS at St. Paul's, Canterbury
Palmer Argrave(s) March 8, 1841 to Caroline MAXTED at Holy Cross, Canterbury
Lovely family history of Agrave at "midnight-moon.com/argrave"
If you have any information or photo's from George Argrave that you wish to share, please
---