~ GAYWOOD ~
41 HIGH STREET (Across from the Guildhall)
Detail from an ad, from Canterbury Views c. 1902
Edward Gaywood was the son of Isaac Gaywood a carpenter from Hatfield Peverel, Essex. Edward was trained as a Master Baker and married Miss Frances Ellen Steverson on January 8th, 1873, at All Souls Marylebone. Edward was shown to be working as a Cook at the time of their marriage. The Steverson family ran a pub "The Sir John Barleycom" located at 17 Saville Street, Marylebone.
In the early 1880's Edward Gaywood and wife Frances are living at 10 Sun street and Edward is working as a Confectioner, the couple have children Frances Amelia* and Albert Edward. Edward is employing two Confectioner's Assistants, James Fermor and George William Setterfield as well as a general servant, Ms. Ellen F. Richardson.
1889 Directory Edward Gaywood, Cook & Confectioner
Edward Gaywood passed away on November 17th, 1890, in Canterbury, from a perforated stomach at the age of 43, his wife carried on with their business.
In the early 1890's Frances Ellen Gaywood, is now widowed, she is only 42, and has taken over the running of the Gaywood Restaurant and is working as a Pastry Cook & Confectioner in her shop. Her children Albert Edward (b. 1877) , Florence Lily (b. 1881) and William Horace (b. 1884) are still in school.
Frances had the following people working with her at the shop:
Ms. Ellen Wallace, Assistant
Thomas William Mockridge, Pastry Cook
Ms. Mary Ann Clements
Frank Lulrich, an Apprentice Baker
At this time, her eldest daughter Frances Amelia Gaywood is visiting Erith, Kent and staying with her Uncle Frederick Corbett, a member of the stock exchange and her Aunt Teresa Corbett, at No. 30 Picardy Road 'Carswell'
By the early 1900's Frances continues to work at the shop as the baker & confectioner, but now her son Albert Edward Gaywood has joined the business as a chef, and her brother-in-law Alfred Gaywood is the Manager and Bread Baker.
Ms. Clare Neame as a Confectioners Assistant
Ms. Mary Bonptage
Frances' eldest daughter Frances A. Johnston, is now married with a young daughter of her own, Frances K. Johnston.
1902 F. E. Gaywood & Son, Central Canterbury Restaurant
A 1902 Ad in my collection
1905 Florence Lily Gaywood marries Hubert Stanley Crow in Canterbury. Hubert is a Bank Clerk, and son of John and Sarah Crow of Woodbine Villa in Nunnery Fields. John Crow is a Cutler.
1917 Directory F. E. Gaywood & Sons Bakers
Edward and Frances' son Albert Edward Gaywood and his wife Caroline Mildred Twigg (Millie) took over the business.
Upstairs at 41 High Street there was a ballroom which doubled as a banquet hall. They did functions for Canterbury City Council and river trips. Albert Edward Gaywood also did the refreshments in the mayors tent for cricket week.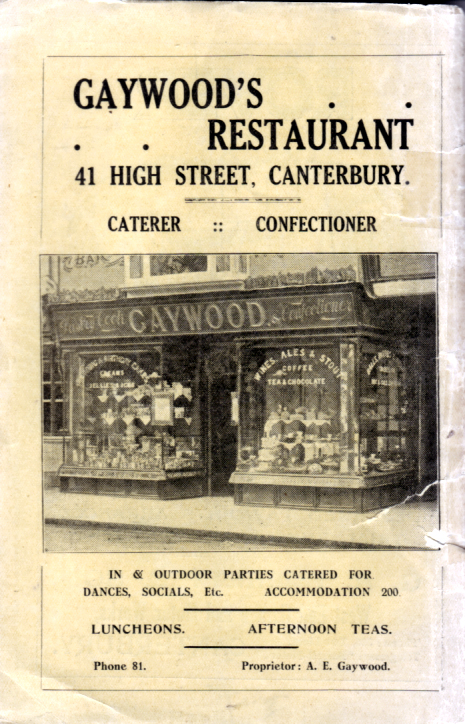 A 1922 Ad in my collection
Albert Edward Gaywood died on November 22, 1929, at 24 Beconsfield Road, shortly after the business was sold. His son Albert Douglas was unable to carry on the business due to an illness and injury when he was young. He in turn started a successful business with his twin brother Edward Seymour Gaywood.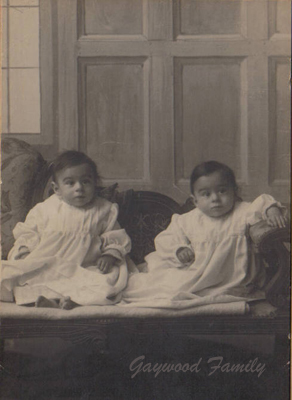 Douglas and Seymour Gaywood c. 1911/12 (born at 41 High Street, Canterbury)
Photo courtesy of a direct descendent of the Gaywood family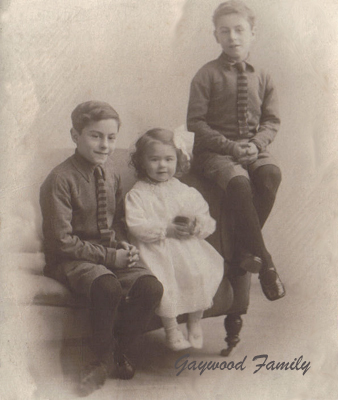 Douglas, Seymour and their younger sister Mildred Edna Gaywood c. mid 1920's
Photo courtesy of a direct descendent of the Gaywood family
Please contact me if you can provide any further information on the Gaywood family, the family would love to hear from you.
Much of the Gaywood family information has been provided by a direct descendent of the Gaywood family. Many thanks.
*Frances Amelia Gaywood passed away due to a car accident.
---