~ HOLTTUM FAMILY ~
CANTERBURY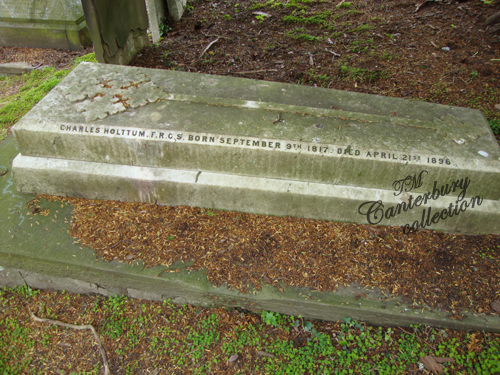 Charles Holttum's Gravestone in St. Martin's Churchyard
CHARLES HOLTTUM, F.R.C.S. BORN SEPTEMBER 9TH 1817 DIED APRIL 21ST 1896
No. 10 St. Peter's Street Private House
Charles HOLTTUM, FRCSE & LAC, Surgeon & Apothecary % ^ (died 1896)
Married Elizabeth COOPER 1843 at St. Martin's
*his daughter is Bessie L. Holttum born c. 1845
His wife Elizabeth Cooper passed away in 1850
No. 12 St. Peter's Friars Charles HOLTTUM, Surgeon * with daughter Bessie Louise Holttum (26)
No. 26 Watling Street - 1889 Charles Holttum, M.D. LATCHMERE HOUSE
Latchmere House, Watling Street - Charles Holttum (widower), Surgeon & General practioner
1894 Charles Holttum was a creditor of Jane Long, Fishmonger of St. Margaret's street in the amount of £25
In a two light stained glass window, on the north side of the chancel:
"To the memory of Edward and Sarah Holttum erected by their only surviving son Charles Holttum. F.R.C.S.E."
Edward HOLTTUM died in 1869, aged 75; Sarah Holttum (nee POUT) his wife died in 1865 aged 73.
Both were buried in St. Dunstan's Churchyard
Using the window as the starting point, Edward Holttum originated in Ash in 1795, son of John. Sarah was formerly Pout, born Canterbury,1792 to Charles and Harriet, nee Davis.

Son Edward Holttum, born 1815, died 1857 before his parents. Hence the wording in the window. Charles was the younger son born in 1817.
Those days were sorrowful as Charles wed Elizabeth Cooper who died when their child Bessie was six.

Edward married Elizabeth Knowler Bedford in 1841. They had six children, Gilbert Bedford in 1841, Elizabeth Mary in 1843 and Ann Emily in 1847. Triplets followed in 1850, one dying within days, the next within weeks and the last only lived months.

I had trouble tracing the widow and her family but when I did it gave me answers to other lines.

Elizabeth Mary was my great grandmother. I found her in London in the census with a cousin who must have been a parishioner of the Vicar who was to become my great grandfather. They lost their firstborn son age about seven and a baby girl who was born a year after that. My maternal grandfather was the survivor.
"information above thanks to Mary Butlin a descendant of the Holttum family"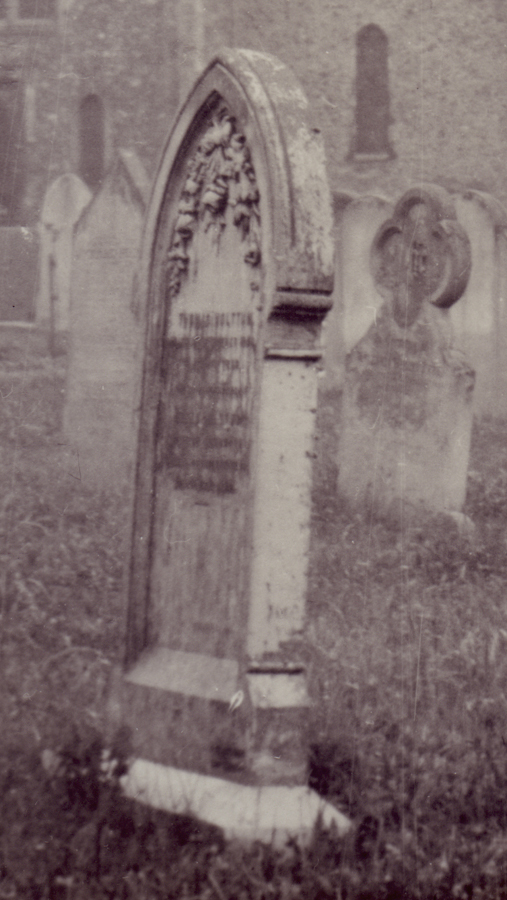 ___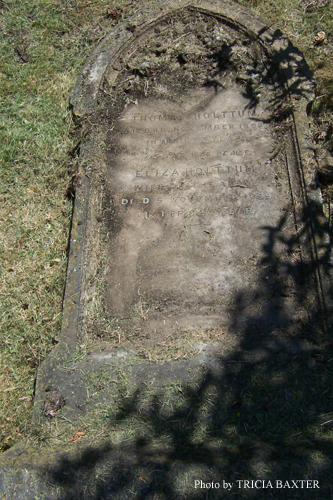 An old photo postcard of the church and graveyard from my collection (St. Dunstan's)
The colour photo is of the tombstone now that is in the black & white photo above left, the tombstone was toppled over and covered in grass. The stone reads:
THOMAS HOLTTUM
DIED 18 NOVEMBER 1898
IN HIS 67th YEAR
HIS END WAS PEACE
ELIZA HOLTTUM
WIFE OF THE ABOVE
DIED 5th NOVEMBER 1899
IN HER 82nd YEAR
*thanks to Tricia for this above write-up & photo of St. Dunstan
Thomas HOLTTUM married Eliza HORTON in 1854 in Canterbury, Kent
in the 1860's they were at 4 Rose Lane, and in the 70's they were located in Church Street, Staplegate, Thomas is working as a Fruiterer, by the 1880's they had moved and are now living at 10 the Borough and Thomas continues working as a Fruiterer
in 1891 Thomas and Eliza were living at 14 Duck Lane, Thomas was a Toll collector and he was born in Sturry, his wife Eliza was born in Canterbury.
PLEASE CAN YOU CONTACT ME IF YOU HAVE ANY FURTHER INFORMATION TO SHARE ON THE FAMILY