~ LONG FAMILY ~
CANTERBURY
October 1795, Mr. John HODGES, attorney-at law, of Canterbury, to be clerk to the commssioners of sewers, for East Kent, in the room of William LONG, esq. deceased.
Burials, St. Peter's, Canterbury 1622 - Feb. 19, Ellyn LONG, daughter of William LONG
"We know there was a lesser mound. It was called the "Little Dunghill," and stood near the Terrace and the present Gravel Lane, almost on a line dividing the parishes of St. George and Saint Mary Bredin. From an abstract of an ancient deed, dated 6th December, 1757, in the possession of Mr. Fryer, the present owner of the property, I find it was situated adjoining the house of a Mr. Tassell. It is alluded to afterwards in 1782, as being on the property of Mr. William LONG, one of the Aldermen of the city. The house, now No. 21, in Saint George's Terrace, is in the parish of Saint Mary Bredin. The house adjoining No. 20 is in Saint George's Parish. the mound stood on the site of these two houses, next to a lane called Sheepshank Lane, now Gravel Lane, extending to the brick wall next to the wall of the city. Mention is made in the said deed of there being a messuage upon it. We have no account when this lesser mound was levelled, probably, however, it was demolished when the houses above alluded to were built; nor are we sure it was in existence at the date of the deed."
From a deed in my possession dated January 20th, 1763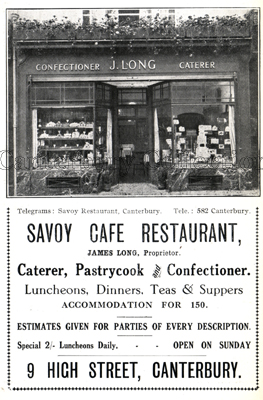 Savoy Cafe Restaurant 1925 AD from the Pilgrim's Guide - James LONG
PLEASE CAN YOU CONTACT ME IF YOU HAVE ANY FURTHER INFORMATION TO SHARE ON THE LONG FAMILY