~ MARSHALL FAMILY ~
CANTERBURY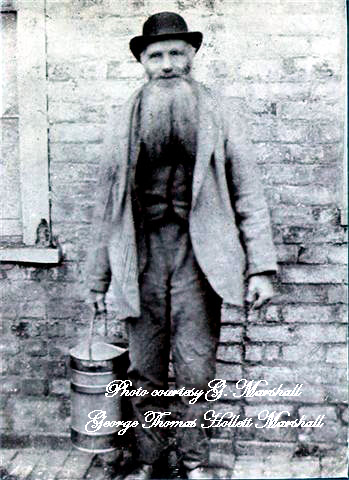 _
The Marshall family in Canterbury in the 1800's
George Thomas Hollet Marshall (see photo) was born in 1821 in Ospringe, Kent, and baptised 24 June 1821 in Faversham Parish Church.

In the 1830 Poll book, George and his older brother John Thomas Marshall. are shown as living in White Horse Lane, Canterbury. John was born in Faversham, Kent in 1815. They are both weavers and George is 9 years old, and John 15. There is no mention of other family members.

John lived at various addresses in Canterbury for most of his life. John married his first wife Sarah on the 16 June 1838, at St Mary's Parish Church, Faversham. Witnesses were Edward Marshall, and Ann Carter.
In 1841 John age 25 and his wife Sarah are living in Castle Street, St Mildred, Canterbury. John is a linen weaver. By 1851 John and his wife Sarah are living in White Horse Lane, Canterbury, Kent. He is a flax weaver. They have a visitor staying with them, younger brother George.

In 1861, John and Sarah are living at 5 Dane John buildings, Canterbury, in the parish of St Mary Bredin. John is still a Linen Weaver.

In 1871 John age 57, and Sarah age 59, have moved to 22 Dane John buildings, Canterbury. John is now a Weaver Foreman. Sarah dies in June 1878.

John's second wife was Mary Stickels and they married in the Registry office, Canterbury, on the 9th of November 1880. Witnesses were Walter William Sheepwash, and Harriet Easton. Mary was a widow, and her married name was Haywood. John is shown as a Journeyman age 65 and living at Upper Bridge Street, Canterbury. Mary's address is shown as Wincheap Street, St Mildred, Canterbury.

In 1881 John is 65, living with his second wife Mary at 22 Upper Bridge Street, Canterbury, St.Mary Bredin. He is Head of the household, and a weaver.

John died aged 68 in 1883 at 35 St George's Place, Canterbury. The cause of death: Gout 6 months, and Cellulitis left loin 14 days.
George did not live in Canterbury for as many years as John but his details are as follows:
In 1841 George is age 20 and living with his parents and sister Jane age 15 on "the right side of Preston Street Faversham" George is a Weaver.

George married Mary Jane Redman King at the Parish Church of St. Mary Bredman Canterbury in 1847. Their residence at the time of marriage was Whitehorse Lane. George's father is shown as John Marshall, weaver.

In 1851 George's wife (Mary) Jane age 24, and children Mary Frances age 2, Sarah age 2, and Thomas 5 mths are shown living in Greenstreet Teynham, Kent. but George is not with them. In fact he is visiting his brother John and his wife Sarah in White Horse Lane, Canterbury. John and George are both shown as Weavers. George is shown as a weaver on his son's William's Birth Certificate dated April 1852.

In 1861 George age 39 is shown as a Dealer in Marine Stores, living in Greenstreet Teynham with wife Mary Jane, age 34 and children (Mary) Frances, age 14, Sarah age 12. (These different ages are weird as in fact they are twins and both shown as 2 10 years ago in 1851), Thomas age 10, William age 8 , and John age 4. There is also a visitor Mary Allsworth, unmarried age 22 born in Teynham, Kent.

On his daughter's Marriage certificate (Mary Francis) in 1870 he is shown as a rope maker.

In 1871 George age 49 and Mary age 43 are living in Lucerne Street Teynham. George is a Grocer, Mary a Lace dressmaker. John Fredereick is 16 and a Blacksmith's apprentice. No mention of William who in fact is a Servant in 1 South Rd, Faversham.

In 1881 he is shown as a Cow-keeper on his son Williams Marriage Certificate.

In 1881 Census, he is shown as a Milkman, living as a Boarder at Lynstead Lane, Lynstead, Kent with his wife Mary.

10 years on in 1891 George (now 69) has lost his wife Mary (in 1887) and is now Head of the household in Lynstead Lane, with Matilda Dence as housekeeper. He is a Dairyman. On his death Certificate in Jan 1900, and on his wife's death certificate in 1887, he is shown as a Dairyman and his address was Greenstreet Lynstead, Kent. Information at the Londonn probate Office states he left Effects (£16) to his daughter Mary Francis Sweetlove, wife of Joseph Sweetlove.
Information courtesy of G. Marshall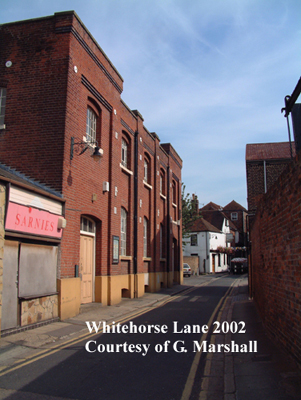 ______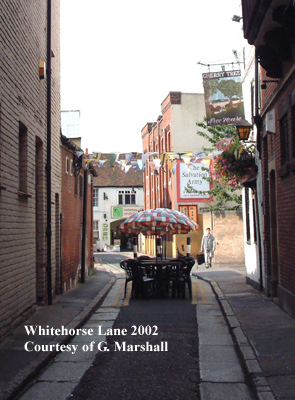 PLEASE CAN YOU CONTACT ME IF YOU HAVE ANY FURTHER INFORMATION TO SHARE ON THE FAMILY