~ OFFICERS & COMMANDERS ~
3rd (East Kent) Regiment of Foot (or The Buffs)
1873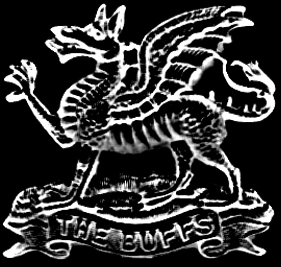 1st Battalion in Seetapore, Bengal
2nd Battalion in Dover
1st Battalion embarked for Calcutta, 24 July 1866 Depot, attached to 2nd Batt.
2nd Batt. returned from Barbadoes, 26 June 1866
Col. Hon. Sir James Lindsay, KCMG
Lieut- Col
Charles Knight Person *
Colonel Pearson served as Adjutant of the 31st Regt. in the Crimea from 3rd Sept. 1855, including the siege and fall of Sebastopol and attack of the 8th Sept. (Medal with Clasp, and Turkish Medal)
Talbot Ashley Cox *
Lt. Colonel T.A. Cox served with the Buffs in the Crimea from the 1st May 1855 including the siege and fall of Sebastopol, and was wounded at the assault of the Redan on the 8th Sept. (Medal with Clasp, 5th Class of the Medjldic, and Turkish Medal.)
Majors
Francis Morley
Mark Walker
Henry Parnell
Walter Augustus Daubeny *
Major Daubeny and Captains F. T. Jones, Hobson and Halahan served the campaign of 1860 in China (Medal with Claps for the Taku Forts)
Captains
Clifford Parsons
Francis Eteson
William Ker
John Blaksley
Felix Thomas Jones *
Shapland Grave
Frederick Taylor Hobson *
Henry Thomas Halahan *
Charles James Hamilton
Walter Carr Mackinnon DAAG for Musketry, Peskaeur, Bengal
William Henry Irvine
James Edward Forster
Jos. Jas. Boardman Haydock
William Frederick Kerr
John Francis Whitworth
Edward Girdlestone Graham
Henry Drinkrow Harrison
Edward Charlton Dickson
Francis Wiliam Kane
Charles Edward Reeves
Stewart John Dyer
Lieutenants
Thomas Wm. Carpenter
Arthur William Hill Gelston. Inst. of Musketry 15 Oc. 69
Herbert Stoddard Neild
George Agar Alexander
George Robert Taylor
Edward John Lynch, Adjutant 5 Jan. 70
Waldron Edward Roper Kelly
Goerge Ernest Harley, Inst. of Musketry 15 May 67
Arthur Alfred Barnard
George Sydney Carr
Ethelred St. Barbe Sladen
Ricahrd Coropton Maul
Alexander Iunes
Arhtur Trevor Leslie
Robert Albert Hickson
William Henry Wyld
Thomas Edward Spencer
Henry Wallick Maclear
Arthur Charles Jackson
Henry FitzGerald Stevens
William Conquest Howarth
Edwards Werge Howey
George Albert Colvill adjutant, 28 Oct. 71
Albert Edwrd Ommanney
Lionel Thomas Speas
Reginald Edward Guise
Michael King Martin
William Wyndham Harris
Frederick Armstron Coles
Edmund Palmer
Aubrey De Vere Alaxander
Richard Richards Breffney Ternan
Thomas Edw. Kerr Addison
Sub - Lieutenants
Robert Walcott McGillivray Martin
Julius Batt Backhouse
Henry Edward Montague Dorington Clotworthy Upton
Paymasters
John James Bailey
James Wray
Quarter Masters
George Pittendrigh
Alfred Berry
Surgeons
John Lyster Jameson
William Collis
Asst. Surgeons
James Ferguson
Edmond Townsend, MD
Henry Walker
---
Motto "Veteri Frondescit Honore"....."With its Ancient Honour it is Evergreen"
---