~ OFFICERS & COMMANDERS ~
3rd (East Kent) Regiment of Foot (or The Buffs)
1876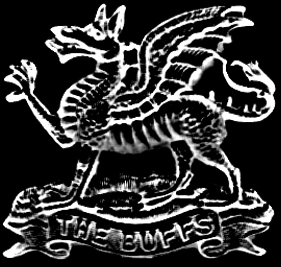 1st Battalion Malayan Peninsula
2nd Battalion Mullingar
1st Battalion embarked for Calcutta, 24 July 1866 Depot, attached to 2nd Batt.
2nd Batt. returned from Barbadoes, 26 June 1866
Colonel
William Craig Emilius NAPIER - Colonel 3rd Buffs, 14 Aug. 1874
Lieut- Col
Charles Knight PEARSON
Colonel Pearson served as Adjutant of the 31st Regt. in the Crimea from 3rd Sept. 1855, including the siege and fall of Sebastopol and attack of the 8th Sept. (Medal with Clasp, and Turkish Medal)
Talbot Ashley COX
Lt. Colonel T.A. Cox served with the Buffs in the Crimea from the 1st May 1855 including the siege and fall of Sebastopol, and was wounded at the assault of the Redan on the 8th Sept. (Medal with Clasp, 5th Class of the Medjldic, and Turkish Medal.)
Majors
Francis MORLEY
Major Morley served with the Buffs in the campaign of 1860 in China, and was present at the action of Sinho, and taking of Tangku and the inner Taku Fort (Medal with Clasp)
Henry PARNELL
p.s.c. Clifford PARSONS
Professor Staff College, Ensign 16 Feb. 49; Lt. 10 Dec. 52; Capt. 25 Sept. 53?; Bt. Major, 19 Nov. 71; Major 10 Dec. 73
Walter Augustus DANBENY
Major Danbeny and Captains F. T. Jones, Hobson and Halahan served the campaign of 1860 in China (Medal with Claps for the Taku Forts)
Francis ETESON (see photo below)
Major Eteson served with the 18th Royal Irish throughout the second Burmese war, including the capture of Martaban, Rangoon, Prome, and the Donabew stockades (Medal with Clasp for Pegu)
William KER
Ensign 29 Nov. 55; Lt. 17 Nov 57; Capt. 5 July 64; Major 28 March 74
Captains
John BLAKSLEY
Felix Thomas JONES
Shapland GRAVES, Assistant Military Secretary, Barbadoes
Frederick Taylor HOBSON
Henry Thomas HALAHAN
Charles James HAMILTON *
Bankrupts. Friday, Mar 21, 1879. To Attend in the Country. C. H. Hamilton, Canterbury, Kent, Captain in H. M.'s Regiment of 3rd Buffs. Pet. Mar 12. April 4 at 3, County Court, Canterbury. The Weekly notes - March 29, 1879. (Charles James Hamilton)
Walter Carr MACKINNON DAAG for Musketry, Peshawur, Bengal
William Henry IRVINE
James Edward FORSTER
William Frderick KERR
Edward Girdlestone GRAHAM
Henry Drinkrow HARRISON
Francis Wiliam KANE
Charles Edward REEVES
Arthur William Hill GELSTON
George Agar ALEXANDER
George Robert TAYLOR
Edward John LYNCH, at Staff College
Augustine Hugh LEFROY
Captain Lefroy served with the 45th Regt. in the Abyssinian campaign in 1868 (Medal)
Waldron Edward Roper KELLY
George Ernest HARLEY
Lieutenants
George Sydney Carr
Arhtur Trevor Leslie
Robert Albert Hickson
William Henry Wyld
Thomas Edward Spencer
Henry Wallick Maclear
Arthur Charles Jackson, Adjutant, 12 Aug. 74
William Conquest Howarth, Interpreter
Edwards Werge Howey
George Albert Colvill Adjutant, 28 Oct. 71
Albert Edwrd Ommanney, Inst. of Musketry 26 Feb. 75
Lionel Thomas Spens
Michael King Martin
Edmund Palmer
Richard Richards Breffney Ternan
Robert Walcott M'Gillivray Martin
Julius Batt Backhouse
Richard Stanley Hawks Moody
Thomas Fra. Conynghame Armstrong
Home Johnstone Fergusson
Francis Macdonald Drury
Robert George Kekewich
Sub - Lieutenants
Nathaniel Newnham-Davis
John William Hind
Edward Peyton Ventris
Cosmo Huntly Gordon
Hudson Henry Ozzard
Bryan Francis Holme
George Herbert Chippindall
Henry Calthorpe Somerset
Charles Evelyn Mason
William Henry Jameson
Hugh Roddam Tate
Paymasters
John James Bailey
James Wray
Quarter Masters
James Wilson Colley, 18 Oct. 73
Timothy Cleary, 18 Mar. 74
Surgeons
Major William Collis, Surgeon, 5 April 71
Henry Walker, Surgeon Major, 1 April 74
---
Francis Eteson in Dress Uniform c. 1889 - this photograph is displayed with the permission of Rodney Bomford, great-grandson of Francis and Isabella Eteson. If you have any information on the Eteson family, or Francis Eteson of the Buffs in particular, please CONTACT ME

Francis Eteson was born Nov. 17th, 1830. Educated at "King William's College", Isle of Man, he left King Williams College in Aug., 1847. He is the son of Rev. R. Eteson, Chaplain, E. India Coy.'s Service, Calcutta, India.
Ensign 28th Foot 1847. - Lieut. 1852. Lieut. 52nd Foot - 1853. Capt.
52nd (Oxfordshire) Rt. of Foot (Lt. Infrantry) - Emb. for India June 30 1853, Head Quarters Lucknow

Major 1872. Lt.-Col. 1879. Colonel 1884. Hon. Major-Genl. 1885. Served with 18th Foot throughout Burmese War, 1852. Medal with Clasp.

Held many Staff Appts. , including 12 years Head Quarter Staff Army in India. Kearsney, Dover, Kent.
1873 BENGAL ADJUTANT-GENERALS DEPARTMENT
1878 LINE BATTALIONS 3RD (EAST KENT THE BUFFS)
1888 MAJOR GENERAL RETIRED ON FULL OR RETIRED PAY OR ON A PENSION

Lieutenant Francis Eteson, from the 18th Foot. Dated 27th May 1853 - To be Lieutenant without purchase - Bulletins and Other State Intelligence & United Service Magazine
---
Motto "Veteri Frondescit Honore"....."With its Ancient Honour it is Evergreen"
---