~ OFFICERS & COMMANDERS ~
3rd (East Kent) Regiment of Foot (or The Buffs)
1882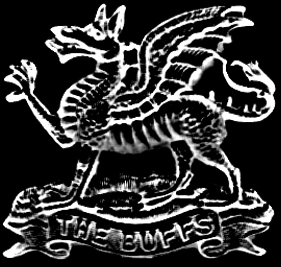 3RD REGIMENTAL DISTRICT - 1882
Depot of the Buffs (East Kent Regiment) Station Staff
Officer Commanding Regimental District, Bt. Colonel H. Holden Steward
*Henry Holden Steward - 1881 Commanding 45 Brigade Depot, Colonel, born Wasperton, Warwichshire (age 49), married Isabella Malcolm (34) from Edinburg, daughter 14 born Bengal India, son age 13 born Canterbury, son age 9 born Aldershot, Hants, daughter age 5 born Leeds, York., living at The Barracks Northgate Canterbury. 1871 they were in Colchester Cavalry Barracks, Essex, and he was a Major. 1872 - On the 26th June Lt. Colonel and Colonel William Henry Seymour CB after having held command of the regiment for nearly 14 years retired to half pay. On the same day Major Henry Holden Steward was promoted Lt. Colonel and succeeded Colonel Seymour in command of the regiment (Queens Bays 1872 4th April Stations Aldershot). Harts Annual Army List, Militia List, and Yeomanry List (1859) - 2nd (The Queen's) Regiment of Dragoon Guards, Serving in India, Depot, Canterbury, The Royal Cypher within the Garter. Captains - Henry Holden Steward, Coronet, 12 Apr 50, Lieut 11 June 1852, Captain 11 July 56. Years service 9.
Senior Medical Officer, Surg.-Maj. Eugene F. O'Leary M.D. A.M. depart
*Eugune Francis O'Leary, Medical Department - asst surgeon 9 Feb 56, years service 3 (Harts 1859)
Chaplain to the Forces, Rev. William Sykes M.A.
Veterinary Surgeon, Walter Burt, MRCVS army vet. depart
Paymaster Regimental District, Major William Joice (staff paym. a pay dept)
Royal Horse Artillery, Lieut.-Col. Commanding, G. R. Manderson C.B.
Cavalry, Artillery & Infantry Barracks, Commissariat Officer in charge, Deputy Assistant Commissary General, Lewis Augustus Clutterbuck
*Lewis A. Clutterbuck - 1881 - Dept. Assistant Coming India In H.M. Communicant? Staff Active List, born 1855(age 26), Campla Madras (British subject), Lodger at 9 Hawks Lane, Canterbury. In Chester, Cheshire in 1891, at 1 Hough Green, Colonel in the Army, full pay born India (British Subject) noted as Single. His sister is living with him and a boy noted as "son" (Lewis S. J. Clutterbuck). It shows he was possibly married in 1882 in Guildford Surrey to an Annie Rachel Mullins. *there was a book "The bond of sacrifice: A biographical record of all British Officers who fell in the great war" written by Col. Lewis Augustus Clutterbuck c. 1917
3rd & 4th Battalions, The Buffs (East Kent Militia), headquarters, The Barracks, Sturry Road;
Col. H.T. Howell, lieut.-col commandant (1st battn)*
Col. John Edward Beales, lieut-col. (2nd battn)
Major Waldon E.R. Kelly, adjutant
Baptist Anderson (4th battn) & James William Colley (3rd battn) Quartermasters
Surg.-Maj William Kaylet Curtis, medical officer**
*Birth, June 7th, 1859, at Nether-court near Ramsgate, the wife of Capt. H. T. Howell, East Kent Militia, a daughter - The Gentlemen's Magazine.
**Commission signed by the Lord Lieutenant of the County of Kent. East Kent Regiment of Militia. William Kaylet Curtis, Gent., to be Assistant-Surgeon, vice Reid, resigned. Dated 17th October, 1857........Apothecaries' Hall. The names of gentlemen who passed their examination in the science and practice of medicine, and received certificates to practice, on Thursday, June 23, 1853: William Kaylet Curtis, Harting (should read Hasting?), Petersfield. Born c. 1831, Hastings, Sussex, died 1904 in Canterbury, Kent. Married 1861 Portsea Island, Hampshire Frances Mary Jackson. 1881 at 61 Burgate Street in Canterbury, with wife Frances, and daughter Mary (18) born Canterbury.noted as Surgeon.
John Blaksley, Major 1/3 Foot
Albert Edward Ormanny Captain 1/3 Foot
Alfred J. Watson Alten? Lieutenant 2/3 Foot
James Lewis Compre? Knight Bruce Lieutenant 1/3 Foot
William Carter Sergeant Major 45 Brigade Depot
Thomas Sharpe Quarter Master Sergt. 45 Brigade Depot
Thomas Ryan Color Sergeant 1/3 Foot *born Tipperary
Alfred Johnson Color Sergeant 1/3 Foot
Frederick Foley Color Sergeant 2/3 Foot *born Hong Kong China
Alfred Watson Sergeant 2/3 Foot *born Bristol, Somerset
1882
1st Batt. Dublin
2nd Batt. Hong Kong
The Buffs (East Kent Regiment) Formerly the 3rd (East Kent - The Buffs)\
The 3rd and 4th Battalions are formed of the East Kent Militia
Regimental District No. 3, Canterbury
Colonel
Julius Augustus Robert Raines
Lieutenant Colonels
Henry Parnell, CB. Ensign, 23 May 55
*Colonel Parnell served with the 3rd Buffs in the Crimea subsequent to the fall of Sebastopol. Commanded the 2nd Battalion 3rd Buffs throughout the Zulu war of 1879, and was present at the engagement of Inyezane and during the occupation of Ekowe (mentioned in despatches. CB., Medal with Clasp)
John Blaksley, Ensign, 7 May 58
Shapland Graves. Protector of Indian Immigrants at Natal; Ensign, 28 Feb 56
*Lt. Colonel Graves organised for the Zulu war of 1879 the 2nd Regiment of Natal Native Contigent, consisting of two battalions, and served with Pearson's Column, in command of the regiment, during the advance to Ekowe, taking part in the engagement of Inyezane (mentioned in despatches as having been indefatigable in his exertions, Medal with Clasp).
Federick Taylor Hobson, Ensign, 30 Oct 57
Majors
Henry Thomas Halahan
*Major Halahan served with the 3rd Buffs in the campaign of 1860 in China, and was present at the action of Sinho and taking of Tangku and the inner Taku Fort (Medal with Clasp). Served in the Zulu war of 1879 (Medal with Clasp)
Charles James Hamilton
*Major Hamilton was employed in Natal during the Zulu war of 1879 (Medal)
William Frederick Kerr
Edward Girdlestone Graham
Henry Drinkrow Harrison
Francis William Kane, Adjutant 24 Middlesex Rifle Volunteers
Charles Edward Reeves
psc. Edward John Lynch, Garrison Inst. Home District
Waldron Edward Roper Kelly, Adj. 3 and 4 Battalions (E. Kent Militia)
George Ernest Harley, Capt. Instructor, Hythe School of Musketry
Arthur Trevor Leslie
Captains
Robert Albert Hickson
Henry Wallick Maclear
Arthur Charle Jackson
William Conquest Howarth
Albert Edward Ommanney, Adjutant East Kent Rifle Volunteers
Lionel Thomas Spens
Robert Walcott M'Gillivray Martin
Julius Batt Backhouse
Richard Stanley Hawks Moody, at Staff College
Nathaniel Newnham-Davis
John William Hind
Cosmo Huntly Gordon
Francis Smith
Lieutenants
Bryan Francis Holme
George Herbert Chippindall
Henry Calthorpe Somerset, Adj. 24 Dec. 78
Robert George Kekewich, Adj. 10 Apr. 76
David Francis Lewis, Instructor of Musketry 24 Aug. 80
Percy Green
Henry Raleigh Knight
Alfred James Whitacre Allen
Arthur Horsman Coles
John Hughes
Herbert John James Middleton
Hugh Blackburn
Correy Langrishe Connellan
James Comyn Lewis Knight Bruce
George Adrian Porter
Courtenay Bourchier Vyvyan
Alexander M'Lachlan
Arthur Henry Tylden-Pattenson
Vesey Thomas Bunbury
Archibald Francis Campbell-Johnston
Herbert St. David Jarrett
Percival Forbes Brine
Edgar Evelyn Ravenhill
Robert Edward Philips
Douglas Abercromby Hamilton
Richard Ley Retallack
George Graham Hughes D'Aeth
George Rippon
George Victor Danglish
Charles Patteson Lloyd
Edward Charles James Williams
Reginald Bayard
William Henry Booth
Alexander Rowland Eustace
Charles Ferguson Campbell
Bertram Reveley Mitford
Aella Molyneux Berkeley Gage
Paymaster - Arthur William Hill Gelston
Quarter Masters - Joseph Webb Fairley, 8 Feb. 82
John William Coombes, 22 Feb. 82
Facings - White
1st Battalion, embarked for Calcutta, 3 July 1866.
2nd Battalion embarked for Cape of Good Hope, 3 Oct. 1876.
---
Motto "Veteri Frondescit Honore"....."With its Ancient Honour it is Evergreen"
---