~ NEW DOVER ROAD ~
CANTERBURY
New Dover Road was laid out by a private Act of Parliament in 1792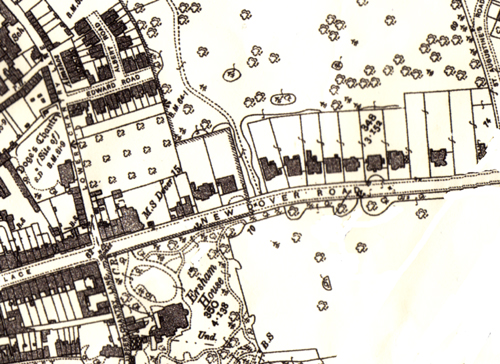 The great high road, at the entrance to the city, through the late St. George's gate, from Dovor, being narrow, with several dangerous turnings, an act was obtained that year to alter the course of it entirely, by making new roads towards Dovor, in a straight line from that gate, for more than a mile and a half, through Barton Field, on each side of which several houses have been built.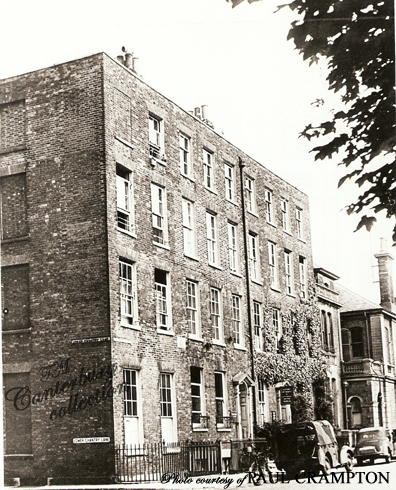 The junction of Lower Chantry Lane and New Dover Road, in 1941, thank you to Paul Crampton for the use of the above photo.
St. George's Place / Lower Chantry Lane
ST. GEORGE'S FIELDS
No. 1
George Ash, Retired Brewer
Emily Mount, niece, born Nackington *daughter of George Mount and Martha Ash (Martha is George Ash's sister)
*George Ash, Barton Fields, Canterbury, 366 0 0 (acres) 750 0 (rent), return of owners of land, 1873 (Kent)
He was at 36 Watling street in the 70's, Retired brewer & landowner, born St. Mildred, Canterbury
Ann. O. Collard, was a neice of George Ash
George Mount married Martha Ash August 2, 1838 in St. Mildred's Cantebury, Martha was the daughter of George Ash and Ann Culmer. George and Ann also had a daughter Elizabeth b. 1815. Elizabeth married George Plomer Collard in St. Mildred's Canterbury, January 23, 1838, and daughter Louisa Harriet Ash born c. 1807, married Nelson Collard December 15, 1834, St. Mildred's Canterbury
1917 Thomas Mount Collard, Miss C. L. Edwards Brock
No. 4
THE FIRS
1917 Mrs. Plummer, John Plummer, Esq, Solicitor
No. 5
1917 P. J. Taylor
1934 Abbot Bros. (Kent) Ltd. 5 New Dover Road (established 1786)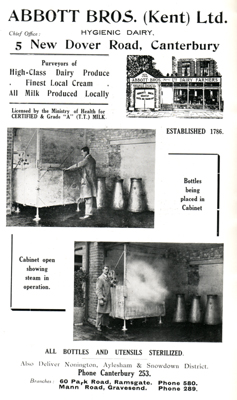 ___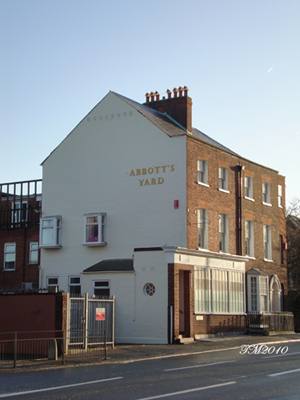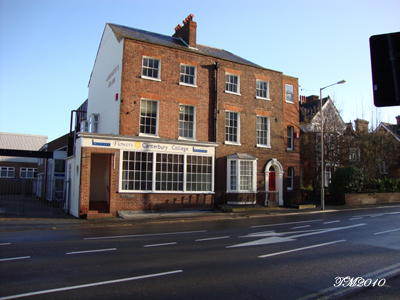 Barton Fields
SWARTHMORE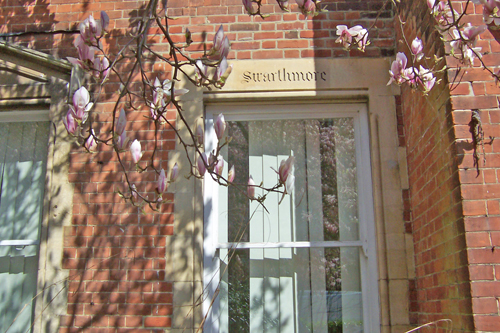 1917 Miss Dives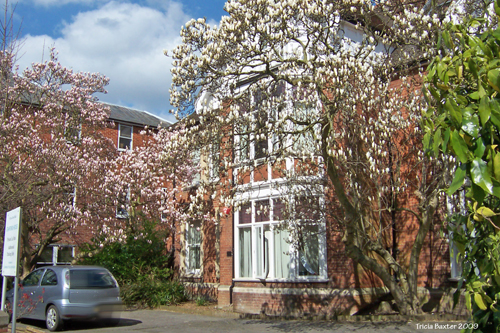 Swarthmore, New Dover Road
BARTON LODGE
1917 Miss Agnes Furley
SPELDHURST
1917 R. A. Potts, Esq.
No. 4
1917 Mrs. Shaxby
No. 5
1917 Rev. J. LE Mare Shallis (A.K.C.)
HINXTEN
1917 Miss Tuke
RANMORE
1917 F. Wacher, Esq. (M.R.C.S., L.S.A. Lond)
No. 8
BARTON TOWER
1917 Mrs. Frith
THORNDENE
1917 Col. & Mrs. Harry Parker
COLIGNY
1917 Miss Lefevre
LAURISTON
1917 Mrs. W. Lefevre
WILTON LODGE
1917 Rev. Hodgson, Richard Greaves M.A.
St. Augstines Road
PINECROFT
1903 - Cecil Edward Kingsford "PINECROFT", Barton Fields
*Examinations at the Incorporated Law Society. June 1878 - Final Examination. At the examination of candidates for admission on the roll of Solicitors of the supreme Court, the Examination Committee recommended the following gentlemen under the age of twenty-six, as being entitled to honorary distinction. 9. Cecil Edward Kingsford, who served his clerkship to Messrs. Wightwick, Kingsford, and Wightwick of Canterbury. The Law Times, July 27, 1878
1883 - The Law Times - Professional Partnerships Dissolved, Gazette, Jan. 4. Wightwick, Kingsford, Wightwick and Kingsford Solicitors, Canterbury: Thomas Norman Wightwick, Montague Kingsford, William Norman Wightwick and Cecil Edward Kingsford j. As regards T. N. Wightwick. Dec. 31. Debts by remaining partners.
1917 C. E. Kingsford, Esq. Miss Burridge
THE GROVE
1903 - Mrs. Rogers, "THE GROVE", Barton Fields
"Rev. Thomas Rogers was a vicar of Roxwell from 1884 until 1896, when ill-health compelled him to resign and remove to the Grove, Barton Fields, Canterbury. He died there in February
1917 Mrs. Rogers
THE GRANGE (No. 65-67)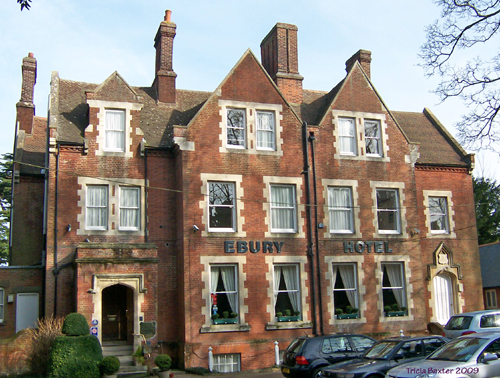 The Ebury Hotel, formerly "THE GRANGE"
1917 Lady Dawes
Was also St. Ninians School
POYNINGS
1917 Mrs. Wightwick, Norman H. Wightwick, Esq. B.A.
ST. BRELADES
1917 H. Feilding, Esq.
COMBE HOUSE
1863 - George Taddy Tomlin, Esq. F.S.A. "COMBE HOUSE", Barton Fields (member of the Royal Institution of Great Britian)
1876 - George T. Tomline, Esq. F.S.A., F.R.G.S. "COMBE HOUSE", Barton Fields
1917 W. Furley, Esq.
THE GABLES
1917 Sir George Collard, J.P.
LITTLE BARTON
John Bean, Farmer
John Brent Jr. - secretary to the Kent & Canterbury ..... Investement Society
John Brent Jr. Esq., Canterbury. Subscriber to "Consuetudines Kanciae" by Charles Sandys 1851
Cecil Brent, living with John Brent
John Brent Sr. Magistrate, Alderman
John Brent, Esq., Alderman and J. P. Canterbury. Subscriber to "Consuetudines Kanciae" by Charles Sandys 1851
"Death, April 3, 1845. Louisa, wife of Mr. Charles Collard, of Wickham Court, and eldest daughter of Henry Collard, esq. of Little Barton, near Canterbury." The Gentlemen's Magazine, 1845
*Monuments of Nackington Church related to the Collard family on the Kent Archaeology website
"John Brent, jun., Esq., F.S.A., communicated some highly interesting remarks on antiquities discovered at or near Canterbury. The antiquities consisted of the following objects, which we arrange according to the localities where they were found. .... 6. (Little Barton): a skinning-knife.
Mr. Brent also exhibited a drawing of a cruciform fibula, already mentioned in our summary of the ordinary meeting of this Society, Jan. 10, and one of a gold torque found at Little Barton."
The Gentlemen's Magazine and Historical Review M DCCC LXI, January to June 1861
Charles Collard, Farmer 540 acres of Land &
1917 Percy M. Collard
St. George's Place
BELSWAINES
1917 George Browning
MAXWELLTON
1917 Mrs. F. J. Godden
Footpath to Old Dover Road
BARTON FIELDS
ABBOTS BARTON (No. 36)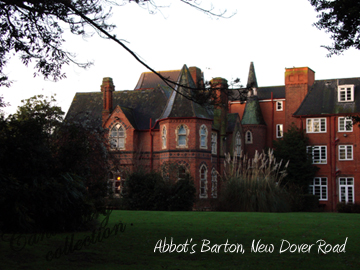 STANMORE
(there is a road now in this area called Stanmore Court)
1881 Thomas Lambert, Late Captain R.A. from Devon, Devonport "STANMORE"
1903 Capt. Thomas Lambert J.P. (late RHA) "STANMORE", Barton Fields
STRAVITHIE
1917 Miss Peckham
ELLERSLIE (No. 54)
The Youth Hostel, formerly ELLERSLIE, built in 1875
1917 Rev. A. Collett, M.A.
SUNBURY
1917 F. W. Furley, Esq.
*Helen Maude Haig married F. W. Furley of Canterbury in 1881, and died 1937, leaving issue.
St. Lawrence Road
ST. LAWRENCE HOUSE
1917 Headquarters of 2/1st Kent Cyclist Battalion
CAVENDISH
1917 Mrs. Mark James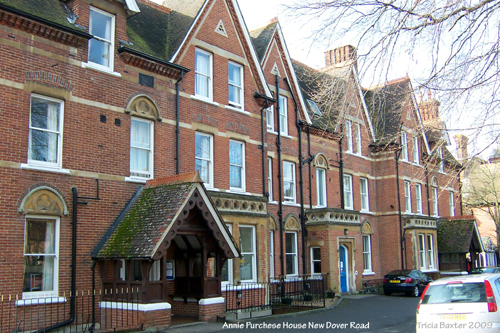 Annie Purchas House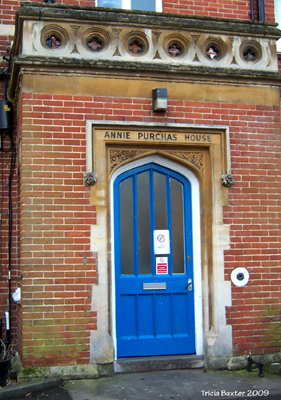 THE GARTH
1917 Charles Stoker
STADDON
1917 Herbert Biggleston
ALBERT COTTAGE
1917 Albert Piper
---
Births - at Barton house, Canterbury, the wife of Captain Augustus H. King, Royal Horse Artillery, a daughter. The Gentlemens Magazine 1864
The Solicitors' Journal & Reporter - July 12, 1873
Estate Exchange Report
At the Mart
By Messrs. Farebrother, Clarke & Co.
Canterbury - Barton Fields, freehold residence, with pleasure grounds - sold for 2,600 Pounds
For Sale 1907 - St. Augustine's Road, Barton Fields, Canterbury - House containing five bed and dressing rooms, bath, etc., nice conservatory and walled-in garden; £200 down and remainder on mortgage. Dean, 1, Cossington Road, Canterbury
Roman Antiquities under bog earth at Canterbury - Dear Sir, a large pipe drain is being laid down in Canterbury, the course of it running the whole length of the city from the houses in Barton Fields, beyond the London and Chatham Railway on the Dover Road, to the River Stour at East Bridge.
The cutting is from ten to fifteen feet deep. In one part of the inn the workmen came to a stratum of bog earth, lying at about nine feet below the pavement. On each side of the black earth, and at the same depth, remains of Roman pottery, and, apparently, Roman foundations of buildings were found. These men also dug up some ornaments for the person, and other similar things. Some of this earth I have subjected to the process of boiling in acid, and upon examining with the microscope the residue, I found various Diatomaceae, Coscinodisci Navicula, &c. The Geologist, by Samuel Joseph Mackie 1861
Some of the houses now