~ OVENDEN / HOVEDEN FAMILY ~
Canterbury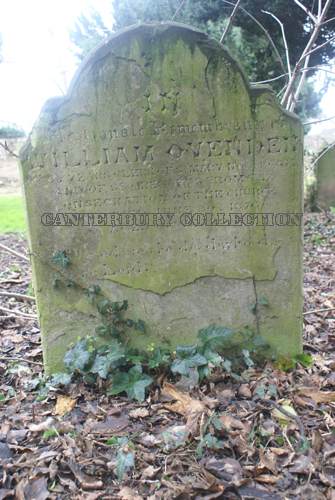 In
Affectionate Remembrance
WILLIAM OVENDEN
Many years clerk of St. Mary Northgate
and of St. Gregorys from the
consecration of the church.
Who died June 30th 1870(?)
Aged 68 years.
Blessed are the dead who die
in the Lord.
...On Aug. 4, 2 Eliz (viz. 1560) John HARRINGTON, and George BURDEN, Gentlemen, sold the scite of the Friars, wiht the buildings, appurtenances, &c. to William OVENDEN, of Canterbury, Cloth Maker, who made it his residence. He left issue by Margaret his wife, 3 sons, Robert, Christopher and George, and was dead, as well as his son Christopher in the 9 James I. (viz. 1610)
Robert his eldest son and heir, then came into possession of this estate, and chose to write his name HOVEDEN. Wood gives the following account of him. "Robert Hoveden, a Kentish man born, was elected Fellow of All Souls College in 1565, took the Degrees in Arts, that of Master being compleated in 1570, and in the year following, being then 27 years of age, he was elected and confirmed Warden of the said College. About the same time entering into holy Orders he was made Domestic Chaplain to Matthew, Archbishop of Canterbury, afterwards Prebendary of the Cathedral there, Prebendary of Henstridge in the Church of Wells, Prebendary of Clifton in the church of Lincoln, and at length D.D. ...
Robert HOVEDEN, Esq. of Chinnor, Co. Oxford, the eldest son was possessed of the Black Friars, and on Nov. 29, 1658, he sold this estate, by the name of "all the scite of the late Priory of the Black Friars, &c. with the appurtenances, within the scite, circuit and precincts of the said Priory, &c. to Mr. Peter De La Pierre, a Foreigner, who came over to practice Physic in this kingdom, of his eminent skill in which prosession several testimonies now remain in his family. The Topographer, Vo.2
---