~ OSWALD HOUSE ~
AND DANE JOHN ACADEMY
1 WATLING STREET, CANTERBURY
Destroyed by the bombing in 1942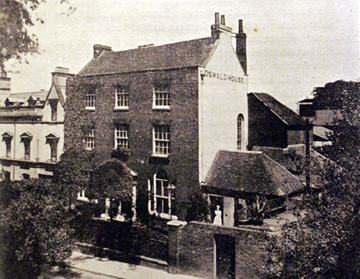 Oswald House. Was also the Dane John Academy
Built in 1794 on the Paddock, formerly a cherry garden, probably by William Baldock for George Quested, schoolmaster. The house remained a school until 1875, when it was sold by the schoolmaster William Smith to William Minter Claris, gent. The playground was sold off in 1876. By 1899 the house had been renamed Oswald House. It was purchased in that year by Thomas Soars Johnson, MD. An 1875 Abstract of Title 1807-1875. 1899 Inventory of rooms and fittings with 1899 deeds and papers. CCA-CC/P/E/CP/10/12
1819 The Dane John Academy for Gentlemen - George QUESTED
1838 Henry MARLEN, Dane John Academy, Boarding and Day (listed under Academies and Seminaries), Watling Street
1830 - Testimonial sent by Mr. J. Smith of Dane John Academy, Canterbury for Relfe's Hair-Line Pointed Steel Pens, Manufactured only by Relfe Brothers
Poll Book 1830 - Henry Marlen, Watling Street, Schoolmaster
1837 Dane John Academy - Mr. H. Marlen
August 1, 1838, Dane John Academy, Canterbury - preface to the work "The Poetic Reciter; or Beauties of the Britsh Poets; adapted for reading and pronunciation, in public and private seminaries." by Henry Marlen - printed by Henry Ward, 8 Mercery Lane
1841 Subscriber to "The Acts and Monuments of John Foxe" Mr. H. Marlen, Dane John Academy
1858 Dane John Academy, Watling Street - John Smith
1861 - Hair-line pointed steel pens - From Mr. J. Smith of Dane John Academy, Canterbury. "I feel much pleasure in saying in reference to your Pens, labelled "Fine Points," that I know of none that I think so well adapted to the small hands."

Passages from the Auto biography of a "Man of Kent" by Robert Cowtan.... "I have many a time of late years walked through the streets of my native city, a stranger to those who are moving up and down its now quite throughfares - have looked into the windows of shops where I once knew everyone, and now know no one - have gone to the playground of the "Dane John Academy," and heard the merry laugh of happy boys, the sons of those who where once my schoolfellows - have called upon the master of that school, who was an assistant there when I was a boy, and had to introduce myself to one whom I had known almost as intimately as my own brother. These remind me of "the days that are no more." 1866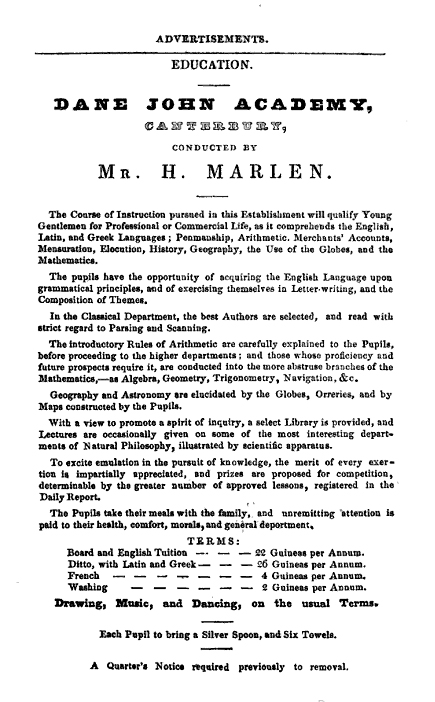 Thanks for this.....
The Dane John Academy on the corner of Watling Street and St Marys Street was built by William Baldock as a school for George Quested. In 1899 the building became a private house and renamed Oswald House.
early 1880's - Henry George Sadler, Medical Profession M.R.C.S. born Wandsworth, Surrey
1882 - Medical Officers & Public Vaccinators, No. 3 District, H. G. Sadler, Oswald House, Watling Street, Canterbury
1889 - Henry G. Sadler, Surgeon, Oswald House *moved to Bridge street by the early 1890's
1903 - Thomas Soars Johnson M.D. & Member General Council University of St. Andrew, M.R.C.P. Edin. & M.R.C.S. Eng. (L.R.C.P & L.M. Edin. 1886), physician & surgeon; H.M. coroner for city & county of Canterbury, medical examiner Guardian, Equity & Law, Equitable & other Assurance Cos.; late assistant acc. Queen's Hospital, Birmingham; assistant surgeon N.R. Co. Goal, Northallerton & Cannock Chase Colliery works, sole licensee of the Dowsing radiant heat & light treatment for the City & County of Canterbury.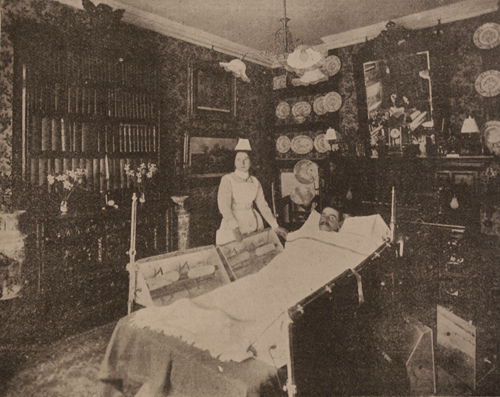 1913
William Pembroke Jones, Oswald House, Watling Street, Canterbury
Misses Pembroke, Jones, Oswald House, Watling Street, Canterbury
1917 - 18
W. Pembroke Jones, Esq., and The Misses, Oswald House, Watling Street
---