~ PAGE FAMILY ~
CANTERBURY
The index to the Thomas Page Journal
Credit for the Journal goes to Bronwen Bartram, Carolyn Bean and the Page family
No one knows the whereabouts of the original book, if anyone can supply this information the family would love to know.____
Above is Thomas Page's journal, he was a painter/glazier/decorator/plumber and son of Isaac Page who was in the same profession. Isaac was born in Littlebourne but he lived all his life in Canterbury, as did his children. Thomas' journal is a collection of news items and dates along with a couple of racy songs that were popular at the time. Among the entries are such things as '24 June 1853 Father fell from a ladder at the Queens Head' or '13 March 1854 the British Fleet laid in Deal Downs previous to going to Prussia' and '25 March 1854 Mr Beer's Clam supper at Black Dog' and also '30 August 1854 Mr J Lancefield senior died aged 79 years'. The family lived in Stour Street at no 61. Thomas' son, also Thomas Page attended the bluecoat school in Stour Street, and later married the daughter of Edmund Edney confectioner (28/29 Palace Street). Relatives and connections abound throughout the city.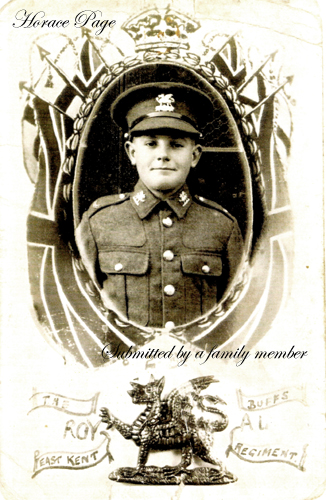 ___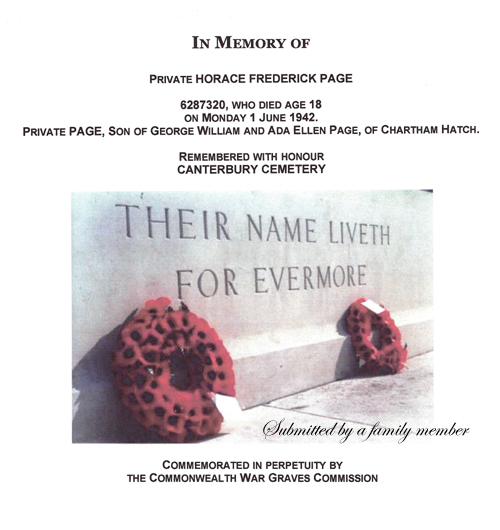 Horace was Florence Page's little brother. The photo of Horace Page was sent to another sister, Mabel Page. The family lived in Chartham Hatch and Dunkirk during WW2. The photo is in the common style of the time, whenever a person joined up, and I think he looks far too young to be doing such a grown-up thing. On the back of the photo it says 'To big Sis from Baby Brother Horace' Sadly he was killed shortly after, when the Canterbury Barracks were bombed. The memorial shows his date of death as 1 June 1942.
**All information and photo's above was supplied by a family member (thank you).
PLEASE CAN YOU CONTACT ME IF YOU HAVE ANY FURTHER INFORMATION TO SHARE ON THE FAMILY