~ ST. MARY'S CHURCH ~
PATRIXBOURNE, KENT
2 miles South East from Canterbury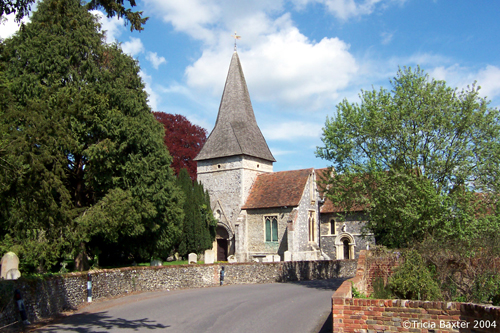 St. Mary's Church, Patrixbourne
The church, dedicated to St. Mary consists of a nave and two aisles, with a square tower steeple at the west end, and a modern wooden turret, wherein are five bells, cast in 1676. At the east end of the chancel is a marble tablet for John Cason, esq. of this place, obiit 1718, and another for John his son, A.D. 1755. There are also mementos for Thomas Blechenden, of the ancient family of that name, of Aldington, in this county, obitt 1661, whose arms were, Azure, a fess nebulee argent, between three lions' heads erased, or, attired gules, empaling; Boys. On the south side is an ancient altar monument, with gothic pillars and arches, having been adorned by shields of arms, now entirely obliterated. Against the wall, under the canopy, are two brass plates, the same having been removed from the chancel; the first to commemorate Sir John Parcar, vicar of this parish, while on the second are Latin verses to the memory of Nicholas Spencer, esq., with many others too numerous for inspection.
There were formerly painted in the windows of this church, Or, a chief indented azure, for John de Sandwich, and several other coats of arms, among which may be particularized those of Valence and St. Leger, Argent, three leaves in sinister bend, their points downward, proper. On a canton, azure, three crescents, or; for Grove, Argent, three escalop in chief, or, in base a crescent, gules; for Helpestone, usually called Hilpurton, bailiff of Sandwich in 1299, a shield, being Helpestone's bade, with numerous other armorial bearings for the families of the Hills's, the Spencer's, and the Heynes'.
England's Topographer 1829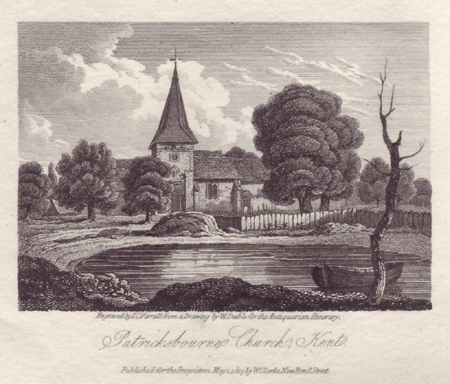 Patricksbourne Church, Kent
Ano. 1604. The fowerth day of October, were maryed Mr. John Boyes, Clark, and Mrs. Angell Bargar, virgine.
Ano. 1604. The 27th day of ffebruary, were marryed Thomas Lukine and Katherine Bargar.
Ano. 1627. Thomas Rayment, Dr. in Divinity, and Mrs. Jone Bargrave, virgin, were married the 26 of March, 1627.
Archaeologia Cantiana 1861
St. Mary's Church, Patrixbourne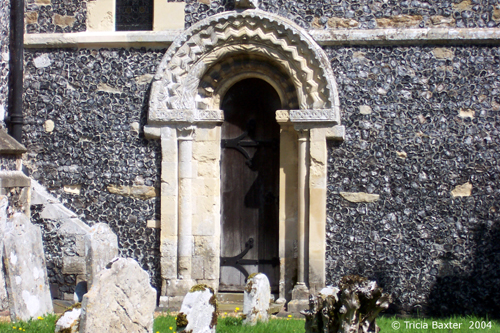 Patrixbourne Church, Priest's door
---
Sept. 13, marriage at Patrixbourne, near Canterbury, Edward Bourchier Savile, esq., of Pilton, Devon, to Margaret Marion, only daughter of the Rev. John Stevenson, D.D., Vicar of Patrixbourne. The Gentlemen's Magazine 1860
---