~ PEMBLE FAMILY ~
CANTERBURY
__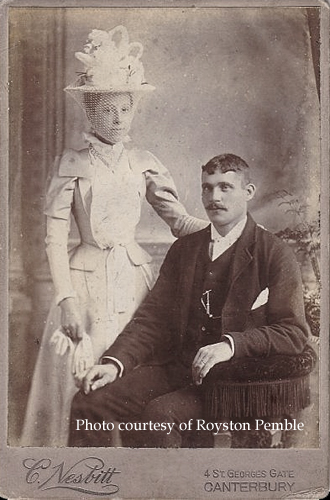 The couple in the photograph are Richard Pemble and Beatrice Pemble (nee Annels) at what would appear to be their wedding day perhaps, which was in 1896.

Richard Pemble was born in 1871 and the census of April 1871 shows that Richard was 2 months old and living at No.2 Iron Bar Lane in the Parish of St Mary Magdalene, City of Canterbury, Kent.
Richard is the son of John Pemble, Agricultural Labourer and Jane H. Pemble age 23. Siblings...George Pemble age 4 and Sarah Pemble age 2.
There was a death of a John Pemble age c. 64 registered at Canterbury, Kent Oct - Dec 1872.
Jane Pemble then marries William Laker and has 3 more children at the Mint, Harbledown by 1881.
PLEASE CAN YOU CONTACT ME IF YOU HAVE ANY FURTHER INFORMATION TO SHARE ON THE FAMILY