~ RUGG FAMILY ~
CANTERBURY / DETLLING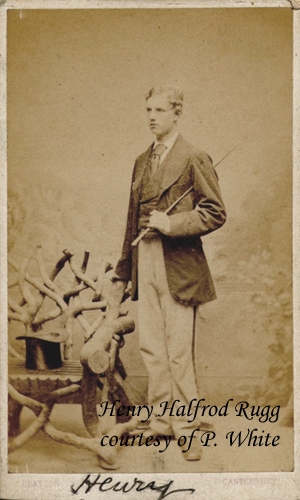 _
"Henry Halford RUGG c. 1870" photo by C. Millington Drayson, 50 St. Geroge's Street, Canterbury, courtesy of P. White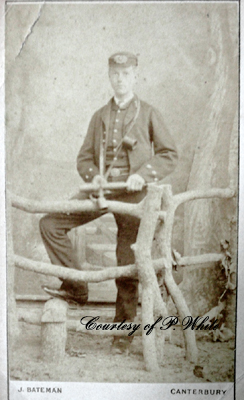 "Possibly Henry Halford RUGG" photo by J. Batemann, Photographer, Canterbury, courtesy of P. White
J. BATEMAN, CANTERBURY
If anyone can tell us his occupation from the outfit and equipment he's wearing we'd appreciate hearing from you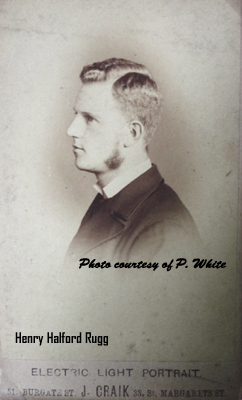 "Henry Halford RUGG presumably taken between 1881 and 1889" photo by J. Craik, Photographer, Canterbury, courtesy of P. White
51 Burgate St. J. CRAIK, 33, St. Margarets St.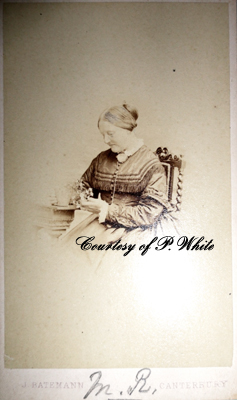 _
"Mrs. Mary RUGG, (nee Peckham)" Photo by J. Batemann, Photographer, Canterbury, courtesy of P. White
J. BATEMANN, 54 ST. GEORGE'S STREET, CANTERBURY
COPIES OF THIS PORTRAIT MAY BE OBTAINED AT ANY TIME
Mrs. George Rugg (nee Mary Peckham) died June 22, 1897 - Marriage of George Rugg and Mary Peckham 1846 Dover
-------------------------------------------------------------------------------------------------
RUGG Family information (not necessarily related)
1861 - Borough of Longport, Saint Paul, Canterbury, Northgate
George Rugg, Head, Married age 54, Retired Gentleman, born Detling, Kent
Mary Rugg, wife, married, age 45, born Beaksbourne
George L. Rugg, son, unmarried age 12, born Bearsted
Edward P. Rugg, son, unmarried, age 10 born Detling
Frederick G. Rugg, son, unmarried, age 8, born Detling
Henry H. Rugg, son, umarried, age 6 born Detling
William R. Rugg, son, unmarried, age 5 born Detling
Anne J. Brice, servant, umarried age 18 born Herne
NOTICE is hereby given, that the Partnership heretofore
existing and carried on by us the undersigned,
Henry Halford Rugg and William Robert Rugg, as Hop
and Fruit Growers, at East Mailing, in the county of
Kent, has been dissolved, by mutual consent, as from the
1st day of April, 1880, and that from thenceforth the said
partnership business will be carried on solely by the said
William Robert Rugg.—Dated this 19th day of April, 1880.
Henry Halford Rugg
William Robert Rugg
*the London Gazette, April 23, 1880
1881 - 56 Avenue Road Herne - Herne Bay
Mary Rugg, head, widowed age 65, Annuitant, born Beaksbourne, Kent
Edward P. Rugg, son, unmarried, age 30?, Formerly Brewer?, born Detling (Maidstone), Kent
Henry H. Rugg, son, Married age 26, Farmer 22 acres, born Detling, Kent
From "The History of Detling"
The next is to the memory of his son:
Beneath this monument
are deposited the remains of
ROBERT RUGG, of this Parish,
He departed this life
the 8th day of September, 1791, aged 60 years
Left issue, by Ann, his wife, three sons and three daughters,
Robert, John, George, Ann, Patience, and Catharine.
Also of ANN RUGG, wife of the above,
She departed this life the 13th day of March, 1807,
Aged 71 years.
Henrietta, sister of the above Ann Rugg,
Daughter of Bryan Faussett
of Heppington, near Canterbury.
Died August 11th, 1805, aged 74 years.
The next generation is thus represented:
Within this chancel
are deposited the mortal remains of
ROBERT RUGG, of this Parish,
Who after the exemplary discharge
of the duties of an active life,
under the patient endurance of affliction,
was by a merciful God removed to a better world
on the 9th day of August, 1831, in the 64th year of his age;
leaving Sarah, his first wife, three daughters,
viz. Jane, Ann, and Mary;
and by Ann, his second wife, who survived him
four sons and one daughter
viz. Kate, Robert, Henry, George and John Salmon.
Here also rests the body of
SARAH, the first wife of the above,
who died March 30th, 1797, aged 36 years.
Also of ELIZABETH, daughter of the said
Robert Rugg and Ann his wife,
Who died Sept. 29th, 1814 aged 12 years
Here also lies buried the body of
ANN, widow of the above named ROBERT RUGG,
And daughter of Robert Salmon, Esq., of Hollingbourne,
Died December 9th, 1847, aged 80 years.
On another tablet, and also no a flat stone in the pavement, is the following inscription:
Sacred
to the Memory of
MARY* the beloved wife of George Rugg,
of Woodgate House, in the Parish of Beckley,
County of Sussex,
Who died the 12th December, 1824,
in the 48th year of her age.
The above GEORGE RUGG, Esq.,
Died at Beckley, July 15th, 1835, aged 59 years,
and lies buried beneath this tablet.
ANN* second wife of the above GEORGE RUGG,
Died the 29th day of June, 1868 aged 79 years.
The only remaining tablet to be noticed is the last in point of time, recording the death which was on many accounts a real loss to the village.
SACRED
to the Memory of
JOHN SALMON RUGG
Of East Court in this Parish,
Who died 2nd March, 1878, aged 69 years.
PLEASE CAN YOU CONTACT ME IF YOU HAVE ANY FURTHER INFORMATION TO SHARE ON THE FAMILY