~ SANKEY FAMILY ~
CANTERBURY
please note these names are not necessarily from the same family group
November 10, 1827, Daniel SANKEY was drowned between Whitehall and Thanington.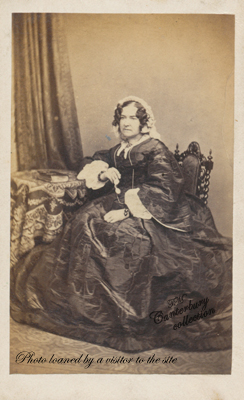 __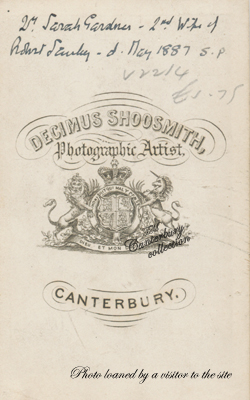 Photo loaned by a visitor to the site, thank you!
"Sarah Gardner 2nd wife of Robert Sankey d. May 1887 s.p."

Deaths Jun 1881 - SANKEY Sarah 83 Canterbury
Deaths Sep 1887 - SANKEY Robert 87 Canterbury

The LDS web site reveals that they were married on 16th of June 1835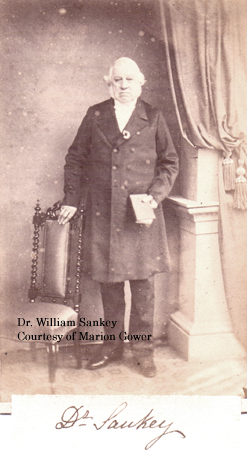 __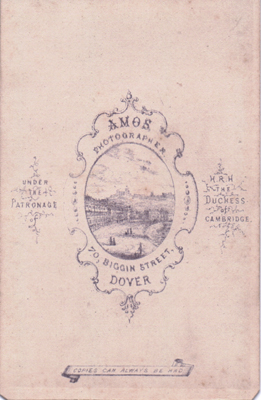 Dr. William Sankey - photo courtesy of Marion Gower - photo by AMOS photographer, 70 Biggin Street, Dover
Born July 7, 1789, Eythorne, Kent. Married Elizabeth Thompson (daughter of Edward, one time mayor of Dover), August 12th, 1819, by this time a surgeon. He was an army surgeon with Duke of Wellington in the Peninsular wars. Dr. Sankey died March 1866 in Dover. Rev. Puckle suggested restoring St. Mary's Church (St. Mary de Castro). Dr. Sankey championed the re-build together with his wife Elizabeth, they raised 3000 pounds.
William was the son of William Sankey and Susanna Boteler. His grandparents were John Sankey and Mary Simmonds.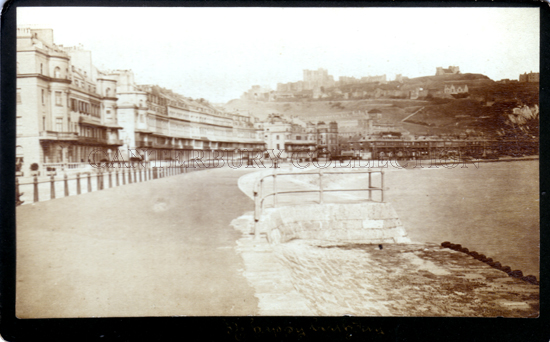 Marine Parade, Dover showing Dover Castle on the hill on the left and St. Mary's Church on the hill on the right from my collection
Mr. Robert SANKEY, Solicitor from an indenture in my collection
Mr. Robert SANKEY, lawyer was a member of the Canterbury Catch Club
1798 - marriage at Canterbury Mr. J. DEANE to Miss SANKEY
(date?) Died at Canterbury, in his 68th year, Mr. T. SANKEY, grocer and tallow chandler, and one of the common councilmen of this city.
Mr. Robert SANKEY, Solicitor, Canterbury from an indenture in my collection
Aug 14, 1802 the will of an Ann SANKEY, widow of Canterbury
1803 Died - Mr. Henry SANKEY, eldest son of Mr. Alderman SANKEY of Canterbury
*burial of a Henry Simmons SANKEY Feb 20, 1803 at St. Mary Bredin
Subscriber to "The American Negotiator" William SANKEY, Canterbury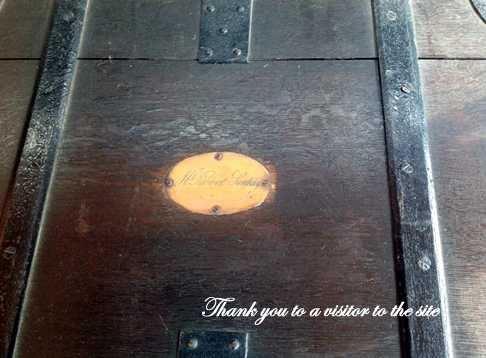 Mr. Robert Sankey nameplate - the trunk was found in East Sussex
thank you to a visitor to the site for the loan of the photo
There was a John Robert Sankey who passed away in East Sussex in 1952, his father was noted as Percy Edward Sankey born in Canterbury. His father was Herbert Tritton Sankey who was the son of Robert Sankey. So that is a possible explanation of why the trunk was found in East Sussex if indeed it was owned by Robert Sankey, lawyer of Canterbury at one time....
1803 Poll for the knights of the shire to represent the county of Kent
Richard SANKEY, Canterbury (Freeholds), lands (of what consisting), self and others (occupiers)
Mat. Wm. SANKEY, Canterbury (Freeholds), brewhouse (of what consisting), Thomas WEST (occupiers)
Daniel SANKEY, Thanington (Freeholds), lands (of what consisting), self and others (occupiers)
William Web. SANKEY, Whitstaple (Freeholds), land (of what consisting), self (occupiers)
May 1804 - Universal Magazine No. V. of Vol. 1
Kent
A work of some magnitude, ingenious and novel, has lately been completed at the brewery of Mr. Alderman SANKEY, in the city of Canterbury. The method for some time practised in several great brewhouses in the metropolis, consists in cooling the wort by running it, by means of an immense worm pipe, through a back of cold liquor, similar to the spirit refrigeratory in the distillery; by which improvement the use of coolers becomes unnecessary, much room and time are saved, and the loss by evaporation and waste prevented. In the application of this new mode here, it was conceived by Mr. SANKEY that the most perfect and permanent refrigeratory or cooling back would be his water well, which is fifteen feet diameter, and of a consderable depth. Accordingly, after much labour and expence, the worm was there fixed, so as to be constantly immersed by the water of a copious spring; and now the work runs from the copper to the bottom of the well, and returns again to the workington through a length of revolving pipe the distance of eight hundred feet.
Alphabetical list of English Bankruptcies, announced between the 20th of May and 20th of June, 1819, extracted from the London Gazette - M. W. SANKEY, Canterbury, Brewer.
The Gentlemens Magazine, Vol 82 part 2
"In the autumn of 1798, his Royal Highness George Prince of Wales honoured Canterbury with his presence. On the 18th of September he was presented with the freedom of the city, and on the 29th partook of a most sumptuous entertainment which had been prepared for him by the Mayor (M. W. SANKEY, esq.); after which his Royal Highness patronized a public ball for raising a subscription for the relief of the wives and children of those brave men, who fell in the glorious naval victory of Admiral Nelson over the French fleet; his Royal Highness and Prince William of Gloucester condescending to be present at it, and to promote, by their liberal examples, the intention of hte meeting. The Prince of Wales, during his continuance in the neighbourhood, also visited the Cathedral, at which he expressed much admiration; and before his departure sent a contribution of 50 guineas to the Kent and Canterbury Hospital."
1811 - Matthew SANKEY, Esq; Alderman of Canterbury
March 11, 1833 - Corporate Officers - Canterbury
Mathew William SANKEY - Brewer; not acting. Left Canterbury.
1838 - Land tax commissioners names - Robert SANKEY, Castle Street
1890 - Death of Ann SANKEY, widow of Watling Street
SANKEY/WEBBER tombstone in St. Martins
PLEASE CAN YOU CONTACT ME IF YOU HAVE ANY FURTHER INFORMATION TO SHARE ON THE FAMILY