~ THE SIMON LANGTON SCHOOLS ~
OCCUPIES THE SITE OF THE WHITE FRIARS (or Austin Friars)
CANTERBURY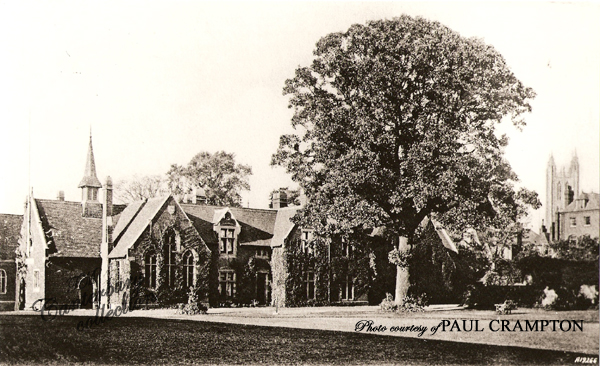 Photo above courtesy of Paul Crampton www.paulcramptonbooks.co.uk/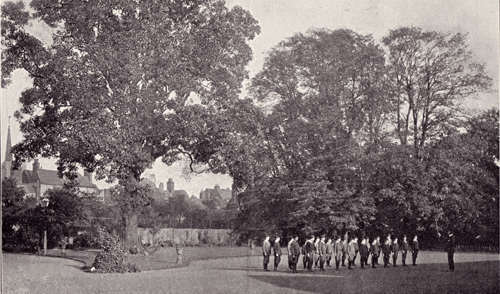 Showing boys on the field in the Simon Langton School
Simon Langton Schools
George H. Nelson, Schoolmaster, M.A. (Oxford), F.R.C.S. *
1889
Simon Langton (Late Canterbury Middle) Schools
Co-optative Governors, The Very Rev. the Dean, George Furley. Colonel Horsley
Built on the intersting site of the White Friars, these succesful and richly endowed Secondary Schools for boys (210) and girls (120), were constituted in 1878 under a scheme of the Charity Commissioners by which many of the principal educational endowments of the City were consolidated and re-adapted to the requirements of modern Commercial and Scientific teaching. Chief among the local benefactions thus absorbed was the foundation of the old Blue-Coat Schools maintained out of the revenues formerly belonging to the Poor Priests' Hospital, granted at the time of its dissolution in 1574 to the City by Queen Elizabeth. The Schools were named by the Charity Commissioners in 1887 after Simon Langton, Archdeacon of Canterbury, and brother of Archbishop Stephen Langton, who in 1243 founded the Hospital near the river Stour for the benefits of Poor Priests.
The Schools are directed by Governors elected by the City Council, the School Board, the Board of Guardians, the Visitors of Jesus Hospital, the Trustees of the City Charities, and the Kent County Council, with the addition of three Lady-Governors.
~ NEW ~
c.1902/.1903
Head Master
William P. Mann, B.A. London (retired 1908) *Headmaster for 24 years
*living at the Simon Langton School House (Boys)
Assistant Masters
W.A. Bentley, B.A. University of Oxford
W. Burton, B.Sc., University of Wales
C.C. Elam
William H. Hocksley*, University of London
Arthur W. Ledger*
G. Lindley, Royal University, Ireland
J. H. Sharp, B.A., University of London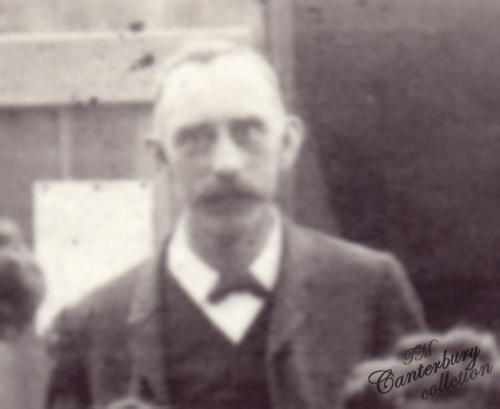 John Henry Sharp 1907. Detail from my Montrose Tennis Club Postcard
Boarding with Cornelius Bowen and family at Nunnery Fields in the 1890's (he was living beside Charles M. Drayson, the retired photographer at Nunnery Fields "Album Villa")
Married in 1894 in Leicester, Leicestershire to Edith Catlow
John was from Leicestershire, b. 1866 , the couple had two children that I know of: Eric (1895) and Edith Janet (1899)
P.W. Wilson, M.A., University of Oxford
Student Assistants
A.B. Clements, University of London
W. Godden, University of London
E. Foxell, University of London
Second Master
Arthur W. Ledger*
Science Masters
W. Burton, B.Sc., (Wales and London) late Keeling Science Scholar in the University College, Aberystwyth.
W. H. Bentley, B.A., Merton College Oxford
Mathematical Master
P.W. Wilson, M.A., Exhibitioner of Wadham College, Oxford
Art Master
G. Lindley, Royal and London Universities
Instructor in Manual Work
C. C. Elam, First-Class trained and certified teacher, and Holder of the City and Guilds of London Institute's First Class Final Certificate and Full Teacher's Certificate for Manual Instruction.
Visiting Instructor in Drill & Physical Exercises
M. H. Court
Assistant Instructor
Sergeant Ohlson
Head Mistress of the Girls School
Miss A. H. Proudfoot, L.L.A
WTHBH Aug 4, 1906 - Simon Langton School for Girls, Canterbury. An endowed secondary school. Established in 1881. Provides a liberal and useful education adapted to the requirements of the present day. Pupils prepared for the Examinations of the University of London, the local Examinations of the University of Oxford, and the Examinations of the Royal Drawing Society. Fees for tuition and use of books, stationery, etc. from £2 1s.8l to £2 13s.8d. a term. No extras except Music and Drawing. Prospectuses and forms of Admission may be had either from the Head Mistress at the School, or from the Clerk to the Governor, 80 Castle Street, Canterbury. Next Term Begins September 12th.
1906
Ernest Richard Glanville, Modern Language Master, Simon Langton School, Canterbury. Educ: Lond. Univ. Matric. 1886; Camb. Teacher's Diploma 1885. Reg. Co. B. Exp. 3 yrs Prangins (Vaud, Switzerland); 2 yrs. Neuwied on the Rhine Germany
Percy Laurance Hall, Assistant Master Simon Langton School, Canterbury. Educ. London University Matric. 1898; Inter. Arts, 1901. Exp. 2 yrs Drax Gr. School; 2 years Sandwich Gr. School; Chelmsford Gr. School, 1903; Simon Langton School Canterbury 1904. Address, 57 Havelock
William Partington Mann, B.A. London, Head Master Simon Langton School, Canterbury, Wyggeston School, Leicester.
*married 1877 in Bradford, Yorkshire to Louisa Rosamond Wright of Yorkshire
*born 1847 Worsley, Lancashire
1930
Appointments Vacant
Simon Langton School For Girls, Canterbury
Headmistress
The Governors of the above-named Endowed School invite applications for the post of Head Mistress from Graduates (British Universities) with experience of good Public or other Secondary School with a developed school life.
Preference will be given to applicants between 30 and 40 years of age.
The School was founded in 1878, is aided by the Canterbury and Kent Education Authorities, and is for Day Pupils only. The present number of pupils is 270.
The initial salary will be £500 a year, rising by annual increments of £25 to £700 (subject to the approval of the Board of Education and deductions for superannuation contributions). The Governors are prepared to give further consideration to the initial salary to applicants who have previously held the position of Head Mistress.
The Head Mistress will be required to take up her duties on the 1st January, 1930.
Particulars and forms of application may be obtained (on receipt of stamped addressed foolscap envelope) from the undersigned, to whom applications should be sent by the 21st September next.
Harry Rose, Clerk to the Governors
80 Castle Street, Canterbury 2nd August, 1929
-------
Miss N. Campling, M.A. (Dublin), has been appointed, following the resignation of Miss D. Menzies, as Head Mistress of the Simon Langton School for Girls, Canterbury. Miss Campling, who will take up her duties at the beginning of the Spring Term, 1930, is a present the Senior History Mistress at the Lady Eleanor Holles School, Hackney.
---
1901 William H. Hocksley, Assistant Schoolmaster born Wellingborough, Northampton, living on Havelock Street
1901 Arthur W. Ledger, Schoolmaster, born Isle of Wight, living with wife Jane A. Ledger and 5 children at 2 Nunnery Road.
---