~ SIR JOHN BOY'S HOUSE ~
28 PALACE STREET
CANTERBURY
Built in 1617? (as noted on the Gable)
"Old Dutch House"
There is a wonderful write-up of this building by the Canterbury Trust on their website
The building was said to originally be the home of Sir John Boys who was an M.P., as well as Recorder of the city of Canterbury, but Sir John Boys passed away in 1612.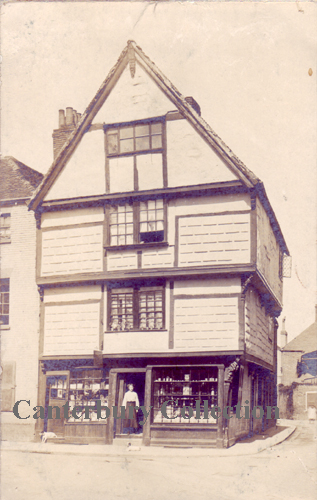 Sir John Boys House - postcard (written on the back Sept 1st, 1905)
*In 1901 there was an Elizabeth BROWN, wardrobe dealer at this location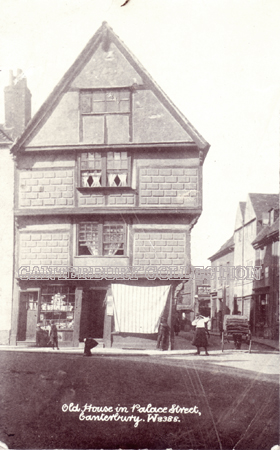 Posted February 4, 1908 to Mrs Edward, of 21 St. Martins Road, Canterbury, All being well and convenient to you I will call Thursday ..6, I am sorry to have been so neglectful but I have been ill F. Black....
A photograph in my collection 1955
1592. John Bois, esq. (afterwards Sir John Bois, knt. and founder of Jesus Hospital, in Northgate) is admitted to the freedom of the city; and is to continue Legis-Peritus, and bear the name and office of the Recorder of the city. He is the first Legis-Peritus, called by the title of Recorder, and is appointed Recorder by the charter of king James. Ht
The house has been used as a home, as "Y'Olde Curiositie Shoppe" for Antiques and Curios, "The Old Curiosity Tea Shoppe" (Home Made Cakes) the "King's School Shop" and of recent it's the "King's Gallery."
William Goulden lived here in 1841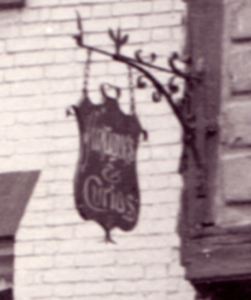 The house is jettied on both the King street side as well as on the Palace street side.
The wrought iron sign holder has been moved from it's place on the lower half of the third storey to the lower half of the second. They've also put up a sign for "Palace St." on the building next door, in the photo on the right. The shutters on the first floor on the building next door have been removed.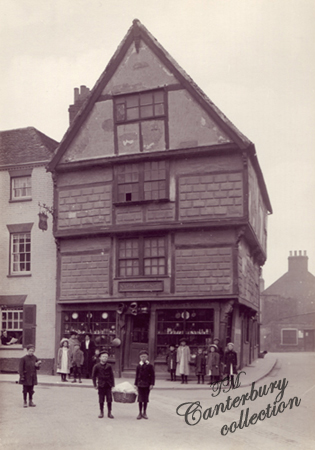 ___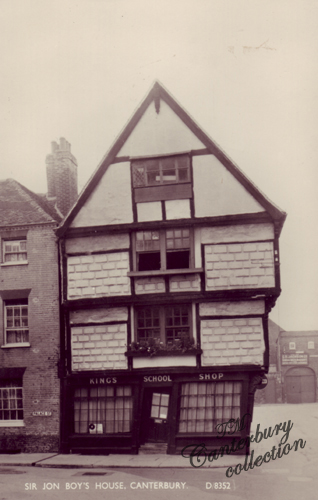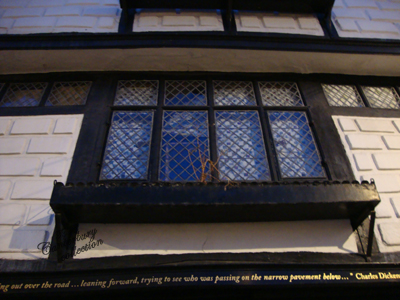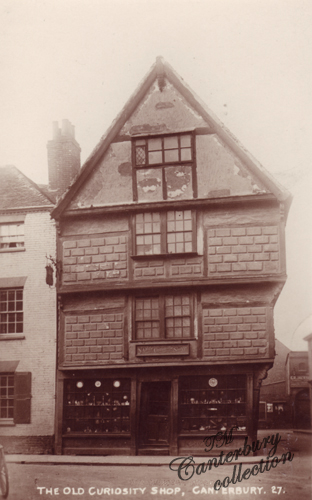 ___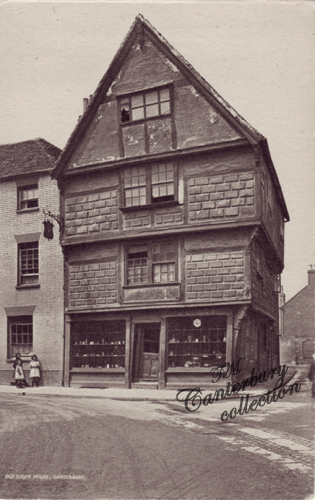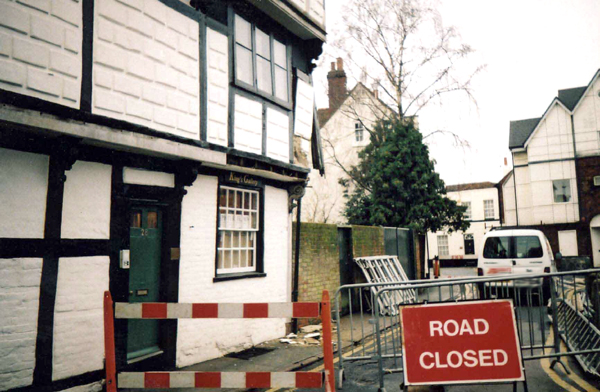 Sir John Boys House/Kings School Shop. The danger of a jettied building! Taken in 2001 after a lorry attempted the impossible (turning left from Knotts Lane) and took a chunk out of the building. My Special thanks to Len Parrick for this one.
The Kings School Shop, A photograph from my collection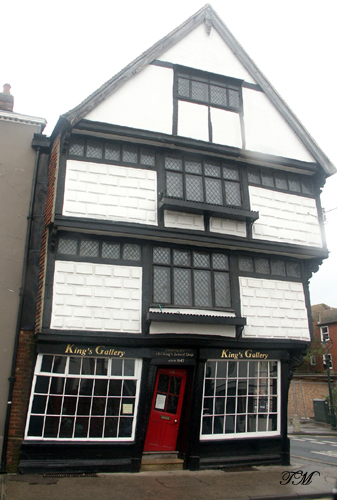 You can see the many changes made over the years to the face of the building, including the windows. The top two pictures are old postcards of mine, the picture just above with the red door is a photograph I took of the house. The wrought iron sign holder has been removed from the building (see old photo's above)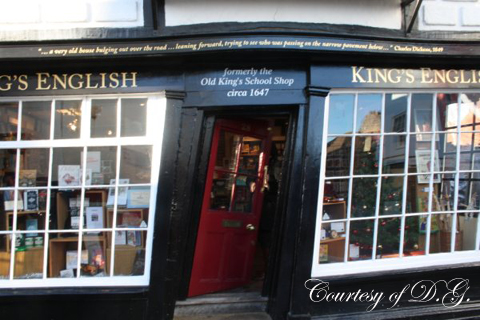 A type of gargoyle outside underneath the first floor of the building on the extreme right front. A few of the old buildings of the city seem to have some type of gargoyle on the outside of the buildings, possibly to ward off evil demons and the like, as are used on old churches.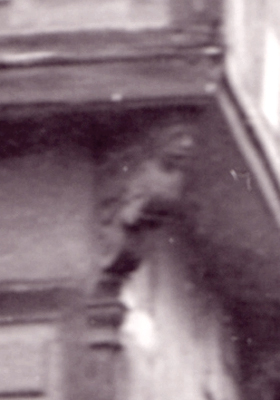 _____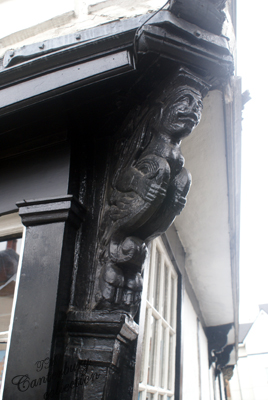 On the second floor extreme right of the building.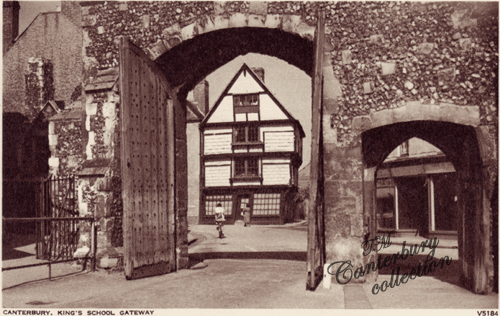 A view through the King's School Gateway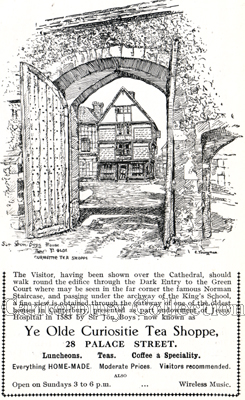 1925 AD from The Pilgrims Guide in my collection
"Death October 29. In Cockspur-street, London, aged 92, Mary, widow of Sir Francis Head, of Hermitage, near Rochester, bart. who died in 1768. She was daughter and coheir (with Anne, first wife of the late Thomas Barrett, esq. of Lee (Priory), in Ickham, Kent,) of Sir William Boys, knt. an eminent physician at Canterbury, a younger son of John Boys, esq. of Hond Court, in Bleanne (a branch of those of Fredville), by Anne, daughter of Sir Paul Barrett, of Lee aforesaid, knt. and serjeant at law. By Sir Francis Head she had issue three daughters, of whom the eldest, Mary-Wilhelmina, in 1753 married the Hon. Henry Roper, afterwards Lord Teynham, but died vita patris S. P. The second Anne-Gabriel, deceased, married, first, Moses Mendez, esq. (by whom she had issue two sons and a daughter, whom the eldest left issue a daughter; the second is now living, and is married, and has taken the name of ... and the daughter was educated abroad in a convent); she married, secondly the Hon. John Roper, brother to Henry, aforesaid; of which match there is no surviving issue. Campbell-Elizabeth, the third daughter and coheir, is the widow of the Rev. Dr. Lill, brother of the Hon. Godfrey Lill, a judge in Ireland, who left issue by her a son and three daughters. On Sir Francis Head's death the title descended to his brother Sir John, prebendary and archdeacon of Canterbury, who survived him but a year, and then dying issueless, the baronetage vested in a distant relation, totally unknown to the family, and then in Virgina, though the anointed descendent of Henry, a younger son of Sir Richard, the first baronet, by Elizabeth his second wife; by which branch it is now enjoyed, and is therefore improperly omitted in Kimber's Baronetage. Sir Richard, the first baronet, lived to a good age, and was a great adherent and favourite of James II. who slept at this house at Rochester upon his flight at the abdication, when, on taking leave, he presented him with a diamond ring, still possessed by the family. In the following year, 1689, he died. His epitaph in Rochester cathedral is in Thorpe's "Registrum Roffense," pg. 712. His eldest son, Francis, born in 1641, died before him, 1678 (see his epitaph in St. Margaret's church Rochester, Thorpe us fapr. p. 726), leaving issue, by Sarah, daughter and heir of Sir George Ent, knt. the famous physician (re-married to Sir Paul Barrett, of Lee aforesaid, knt. his third wife, S.P.) a son, Sir Francis, who married Margaret Smithsby (see our Mag. p. 900), and was father of Sir Francis, &c. whose widow is the subject of this article, and one daughter, wife of John Lynch, esq. of Grove, on whose male grandson, the present Archdeacon of Canterbury, the e.... made by her mother, on failure of ... male of her son, now descends. This article is made thus ....to correct the mistakes and omittance of the Baronetages and Hasted's Kent." GM1792
To Complete the series of epitaphs of the HEAD family, in Thorpe's Registrum Roffense, and those in the Topographer, vol. III. from St. Mildred's church, Canterbury, I inclose the following, in Ickham church, Kent, on a flat stone:

Here lieth the body of
Dame Sarah BARRETT, daughter to
Sir George Ent., knt. wife to
Francis Head, of Rochester, esq.
and to Sir Paul Barrett, of Canterbury,
knt. She had 4 sons, and 2 daughters,
by the former; and by the latter,
whom she survived, had one son*, and
a daughter*. She departed this
life on October 6th, 1711, aged 63 years.
Arms: In a lozenge, Or, a chevron Sable, charged with three lions passant gardant Or, between three mullets S. impaling B. a chevron between three hawks bells, Or.
In the high chancel, on a flat stone;
Corpus Ricardi HEAD, baronetti,
filii natu maximi Francisci HEAD, bar.
et Margaretae uxoris suae, subtus
depositum jacet. Obitt decimo octavo
die Maii, vicesimo septimo anno aetatis,
annoque Domini 1721.
Subtus etiam duo fratres, et duae sorores**
ejusdem, Georgius et Henricus, Sara et
Margareta, obdormiunt.
Arms: Those of Head quartering Smithsby and Greene quarterly.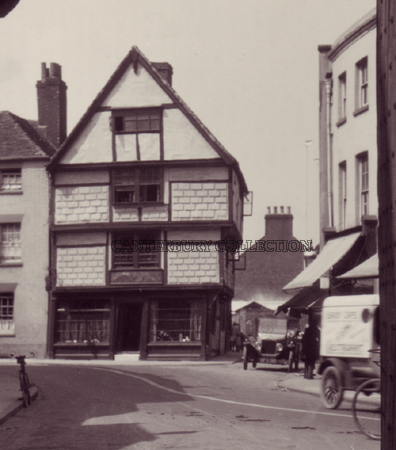 *who both died under age. The present Thomas Barrett, esq. of Lee, being great grandson of Sir Paul, who died 1686, by his first wife, Mary Stanley
There is a good head of Sir George Ent, by White, from a drawing by Logan
**The only surviving sister married William Egerton, LL.D. younger son of the Hon. Thomas Egerton, of Tatton park, Cheshire
Bankrupt - 1830 - E. Boys Jun., Canterbury, Spirit Dealer... Edward Boys, Canterbury, spirit-dealer; Jan. 25 at 12 precsely, C.C.B. as to disposal of stock and effects; employing en accountant; proceeding against persons to be then named; law proceedings generally, arbitrations, &c.
Nov 1864? - Death at Harbledown, near Canterbury, Caroline Elizabeth, widow of Henry Fawcet Boys. esq. GM 1865