~ MEMORIALS IN ST. DUNSTAN'S CHURCH ~
CANTERBURY
MEMORIALS IN THE CHURCH
Through the twenty-one troublous years (1641-1662) no returns were made so that between August 31, 1641 and December 5, 1651 all the burial entries are lost, the Register being imperfect from April 27, 1622 to December 5, 1651 when vol 2 was begun.
In Memory of Mrs. Margaret Redwood wife of Mr. Thomas Redwood of this parish she departed life Feby 27th, 1766 aged 66 years (on the arcading of the nave)
On the north wall of the chancel is a wall tablet memorial to Thomas Roper d. 1597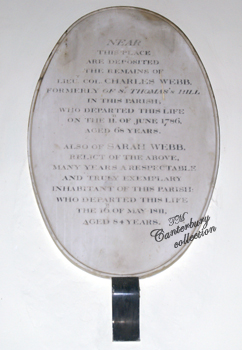 Charles WEBB
On the north wall of the church was a wall tablet memorial to Daniel Hall, died 1742... Near this Place lyeth the body of Daniel Hall twice mayor of the City of Canterbury his first wife was Leah Rigden who with her ...children ly buried near this place. By his second wife Sarah Saffery he had two sons Daniel and Samuel. He was a loving husband and indulgent parent and an impartial magistrate. He departed this life Oct... 1742 in the 81? year of his age.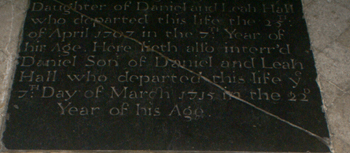 Daniel son of Daniel and Leah Hall 1715 age 22
On the south wall tablet memorials to William Carter d. 1799 and Claudius Rondeau d. 1739
Daniel HALL
Near this place also lyeth y body of Daniel his eldest son by his second wife who was diligent and skilfull in his profession of Pharmacy and Surgery dutiful to his Parents & beloved of all he exchanged this life for a better on the 20th day of February, 1740 in the 24th year of his age.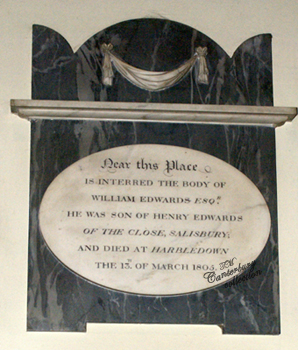 William EDWARDS Esqr. 1805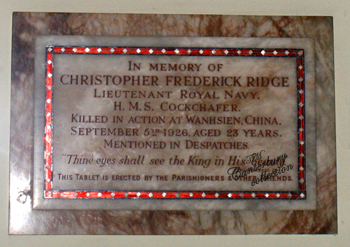 Christopher Frederick RIDGE 1926
"It contains two ancient altar tombs of Bethersend marble, monuments of the Ropers, once richly carved, but now in a sad state of decay. The brasses which once adorned them have been stolen. Below this chancel is the Roper vault. A monument to the son of Margaret Roper is now on the north wall; it was formerly in this chancel. There are no other monuments of any note, but several quaint old tombstones cover the now filled up vaults. One in the south aisle commemorates Claude Rondeau, a "marchant" of Canterbury, "refugee in England for the Protestant religion." Several of the Rondeau family were buried there. The father died in 1720. One son died at St. Petersburg, after living there nine years as His Majesty's Resident (1739).
Near this curious memorial of "Elizabeth Scranton, who, having lived a virtuous and pious life, died ye sixth day of February, in the 47th year of her virginity, and of man's salvation 1685." Other old tombstones commemorate Christopher Browne, who died 1657, and Daniel Hall, who was twice Mayor of Canterbury; his first wife was Leah Rigden, who died in 1703."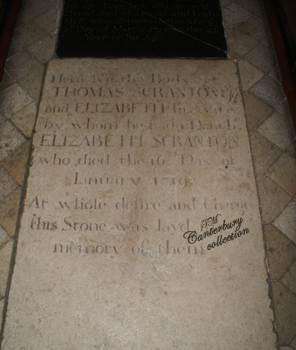 Here lye the Bodys of
Thomas SCRANTON Esq
and Elizabeth SCRANTON his wife
by whom he had 1 Daughr
ELIZABETH SCRANTON
who died the 16th day of
January 1719
At whose desire and Charge
this Stone was layd in
memory of them
*christenings at St. Dunstans - April 29, 1671 William Scranton, son of Thomas Scranton, Esqr and Elizabeth his wife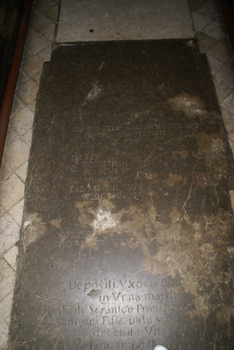 Thomae and Elizabetham SCRANTON 1648 & 1683
*1697 Dec 7, Mr. Thomas SCRANTON of London was buried in St. Dontons Chansell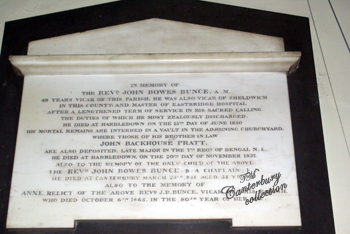 Rev'd John Bowes BUNCE, A.M.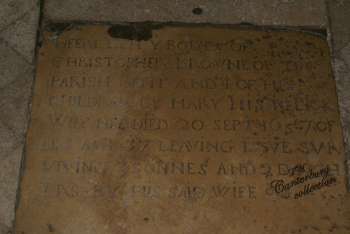 Christoper BROWNE, and four of his children by his wife Mary
William Dixon COWPER, 1916