~ ST. NICHOLAS HOSPITAL ~
ST. NICHOLAS CHURCH
HARBLEDOWN, KENT
There are some monumental inscriptions for Harbledown church and Hospital by Rev'd Bryan Faussett (c. 1758)

There is a drawing of the Ancient Chapel of St. Nicholas Harbledown, near Canterbury by F.W. L. Stockdale (from Etchings from original drawings of Antiquities in the County of Kent, by Fredk Wilton Litchfield Stockdale) c. 1810/11 *40 plates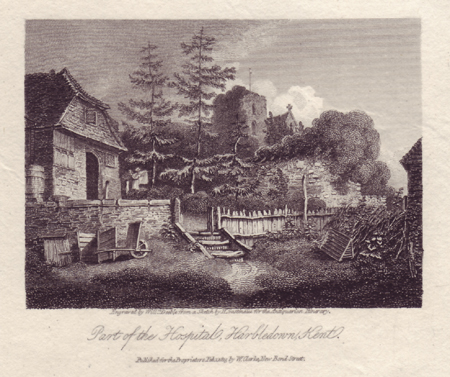 Part of the Hospital, Harbledown, Kent - Henry Gastineau / William Deeble (possibly showing the gateway)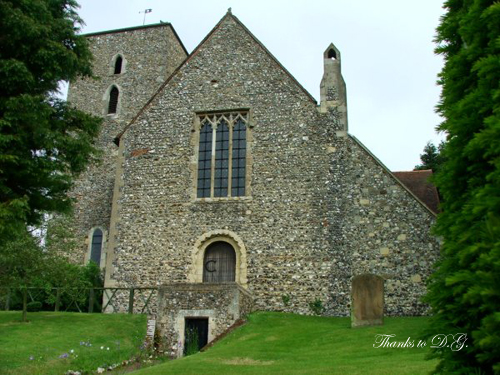 Thanks to D.G. for these photo's of the church and door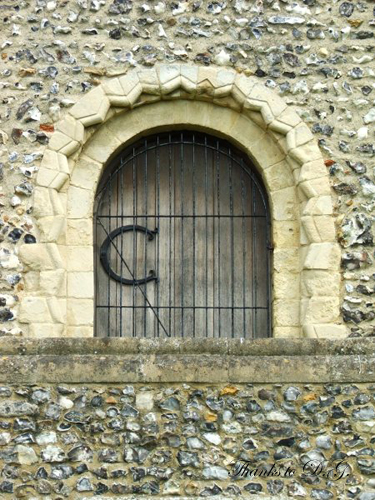 "This church of St. Nicholas is a building of some picturesqueness, and of varied architectural interest, consisting of chancel, nave, north and south aisles, with tower at the west end of the north aisle. The church was originally of plain Norman design, and had merely a small chancel and nave, of which the small west doorway, with a single moulding round it, probably formed a part. Somewhat later in the style, in the twelfth century, it was decided to enlarge it by the addition of a north aisle seperated from the nave by an arcade of three semicircular arches. The two semicircular arches nearest the east, with the octagon pillar between them and the responds at each end of the arcade, are Norman of this date. The pointed arch and pillar nearest the nave are of the fourteenth century, and doubtless represent a bit of rebuilding necessary to sustain the stress of the tower. The small unbuttressed Norman tower was raised over the western bay of this aisle; the respond of the supporting arch in the north wall shows the original moulding. The wall-paintings, two old thirteenth-century seats, and the fifteenth century font are all noteworthy."
Canterbury; A History of the Ancient City, J. Charles Cox 1905
Font in St. Nicholas Harbledown, Henry Gastineau / William Deeble
John Duncombe, son of William Duncombe (English writer), was born in 1730. He was educated at private schools at Romford and Felsted, where he displayed great regularity, uncommon application, and superior talents. At the age of 16 he was admitted at Benet's college, Cambridge, at the recommendation of archbishop Herring his fathers friend. In 1750 he was chose fellow of his college, and three years after took orders, and became assistant preacher at St. Anne's Soho, where his eloquence as an orator, and his amiable manners in private life, gained him the respect of a populous neighborhood. In 1757, the primate Herring gave him the livings of St. Andrew and St. Mary Bredman, Canterbury, but the death of that excellent patron, two months after, cut off all hopes of further and more valuable preferment. He married in 1763, the daughter of Mr. Highmore the painter, with whom he enjoyed 23 years of uninterrupted domestic happiness. In 1766, Seeker appointed him one of the six Canterbury preachers, and the next primate, Cornwallis, presented him, in 1773, to the living of Herne, six miles from Canterbury. He was also master of Harbledown and St. John's Hospitals, which, though places of trust and not emolument, enabled him to display his regard for the poor, and his humane endeavours to relieve their necessities. He was also an active magistrate, and in this office he was the means of encouraging virtue and of checking vice. He was attacked by a paralytic stroke 21st June 1785, from which he never recovered, and died on the 18th of the following January. He left only one daughter. His works are chiefly fugitive pieces published in Dodsley's collection, and in periodical magazines, besides the Semincad, and a poem on the death of Frederick prince of Wales. He also greatly assisted his father in his translation of Horace, and published the seventh satire of the second book in 1752, imitated, and inscribed to R. Owen, Cambridge.
Universal Biography 1810
Interior of the Hospital Church, Harbledown, Kent
(you can see the stone cross incised on the floor in the bottom centre of the drawing *see another drawing below)
"Bibliotheca Topographica Beltannica. No. XXX. Containing the History and Antiquities of the Three Archicpiscopal Hospitals, and other charitable Foundations, as and near Canterbury. By Mr. Duncombe, and the late Mr. Battely. "The ancient hospital of Herbaldown (commonly styled Harbledown), a mile West from Canterbury, originally intended a lazar-house, and that of St. John's near the North gate of that city, were both built by Archbishop Lanfranc, about the year 1084, and endowed, instead of lands, but with 70l. per annum, payable out of two manors, to which 20l. more to each was added by Archbishop Richard. Archbishop Winchelsey, in 1291, first gave them a body of statutes; and Archbishop Parker, in 1565 and 1574, largely added to it; by which they are now governed. Some of his successors made other additions, and there were several secular as well as the principal ecclesiastical benefactors, particularly King Henry II., who gave Herbaldown hospital, from his fee-farm in Canterbury, 20 marks, or 13l. 6s. 8d. per annum, a large sum at that time, which now still continues. Erasmus, accompanied by his friend Dean Colet, gave an extraordinary account of that hospital, as he returned from Becket's shrine, in his Peregrination Religionis ergo, 1510. Each hospital has 60 brothers and sisters, in all 120*, of which the out have 1l. 3s. each, and the in, wood, &c. with a house, about 6l. 10s. each. The Archbishops patron, and there are also a master and a chaplain (or reader) of each foundation. Among the archives of St. Nicholas is the celebrated maple bowl, of which an account and print were anticipated in vol. LIV. p. 257. Two biographical curious morceau shall be extracted."
The Gentlemen's Magazine 1785 *Viz. 30 in-brothers and sisters, with 5 out-brothers and sisters, at or near Canterbury, and 25 at or near Lambeth, and 30 at Herbaldown; at St. John's 38 in-brothers and sisters, with 2 out-brothers, at Canterbury, and 20 out-brothers and sisters at Lambeth.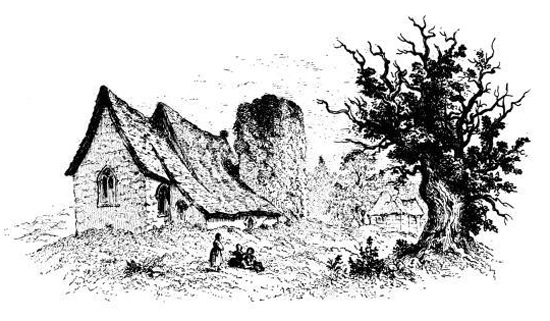 "Woot ye nat where ther stant a litel toun,
Which that y-cleped is Bobbe-up-and-doun,
Under the Blee in Canterbury way?"
Chaucer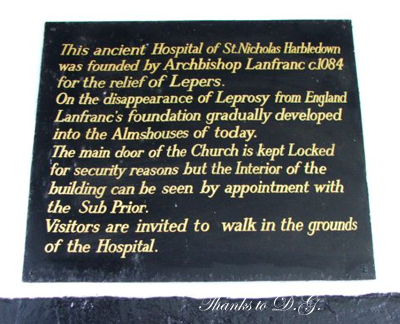 Harbledown is rich in having two churches, St. Michael's, the Parish Church, and St. Nicholas', which, with its almshouses and Home Farm, is really a parish to itself, with its own Chaplain, Prior and sub-Prior.
Archbishop Lanfranc founded the Hospital of St. Nicholas for Lepers in 1084. The authors of "Rambles round Old Canterbury" say: "In old times it appears to have been a Rectory, but in 1342 Archbishop Stratford united it to Eastbridge Hospital, obliging the latter to provide a Chaplain for it; a few years later a perpetual Chantry was founded, the priest of which lived at Clavering. The Chantry was abolished at the Reformation." In 1674 the Hospital was repaired in the form of a Frater House, and at the present day there are dwellings for nine brothers and seven sisters, as they are called, at St. Nicholas: and very charming the little grey houses look, especially in summer when the gardens are gay with roses, hollyhocks, lilies, stocks and many other old-fashioned flowers.
There are some curious grants in the old deeds of benefactions to the Hospital. Thus in 1379 one William Yue gives an annual grant of "two cercells (wild fowl), one-third of a hen, one-third of a half a hen, and 15 eggs."
When Henry II. came to do penance at Canterbury, he entered St. Nicholas on his way, from when he walked barefoot to the Cathedral; he gave a grant of twenty marks (in rent) to the Hospital "for the love of St. Thomas."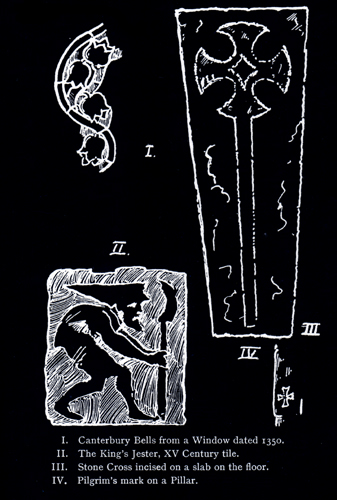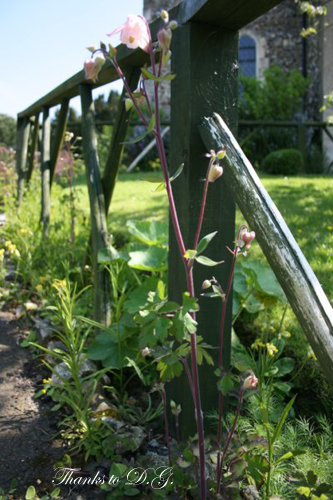 The Gentlemens Magazine Volume 152 - Death, Dec 21. At Nicholas Hospital, Harbledown, aged 92. Clithero, in early life a drummer in a Highland regiment. So attached was the old man to his favourite instrument, that he seldom omitted, on public occasions, to "beat," as he said, "to arms." On the 20th, he came to Canterbury with his drum, and employed himself for some time under the window of Mr. Plumptre's committee room; but died next day.
In the church there is still some old glass - for instance, in one window dated 1350, we find the Canterbury Bells, also a headless figure of St. Nicholas; and there is a Canterbury cross incised on a stone slab in the floor of the South transept. Also there are some very interesting tiles set in the floor of the nave, such as the one here shewn, called "The King's Jester." The font is 15th century, and there are interesting remains of frescoes on the walls of the church, and the Norman West door, and some quaint wooden benches in the nave are delightful. The floor of the church itself is slanting from east to west, and is supposed to be constructed so on purpose for greater ease in washing it down after the lepers had been to their services.
There is a curious little cross with a slipper roughly carved under it, on one of the pillars. It is supposed to be a Pilgrim's mark.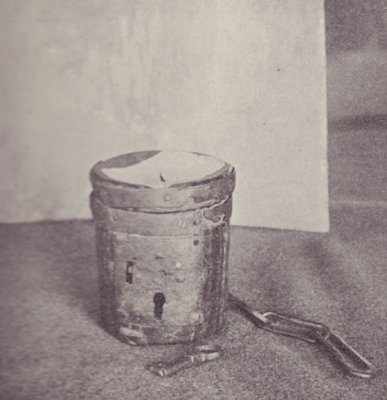 Erasmus Money Box, Harbledown c. 1902 & treaures below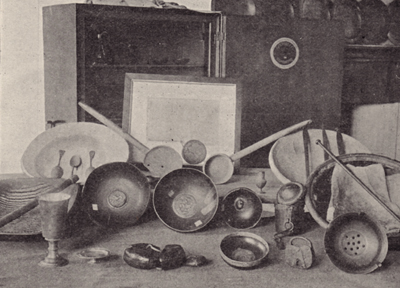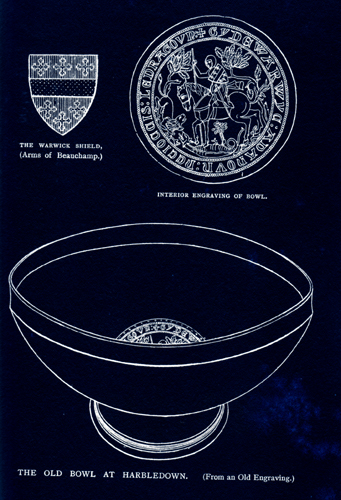 In the large Common Hall the sub-prior shews the visitor many and various articles of interest, such as an old chest with the lid made out of the hollow trunk of a tree; and the money-box seen by Erasmus when he and Dean Colet visited St. Nicholas; a maple bowl in which is set the crystal from Becket's shoe; and a very curious 14th century mazar bowl**, which was annually used on the feast of St. Nicholas, and in which is set a silver-gilt medallion representing Guy of Warwick slaying the Dragon. The inscription round the medallion runs this: By De Warwyc: Adanoun: Neci occis: Le Dragoun.
The Black Prince's Well was a spring credited with healing virtues in cases of leprosy, and later on was thought to be good for curing diseases of the eyes. It is said that the Black Prince drank of the water when he came home for the last time.
A round arch is built over the spring, and on the key-stone are carved the three feathers and the motto: "Ich Dien" - of the Black Prince.
The Invicta Magazine
**Notes and Queries - Mazer bowl at Harbledown. - At the Hospital of St. Nicholas, Harbledown near Canterbury, is preserved a fine fourteenth century mazer bowl, having a silver gilt plaque let into the bottom. This plaque is adorned with a deisgn in relief representing a knight in armour mounted on horseback, having on his left arm a shield charged with a fess between six crosslets, and attacking a dragon with a spear held in his right hand. Around the whole is the following legend in Gothic characters: + GY DE WARWYC : ADNOVN : RCCIOCCHIS : LE DRAGOWN. "Felix Summerly" (Sir H. Cole), in his Handbook for the City of Canterbury (1843), p. 77 gives an account of the bowl and also of the inscription, which he does not interpret. Mr. J. Tom Burgess, in his Historic Warwickshire (1876) preface, p. Viii, writes thus "There are some little scraps of folk-lore and superstitions which have come to my knowledge since this volume has been in the printer's hands. During this brief period the discovery of the plaque at the bottom of the macer bowl at Harbledown, near Canterbury, has thrown some light on the legend of Guy of Warwick, for the knight there slaying the dragon bears the arms of Beauchamp, and in all probabilty is intended for Guy Beauchamp, and the dragon for Piers Gaveston. It is of an earlier date than any known MSS of the legend, for we must not forget that the statue of Guy's Cliffe bears the arms of the family of Arden."Sir H. Cole, however, as I have shown above, described the medallion more than thirty years previously. The inscription, which was copied by me from the original in August last, appears to be blundered - at any rate, so far as regards the fifth word. Any solution would be welcome. R. R. L.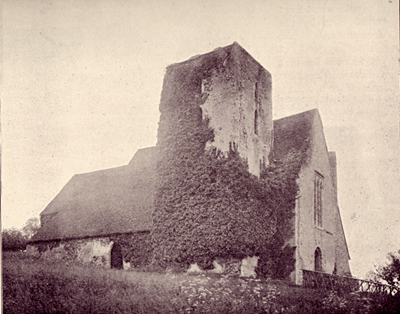 Photo by A.F. Colborne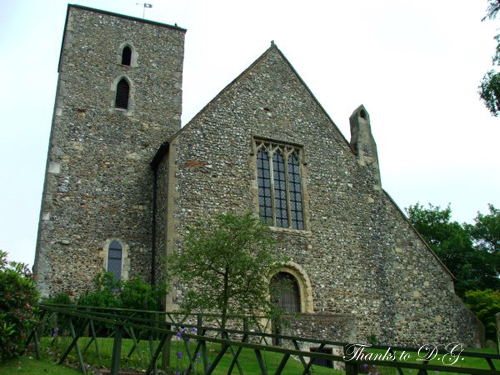 "The hospital of St. Nicholas was founded in 1084, by Archbishop Lanfranc, for lepers, and then comprised several wooden houses on the slope of a hill; it now consists of a range of cottages and gardens, with a large common hall in the centre and a chapel with a tower of flint, with stone quions, containing some remains of the original Norman building: the hall contains many curious relics, most of them traditionally connected with St. Thomas a Becket: a prior, chaplain and sub-prior preside over the establishment; Henry Fielding esq. is the prior." 1903
A Book Entitled: "The History and Antiquities of the Three Archiepiscopal Hospitals at and near Canterbury; viz. St. Nicholas, at Harbledown; St. John's, Northgate; and St. Thomas, of Eastbridge; with some Account of the Priory of St. Gregory, the Nunnery of St. Sepulchre, the Hospitals of St. James and St. Lawrence, and Maynard's Spittle. By John Duncomb, M.A., Vicar of Herne, and Master of the Hospitals of St. Nicholas and St. John; and the late Nicholas Battely, M.A. Vicar of Beaksbourn, and Editor of Somner's Antiquities of Canterbury." "...Juvat antiquos accedere fontes, Atque haurire......." London, printed by and for J. Nichols. MDCCLXXXV. Plates, W. View of St. Nicholas Hospital, Harbledown. Arthur Nelson del. 1766, 2 - Curious Maple Bown at Mapledown, W. View of St. John's Hospital, Canterbury, J. Raymond, del. 1784, Seals of Harbledown and St. John's Hospital. N. View of Eastbridge Hospital, Canterbury, taken from King's Mill, Raymond del. Cook sc. South View of Kingsbridge and Mill, and of the Church of All Saints at Canterbury, according to the late improvements taken (from the Parlour Window of the King's Head Inn), March 11, 1780. J. Pridden del. Seals of Eastbridge Hospital, &c. View of St. Gregory's Priory, Canterbury. Ruins of St. Thomas's Chapel, Canterbury, as they appeared in 1781. F. Perry del. W. View of St. Sepulchre's Nunnery, and N.E. View of Maynard's Spital, Canterbury. W. Groombridge del. 1785. Seals of St. Gregory's Priory, St. Maynard's Spital, &c.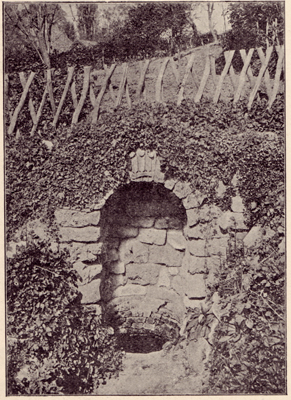 Black Prince's Well
.... "For there also, near Canterbury, at Harbledown, where as a boy he used to walk of a Sunday morning, was such a home for old age in St. Nicholas, hoary with its eight centuries of blessing to the poor. His path thither would be along the "Old Pilgrim Way," along which age after age poured the ceaseless stream of life in that far-famed pilgrimage to the shrine of Becket, at Canterbury, rich and poor, prince and peasant, native and stranger, thousands upon thousands, year after year. And there on the way he often drank no doubt, of the spring on the hillside, known as the "Black Princes Well" behind St. Nicholas, and there he saw the dwellings or homes of the sixteen inmates, described "as comfortable cottages ranged on either side of a hall or frater-house, and opposite them, the venerable old Church of St. Nicholas, with its great ivy tree clinging to the ancient tower," and there in the church yard he saw the memorials of the past "brothers and sisters" as the inmates were called, the ages recorded being most frequently beyond fourscore years." 1889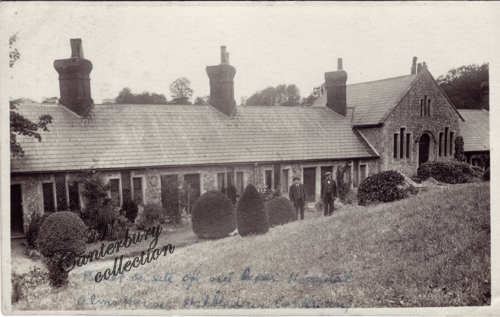 St. Nicholas Hospital, Almshouses, early 1900's
"About a mile from the west gate of Canterbury, at a place called Herbaldoun, in the wood of Blean, was an hospital for poor leprous persons erected and endowed by Archbishop Lanfranc, and dedicated to St. Nicholas. It's possessions were valued, 26 Henry VIII, at 112l. 15s. 7d. It was not suppressed, and in 1574, consisted of fifteen in-brothers; as many in-sisters, who had 4l. a piece yearly, besides two loads of wood; a like number of out-brothers and out-sisters, who had 1l. 14s. a piece; the whole revenue 160l." The Universal Magazine 1751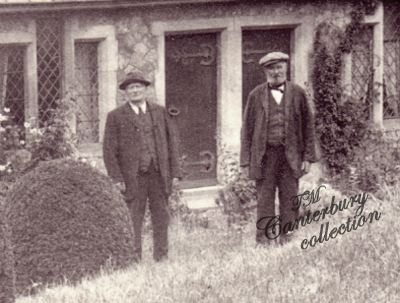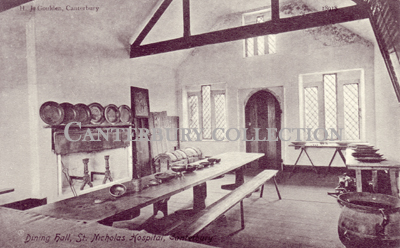 Dining Hall, St. Nicholas Hospital, from my collection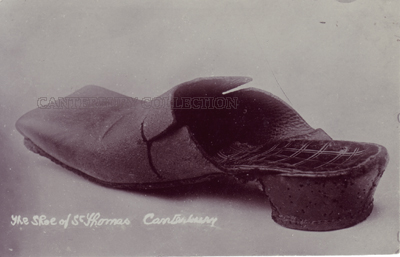 The Shoe of St. Thomas Canterbury. Postcard 9/29/08. We are to drive out to Harbledown today to see this shoe the authentic shoe of Becket. Nan says she likes to walk over shape? better. We had luncheon at a dear little tea house today and are to stay here tonight and tomorrow go to Dover. (not posted) from my collection
1852 Canterbury, Nov 1852 The Poll for the Knights of the Shire to Represent the Eastern Division of the County of Kent taken the 16th and 17th of July 1852
James PAYN (voted Dering/Deedes)
Robert STREETING (voted Dering/Deedes)
Henry FINN (voted Dering/Bridges)
John Rayner ATTWOOD (voted Bridges/Deedes)
J
---