~ THE CATTLE MARKET ~
CANTERBURY
On the site of the ANCIENT CITY MOAT, it was moved from this area in 1955, now this space is occupied by the bus terminal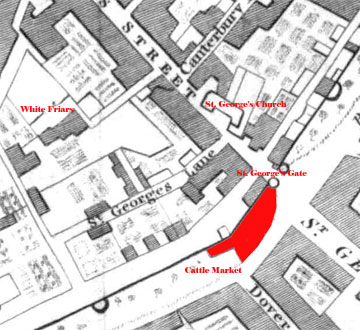 Map of the Cattle Market area
1580. The cattle market is to be kept, from henceforth, in the street without Newingate viz. from the nunnery gate, down through Rothercheap, unto St. Michael's gate, now called Burgate, and in no other place in the city; and tolls are enacted to be taken at such market. HT
1801 - The New Cattle-market of Canterbury was opened there for the reception of stock, on Saturday, October 10th. It is not yet finished, but when completed will be without exaggeration, in point of extent and accommodation, inferior to none in the kingdom. It occupies the entire space from St. George's to Riding-gate; the various pens for the accommodation of the cattle are judiciously disposed; there is also a very extended ride to shew the horses, with foot paths for spectators railed off, so as to preclude any possibility of danger. The principal entrance, which fronts Dover street comprises a handsome elevation, the tool house on one side, and a correspondent building on the opposite, for buyer and seller, on the front of which are placed tables enumerating the tolls and penalties. From this principal entrance to St. George's street, is a brick wall, coped with stone, and surmounted with an elegant iron railing, giving a very light and airy appearance, and shewing at one view, the whole extent of the market; the lower part, beyond the toll house is railed off by a neat oak fence. Much credit is due to the corporation and citizens, who have spared no expense in carrying into execution so desirable an acquisition to the trade of Canterbury. TMM1801
An old postcard from my collection
In the 41st of the reign of George III. an act of parliament passed, for "Enlarging, improving, and regulating the Cattle Market, within the city and county of the city of Canterbury." Under this act the corporation, at a very heavy expense, converted the whole of the ground lying between the site of St. George's and Riding gates (except a small part near the latter) into the present commodious market, for the reception of all kinds of live stock; at the same time they erected some brick buildings at the entrance, for the residence of a tollinger and other purposes relating to the market, which have since been removed. In 1822, the tolls were let by auction, under a lease for seven years, at the annual rent of 107l. WG 1825
1699 - The tolls of the cattle market are relinquished by the Court of Burgmote, and the market is, from henceforth, made free, for the sale of all manner of cattle. HT
"As it was market day, my aunt had a great opportunity of insinuating the grey pony among the carts, baskets, vegetables and huckster's goods. The hairbreadth turns and twists we made, drew down upon us a variety of speeches from the people standing about, but my aunt drove on with perfect indifference and I daresay would have taken her own way with as much coolness through an enemy's country."
David Copperfield, Charles Dickens
A bill is intended to be brought into parliament during the present session, for enlarging and improving the cattle-market in the City of Canterbury, and for imposing certain tolls, duties and regulations on all cattle brought thither for sale.
MM 1801
"An ignorant man, named J. Bronchet, from the neighbourhood of Boughton, near Canterbury, lately led his wife, a decently dressed well-looking woman, about 30 years of age, into the public cattle market, Canterbury, to sell her! On inquiring for a salesman, one was pointed out, who, after a short argument, informed him it was his province to sell beast and sheep only. Upon this the "untaught knave," insensible to every sense of shame, engaged a pen, for which he paid the tollenger the usual demand of 6d. and to which the poor creature was led by a halter. She was soon however, disengaged from this vile station, by a young man named T. Fuller, in the employ of Mr. Berry, of Boughton-hill, who purchased her for 5s.!"
AR 1820
".....when, from the narrow entrance of the gate (St. George's), it was found to be a great obstruction to carriages and inconvenient and dangerous to foot passengers, and the gate was taken down and the materials used for leveling the new cattle market."
Directory 1847
1848 - The Market for Cattle is held on Saturdays, along with corn, hops and seeds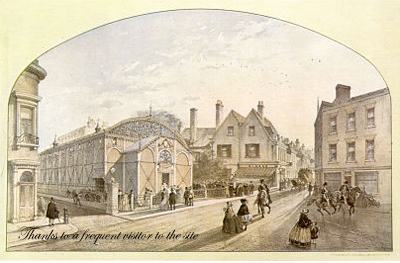 The proposed "Iron Theatre" that would have been where the cattle market stood. They couldn't come up with enough funding unfortunately to start the project. Thanks to a frequent visitor to the site for this drawing.
1838 - W. Hutchinson, has a livery stable opposite the Cattle Market
"The Cattle Market is spacious, it is without George's gate. The market is held on Saturday weekly."
1858 Directory, Melville & Co.
"But the great fair, "Jack and Joan's Fair," so called as being a statute fair for the hire of servants, male and female, is held on the 11th of October (Michaelmas day in the old style), in the Cattle Market, and continues until three market-days of the city have passed." FS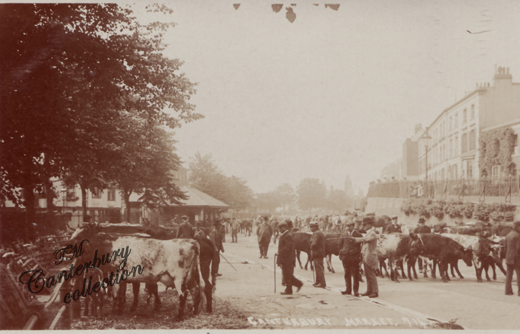 My postcard of the Cattlemarket and Upper Bridge Street *showing the buildings of St. George's Terrace on the right, this is facing Old Dover Road
1860 AD - JB
T. Potvine,
Saddler and Harness Manufacturer,
Opposite the Cattle Market, Canterbury.
An excellent assortment of Riding Saddles, Harness and Horse Clothing.
Stables Fitted Out on the most reasonable terms.
The Hunting Appointments for each week during the season.
1889 - Collector of Cattle Market Tolls - G. Hatton
In 1903 the market days for fat stock were held fortnightly on Mondays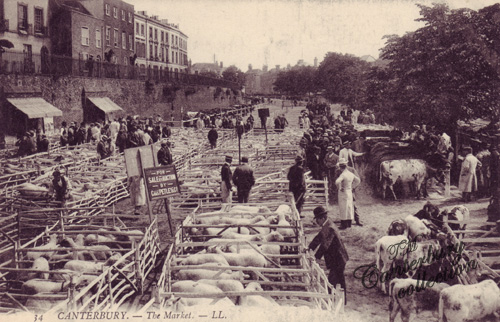 An old postcard from my collection
CANTERBURY CATTLE MARKET
Messrs. G.W. FINN and SONS
will hold an
AUCTION SALE
in the above Market every SATURDAY at about 11 o'clock, and for FAT STOCK on alternate MONDAYS. The Sale on SATURDAY NEXT, August 2, 1913, will include:
350
KENT AND HALF-BRED LAMBS,
the property of Messrs. W. Colthup, Pudge and Cave, T. Norris, G.A. Mitchell and H. Murton.
30
WETHER TEGS,
the property of Mr. J. Hodgson.
And
50
WETHER TEGS,
the property of Mr. F. Ivo Neame.
FAT STOCK on MONDAY, AUGUST 4th, 1913.
------------------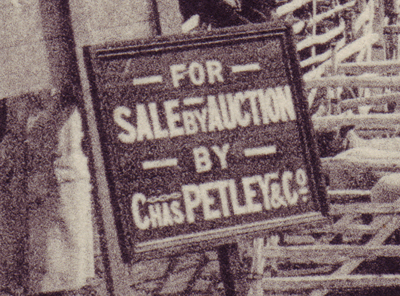 A detail from an old postcard from my collection
CANTERBURY CATTLE MARKET
Saturday, 2nd August, 1913.
CHAS. PETLEY and CO.
Will hold their WEEKLY AUCTION as above for the SALE of STORE STOCK.
Sale about 11:30 o'clock.
Present entries include:
PRIME COW WITH 2nd CALF,
the property of Mr. C. H. Clemoes, Wingmore Court, Elham.
SALE OF FAT STOCK ETC.,
MONDAY, 4th August 1913.
Entries respectfully solicited.
Offices: Staple, Canterbury, Tel. 18, Sandwich
----------------
In 1922 there was a Chas. Petley & Co. Auctioneers and Valuers, Staple Wingham - Ash (C'bury) Tel. 18 listed in the phonebook
April 1933
Canterbury Cattle Market
King & Ashenden
Hold a Sale of Fat and Store Stock Every Alternate Monday.
Next Sale on Monday, April 10th
April 1933
Canterbury Cattle Market
G. W. Finn & Sons
31 Watling Street, Canterbury
Will hold an Auction Sale in the above Market for Store Beasts & Sheep every Saturday at about 11 o'clock, and for Fat Stock on Alternate Mondays.
The Sale on Saturday Next, April 8th, 1933, will include -
50
Kent Ewe & Wether Tegs, from Mr. W. L. Hubble;
9
Bulling Heifers (been running out all the winter), from Mr. G.A. Philpott; and
A Shorthorn Cow & Calf, from Mr. G. J. Scott.
FAT STOCK, MONDAY APRIL 17TH
---