May 1896 - At the annual meeting of the East Kent Hunt it was decided to adopt a system of "capping" on the field in order to ensure greater punctuality in the payment of subscriptions, and better means of meeting the expenses of the Hunt.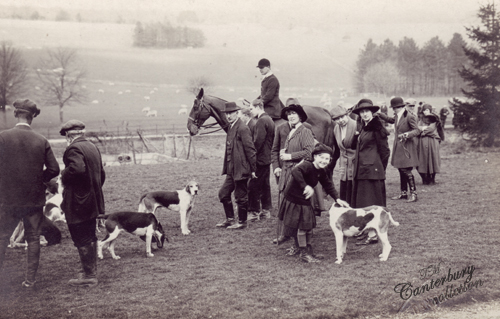 If you can tell me where the gathering above is taking place, please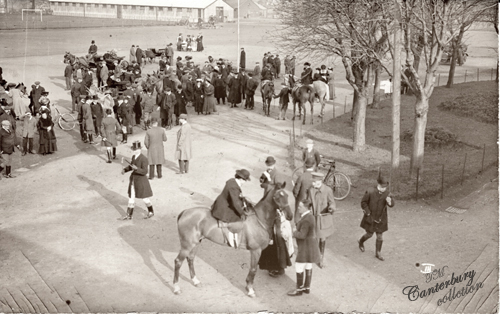 A gathering of the East Kent Fox Hounds at the Canterbury Barracks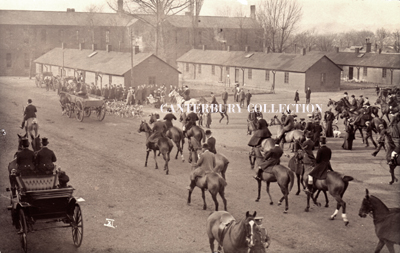 "The East Kent fox-hounds lately met at Tyler's Hill. The frost was very severe until half past ten o'clock. They soon unkennelled a fox, a rank coward, in a wood close to Shelford Farm, and which, after a run or two in some coppices adjoining Hale's Place, made directly into the pasture grounds of Sir Edward Hales, Bart. Here the pack being close to his brush, he had not time for maneouvering, but made play back again for Shelford Farm, where he was headed, and with great difficulty regained the pleasure grounds of Hale's Place; and after a tedious run in these grounds, jumped down an area of twenty feet deep, leading to the cellar, where he was killed, in the presence of Lady Hales and Mr. Darrell. Mr. Oxenden, who hunts the pack, with his well-known gallantry, was well in the drawing room as in the field, presented her Ladyship with the brush. The usual hospitality of the mansion was offered to Mr. Oxenden and several of his friends, which was politely declined, trusting to find a fox more congenial."
Sporting Magazine, October 1822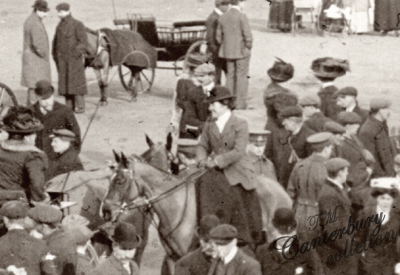 A detail from the above card with a lovely lady on horseback.
December 1905
Owing to the very large increase of ... follow these hounds, and the moist ... ground, I wish to impress very strongly ... Field the ncecessity of doing as little .. they possibly can - such as riding over ... seeds, and also jumping fences unnecessarily, especially when hounds are not running.
I must say that there are very few... receive such support and good fellowship .. farmers as is shown in this hunt; therefore I wish earnestly to appeal to the followers of the hounds to do all they can in return.
Much annoyance is often created, and damage done by gates being left open, and I wish to ask those who bring out grooms and second horsemen, to give them full instructions to keep to bridle roads and lanes, and to shut all gates when they may see them left open.
Those that follow the hounds on foot (or on bicycles) can also give most valuable assitance to the hunt, by also shutting gates which were left open, either during the day's hunting, which they notice on their way home.
Yours faithfully,
H. W. Selby-Lowden
Master of the East Kent Foxhounds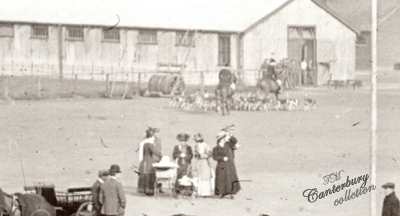 A detail from the above card, showing the fox hounds
The East Kent Foxhounds will meet at ... a.m. on
Saturday, Dec 30, at North Court, Swingfield
Monday, Jan 1, at Elvington Court, Eytnorm
Wednesday, Jan 3, at the Star, Newington
Friday, Jan 5, at Woodlands
Saturday, Jan. 6 at Mystole, at 11:30 am breakfast at 11 a.m.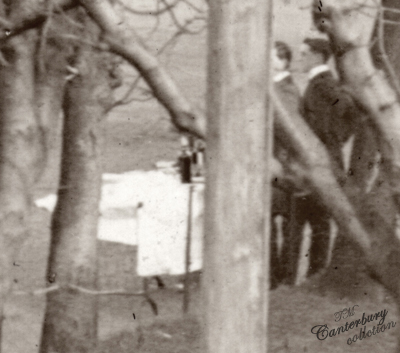 A detail from the above card, it looks like a refreshment table, manned by two young gentlemen
---