~ THE NORMAN CASTLE HOTEL ~
CASTLE STREET, CANTERBURY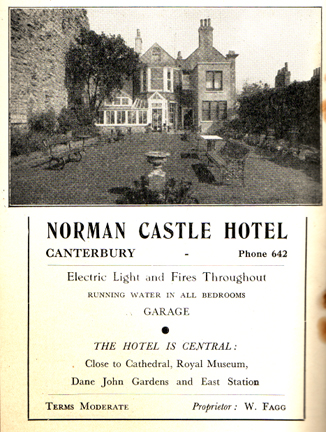 THE NORMAN CASTLE HOTEL,
Proprietor: W. FAGG
The Hotel is two minutes from the East Station (main line) and five minutes from the Cathedral and Dane John Gardens. Golf Links 1 mile. The Hotel is up-to-date in every respect and is splendidly situated in the most central part of the city.
Tennis Courts.
Electric light throughout.
_______
Large Garage.
_______
Boarding arrangement by the week.
________
CASTLE STREET, CANTERBURY
Telegrams: Norman Castle, Canterbury
Telephone: 642 Canterbury
"The Norman Castle" a small detail from an ad for the Hotel
---