~ TOWER HOUSE ~
Tower House and Westgate Gardens
CANTERBURY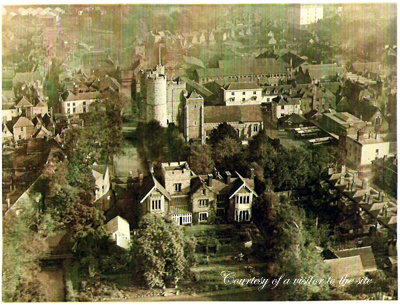 A special "thank you" to a generous contributor to the site for the picture above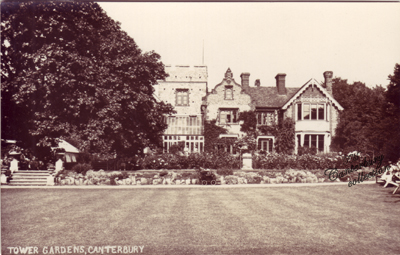 Tower House above with it's original two wings before demolition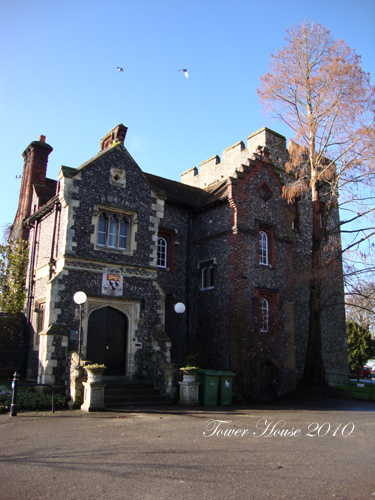 Above taken January 2010
Lease records for Tower land go back to at least 1585 in the Cathedral Archives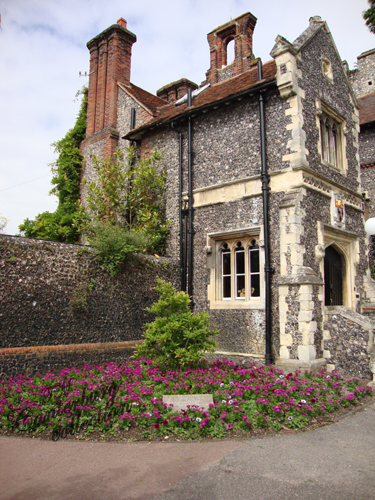 Above taken June 2010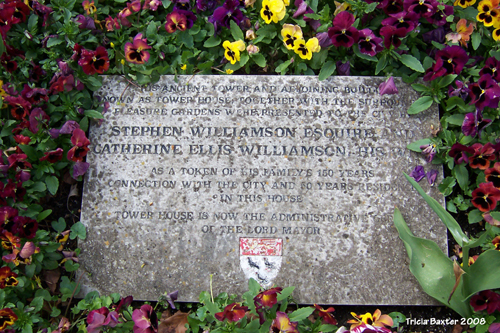 This ancient tower and adjoining building known as Tower House together with the surrounding pleasure gardens were presented to the city by
STEPHEN WILLIAMSON ESQUIRE AND
CATHERINE ELLIS WILLIAMSON HIS WIFE
As a token of his family's 150 Years
Connection with the city and 50 years residence
in this house.
Tower house is now the adminstrative
of the Lord Mayor
October 11, 1873 "The Architect"... Contracts Open - Canterbury, October 15, For Alterations and Additions to the Tower House. Mr. J. G. Hall, Architect, 8 St. Margaret's Street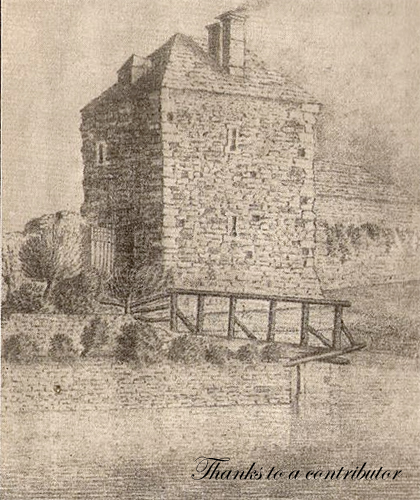 A special "thank you" to a generous contributor to the site for the picture above and information below on the drawing
"Drawing of Tower House by Harriet Susan Minty of Westgate Court (where she lived and different to Tower House) in July 1832
Richard Veale Minty, Westgate Court in 1825 subscribers to Gostling. He had a son Rev. Edward Thurlow Minty, Curate of Fordham, Norfolk who died 23/11/1835. Richard V Minty b.1779 Salisbury m Maria Josepha Hibgame in Norwich in 1808. He was appointed storekeeper of Royal Powder Mills Faversham in 1810. A daughter, Harriet Susan Minty bapt Ospringe 20/9/1811, in Norwich in c.1841, married 5/11/1844 William Hallowes Miller of Cambridge a correspondent of Darwin who had to resign his Cambridge Fellowship on marriage."
"Marriage of Richard Veale Minty - Married at Norwich, Richard Veale Minty, esq., storekeeper of his Majesty's ordanance at Yarmouth, to Miss Maria Josepha Hibgame, daughter of the (late) Rev. Richard Edward Hibgame, rector of Stratton St. Michael." The Monthly Magazine Sept 1808
"Minty, Edward Thurlow: son of Richard Veale Minty, of Westgate Court, near canterbury. Born at Gorleston, Suff. School, Ashford, Kent, six years under Dr. Nance; afterwards private tuition, at home, under Mr. Hutchinson of Canterbury, a year and a half. Age 17. Admitted pensioner, Jan 15, 1827. B.A. 1831 (sen. op.; 2nd cl. Classics); M.A. 1834. Scholar, Mich* 1828 to L. Day 1831. Ordained deacon (Norw.) Oct. 7, 1832; priest (do.) Oct. 6, 1833. Curate of Fordham, Cambs. Died at Norwich of consumption, Nov. 23. 1835". Biographical history of Gonville and Caius college, 1349-1897

"Nov. 23. At Norwich, aged 26, the Rev. Edward Thurlow Minty, M.A. of Caius College, Cambridge, Curate of Fordham, Norfolk." The Gentlemens Magazine Vol. 160 February 1836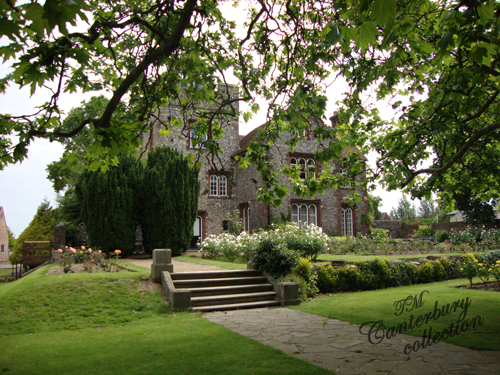 In 1698 Mayor and commonalty granted lease to John TERRY, gent, of London, tower and the land at the Rosiers in Westgate for 21 years from 17 June 1698. (*)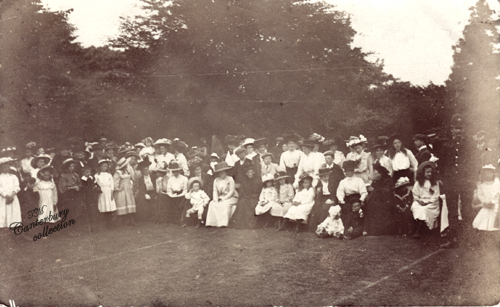 Postcard from my collection. Noted on reverse "Canterbury, Tennis Court, Tower House"
Between Northgate and Westgate some towers have been utilized as dwelling houses, and one has also been included in the mansion beyond Westgate, known as Tower House.
The Tower was part of the wall surrounding Canterbury at one time
1839 George Neame of Selling, Tallow Chandler and Soap Boiler of Lamb Lane, also Mayor in 1836/43/51, becomes owner and rebuilds Tower House (*)
Felix Summerly's map of 1843 does not show any houses near the Stour and Holy Cross Church.
George Neame was an Alderman in 1843.
Bertha Neame was born at Tower House in 1845. (*)
A watercolour of the house was bequeathed by Rev. Spencer Hayward, Bertha Neame's son. The watercolour was painted by Bertha Neame. The council now possesses it. (*)
1850 Marriage December 19th at Canterbury, John Fred Nicholson, esq. Surgeon of Stilton, Hunts, to Alice, fourth daughter of George Neame, esq.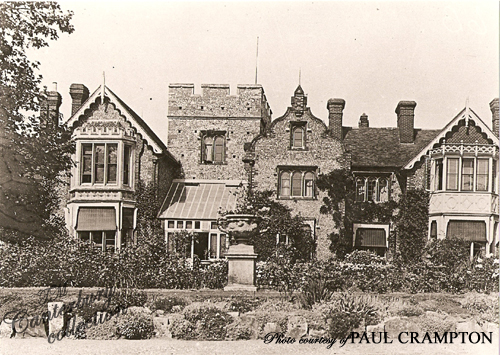 Thanks to Paul Crampton for the use of the above photo (prior to demolition of the two wings on the house)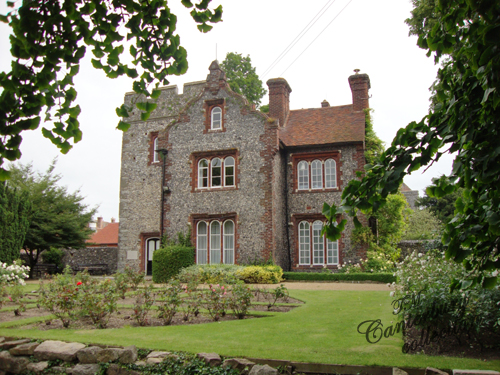 George Neame was also a Soap Manufacturer, he and his family, wife Sarah and children, Emily, Louisa, Austin, and Walter were living at Tower House. His son Austin was involved in the family's soap business.
1851 George Neame, Esq, Alderman and J.P., Tower House, Canterbury - Subscriber to "Consuetudines Kanciae: A History of Gavelkind, and other remarkable customs" by Charles Sandys 1851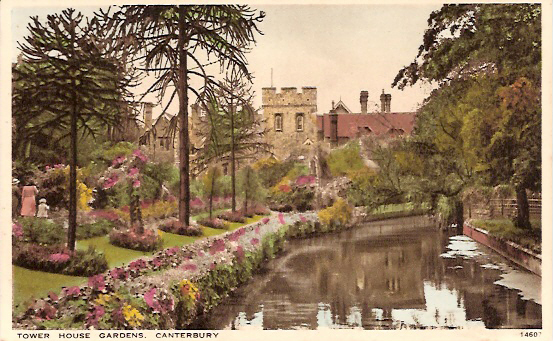 Tower House Gardens above showing the two wings still on the house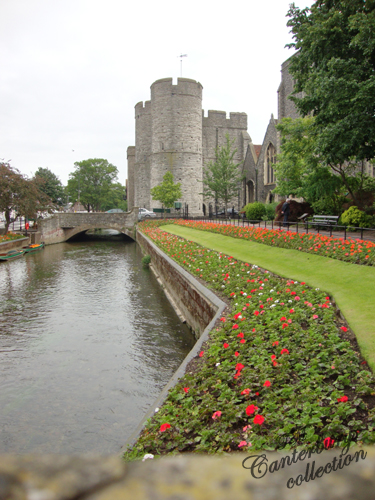 1857 Henry Coare Kingsford, solicitor of firm Kingsford and Wightwick, becomes owner but dies in same year aged 38 (1858 Melville Dir. as Westgate Tower) (*)
"Partnerships Dissolved - Henry Kingsford, Henry Coare Kingsford, and Thomas Norman Wightwick, Canterbury, Kent, attornies-at-law, solicitors, and conveyancers, (as far as regards the said Henry Kingsford)." The Jurist
"Marriage, August 1st, 1854, At Saltwood, Kent, Henry Coare Kingsford, eldest son of Henry Kingsford, esq. of Littlebourne, Kent, to Anna-Maria, daughter of the Ven. James Croft, M.A. Archdeacon of Canterbury, and Rector of Saltwood." The Gentlemen's Magazine 1854
1858 - Obituary - December 9th - At Westgate Tower, Canterbury, aged 38, Henry Coare Kingsford esq. eldest son of Henry Kingsford, esq. of Littlebourne near Canterbury. GM1858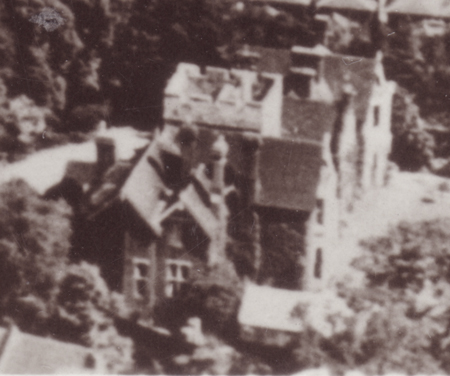 An Ariel View of Tower House with the two wings still on the house
"September 28th, Death at the residence of her father, the Ven. Archdeacon Croft, in the Precincts, Canterbury, after a few hours illness, Anna Maria, the widow of Henry Coare Kingsford, esq." The Gentlemen's Magazine 1859
*1843, Lawyer, Henry Coare Kingsford (no address listed) - London Agents Waterman, Wright and Kingsford
1858 Captains Henry and Charles CASTLE become owners (*)
Obituary, May 26, 1851...At Dover, Mrs. Charlotte ROBERTSON, of Tower House, Canterbury. 1851 GM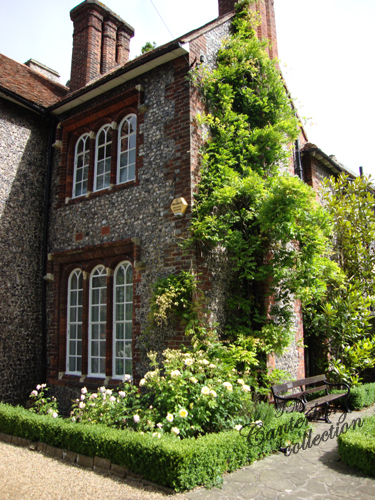 1865 Poll for two knights of the shire..."name of voter and residence" 1722 CASTLE, Henry, Westgate Tower House, Canterbury, listed under parish of St. Peter (it is the parish of qualification) Voted for B, K.
three candidates: Sir Edward Cholmeley Dering, Bart. - Sir Brook William Bridges, Bart. - Sir Norton Joseph Knatchbull, Bart.
"There was a good deal more Lefroy property purchased by others, and Mr. Miette is under the impression that the family residence was a house opposite All Saints' Church in High Street, now belonging to Mr. George Neame. I visited this house, which has a modern stucco front, and bears no appearance of being much older than the century, the present owner has been three times Mayor of Canterbury, his son who was a most uncivil person, refused to give any information, not even his father's address. He evidently fancied my enquiries were directed by some interested motive." Notes and documents relating to the family of Loffroy 1868
Two Victorian wings were added in 1870
Neame's living at Prospect House, Harbledown in the 1870's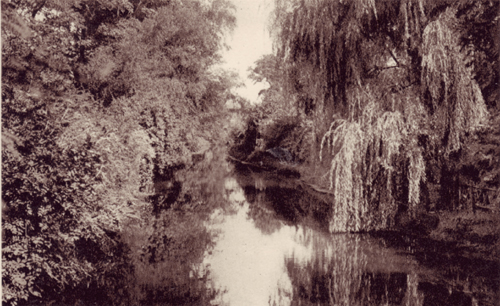 Tower House Gardens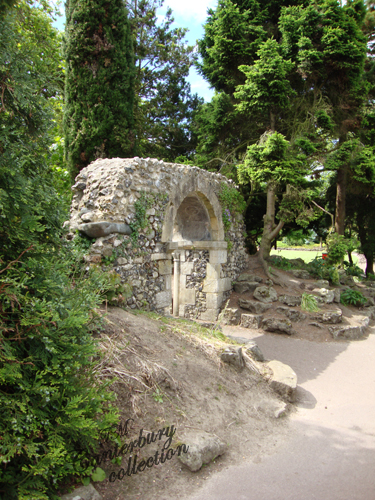 Possibly a remnant of St. Augustine's Abbey
Charles A. Fowler, Clergyman, Tower House 1871
Death of George NEAME 1873
1873 Major Henry CASTLE owns 26 acres in 1873 Kent Land Assessment (*)
1873 William HOWARD of Canterbury, Proprietor of Chartham Paper Mills, becomes owner (*)
Mr. William HOWARD, who was the owner of Chartham Paper Mills lived here until 1882.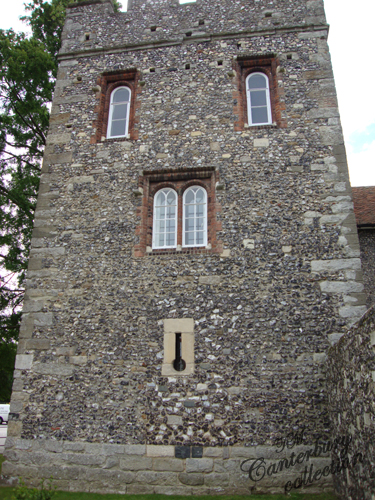 1882 Frederick Charles STACEY of Gravesend becomes owner (*)
1882 He immediately resells to Misses Berry, Stanton, Mahony (Religious Group?) (*)
1884 - Tower House - From Our Schools and Colleges, F.S. Dumaresq de Carteret-Bisson
"Tower House, Convent of La Sainte Union Des Sacres Coeurs. Under the patronage of the Lord Bishop of Southwark. A limited number of young ladies received here as boarders. Principal, the Rev. Mother Superior."
1886 Stephen WILLIAMSON becomes owner paying about £3500 (*) Steven Williamson was a Tanner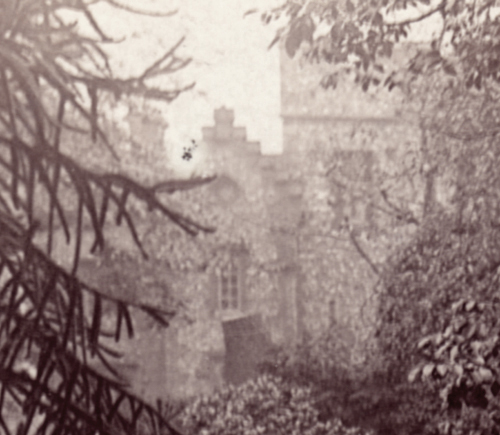 Above, a view of Tower House from the River