Corner of White Horse Lane looking towards Jewry Lane
36 High Street to Jewery Lane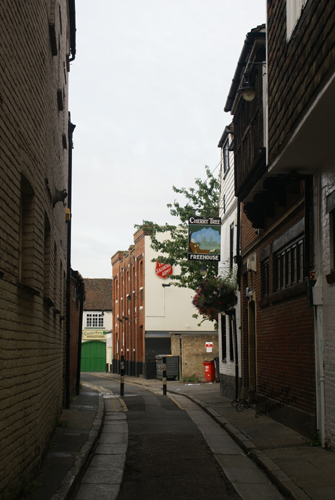 No. 1
1885 Kelly's Directory of the Leather Trades - Frederick G. DAVEY, listed under Boot & Shoe Makers, Warehouses & Dirs.
*1881, George SMITH stole a pair of boots from Frederick George DAVEY, and a James ROBERTS (pensioner) of White Horse Lane
Louisa DANBY, Boot & Shoemaker (
No. 2
George AIANO, Cordwainer (
No. 3
George GREENSTREET, Working for a Grocer (
1893 Emily GREENSTREET, 3 White Horse Lane CCA
No. 4
James TWYMAN, Chimney Sweep
No. 5
Eagle Tavern, Leonard Spendiff, Victualler *
1882 "EAGLE TAVERN" William ABBOTT
1917 Alfred WHITCOMBE
No. 6
James Elvy, Emma LEFEVRE (
James ELVY, Plumber *
1917 Henry Charles BAKER
No. 7
Albert MINTER, Builders Foreman
1917 Leslie JORDAN
Biggleston and Sons, Iron Foundry
IRON FOUNDRY
1847 William Henry BIGGLESTON, Ironmonger, White Horse Lane
*Patents applied for and patents granted - Hoists, &c. Construction of ships' capstans (number of patent - 3240) Date, 8th Dec. 1866, William Henry Biggleston
No. 8
FLEUR DE LIS STABLES
FIRE ENGINE HOUSE
RAG STORES
No. 9
James ROBERTS, 9 White Horse Lane *
Gateway of Fleur De Lis Yard *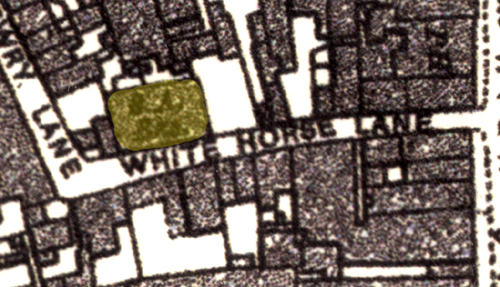 Salvation Army Barracks highlighted in yellow
SALVATION ARMY BARRACKS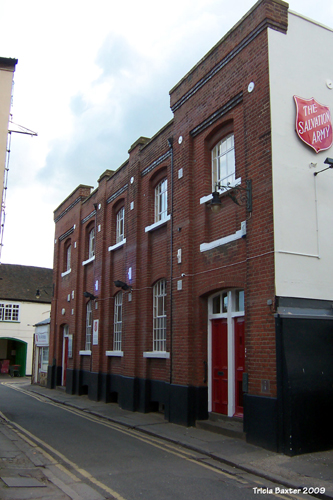 The Salvation Army Barracks, and old rag factory
"Preaching in Knott's Lane" c. 1886
"The Christian Life - Saturday, September 13, 1884 - In anticipation of a visit by the Salvation Army to Canterbury, and with a view to prevent disturbances similar to those which have occurred in other towns, it is proposed to make a new byelaw, under which it will be an offence punishable by a fine of £5 going about playing trumpets and drums in the streets."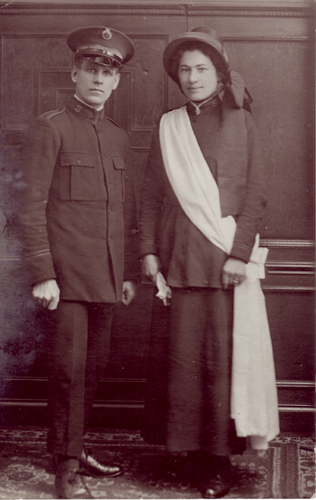 Salvation Army Postcard photo - December 1st, 1919 "With our kindest thoughts"
Taken by Mrs. G. SWAIN, St. Giles Studio, Norwich
FLEUR DE LIS TAP
__
Fleur de Lis Tap *now the Cherry Tree Freehouse (No. 10)
William Gambier, Publican and Bricklayer %
Edmund BRENCHLEY, Victualler &
Edmund Brenchley, Serving House Keeper %
Elizabeth BRENCHLEY, Licensed Victualler, 10 Whitehorse Lane *
1903 - Henry BAKER, White Horse Lane, Fleur-de-Lis Tap Public House
1917 Henry BAKER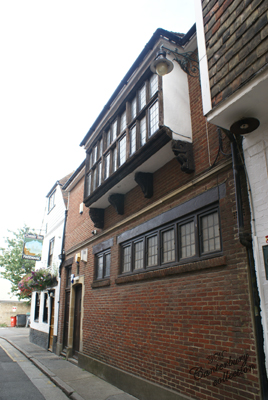 My thanks to Paul for pointing out the corbels from the old Fleur de lis hotel (although they are in the opposite position of where they were placed under the original window)
White Horse Lane (in passage) - ASHENDEN'S COTTAGES
Edward SOUTAN, Fish and Fruit Seller &
Edward SOUTAN - Where do you live? You must speak very loud as I am very deaf. White Horse Lane. What are you? A horse dealer, fishmonger or anything. Did you get any money at the last election? Not this election; never in my life; not a farthing from anybody. Did you get any in 1879? Yes, I never received a farthing from nobody; never not a half penny from nobody, and not a single farthing in my life in any election that ever was. Do you know a man named James Roberts? No, I do not, and I tell you I am independent of everybody. PP1881
Jewery Lane
---
1830 Poll Book
Absalom Johnson, Fishmonger, White Horse Lane
John Dawson, Labourer, White Horse Lane
George Browne, Coachmaker, White Horse Lane
William Anderson, Fishmonger, White Horse Lane
Thomas Fist, Cordwainer, White Horse Lane
--------------
Joseph Pitt, Gunmaker $
Joseph Pitt, Pig Dealer $
Frederick Linom, Printer $
Absolom Johnson, Fishmonger $
Elizabeth Hyde $
Isaac Read $
Isaac James Moore $
Henry Hayward, Coach Builder $
John Groombridge, Fishmonger $
Francis Moses Price, Porter $
John Price, Shoemaker $
Zachariah Davey, Dyer $
John McGowan $
John White, Cordwainer $
George Dopson Harden, Hair Dresser
Geroge Harden, Carrier
John Thomas & George Marshall, Weavers %
George Meadhurst *, Labourer %
*Medhurst
Edward Loutan, Fruit and Fish Seller &
LEE's BUILDINGS, Whitehorse Lane
William Lam Laker, Fruiterer %
Sarah Chandler, Seamstress %
---