~ MASTERS FAMILY NAME ~
CANTERBURY
There is a bust of William Masters in the Beaney
Showing the Area of William Masters Exotic Nursery (detail of Ordnance Map 1874)
Beyond St. Peter's church is the passage to two springs of mineral water, of different quality, though rising within seven feet of each other. The waters have been prescribed and taken with success, from the first discovery of them in 1693, but were never so much in fashion as to crowd the town with company.
The Kentish Traveller's Companion 1776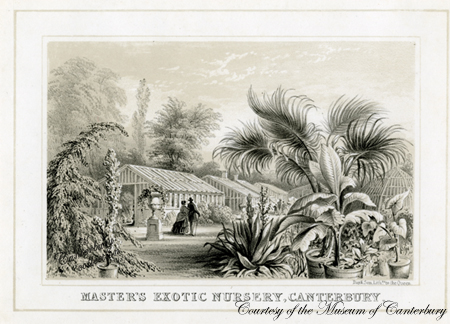 Masters Exotic Nursery, Canterbury
Picture above courtesy of the Museum of Canterbury
The Botanical Gardens and Nursery Grounds. Besides the Dane John field, there is a spot to which the citizen and tradesman may repair and find a grateful relief from the toil and fatigue of mercantile pursuits; nay, from which all classes may derive enjoyment, the Botanical Gardens of Mr. Alderman Masters* to whose good taste and scientific judgment, the order and proper arrangement of the various species of plants with their kind, fully bear witness. The gardens are well stocked with plants of every variety of character, and when in bloom present a very rich and gaudy appearance. These
grounds are celebrated for being the situation of a chalybeate or mineral spring, formerly of great repute from the efficacy of the waters in cases of ague, rheumatism, and gout ; and in restoring weak and debilitated constitutions, but which has now fallen somewhat into disuse.1838
Died at Canterbury, Mrs. MASTERS, wife of Mr. J. Masters, Nurseryman. MM1803
1824
Listed under Nursery & Seedsmen
John & William MASTERS, Oaten Hill
William MASTERS, St. Peter's Street
*Parish Registers - St Peters: In a Vault beneath repose the ashes of William MASTERS an old and respected inhabitant of this parish died 27 September 1834 also of Phoebe his wife died 15 August 1846, aged 78. Also of William Arthur Masters died 20 May 1847, aged 28. Also of Mary Ann their only daughter wife of Thomas WILKINSON of this city solicitor died August 26 1850 aged 46. Foot to Vault: W.M. 1834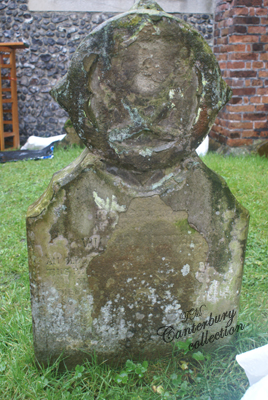 *William MASTERS - much of the actual stone front is flaked away and unreadable
In a vault beneath
repose the ashes of
WILLIAM MASTERS
an old and respected inhabitant of
this parish died 27 September 1834
Also of Phoebe his wife
died 15 August 1846, aged 78
Also of William - Arthur Masters
died 20 May 1847, aged 28
Also of Mary Ann their only daughter
wife of Thomas Wilkinson of this city
Solicitor died 26 August 1850 aged 46.
Foot of Vault: W.M. 1834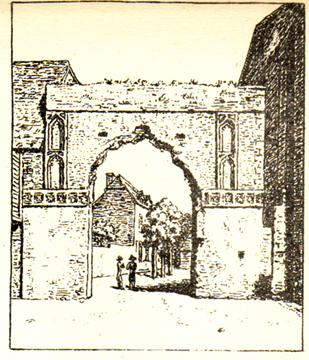 The Black Friars Gateway that was in St. Peter's Lane off of St. Peter's Street
"Proceeding toward the gate, we pass by St. Peter's Lane and church on our right hand, not far from which, on the same side, was a grated door, which formerly led to our wells, or springs of mineral water,* but the passage, to which this formed an entrance, is now attached to an adjoining dwelling house, and the principal entrance is in Pound lane, a little farther below on the right. These springs rise on premises occupied by Mr. W. Masters, as a nursery ground. They were accidentally discovered about 130 years since, and have from that period to the present, been esteemed for their medicinal properties.
A number of persons annually resort to them, and in cases of nervous debility, scurvy, and cutaneous disorders generally, they have been found highly beneficial. They rise within a few feet of each other. One is purely chalybeate, and the other contains a portion of sulphur in combination with the iron. They are each perfectly limpid when first drawn from the well; but after a short exposure to the atmosphere, the gas which holds the constituent parts in solution, escapes, the steel is precipitated, and the water assumes a whitish tinge, as though lime or milk had been added. This rapid decomposition renders it necessary that they should be drank on the spot, to be serviceable.
Another peculiarity is, that during the severest seasons these waters never have the slightest tendency to become frozen.
Every morning during the summer months, a person is in attendance to wait on those who drink the waters, and the effect of the medicine may be considerably augmented by the exercise of walking in the nursery, which is filled with beautiful and rare exotics." William Gostling
*discovered in 1693, and described by Doctor Scipio des Moulins, in the Philosophical Transactions, No. 312
...There are some chalybeate springs*, and one slightly sulphureous, in the extensive nursery-grounds of Mr. W. Masters, near the west gate...
A Topographical Dictionary of England 1831
1827
Lectures given at the Canterbury Philosophical and Literary Institute
November 13 - Mr. W. MASTERS delivered a lecture on the Geology of Kent.
December 18 - Mr. Masters delivered a lecture on Lithography and Engraving. He described the chemical process by which Lithography is effected - the history of its introduction in this and other countries, and pronounced its chief excellence to consist in the impressions being identically the originals of the artist, and in the facility with which all artists could by its aid give numerous copies of their designs. The various modes of Engraving were then described and explained, beginning with the Engraved Gems of the Antients, and continuing to explain those on Wood, Cooper, Steel, Glass, &c. of most of which characteristic illustrations were exhibited.
1828
Lectures given at the Canterbury Philosophical and Literary Institute
February 19 - Mr. W. Masters delivered a lecture on the English Poets
June 10 - Mr. Masters delivered a lecture on the English Poets from Milton to Pope
1837
In St. Peter's, near that part of the city wall that adjoins Westgate, is the nursery ground of Mr. Masters, which boasts of a very fine collection of exotic and other plants, in great variety; as 700 or 800 sorts of roses, 200 kinds of dahlias, 80 varieties of the Camelia Japanica, &c. A Lombardy poplar*, one of the earliest planted in this country is to be seen here, although in decay; it was formerly 100 feet high, and, at an elevation of four feet from the ground, sixteen feet in girth; but it had now lost twenty-five feet of its height.
*The Lombardy Poplar (Populus dilatata Hort. Kew., P. fastigiata Desf. and Arb. Brit) A tree of this species, originally imported in 1758, that had attained nearly 100 ft in height in the St. Peter's Nursery, was blown down during the hurricane of Tuesday last (Nov. 29). It girted 16ft. at the base; and at 6ft from the ground, 12 ft. 6in. It was the largest and best proportioned tree of the species that I ever saw, and from the southern and western entrances to the town, was an object of considerable attraction. The wood of the trunk was in a complete state of decay, and had produced an abundance of Polyporus igniarius for several of the past years. W. Masters. Canterbury, Dec. 1, 1836
Canterbury - John Brent, esq., Alderman. William Masters, Esq.
The Penny Cyclopaedia 1839
*The Chalybeate Waters
The mineral waters of this city have been discovered upwards of a century, but of late years they have been neglected. The springs are centered in an extensive nursery garden, near the Westgate of the city, and are situated between the river Stour and one if its branches, which flows round the west side of the city wall. These wells have been repaired, and the grounds improved with much good taste, by the present lessee of the grounds, Mr. Alderman Masters.
The following account of these waters is given by Dr. Moulins, in the philosophical transactions of 1700, vol. 4, p. 196:
"As for its medical virtues, from the many and wonderful cures, I believe it to be one of the most excellent waters of this kind, as yet found in England. The little well is very useful in diseases of the breast, as in asthma's, coughs, rheums, and catarrhs. It has cured several given over of consumption's of the lungs. Most disorders of the stomach are cured by these waters. It seldom fails in the cure of rheumatic gouty pains of the limbs, or other parts of the body, in the scurvy and melancholy distempers, jaundice, vapours, all sorts of stoppages, scabs, itch, &c.: but in gravel, cholic, and green sickness, it is a true specific; as also in inward ulcers, if not too far gone. A porter of Bolton, who had been with many doctors, and was in 1840 discharged out of St. Thomas' Hospital, as an incurable person, hath been cured of his ulcer in the bladder, with drinking of this water for three months together.
In agues, it is beyond the bark: I have seen some rebellious ones that could not be removed by the bark, perfectly cured by this water; and some constitutions quite worn out by the frequent relapses of this distemper, restored again. This is also remarkable, that it agrees best with old, decayed, and weak constitutions. The water sits pleasantly upon the stomach, works off by urine very briskly, causeth a good appetite, cheers the spirits, and procures sleep. It is not binding, as some other chalybeates are, but keeps the body open to most people, and upon some it brings now and then a gentle looseness, which carries off the distemper. For these four years I have prescribed them to many scores of persons, every season, and I could never observe any inconveniency, or ill symptoms, arise from the drinking of them."
The the physicians of 1700 prescribed and thought, but the difference between the modern physicians and the ancients is great, the extreme faith in the specific efficacy of mineral springs, being in a great degree subsided.
Canterbury Guide, Henry Ward, 1843
There was a William Isaac Masters christened on August 7, 1796 at Saint Peter, Canterbury, Kent to parents William and Phebe (Phoebe) Masters
Possible siblings: Mary Longbottom Masters c. 1794, John Henry Masters c. 1799, Joanna Masters c. 1798
William Masters of St. Peter, Canterbury, bachelor and Catherine Claris of Faversham, spinster, at Faversham. 26 November 1818, Canterbury Marriage Licences, 1810-1837
The Monthly Magazine 1819 - Married. Mr. W. Masters to Miss C. A. Claris, both of Canterbury.
1822 - Christening of Imogen Masters, September 8, 1822 to William Masters and Catherine
1826 - Christening of a Kate Masters August 6, 1826 to William Isaac Masters and Catherine
1829 - Christening of a Clarissa Kate Masters July 26, 1829 to William Isaac Masters and Catherine
1830 - Poll of the Electors - William Masters, St. Peter's, Canterbury, Gentleman
1837 - Local Committees - Canterbury, John Brent, Esq., Alderman. William Masters. Esq. (Society for the diffusion of useful knowledge)
1839 (The Gardeners Magazine) Results of certain Experiments in Kyanising different Species of Wood for being used as Garden Tallies; with remarks on the Effect of Kyanising Hop-Poles. By W. Masters, F.H.S., &c. March 20, 1839, Exotic Nursery, St. Peter's, Canterbury
1840's William Masters, Horticulturist, St. Peter's Street
1840 "Some Remarks on the Culture of the White Carrot. By. W. Masters, F.H.S. &c., of the Exotic Nursery, Canterbury
later half of 1842 - A marriage of Imogen Masters in Canterbury to George Rigden (Member of the Royal College of Surgeons)
Article from "The Gardener's Magazine", 1842, on "The Canadian and Black Italian Poplars", William Masters, Canterbury Nursery, Nov. 23, 1841.
1845 - Marriage of Algernon Masters and Catherine Wood, Eastry Kent
1846 - both William and Algernon are members of the British Archaeological Association
1846 - "The British Florist"... The prizes were awarded by Mr. James Judge and Mr. Algernon Masters.
1846 "The Railway register and record of public enterprise for railways, mines" - William Masters, Esq. Alderman (pg. 152)
1848 - Ladies' Flower-garden of Ornamental Greenhouse Plants
2. Passiflora Alto-Caerulea Lindl. Masters's Hybrid Passion Flower
Description, &c. - This is a very showy plant, which was raised in 1823 from seeds of P. alata, a native of the West Indies, fertilised by the pollen of P.carulea, at the nursery of Mr. William Masters, St. Peter's Street, Canterbury. "The stem of this hybrid," says Dr. Lindley, in the Botanical Register, "bears an evident resemblance to that of P.alata, being square; the membrane of the angles is, however, nearly obsolete, except in vigorous young shoots. Its leaves are of much the same texture and colour as those of P. alata, but are three-lobed, and very different from those of any other hardy creeper. The flowers are sweet-scented and extremely beautiful, the ray being of a rich purple, the petals pink, and the sepals of a delicate white." The plant is very nearly hardy, and may be grown in the open air in a sheltered situation with only a very slight protection during frosty weather.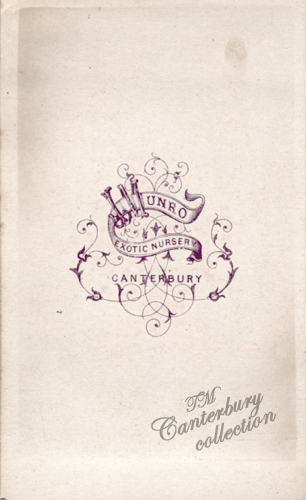 The back of a photographers card showing "EXOTIC NURSERY" (James Munro was living at 56 St. Peter's Place)
1851 Exotic Nursery (26 St. Peter's Street), William Masters J. P. Nurseryman 25 acres, 18 labourers, son Frank is a Nurseryman also
William Masters, Esq. J. P. Canterbury, Subscriber to "Conseutudines Kanciae" by Charles Sandys 1851
Son Algernon Masters is living in High Street in Tonbridge, he's a Wine Merchant married to Catherine of Chatham, his nephew Harvey Rigden is staying with them, and a Mary Ann Wood (likely Catherine's sister)
William's son Maxwell T. Masters is a Medical student in St. Mary le Strand, Middlesex
1851 Sarah Caroline Ward marries Frank Masters in Canterbury
*Charles Robert Haig born February 13, 1844, married firstly 13 Sept. 1876, Kate (d. 1885), daughter of Frank Masters of Canterbury and had issue (Stuart Masters b. 1879, Miriam, Kathleen Mary, Winifred Reeves, died unmarried Feb 4, 1909, Mildred Adela.). Charles married secondly, Adela Masters (d. 1892) of Canterbury, and by her had issue (Charles Anthony, Robert Fergus, Ronald Frank)
The exotic nurseries of Mr. Masters contain, on 30 acres, a great variety of plants. 1855
From the "Report of the Annual Meeting 1857"
No. 2. - Meteor, Jan. 7, 1856.
"To the Editor of the Kentish Gazette.
Sir, This evening, at a quarter before five o'clock, being at St. Thomas's Hill, near Canterbury, I was struck by what appeared a rock in brilliancy, but with sparks more compacted than usual. I ran to a position where no trees intercepted my sight, and was astonished to find a bright vertical line (to appearance about 6 ft. long and 2 in. wide)* in the south, immediately under Saturn.
There was no cloud near it, or indeed, on the whole hemisphere at the time. Its brilliancy exceeded that of the planet, and it seemed to emit light in the manner of a gilded snake.
It continued about five minutes with this aspect, when its form began to change, and showed a bold curve in its centre, with a deflection at each extremity; at this time, a bright, waving, thread-like tail became visible, and very soon after a similar vermiform appearance in the opposite direction was to be seen at the top. AS the body, so to speak, curved, so it appeared to become broader, and in about 10 minutes the general direction was changed, for it had lost its vertical direction, and was just acquiring a horizontal one.
It was not till this time that its nature could be defined; but now it showed that it was a thin cloud, and it finally passed away without leaving a trace behind.
I am, Sir, yours truly, "William Masters"
1858 a death of a Algernon Edward Masters, Canterbury
1858 - A picturesque view of the ruins may be had from Masters' Nursery, worth a visit for its own sake. the walks are well laid out, and between the trees are pleasant glimpses of the cathedral and the city wall with its watch turrets. Remark especially an enormous Lombardy poplar planted 1758. Without the garden in a meadow adjoining the "Abbots Mill" which belonged to St. Augustine's Monastery are 5 large poplars. They are about 100 years old, and so picturesque with their ribbed trunks and great masses of pointed leafage, as to be well worth the artist's attention.
1859 a death of Algernon Masters, Tonbridge (February 22, 1859) - at Tonbridge, Mr. Algernon Masters, son of Mr. Alderman Masters, of Canterbury aged 38 years.
1860's- William Masters J.P., 20 acres employing 17 men, Landscape Gardener & Nurseryman - 26 St. Peter's Street
William's daughter in law, Catherine Masters is now a widow, noted as Wine Merchant with daughter Elizabeth, High Street, Tonbridge
Son Maxwell Tylsen Masters is married to Ellen and living in Camberwell, Surrey
Nov 12, 1861 from "Proceedings of the Horticultural Society of London" - Mr. William Masters, of Canterbury, sent a large showy Seedling Apple, beautifully streaked with crimson on a golden-yellow ground. The Committee was of opinion that it did not possess merit sufficient to recommend it as an addition to existing varieties.
1861-1863 William Masters Esq., Alderman of Canterbury, High Street - Member of the Kent Archaeological Society (1861 & 1863)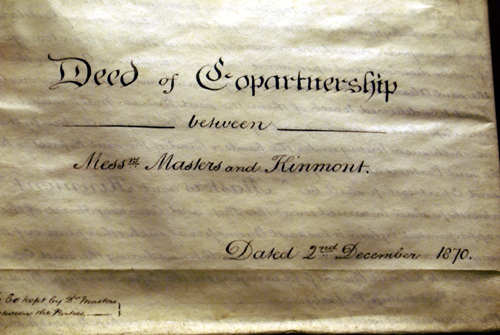 1870 * I have a Deed of a Partnership between William Masters of Canterbury, Nurseryman, and John Watson Kinmont of West Wickham, Nurseryman. December 2, 1870...Property; business to be conducted at the Counting House and Shop in St. Peter's Street, Canterbury. Manuscript on vellum. Signatures and red wax seals. Revenue and Tax stamps.
1871 - William Masters, J.P. (Alderman) for Canterbury, Nurseryman
1874 - William passed away in Canterbury (26th of September, 1874)
John Watson Kinmont died in Canterbury in 1876, at age 52
July 4th, 1878 (Journal of Horticulture and Cottage Gardener) The fourth prize was awarded to Messrs. Kinmont & Kidd, Exotic Nursery, Canterbury, with a very good collection, containing the finest example of Reynolds Hole in the Show, indeed one of the finest blooms that have ever been seen of this richly coloured but somewhat uncertain Rose.
In 1881 at 26 St. Peter's Street we have Euphenia K. Kinmont, Florist &c. from Scotland with her two daughters (bookeepers) and son John Kinmont, assistant in the nursery.
By June 7, 1883 "..and Mr. George Mount, the "harmonious blacksmith" (for is he not the organist of his church?) who won such honours last year with his small collection of Roses; and in these, too, progress has been made. Mr. W. Mount's garden, of which I worte some years ago in the Journal, is most charmingly situated by the banks of the Stour; but its situation exposes it to many enemies. It is very accessible to frosts and to whilwinds, which come down from the high buildings near, consequently his Roses do not look so vigorous as they might. I am inclined to think that they have been too long in the same place, and that the ground is too full of manure. Where it mine I think I should take out the soil and fill the beds simply with good turfy loam without an atom of manure, leaving that for the mulchings which I should give them in the spring after they had started for growth; and from my own experience I should say, Lay them in until the spring, and then plant. He had a couple of hundred Roses last autumn, and of these, which where planted then, he has lost about forty. I had a hundred from the same place, which I planted in March, and of these I only lost four. " (Journal of horticulture and practical gardening)
1888 the Nursery was taken over by George Mount. George Mount died April 22, 1927 (1844-1927)
*Was this property owned by George Mount?... (George Mount leased 26 St. Peter's Street to Barrett/Jackson c. 1902)
Saturday May 16, 1896 Kent & Canterbury Press
Friday Next.
Exotic Nursery
St. Peter's Street, Canterbury
8th Annual Spring Sale
Mr. W. D. Young has received instructions from Mr. George Mount,
To sell by auction, at the above nursery, On Friday May 22nd, 1896, at one o'clock precisely, in the numerous lots (to suit all purchasers) upwards of 20,000 bedding, Greenhouse, and other plants, consisting of Geraniums, Lobelias, Calceolarias, Heliotrope, Annuals, Asters, Stocks, Pyrethrums, Iceland Poppies, Ferns, Fushsias, Carnations, Marguerites, Chrysanthemums: also
Tea and Hybrid Roses
The Aucitoneers specially begs to call attention to this sale, as the quantity of the stock is unsurpassed in the district.
N.B. Mr. Mount will, if desired, pack the Goods and put them on the Rail at Nominal Charge.
Catalogues may be obtained of Mr. George Mount, Exotic Nursery, St. Peter's Street, or of Mr. W. D. Young, Estate Agent and Auctioneer, 8 High Street, Canterbury.
There is a bust of Alderman Masters in the Museum in Canterbury.
---