~ WINCHEAP GREEN ~
CANTERBURY
(at 30 Castle Street)
1847 Miss Mary Ann De Lasaux, Wincheap Green
"Surveys and sales of Oaten Hill Wine Vaults, Wincheap Green" (1798-1818) CCA
Cyclist Rest
1917 John PHILPOTT
ADULT SCHOOL
CASTLE VILLA
1917 John Alfred CAESAR
SYLVAN HOUSE
1917 Edward H. SLADDEN
Castle Row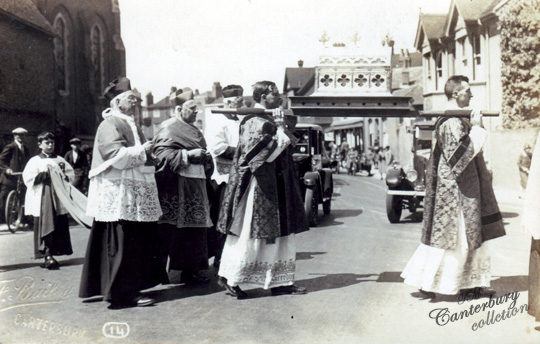 Religious Procession in Wincheap Green, behind them on the left you can just see part of St. Andrew's Presbyterian Church, the procession is possibly heading down Castle Row where there is the St. Mary de Castro graveyard.
MAN OF KENT
1917 Robert FITALL
No. 1
1903 Charles & George Yeoman, Cartage Contractors and Agents, Furniture Removers, &c., Coal and Coke Merchants. Pantechnicons and lift vans hauled from stations to all parts. Agents for Refined Tar and Creosote. 1, Wincheap Green, Canterbury
1917 Harry BAKER
No. 2
1917 Arthur James ROLFE
No. 3
1865 Poll Book William BUSHELL, 3 Wincheap Green, Canterbury (parish of qualification - St. Mildred)
1917 Mrs. R. KEELER
No. 4
1917 Harry James BRETT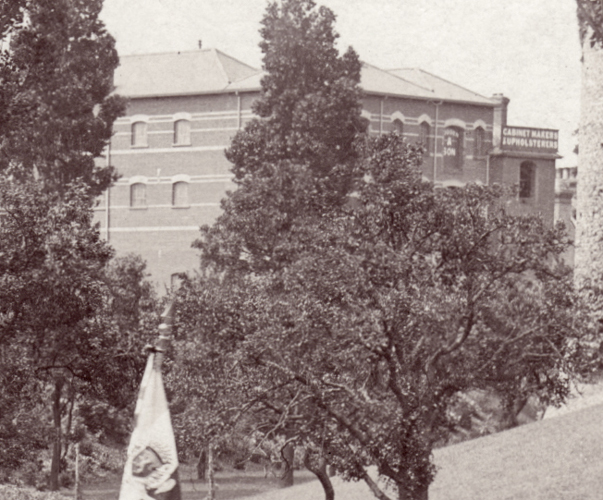 Godden and Sons, Furniture Depository
No. 5
James Thomas GOWER, Tanners labourer )
No. 6
Frederick FORD, Plaster )
No. 7
John GILES, Fly proprietor (stables) )
No. 8
Harry SIMS, Carpenters Journeyman )
No. 9
Grace ANDERSON )
No. 10
Mary A. WILTSHIRE, monthly nurse )
RED HOUSE
1917 Mrs. LAMING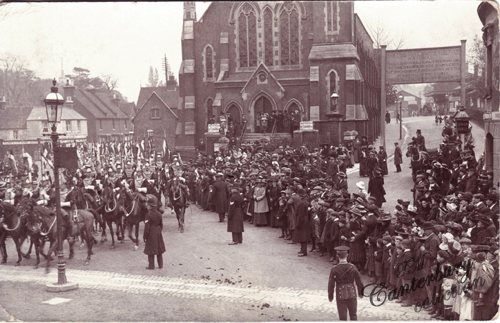 ST. ANDREWS PRESBYTERIAN CHURCH OF ENGLAND
St. Andrews, Wincheap Green, near the East Railway Station. Licensed for the solemnisation of marriages. The Presbyterian Troops attend this church.
RAILWAY INN
Feb 25, 1885 Edward TWYMAN: stealing from Ann Roots, landlady of the Railway Inn, Wincheap Green, Canterbury CCA-CC-J/V/1885/32