~ CHARLES W. ALLEN ~
PHOTOGRAPHER
WESTGATE STUDIO, ST. DUNSTAN'S STREET
and EASTGATE STUDIO HAILEYBURY, HERTFORD
1 HANOVER PLACE, Private Residence
CANTERBURY
C. W. Allen, Charles William Allen
1879 - c. 1889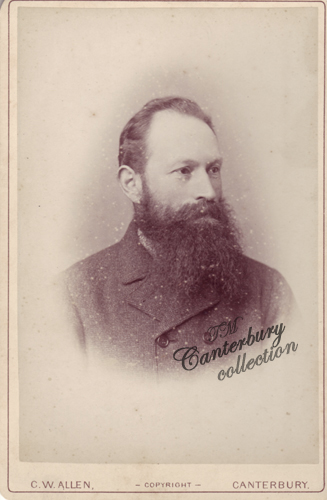 __
"A Gentleman" c. 1880's - A Cabinet card in my collection noting two studio's, Westgate and Eastgate Studio in Hertford (where he was born)
Cardstock Marion, Imp. Paris, London - Dyiose -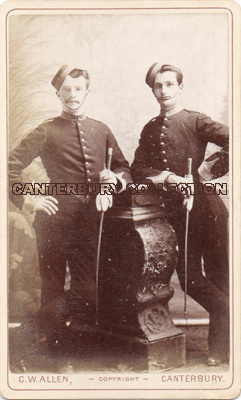 __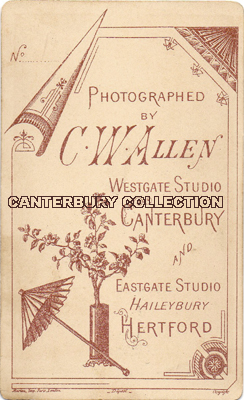 1885 Kelly's Directory of Chemists and Druggists this work manufacturing chemists...Charles William Allen, St. Dunstan's Street, Photographer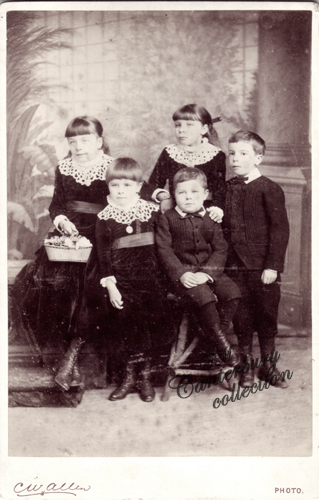 __
"Group of children" c. 1880's - A Cabinet card in my collection noting two studio's, Westgate and Eastgate Studio Haileybury in Hertford
the card stock was produced by Spicer Bros. London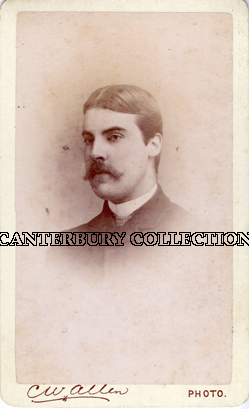 --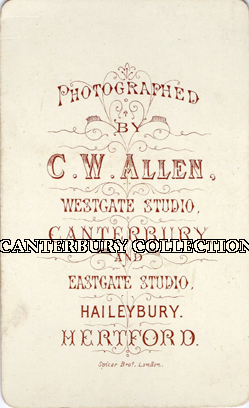 "Great Moustache" c. 1880's - A Cabinet card noting two studio's, Westgate and Eastgate Studio Haileybury in Hertford
the card stock was produced by Spicer Bros. London
_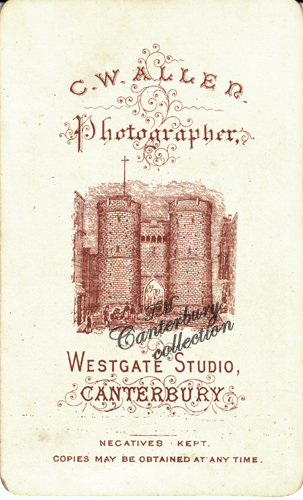 "A Lovely Young Woman with beautiful lace" c. 1880's - Carte de Visite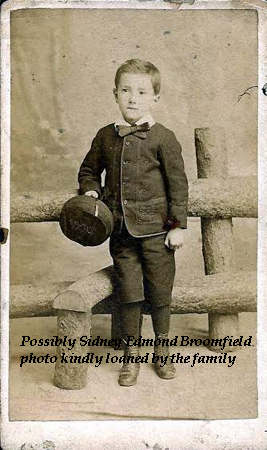 __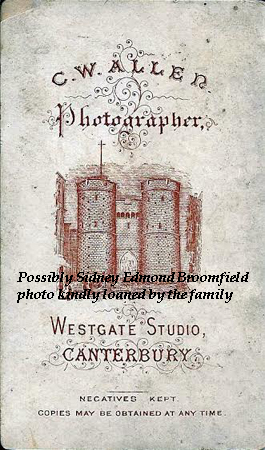 "A Young Boy" c. 1880's (quite possibly Sidney Edmond Broomfield) Photo kindly loaned by the family - Carte de Visite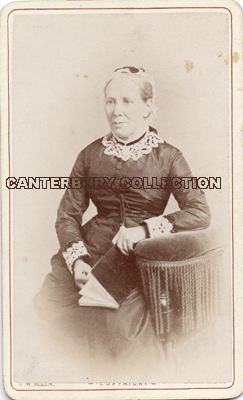 __
_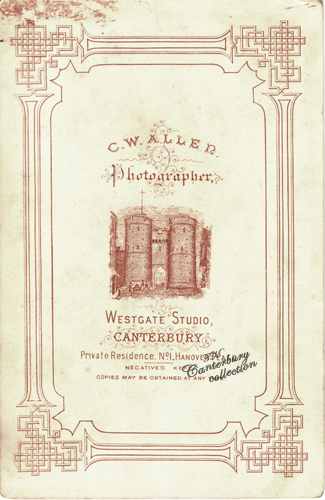 "Young Sisters" Cabinet card
An unnamed photograph from May & Amelia Inge's album supplied by a descendant. Some of the photographs may date back to the 1860s. May Inge was a grocer in Canterbury and a Bible thumping Methodist lay preacher. Amelia was John Hobday's daughter. John Hobday was a businessman of many trades. In 1882 an advert described him as a "Cabinet Maker, Upholster, Auctioneer, Appraiser, House Agent, House Decorator, Undertaker, &c., 60 & 61 Palace Street, Canterbury. Contractor for Removal of Furniture in Pantechnicon Vans, by Road or Rail."
A very similar chair if not the same one used by John Bateman

Born c. 1818 in Hertfordshire, his wife's name is Emma Lucy (nee Parker) b. St. James Middlesex. The couple were married in Australia in 1852. One of their daughters, Adelaide Amelia Allen was born January 28, 1855 in Australia. She married Henry Beauchamp Collis who was a photographer in Canterbury. Emma Martin M. Allen, and Roland Allen siblings of Adelaide.
The family was living at 49 Beresford Street in Woolwich London in 1871, with no occupation listed for Charles.
The Photographic News - May 30, 1879 AD - WANTED, a good Operator and Retoucher - Address, stating terms, with specimens of work to C. W. Allen, Westgate Studio, Canterbury.
His business is located at 1 Hanover Place, St. Dunstan, Canterbury in the early 1880's, and all of his children are still with him. Emma, Adelaide and Roland.
Nov. 19 1883 Westgate Studio, he has a copyright for a photograph of an oil painting by Henry Hayman (Henry was at 34 St. Margaret's Street)
In 1889 he's at Westgate Studio, St. Dunstan's Street, the corner of Station Road *Portrait, landscape and architectural photographer
Charles died in December of 1889
1891 Charles Wm. Allen (exors. of) Westgate Studio, St. Dunstan's St., Canterbury
by 1894 the Studio had been taken over by his son-in-law Henry B. Collis who was there until 1917
(was a C.W. Allen exhibiting at the Royal Photographic Society in 1913 living at 35 Watkin Road, in Folkestone, Kent)
---