~ COSSINGTON STREET ~
CANTERBURY
No. 1
1889 William HOPPER
No. 2
1889 Frederick WRIGHT, Coachman
No. 3
1889 James CHAPMAN, Gardener
No. 4
1889 J. HIATT, Laundryman
August 23, 1902 (Kentish Gazette & Canterbury Press)
death
DITTON - At 4, Cossington Street, Canterbury, Emma DITTON, widow of George DITTON, aged 70 years.
TP April 5, 1924 - The Canterbury Coroner (Mr. C. A. Gardner) held an inquest on Monday afternoon, touching the death of Mrs. Frances Styles, aged 85, of 4, Cossington Street, Canterbury. Francis Edward Styles, son of the deceased said his mother had complained of feeling unwell, but she was able to go down and draw her old age pension on Saturday morning. She retired to rest at 9:30 saying she felt tired. He went into her room at 10:40 to see if she was all right and noticing she looked strange spoke to her. Getting no answer he shook her when she gave a sigh and appeared to pass away. D. H. O. Preston who was called in said death was due to heart failure and senile decay, accelerated by the cold weather. The Coroner returned a verdict of death from natural causes.
No. 5
1889 Frederick RUSSELL, Tallow Chandler
Cossington Road
No. 6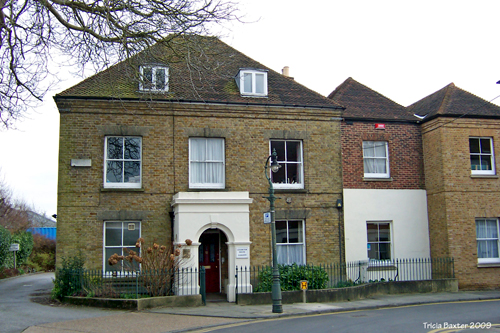 *the family orginally resided at Cossington in Somerset but removed to Kent about a century ago (1882)
1849 - At Canterbury, on 27th May, in the 39th year of her age, Julia eldest daughter of John BRENT esq. In the domestic circle of her unexpected removal will long be deplored, and her friends will cherish for years to come, the memory of one they highly esteemed, and who was ever desirous to promote the happiness of all around her. By her death the Black Friars' Chapel lost one of the most frequent worshippers within its walls, and the Girls' Sunday School is deprived of its chief manager, who always had its interests much at heart.
1867 - death at Brighton, aged 81 John BRENT, esq., of Cossington, Canterbury. He was the eldest son of the late Samuel BRENT, esq., of Blackheath (who died in 1814), by Frances daughter of John BARTON, esq., of Preston, co. Lancaster; he as born at Rotherhithe, in 1786, and educated under Dr. Evans of Islington. The deceased, who was a deputy-lieutenant for Kent, and a magistrate for Canterbury, was a man of great energy of mind, and at one period of his life took a very active part in public affairs. He was addicted to scientific pursuits, and exhibited considerable musical talent, and was the composer of several airs, some of which have been published, and are pleasing and natural. He married in 1807, Susanna daughter of the late Sampson KINGSFORD, esq., of Sturry, Kent, by whom he has left issue eight children. His eldest son, Mr. John BRENT, F.S.A. is a well known local antiquary, and frequent contributor to thse pages. GM1867
*1846 - Marriages, Dec 24 at Calcutta, Samuel R. J. Owen, esq. 19th Bengal Nat. Infantry to Mary Kingsford, fourth daughter of the late John Green Jones, esq. of London, and niece to Alderman BRENT, of Canterbury - GM
1889 COSSINGTON HOUSE Miss BRENT
*1874 Miss Brent subscriber to "The Rural Life of Shakespeare" by Charles Roach Smith
1903 Lt. Col. Herbert Leigh GIPPS, COSSINGTON HOUSE, Cossington Street
1904 Mrs L. MIALL, Cossington, Canterbury ??
No. 10
1880 John YOUNG (Parliamentary Papers, 10s for his vote)
No. 11
1889 Frederick WATTS, Compositor