~ GOWER FAMILY ~
CANTERBURY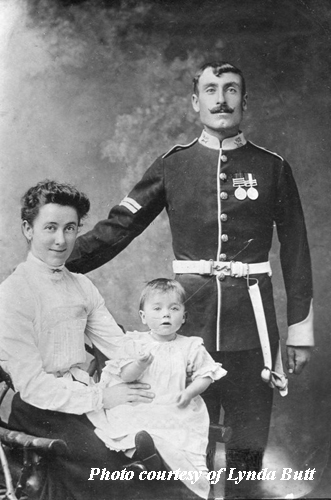 Stephen George Gower, May Florence Gower and Cissie Gower, photo and write-up courtesy of Lynda Butt
The above photo is of Stephen George and May Florence Gower and their first born, Cissie.

Stephen was born 1880 at Westgate Without, son of Charles and Esther Gower. He served in The Buffs from 1899-1905 and his rank on discharge was Sergeant. He was with the 3rd Battalion in the Second Boar War (1899-1902). On his discharge he worked as a Sinker at Tilmanstone mine but following a serious injury to his leg, he became a Marine Dealer (which we would now call a Scrap Metal Merchant!). He used to drive around the City with his pony and cart collecting scrap.

Cissie was born in 1902 at 2 Underdown Passage, Wincheap and was the first of four children.

Stephen died in 1931 at his home at 9 Hospital Lane. Sadly, May Florence (nee Medhurst) died two weeks later - both had TB.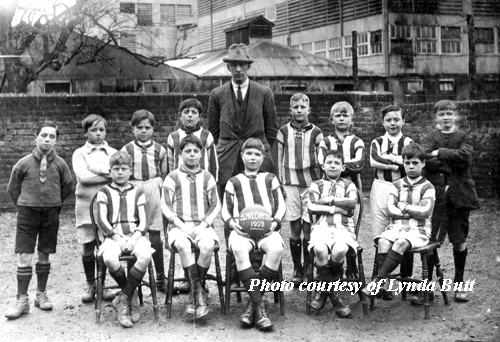 St. Mildred's School 1923 showing George William Gower, photo and write-up courtesy of Lynda Butt
*Just behind the fence is what I believe is the St. Mildreds Tannery buildings
The football team from St Mildred's School in 1923. George William Gower is the chap on the far left in the knitted jumper. The boys would have been about 11 years old.
PLEASE CAN YOU CONTACT ME IF YOU HAVE ANY FURTHER INFORMATION TO SHARE ON THE FAMILY