No. 1
Margaret McDONALD, Milliner *
No. 2
Albert WALLIS, Labourer *
Jan 1901 Emma Powell* and children, Maud, George**, Angelina, Deborah, Grace, Ethel (all born Canterbury) )
*Emma's husband John POWELL (bricklayer), was charged with running out on the family and is in St. Augustine's Goal in early 1901
**There is a George Powell in the Barracks in Canterbury as a private in the 18th Hussars )
No. 3
Edward UDEN, shoemaker *
No. 4
Thomas ELLIS, Traction Engine Driver *
No. 14
Mrs. H. Twining
1917 George William TERRY
No. 17
1889 Frederick Steed, Grocer's Assistant
John E. Palmer, Cordwainer
No. 18
1861 James TERRY, head age 28, Bricklayer's Labourer born Ashford, Kent with wife Sarah, age 22 born Canterbury
"James Terry. Where do you live? Military Road. What are you? I work in the country. Did you get anything at the last election? Nothing at all, not from either side, not a halfpenny....Is there any relation, or anybody else of your name, who lives in Military Road? There are one or two of the name of TERRY. Who live in Military Road? Further up, near the "Two Bells" at the back. There is a TERRY there. Is he your brother? No, I have not got a brother. What is the name of the TERRY who lives at the back of the "Two Bells"; do you know? I do not know. However, you yourself neither got money nor offered any at either of the two elections? No, not a halfpenny...." Parliamentary Papers 1881
1889 Albert Medhurst, Labourer
No. 22
The Rose & Crown in Military Road built by John Welch between 1833-37
ROSE & CROWN INN
1889 John Revell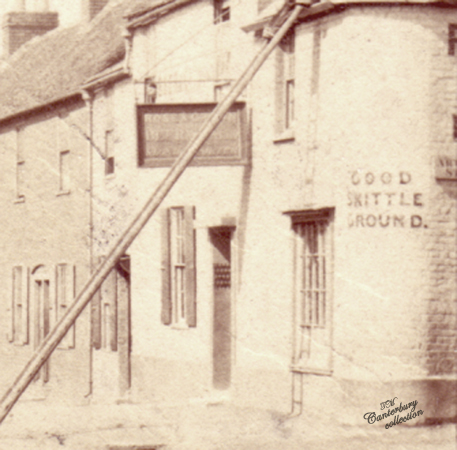 Rose & Crown Pub - "Good Skittle Ground" the sign on the corner notes Artillery Street
No. 22a
(Kentish Gazette & Canterbury Press, April 8, 1933) F. R. Beaney, 22a, Military Road, Canterbury. Easter Lamb. We supply one quality only - the Best New Zealand at Reasonable Prices. Also Choice Home-Killed, Beef, Veal & Pork.
Artillery Street
No. 23
1889 H. C. Hammond & Son, General Dealers
No. 25
1889 William Goodhew, Professional Cricketer
No. 26
The Yew Tree formerly known as the Princess Royal, was built by Richard Crofts 1830
1889 A. Nelson Milton, YEW TREE INN
1913 YEW TREE, Mrs. Clara Milton, 26 Military Road
No. 29
Hannah Nixon, Laundress, with her son Thomas Nixon, Grocers errand boy
(*1874 Thomas Nixon, assistant to Messrs. Pocock of St. Margaret's Street, Canterbury - Pocock is a boot & shoe manufacturer in St. Margaret's Street)
Thomas E. NIXON is noted as Boot and Shoe Salesman in 1881, located at 45 St. Peter's Place, with wife Rosina and his brother in law Benjamin MORLEY
No. 30
No. 42 Built by Thomas Finch Cozens by 1832
No. 33
Frederick Brown
Union Street
No. 34
The Star & Garter, formerly the British Oak, built by 1830
STAR & GARTER Thomas Powles *
1903 STAR & GARTER, Public House, Walter Cave Ayers
No. 35
1881 James TERRY, Agricultural Labourer (born Liverpool, Lancashire), married Eliza (born Canterbury), James Higgulden grandson, born Canterbury
1889 Mrs. TERRY
No. 37 & 38
Were built by James Coppins by 1834
No. 40
Mrs. Hannah Pope, Laundress
John Bigley (
No. 41
William CARDEN, Porter (
November 29, 1902 (Kentish Gazette & Canterbury Press)
death
CARDEN - November 17, at 41 Miltary Road, Canterbury, William CARDEN, aged 46 years
No. 42
No. 42 Built by Thomas Finch COZENS by 1832
George FRYER, Hand Loom Weaver of Linen %
Elizabeth RAVINE (
No. 43
James PARREN, Labourer &
John Webb, Engine Driver (
No. 44
Henry Deverson, Butcher %
James TERRY, Agricultural Labourer with wife Eliza and daughter Mary A. TERRY, boader James IGGLEDEN &
James Eden, Hawker (
No. 45
Rachel Baker, Beer Shop Keeper %
LORD CLYDE, Henry G. KENNETT, Licenced Victualler &
Alfred Elvy, Gardener (
No. 46
John Murray, Servant
John Russell, Tailor (
No. 47
William Davis, of the 8th Hussars
Thomas Castle, Farm Labourer (
No. 48
Joseph Hoare, Pork Butcher
Joseph Hoare, Maltster (
New Ruttington Lane
No. 51
John H. Coppins
NEW MILITARY TAVERN
No. 55
Frederick Pollard
Notley Street
No. 56
LITTLE WONDER INN
S. Maple
No. 58
George ANDREWS, Coach Trimmer )
James W. Kesby, The Buffs
No. 59
TWO BELLS
No. 61
Arthur E. MARSH, Carriage Salesman )
Arthur Edward Marsh
No. 62
Henry CAREY, Pork Butcher
Carpenters Cottages, Military Road
Infantry, Artillery and Cavalry Barracks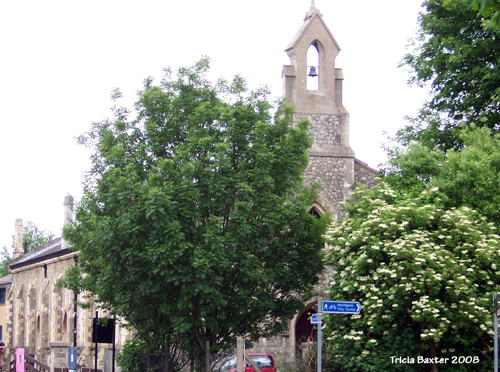 GARRISON CHURCH (now called All Saints)
Garrison Church
The way to the Garrison Hospital
Old Ruttington Lane
No. 63
John Wall, LEOPARDS HEAD (
1917 THE LEOPARDS HEAD, Frank White
The corner of Old Ruttington Lane and Military Road former Leopard's Head pub Building on extreme left, thanks to Tricia for this photograph
No. 64
John Jupp, Groom
Edward Ransone, Cordwainer (
No. 65
E. Ransom, Bootmaker
Thomas Malaney, Tailor (
No. 66
George Hobbs
William Austen, Carman (
No. 67
John Russell, Tailor
Eddell Wright & Thomas W. Haynes - Privates in the Medical Staff Corps. (
No. 68
Mrs. Scott, Dressmaker
Thomas F. Scott, Baker & Frederick T. Scott, Photographer (
No. 69
Alfred J. Stickel, Baker (
No. 70 THE VICARAGE
Rev. William H. Gibbons
Arthur F. Northeute, Vicar of St. Greogory's (
Military Plain (Drill Ground)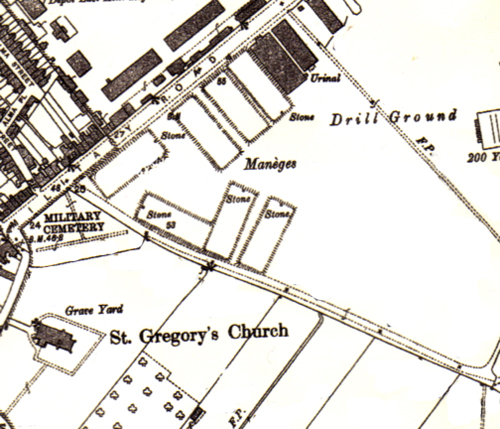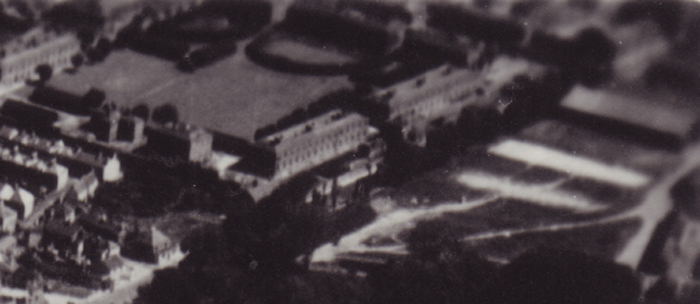 St. Gregory the Great Churchyard
No. 70 - 73 Military Road
Were built by William Moss before 1817
No. 70 (NOW)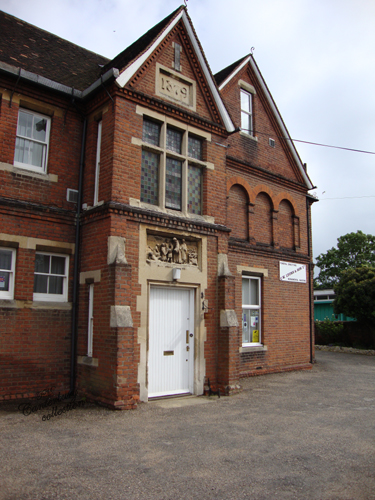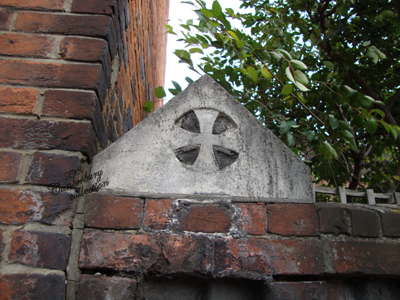 No. 76
George Lemar, Coal dealer
1907 - July 20th, Young White Aylesbury Ducks (fat) for Sale 2s. 3d. each - Mrs. Lemar, 76 Military Road, Canterbury
Jones Cottages
No. 83
Edwin Bing, House Painter (
No. 84
Joseph William Pitt, Carpenter
Military Road Gardens
No. 85
Mary A. TERRY born Upper Hardes, Kent, Laundress and son George TERRY, Errand Boy, born Canterbury (
No. 95
Mrs. Crippen
No. 96
Albert White, Mailman
No. 98
Joseph Clarkson, Tanner
No. 100
"ROYAL DRAGOON"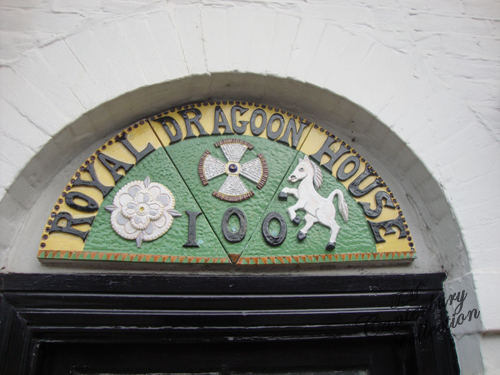 c. 1902 Frederick T. Gentry, Builder, Contractor, and Undertaker, Broad Street & Military Road, Canterbury
---
POLL BOOK 1830
Military Road
George BORAIN, Cordwainer
Richard UNERDOWN, Baker
John GOODWIN, Sawyer
James CRIPPEN, Labourer
James SAYER, Labourer
Henry G. Allen, Cordwainer
Richard BEARD, Cordwainer
William BROWN, Gardener
David SIMS, Labourer
Daniel Turmaine, Woolcomber
Edward LEMAR, Labourer
William BECKETT, Labourer
William Reader, Cordwainer
Edward MINTER, Bricklayer
John Packman, Mariner
---