~ OATEN HILL ~
CANTERBURY
St. Mary Bredin, Municipal Ward of Dane John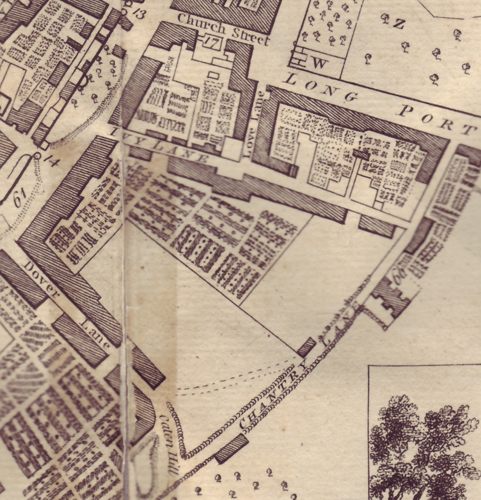 Map detail of 1777 showing Oaten Hill in the bottom left corner of the map
c. 1446... "There was a cross at Oaten hill, called then "Salt Hill," salt and oats being sold there..." JB, COT
"....And another lease informs us that in the reign of Queen Elizabeth there was sufficient water in the city ditch between the said gates to make it worth while to reserve the fishing rights when the Mayor and Commonalty let the adjoining land. Further we learn that at this date (1586) the Cattle Market (Retherchepe) was held in the neighbourhood of Oaten Hill." Woodruffs List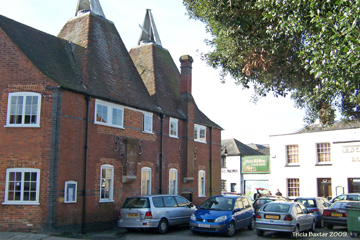 1576. A gallows is erected at Ote-hill; where, from this time, criminals are executed. HT
1678. Francis Allen is executed at Oaten-hill, for the murder of William Gill. HT
Map detail of 1843 showing Oaten Hill
"Oaten Hill.... Where malefactors, convicted by our city of captial crimes, were executed, till 1799, when Margaret Hughes, for the murder of her husband by poison, suffered on a temporary scaffold erected between the gaoler's house and the gaol of Westgate; in 1802, George Macleish and Thomas Dumoline, for highway robbery, were also executed there; and in 1815 Nicholas Noland for the same crime."
Gallows on Oaten Hill, detail from my 17th century map
....He left Rome the next year, and soon after his arrival in England was apprehended and condemned to death for his priesthood. He suffered at Oaten Hill, Canterbury, together with Venerables Robert WILCOX and Edward CAMPION.
Osborn Snoulten Jun., Oaten Hill, Banker *noted in the List of Freemen 1830
1836 Land Tax Commissioners - Osborn Snoulten junior of Canterbury, George Carter of Canterbury, Thomas King of Canterbury, William Hyder of Hern Hill near Canterbury, William Delmar of Nackington House near Canterbury, Denne Denne of Littleburn
List of Subscribers to The Antiquities of Richborough, Reculver, and Lymne in Kent. Richard Philip Pease, Esq., Oaten-hill, Canterbury 1850
1834 - Death lately at Oatenhill, near Canterbury, aged 75, R. L. BARTON, esq. (January 1835 Issue GM)
Died 1845, May 15th. At Oaten-hill, Canterbury, aged 11, William Charles Fielding, third son of the Rev. Henry Fielding. GM
Return of owners of land, 1873 (Kent) Mrs. Ann C. Smith, The Shrubbery, Oaten Hill, Canterbury - 3 1 0 acres, rent 6 10
Died at Canterbury, at Oaten hill, 70, Mrs. J. Simmonds, much lamented. 1819 MM
Kent Archaeological Society - Edmund G. Godfrey-Faussett Esq., Oaten Hill, Canterbury, 1886
The Lancet, August 21, 1886. Births. Hayes - On the 16th, inst. at Oaten-hill Canterbury, the wife of Surgeon Julian Philip Swindell Hayes, Army Medical Staff, of a son.
Alfred Lochee, Esq., M.D., Oaten Hill House, Canterbury, subscriber to Canterbury in the Olden Time by John Brent 1879 - Alfred Lochee, Physician F.R.C.P. London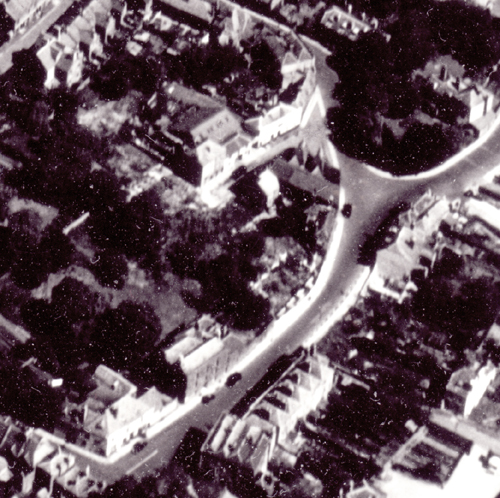 No. 1
July 15th, 1865 Thomas Grant COZENS (1547) Poll for the two knights of the shire, voted B & K (parish of qualification - Saint Mary Bredin)
--- &
1903 James ATTWOOD, Auctioneer
No. 2
Harriet SLADDEN, Lodging House Keeper &
No. 3
Jane HUTCHINSON &
No. 4
William WELBY & wife Anne (High Bailiff) &
No. 5
Maria ROOKE, Proprietor of Houses &
No. 6
...continuing on from Ellis' up to the corner house occupied by J. Burch, then across the road to the IVY HOUSE
James BURCH, Clerk of Blean Union and Superintendent Registrar &
A lovely old Canterbury Corporation Electricity box in Oaten Hill
No. 10
1903 Charles ANDREWS, 10 Oaten Hill
No. 13
Kent County Cricket Club - Formed in 1870 by an amalgamation of Kent County and Beverley Clubs. President, A. C. NORMAN, Esq., Hon. Treasurer, F. W. FURLEY, Esq., Capital and Counties Bank, Canterbury; General Manager, Mr. T. PAWLEY, Tonbridge; Secretary, Mr. A. J. LANCASTER, 13 Oaten Hill, Canterbury. (1917)
No. 16
Richard MARSH, Plate Layer &
Ann TOURNAY, Dressmaker *
No. 17
Robert J. CROFTS, Carpenter &
John C. PINE, Pork Butcher *
No. 18
"THE OLD CITY" 18 Oaten Hill, Canterbury
No. 19
Belsey H. FOREMAN, with niece Lizzy LINOM *
No. 20
William WELBY, High Bailiff of County Court *
No. 21
Aug 2, 1913 (Kentish Gazette and Canterbury Press) Wanted, Young Day Girl to assist with housework - 21, Oaten Hill, Canterbury
No. 22
F. W. PITTOCK, Physician *
Subscriber to Rambles round old Canterbury - Dr. F. W. Pittock, Oaten Hill, Canterbury, 1882
No. 23
St. Sepulchres
James BURCH, Clerk of the Gas & Water Company *
Post 1931 ad
No. 24
Cross Keys Inn
Oaten Hill "Cross Keys" Robert Pilcher, Victualler &
1903 Cross Keys, public house, William DUTNALL, 24 Oaten Hill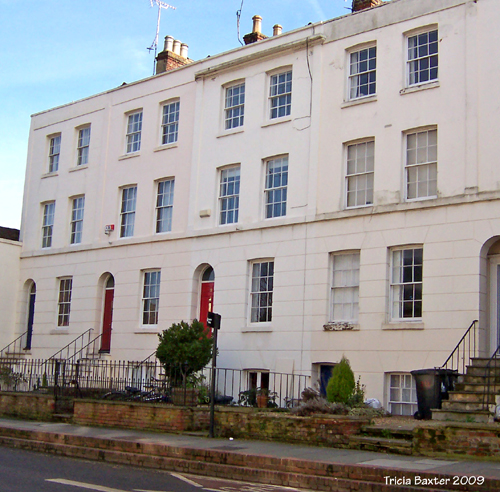 No. 27
Oaten Hill House
1903 Mrs. COWELL, 27 Oaten Hill
No. 29
1903 Miss COCKBURN, 29 Oaten Hill
No. 30
1903 Edward AUSTIN, 30 Oaten Hill
No. 31
1903 Mrs. CLEGG, 31 Oaten Hill
No. 32
1903 Mrs. Marian ANDREWS, Butcher
No. 33
The Cottage
No. 34
Oast Cottage
Oaten Hill looking towards new houses in Chantry Lane
Thomas Thurston - Where do you live? Oaten Hill. What are you? An appraiser and traveller, and collector for Mr. George Beer. What have you to tell us about the last election? Nothing that I am aware of.....What district do you see? Well, I am chiefly away from Canterbury, as I am travelling.... We understand your house is opposite the "Cross Keys"? It is a little distance away. ...Parliamentary Papers - Oct 15, 1880
Oaten Hill ^
Charles Dixon, retired Tailor (b Cant), wife Sarah
*Mr. Charles DIXON, died March 11, 1869 Aged 60 Years, Oaten Hill (Thomas Page Journal)
Isaac Gillman, Master Tailor (b Cant), wife Jane
Susanna WEEKES, age 76 born Canterbury, Fund Holder, with daughter Catherine and daughter in law Harriett
Louisa Potts, Independent
Anne L. Bushell, Independent
William WHITE, Joiner (b. Cant), wife Sarah
Thomas THURSTON, Upholsterer, (b. Cant)
Jane FINCH, Independent
Elizabeth STEADDEY?, Fundholder (b. Cant)
Stephen Dunn, Boot Maker (b. Cant), wife Anne
Isaac CLAYSON, Gardener, wife Matilda
James RICHARDON, House Proprietor, Eliza Clayson, housekeeper
James Jn LANCASTER, Bankers Clerk, wife Caroline F. (b. Cant)
William Sladden, Waiter, wife Harriet
Charles P. Millar, Ensign 82nd Reg., wife Mary Lucy
---