~ NO. 8 PALACE STREET ~
CANTERBURY
AN HISTORIC BUILDING OF KENT
Possibly the old Rectory House of St. Alphage Church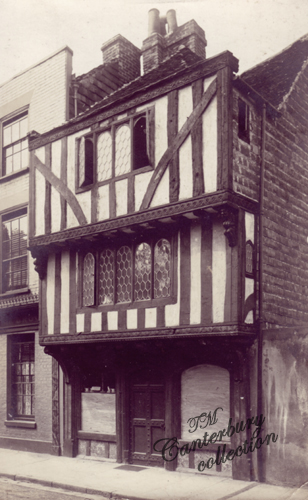 _____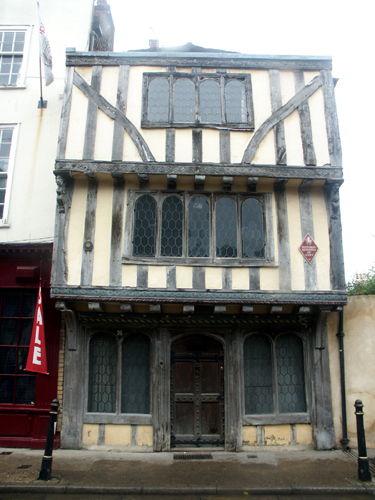 No. 8 Palace Street, the house was associated with St. Alphege Church (the Rectory/the Priests house), built about the year 1250. Renovated 1665, a second floor was added and a new roof put on. It became freehold in the later part of the 19th century. An old shop was added to the front of this building in 1888 (the same year that St. Alphege Church next door was renovated). You can also see the exposed joists and curved braces.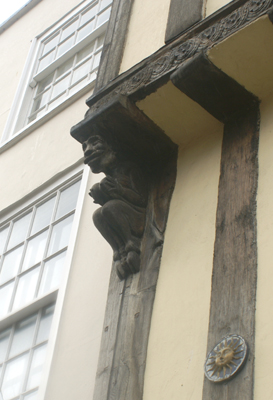 A type of gargoyle bracket can be seen as found in some of other buildings in the city (although different in caricature), these were likely used to protect the occupants from bad spirits or demons. Also note the beautifully detailed doorway with what looks like studding and fancy ironwork.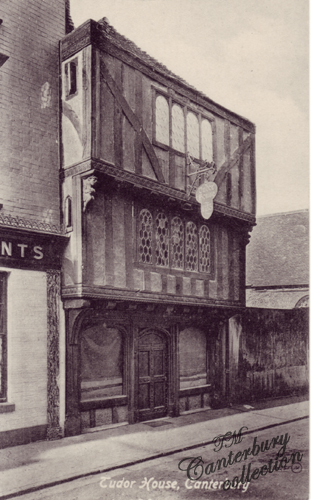 No. 8 Palace Street, new postcard in my collection
~ NEW ~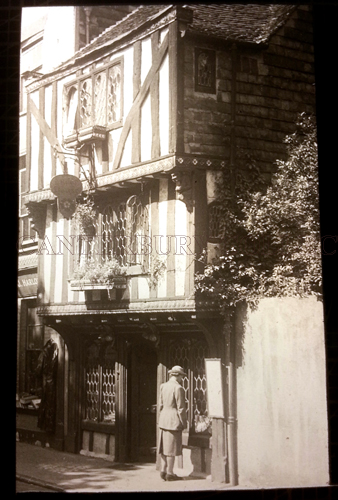 Some of the people who have lived at No. 8 Palace Street:
April 18th, Bankrupts - The Law Journal 1843 - William PENN, of No. 8 Palace street, Canterbury, in the county of Kent, cabinet maker - Official assignee, Whitmore. Sol Fiddey, Temple. Fiat, April 13. Pet. Cr. John Watson, of Bethanl Green Road, cabinet maker
Date of Fiat (Dividend List) Friday, July 7, 1843, William Penn of No. 8, Palace-street, Canterbury, Kent, cabinet-maker; div.
Henry Attwood, Tobacconist born Banglore, East Indies
1882 - 1908 Edward Holtum, Tobacconist & hair cutter
1917 H.W. Powell
_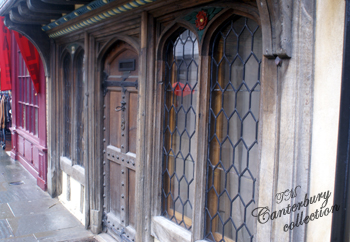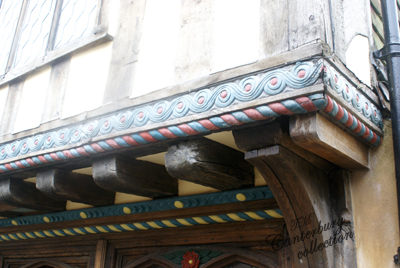 The different types of scroll work and coil moulding can be noticed on the outside front of the building.

The tudor rose carvings between the 2nd and 3rd floor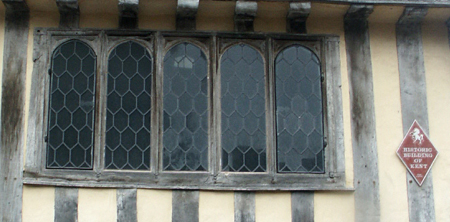 The wonderful old style lancets with leaded lights and the plaque for the historic buildings of Kent on the wall.