~ R.W. BINDON & CO. ~
Photographer
ST. PETER'S, CANTERBURY
45 ST. GEORGE'S PLACE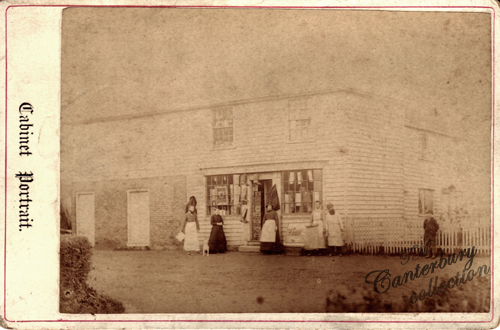 A cabinet card taken by R. W. Bindon & Co. Photographic Artists c. 1880's, but I'm not sure where this is (Is it Canterbury?)
I believe it says Post Office above the doorway
There are cases of something just inside the doorway and boots hanging up outside for sale and what looks like bolts of fabric in the window on the right
"Little Kids" Photo by R.W. Bindon 45 St. George's Place, Canterbury
~NEW~
"R W Bindon & Co, St Peters, Canterbury" A Robert Bindon was in the Kent & Canterbury Hospital in 1881 noted as
photographer and born in Homerton, Hackney, London, c. 1856/7. I found notes relating to his shop in Ashford, and the following note from
the National Archives. "Photograph of game keeper with wife and son." Copyright owner and author of work: R W Bindon, 45 St George's Place,
Canterbury. Form Completed 1 January 1887. Registration stamp: 24 January 1887.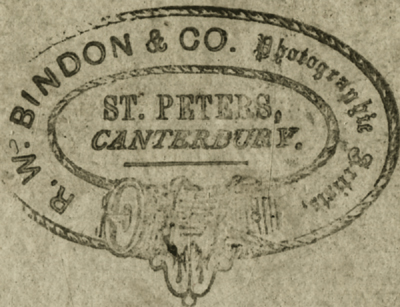 Robert Bindon was in Ashford in the early 1890's working as a photographer with his wife Elizabeth (Herts Folly New Hampstead) and daughters, Daisy Eleanor Bindon (Chesham, Bucks c. 86), Violet (Canterbury, 1887) and Lily (Canterbury 1888). *Florence Elizabeth Field (Luton) 1885 - Robert William Bindon
A Death of a Robert William Bindon in Thanet, Kent in 1897 (b. 1856)
Written on the back of this card is Mr. T. W. Collard, Northiam. A. Pearce CB ? ? Y As photo very special
It has the R.W. Bindon stamp on the back as above
There was a Thomas W. Collard, Surveyor and Estate Agent living at Westgate House in St. Peter's street in the early 70's. He was born in Herne, Kent and his wifes name was Harriet, he was in his late 50's at this time. The family was living at The Limes Vale in St. Peters, Broadstairs in the 80's. Thomas is noted as Sanitary Engineer, his son Percy is an undergraduate at Oxford.
---