~ RICHARD SINCLAIR AND SONS ~
PHOTOGRAPHER
101 NORTHGATE STREET, CANTERBURY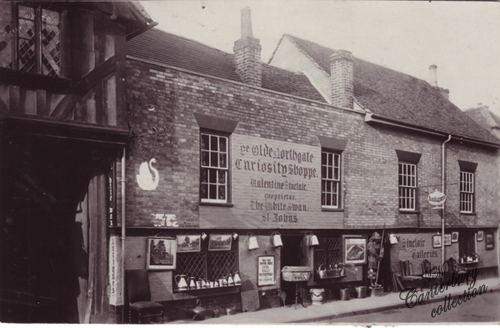 Ye Olde Northgate Curiosity Shoppe. Valentine Sinclair Proprietor, The White Swan, St. Johns
Sinclair Galleries
The framed sign hanging on the bottom wall reads "This Old Posting House Open Daily To Visitors - No Charge"
An old card/photo from my collection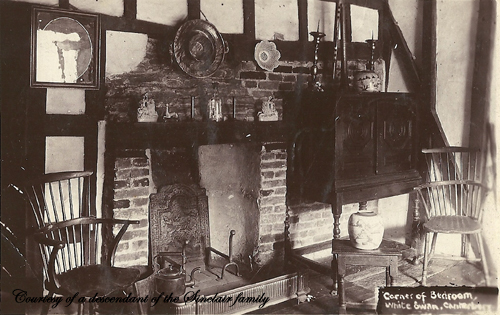 Inside the White Swan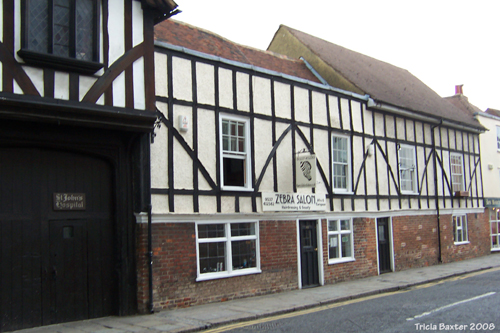 Richard SINCLAIR and Sons c. 1903, Northgate
SINCLAIR, 101 Northgate Street in 1917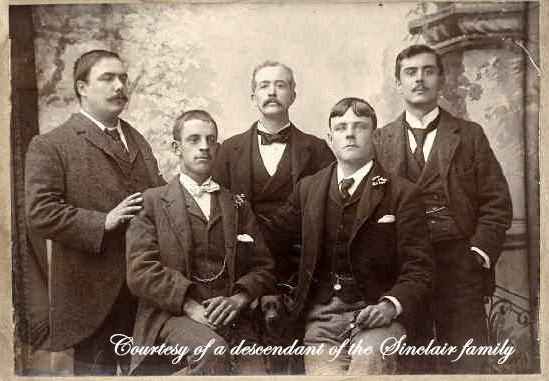 Attached is a scan of what I am confidently certain are the Sinclair males. I know for certain that the gentleman in the back on the left is Valentine Sinclair and back row on the right is Richard junior. We know that Joseph William Sinclair (one of the other sons) was very sickly and died young; I am therefore confident that the gentleman seated on the front left is he. The gentleman on the front right bears a strong resemblance to a later picture we have of Maude Sinclair's husband John Llewelyn Preece. This leaves the older gentleman centre back. I think we can confidently say this is Richard John Sinclair senior. The latest this photo could be is 1897 and I'd say it was probably taken close to that date.
All the wonderful information and the family photographs of the Sinclair family were generously supplied for the site by "Lawrence P. H. Bradley, great-great grandson of Richard Sinclair, and great-grandson of Valentine Sinclair."
Richard John Sinclair was born in Dublin about 1845, son of William Sinclair (a silk tabinet weaver). Richard attested with the 10th Royal Hussars* at Dublin on the 14th September, 1865. His service was a rather undistinguished career and he never rose above the rank of corporal. He was discharged from the army at Canterbury on the 12th September, 1877, on medical grounds. His stated trade at this time was a tailor. His discharge papers indicate he intended to return to Dublin. (He didn't though!)
R. SINCLAIR & SONS CANTERBURY
Photo courtesy of the CORK family, if you have any idea of where this building is/was please
As the family would love to know


Richard John Sinclair married Alice Maude Brown on 21st, 1867. Alice was born in Canterbury about 1852, and was the daughter of one William and Susannah Brown. Perhaps more importantly she was the sister of Frederick Henry Browne (sic) who was destined to distinguish himself as a noted organ builder (one of his organs is in Canterbury Cathedral). As Alice was only 15 years of age at the time of their marriage she misrepresented her age on their marriage certificate!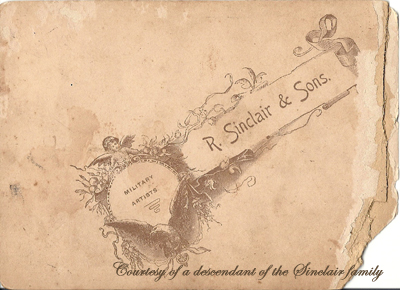 Richard John Sinclair appears to have set up his studio in Northgate very shortly after his discharge from the army. I have two watercolours of a 10th Hussar and a Royal Horse Artillery soldier from this period dated 1879. The majority of his watercolours depict soldiers of cavalry regiments standing in front of their horses with rustic backgrounds. The heads of the soldiers were photographs, presumably of the purchaser of the paintings. Whether Sinclair took these photographs is not clear although as he continued to produce this style of painting throughout his career as I possess one dated 1907, it is likely that he did provide the photographs for the later ones. One watercolour of this type is in the collection of the National Army Museum.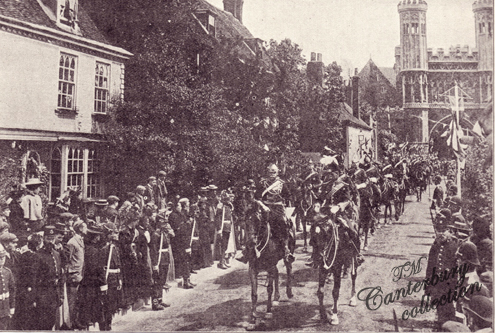 Photo by Sinclair & Son - Royal Procession. The visit of the Prince and Princess of Wales 1897 (Lady Wootton's Green)

On the 1881 census Richard John Sinclair's occupation is stated as military artist, and in 1891 as Artist "sculp" with no mention of photography. In 1891, however, his son Richard (aged 15) is listed as a photographer's apprentice. It is not clear if Richard junior was apprenticed to Richard senior or not; however as the census states that Richard senior was neither employed nor employer and that Richard junior was employed it is easy to surmise that Richard junior was apprenticed elsewhere. Valentine Sinclair does not appear on the 1891 census--he may well have been in overseas service with the Gordon Highlanders during this time. By the 1901 census Richard John Sinclair is listed as a military artist and photographer; son Richard and daughter Maude as photographer's assistants. Valentine Sinclair is now married and living a short distance away in Sturry, and is listed as a photographer. We can perhaps surmise from these censuses that the photographs marked "Sinclair and Son" refer to Richard and Richard and when the marking changes to and Sons that these refer to Richard, Richard and Valentine. (Apparently Maude didn't get a billing!)
Above is a photograph from the Sinclair Studio. It is of Valentine James Sinclair, his wife Kate Bertha (nee Smith) and his children which include, Ladysmith (Daisy), Violet and Joseph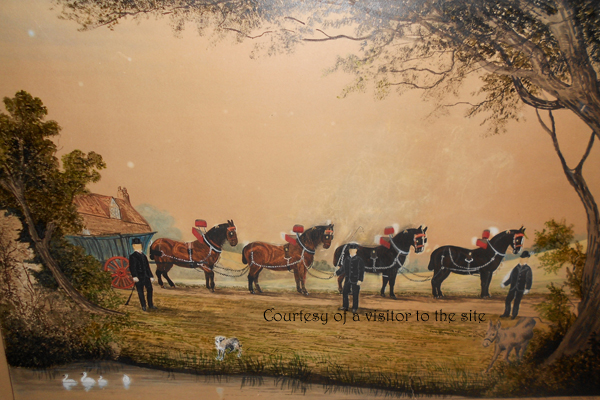 Sinclair painting dated and signed March 1881
It possible depicts either 3 Knott brothers (family originally from Nonnington but to be found around Thanington Without/Petham in 1881) or the White family, also Thanington in 1881. They are depicted with horses and cart. In the background is Canterbury and the view is possibly from where the University of Kent now stands.
Courtesy of a visitor to the site. If you can help with any identification of the painting/families please CONTACT ME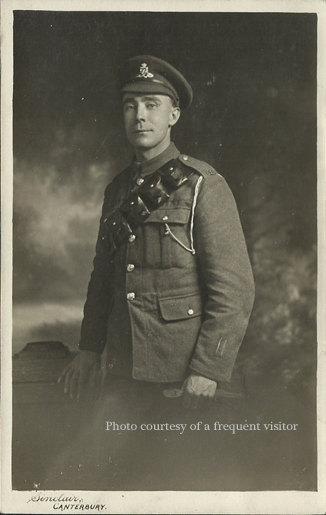 __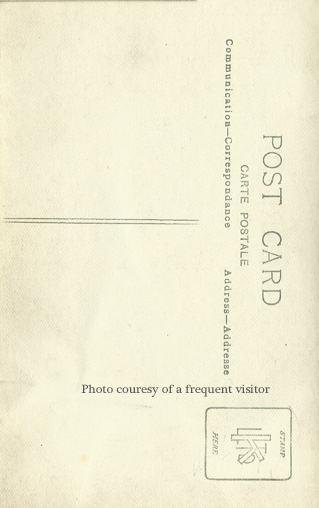 *Soldier - Sinclair, Canterbury - Courtesy of a frequent visitor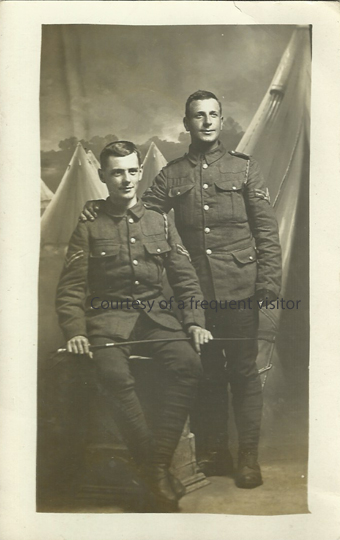 Soldiers - Sinclair, Canterbury - Courtesy of a frequent visitor


While it may be difficult to pinpoint exactly when Richard Sinclair embarked on his photography business it is clear that by 1901, the business was well established. His specialisation in military subjects has meant that photos that might have been discarded are now sought after by military historians and a sizable body of the Sinclairs work has survived. Sinclair watercolours and military photographs are often offered on on-line auctions and have also been sold by at least one British auction house.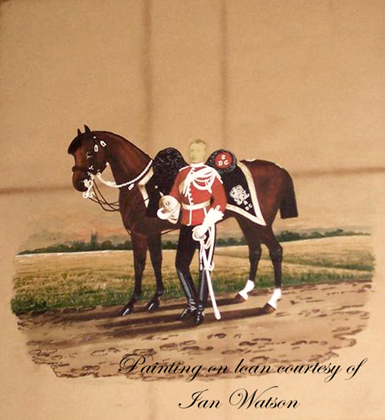 Painting by RICHARD SINCLAIR
Photo courtesy of Ian Watson, if you have any idea of a valuation and/or date of the painting please
As the family would love to know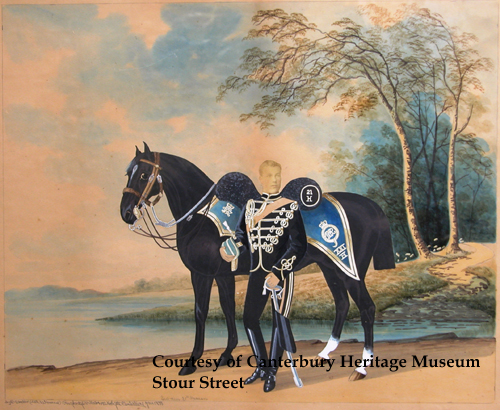 Picture courtesy of Canterbury Heritage Museum, Stour street
Swain 21st Hussars - By R. Sinclair (late 10th Hussars) 10 Kingsbridge Villas, 122 Northgate Canterbury. Jan 1895
Picture courtesy of the MORRIS family
By R. Sinclair (late 10th Hussars) 123 Northgate St., Canterbury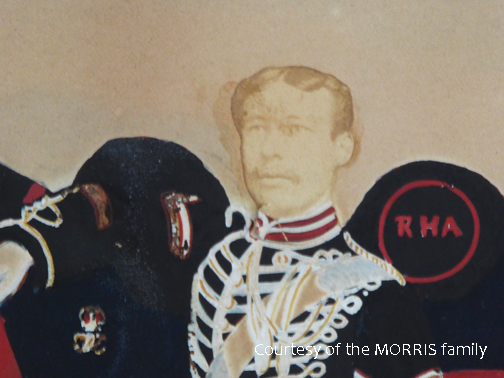 Picture courtesy of the MORRIS family....if anyone can identify the individual please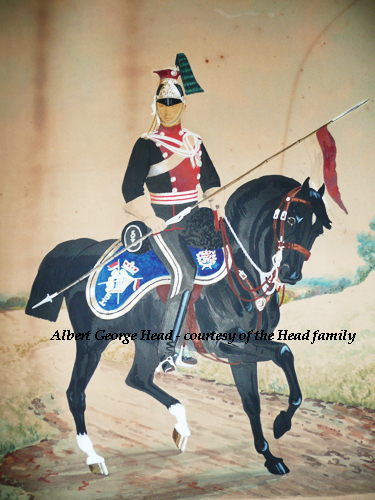 Albert George Head, by Richard Sinclair (late of 10th Hussars, 1 Kingsbridge Villas 1893) - Albert fought in the Boer War with the 5th Royal Irish Lancers. He would have been about 19 when the picture was painted. The photo below shows Albert as a Mounted Policeman in Luton. Photo's courtesy of the Head family.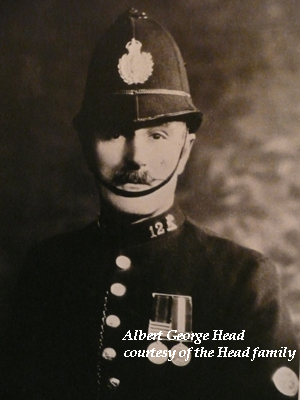 By 1911, the family dynamic had taken a dramatic turn. Richard Sinclair appears in the 1911 Irish census in Dublin living as man and wife with a woman nearly forty years his junior by the name of Caroline and two girls, Edna and Edith. (There can be no doubt that this is "our" Richard Sinclair as the signature on the census matches the signatures on his paintings from Canterbury.) The woman in question is probably Caroline Pitcher nee Tillerson who was widowed in 1908. Caroline Pitcher was a neighbour of the Sinclairs in Canterbury. It is likely that Edith was Richard and Caroline's daughter. Nothing on the Irish census suggests that Richard was at this point involved with photography and the house in which they were living appears to be some kind of rooming house. Richard died in 1917, and is buried in the St. Jerome's Mount cemetery in Dublin. (Although his memorial in Canterbury Cemetery states he was buried at Glasnevin)

Back in Canterbury the sons appear to have kept the photography business afloat through the war years. By the 1920's however Richard junior has become the licensee of the King's Head pub in Wincheap and Valentine has established his antiques business at the old White Swan pub in Northgate.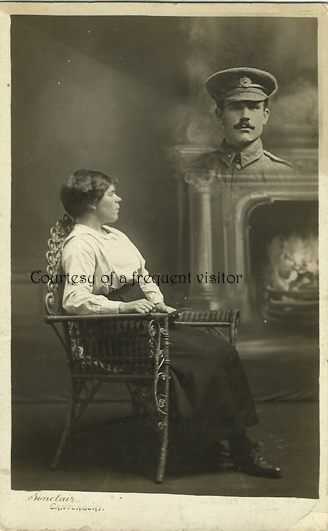 This lovely photgraph above by Sinclair, Canterbury - courtesy of a frequent visitor to the site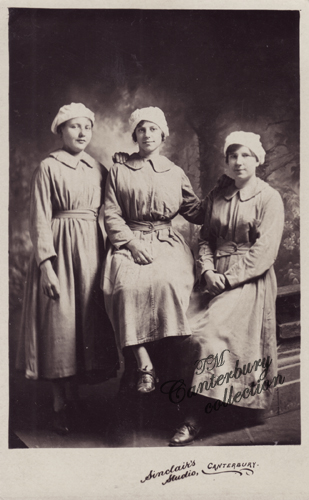 A photo of three ladies (war workers) from Sinclair's Studio, Canterbury from my collection
An interesting story of the photo above. It was put in the Extra paper (Canterbury local) March 13, 1987, as a "mystery picture", showing the three young women in uniform. Mr. Gomm wrote back saying that this was his mother in the centre. He believed it would have been taken around 1918 when she was a member of the Navy and Army Catering Brigade, which became NAAFI. Her name was Emily Bush and she married Arthur Gomm in 1922, and lived at 24 St. Martins Hill, Canterbury.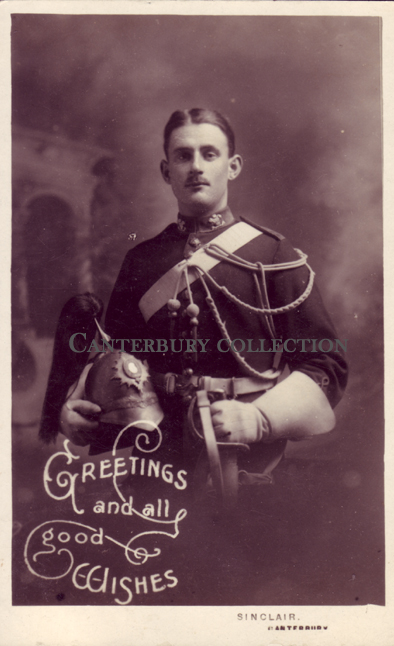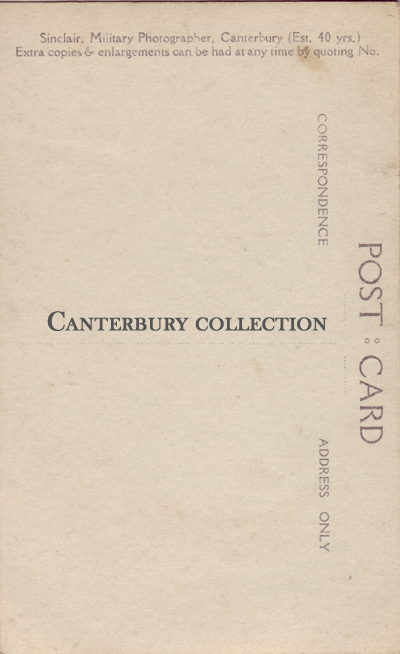 Photo by Sinclair, Canterbury in my collection
Sinclair Military Photographer, Canterbury (Est 40 yrs.)
Valentine James Sinclair was born in 1874, and died in 1929, and Richard Frederick Sinclair was born in 1876 and passed away in 1958.

While that is the end of the Sinclair photography story the impact of the Sinclair family on the artistic life of Canterbury and environs was significant and long lasting. Perhaps the more important part of the Sinclair Canterbury story would manifest itself in the 1960's when the fourth Richard Sinclair and his cousin David Sinclair formed a progressive rock group called Caravan that was at the vanguard of a cerebral and distinctive style of rock music that is to this day recognised as "The Canterbury Sound." What led up to that and the equally remarkable story of the Canterbury Brown(e)s is a story for another day.
*In 1866 the 10th (The Prince of Wales's Own) Royal Regt. of Hussars was quartered in Dublin. The Colonel of the Regiment was His Royal Highness Albert Edward, Prince of Wales and Duke of Cornwall. The Lieut. Colonel was Valentine Baker and the Major was Arthur Herbert Cass
The regiment returned from the Crimea, 2 June 1856 and embarked for India, 10 January 1873. In 1874 their depot was noted as Canterbury
Listed in 1928 in the phone book - Canterbury. 165 Sinclair, Valentine, Fine Art Dealer....Northgate Street
_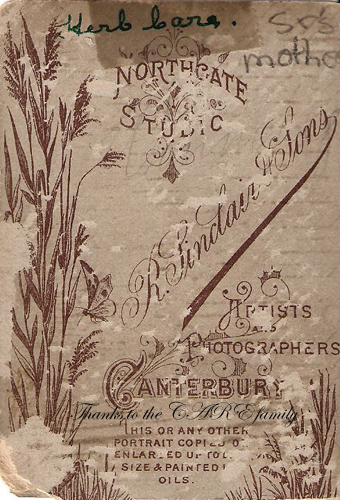 Mary Ann Elizabeth Care (nee Parren) wife of George Hiram Care, a Master Printer (photo taken prior to 1899 when she passed away at age 39)
photo by Richard Sinclair & Sons, the Care family were living beside the Sinclair family in 1891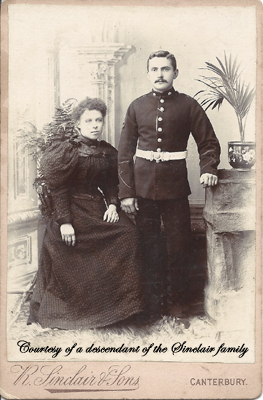 __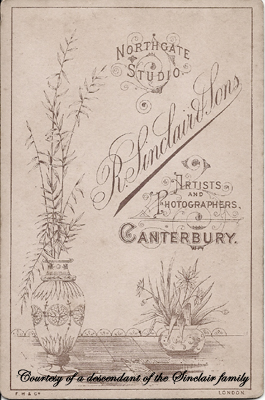 Photograph courtesy of a descendant of the Sinclair Family. The photo was found in Greece.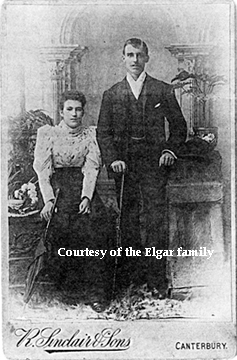 Photo courtesy of the ELGAR family. If anyone can identify the people in the photo, please CONTACT ME
The family would love to know.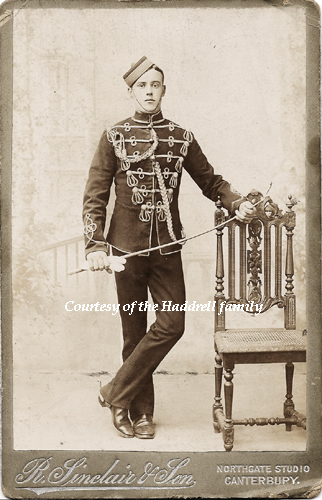 Photo courtesy of the HADDRELL family. If anyone can identify the gentleman in the photo, please CONTACT ME
The family would love to know. It is possible that its one of the family members from Goatacre in Wiltshire.
PLEASE CAN YOU CONTACT ME IF YOU HAVE ANY FURTHER INFORMATION OR PHOTOGRAPHS TO SHARE
---