~ ST. EDMUND'S COLLEGE / CLERGY ORPHAN SCHOOL ~
ST. THOMAS' HILL, CANTERBURY
ST. EDMUND'S SCHOOL
Clergy Orphan School, Canterbury - Built 1854, enlarged 1897
Changed it's name to ST. EDMUND'S SCHOOL in 1897
Motto "Ecclesiae Filii"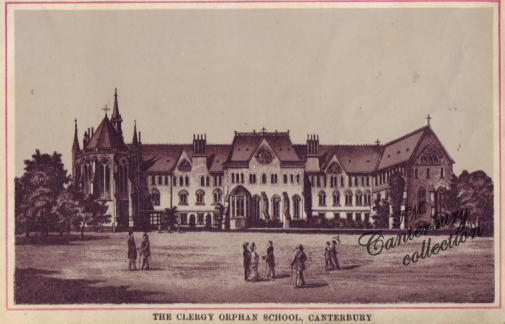 Drawing from "The Album of Canterbury Views", Charles Reynolds & Co., London c. 1890's
The magnificent building, designed by Mr. Hardwick, was erected at a cost of £30,000. It is of the order of domestic gothic, and is calculated to accommodate 120 pupils, although the present number does not exceed seventy. The Head Master is the Rev. D. Butler, M.A. This school was established in connection with the one at St. John's Wood, founded A.D. 1749, for the purpose of furnishing gratuitious maintenance and education to the necessitous orphans of the clergymen both of England and Wales. The school at St. John's Wood having become inadequate for the accomodation of all the children, was devoted solely to the use of the girls. The energy and munificence of the late Dr. Warneford, who contributed £7000 towards the building and £6000 towards the foundation of scholarships, gave the first successful impulse to the erection of this useful and benevolent institution. The College, situated in a healthy locality, commands a beautiful view of Canterbury and the surrounding country. COT
The Builder - April 7th, 1855 - The accommodation for children in the schools of the Clergy Orphan Corporation, at St. John's Wood, having become insufficient, it was dertermined to appropriate that building exclusively to girls, and to erect elsewhere a school sufficiently large to contain 200 boys, and fitted up for the immediate reception of at least one half that number. The Rev. Dr. Warneford, with the munificence which is so well known, provided a site at Canterbury, at a cost of upward of £3000 and also offered £4000 toward the erection of a new school for boys, together with £6000 to found scholarships. On June 29th, 1854, the Bishop of London laid the first stone of the boys' school, on the site given, at St. Thomas's Hill, Canterbury. The building has been rapidly advancing since that time. It is calculated for the reception of 120 boys, but is so arranged that it can be enlarged to receive 200. Mr. P. C. Hardwick is the architect: Mr. Kelk is the contractor. The amount of contract is £15000. The materials are Kentish rag and Caen stone. The dormitories extend over the whole of the upper story. Each boy has a separeate cubicle, which is formed by partitions, about 7 feet high; and a seperate infirmary is provided. A large additional sum is requisite for the accomplishment of the work; and as the number of children which the buildings of the corporation will in future be able to admit is nearly double what it has hitherto been, a proportionate increase in the annual subscriptions or permanent income is indispensably necessary in order to maintain the institution in efficiency. The object is an excellent one and should have general support.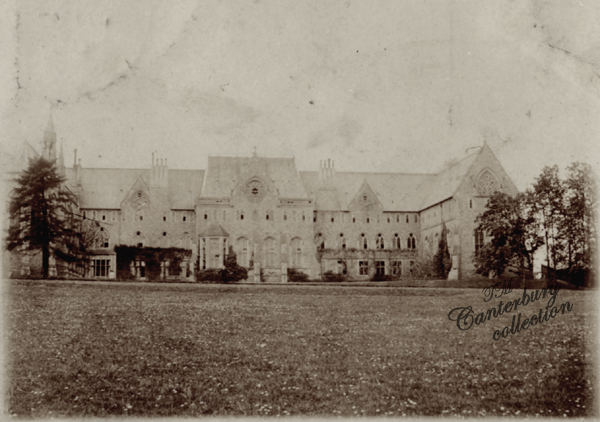 A postcard in my collection, posted July 17, 1905. to Miss Esme Greenyer, Sackville, Sackville Road, Hove, Brighton. "I am sending you this for your collection, it being my old school where I am spending the week end. With love to all. Bob." - Esme Tudor Greenyer would have been 7 when she received this postcard, she was the daughter of Vivian Tudor Greenyer, Surgeon & Physician (Vivian was noted as Medical Student in 1891 when he was boarding in Peckham, Camberwell, London)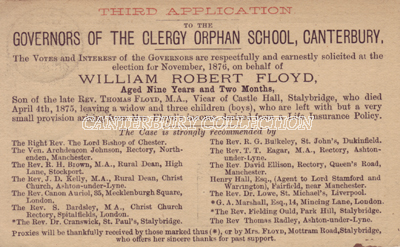 A post card of an application for William Robert Floyd, son of the late Rev. Thomas Floyd, MA, posted Aug 29, 1876
He went on to become a much loved Doctor in Oxton.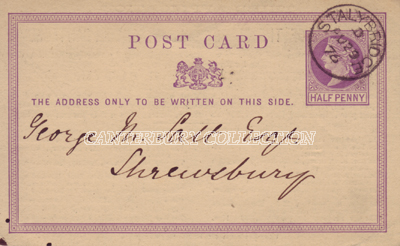 George M. Salt Esq., Shrewsbury (was an under-sherrif of Shropshire, Shrewsbury) 1849 - 1852 at least
*there was also a charity called W. H. K. Gibbon's Charity (1874) that he was a Secretary to Trustees for in 1887 (to relieve widows and children of clergymen of the Church of England, who have held livings or curacies in the coutny of Salop)
One of Birkenhead's oldest and best-known general practitioners, Dr. W. R. FLOYD, died at his home at Oxton on June 29 at the age of 86. He had been in active practice for nearly 60 years. William Robert Floyd was born at Stalybridge, Cheshire, on May 8, 1867, the second son of the late Rev. Thomas Floyd. His father died when he was 10 years of age, and he was educated at St. Edmund's Clergy Orphans School, Canterbury, where he was a distinguished pupil and a formidable cricketer. From school he went on to Clare College, Cambridge, graduating B.A. in 1888, and American Journal of Obstetrics and Gynecology, for four years later he qualified in medicine by taking the diploma of L.S.A. In 1894 he obtained the degrees of M.B., B.Chir. After qualification Dr. Floyd held the appointment of house-surgeon at the Liverpool Royal Infirmary and then went into practice in Birkenhead with his father's cousin, the late Dr. T. S. Floyd. As the years passed Dr. Floyd became a prominent and respected figure in the life of the town, and was appointed to the honorary medical staffs of the Borough and Maternity Hospitals. He was chairman of the Birkenhead and Wirral Division of the British Medical Association in 1940-1; he served on the local medical war committee during the whole of its existence; and he was elected the first chairman of the local medical committee under the National Health Service Act of 1946. A past president of the Birkenhead Medical Society, he was elected a life member of the society in 1950 as a token of the esteem in which he was held by his fellow practitioners. In addition to his extensive practice Dr. Floyd always maintained a great interest in sport, being wicket-keeper for Birkenhead Park Cricket Club for many years, a life member of the Rugby club, and he played tennis and golf regularly in summer until advancing years reduced him to bowls. He was always known as "'Dr. Willie" to his many old patients, and the large attendance at the funeral service showed how much he was liked by them all. His family life was overshadowed by much sorrow. His wife, formerly Miss Madge Rhodes, of Huddersfield, died in 1938, his two daughters died in childhood, one from diphtheria and the other from meningitis, and his elder son was killed in 1918 while on his first solo flight in the Royal Flying Corps. He is survived by his other son, Major G. T. Floyd, to whom we offer our sympathy. H. C. W. B. and D. J. (British Medical Journal, Aug 15, 1953)

Canterbury - Clergy Orphan School
Foundation and Endowment - By Subscription. A society formed in 1749 for founding boys' and girls' schools, and incorporated in 1809 by Act of Parliament. School first established at Thirsk in Yorkshire, moved in 1805 to premises purchased at Acton in Middlesex, and again in 1812 to St. John's Wood, and finally in 1855 to premises at Canterbury given by Dr. Warneford. Dr. Warneford also gave a sum of 6,000l. to found six scholarships, convertible from time to time at discretion of committee into exhibitions at college. There are now four scholarships and three exhibitions, the latter of 60l each per annum, tenable for three years or shorter time at either university or at any theological college from which bishops accept candidates for ordination. 500l. given in 1865 by J. W. Thrupp, Esq., to found history prizes. A special fund established in 1826 to assist in obtaining suitable apprenticeships for boys on leaving. Another special fund for maintaining boys from beyond 15th year on probation for St. Augustine's Missionary College.
School Property - About 30 acres of land with school buildings. Funds arise from interest of capital, donations, and subscriptions. The expenses of both schools, boys' and girls', defrayed from general funds according to requirements of each. Average annual income from rents and funded property about 3,770l; all expended on schools.* A large further amount raised by subscriptions.
Buildings and site good.
Objects of Trust - For clothing, maintaining and educating poor orphans of clergymen until of age to be put apprentice (Act, 1809). Boys must be not less than 8 nor more than 12 years of age when admitted, and certified to be healthy and free from defect of intellect, sight, hearing and speech; elected by vote of general court twice a year; remain to age of 15. Six or eight probationers remain until 16, from whom two Warneford scholars annually chosen to stay till 18. Not more than two of same family allowed in school at same time, unless family consist of more than eight, or mother be dead as well as father. An engagement to be given by a relative or friend to receive them back at expiration of term or if dismissed from school (byelaws).
Subjects of Instruction prescribed - None
Government & Masters - Governors, subscribers of 20 guineas, or of one guinea per annum, incorporated by Act of Parliament, 1809, and empowered to hold real property. The general court consisting of president and vice-president, secretary, or treasurer, and seven or more other members of the corporation, meet four times a year, and annually elect president and other officers, and a committee of 20 to manage affairs of the corporation, elects 22 auditors, not members of committee, five or more of whom are to pass accounts yearly, make bylaw's, and elect boys to foundation. Treasurer to invest moneys. Committee appoint and suspend or remove master (Act, 1809) approve candidates as fit objects for admission, and superintend general management of school (byelaws).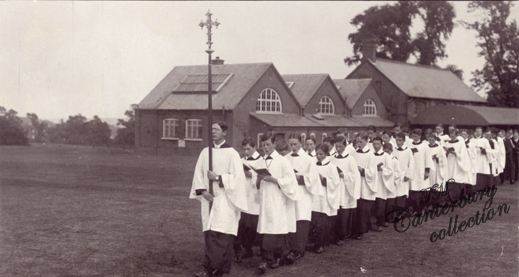 An old postcard in my collection - St. Edmund's School, Canterbury Nov. 3, 13. I hope that all is well at St. Aidans. I am looking forward to my new work amongst the indefatigable boys: I begin at Xmas. This photo was taken on our Speech Day last July. It gives you some idea of the nice set of boys here. Kind regards D. M. CI.... (sent to Miss Fawcett, St. Aidans College, Birkenhead from Canterbury Nov 3, 1913)
State of school in Second Half year of 1866
General Character - Classical. In age of scholars, second grade.
Masters - Headmaster M.A. and clergyman, and three assistant masters (one of whom is M.A. and clergyman), besides French, Drawing, &c.
Day Scholars - None
Boarders - Eighty-five, sons of clergymen, chiefly between 10 and 14 years of age, clothed, maintained and educated at expense of general funds. Three meals a day, four for the sixth form. Meat once. Largest dormitory contains 45 boys, smallest 10. Discipline maintained by a monitor in each, and by one in rotation for all the dormitories from 9 to 10 pm. Hours, 7 1/2 a.m., 7 in summer; 9 p.m., 10 for sixth form.
Instruction, Discipline, &c. - No knowledge required of boys on admission.
School classified y classics. All learn singing and drawing. Religious instruction to all. A short service in school chapel, morning and evening. Bible read daily.
Promotion partly by seniority and partly by half years marks and examination combined.
Examination by masters at Christmas, by the treasurer and other members of committee at Midsummer. Prizes awarded at Midsummer for general proficiency in divinity, classics, and mathematics, besides special prizes for history and commercial subjects.
Punishments; impositions, and confining in school on half-holidays; caning rare, by head master only in public.
Playground about 120 yards square adjoining school and a covered shed 90 feet by 20 feet. Masters sometimes join in games. Limited leave to walk granted for two hours on half holidays. Drilling taught to all for half an hour a week.
A library for sixth form, and one recently begun for junior boys.
(Eight boys at Oxford or Cambridge in May 1837)
School open 40 or 41 weeks in the year. Boys in school 35 hours a week including 1 1/2 days for preparation. Playtime, 21 hours per week.
A view of St. Edmunds school from the road (right hand side behind the trees) from an old postcard in my collection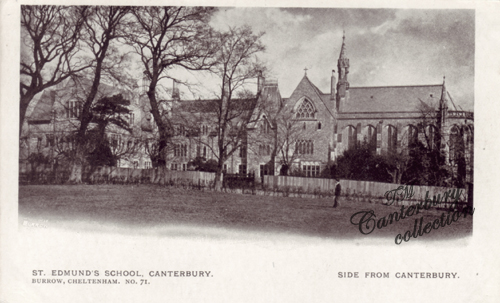 A view of St. Edmunds school, Canterbury. The side view from Canterbury from an old postcard in my collection
~ NEW ~
Managing Committee, 1865
President - Archbishop of Canterbury
Vice-President - Vice-Chancellor Sir. W. Page Wood
Treasurer - Rev. G. Currey, D.D.
Secretary - Rev. J. Russell Stock, M.A.
Charles John Baker, Esq.
The Very Rev. The Dean of Canterbury
Right Rev. Bishop Chapman
P.S. Duval, Esq.
Rev. J. B. Dyne, D.D.
Hon. Daniel Finch
William Gilpin, Esq.
Rev. J.D. Glennie, M.A.
Ven. Archdeacon Harrison
Right Hon. the Earl of Harrowby, K.G.
Rev. J. Jennings, M.A.
Ven. Archdeacon Jones
J.R. Kenyon, Esq., Q.C.
The Bishop of Lichfield
The Bishop of London
Rev. H.W. Maddock, M.A.
Rev. Charles Marshall, M.A.
E. Pepys, Esq.
J.W. Thrupp, Esq.
Rev. J. W. Vivian, D.D.
Head Master - Rev. Daniel Butler, M.A.
Distinctions
List of distinctions gained within the last ten years of boys of the School (a) at the Universities; (b) at the competitive examinations for the Civil Military, and East India Service; (c) elsewhere
1856 (a) 1st Class Moderations, Oxford
1857
1858 (a) 2nd Class (Classics) Degree, Oxford
1859
1860
1861 (a) Bible Clerkship, All Souls, Oxford
1862 (a) 3rd Class (Classics) Moderations, Oxford
1863 (a) Bible Clerkship, Queen's, Oxford
1864 (a) 2nd Class (Classics) Tripos, Cambridge; 3rd class (Classics) Degree, Oxford; 3rd Class (Classics) Moderations, Oxford
1865 (a) 28th Wrangler (Mathematics) Tripos, Cambridge
1866 (a) 3rd Class (Classics) Degree, Oxford; open Scholarship, Exeter, Oxford; (b) 1st in examination for Royal Marines
Abstract of Treasurer's Statement for year ended 31st December 1864
To dividends on stocks and interest - £3,342 14s. 8d.
Rents - £162 3s. 4d.
Canal share and turnpike bond - £24 14s. 0d.
Tax and insurance duty returned - £137 1s. 0d.
For pupil teachers and Warneford scholars - £240 0s. 0d.
Subscriptions, donations, &c. - £6509 2s. 7d.
--------------
£10,415 15s 7d.
Deduct balance due to treasurer on 1st January 1864 - £414 9s 5d.
Farmer's gift - £500
Deposit at bank - £1300
----------------
£8201 6s. 2d.
Boys' School
Teachers Salaries - £737 0s. 0d.
Instructional - £48 10s. 3d.
Servants' wages - £31 5s. 0d.
Food - £1337 13s. 1d.
Clothing - £476 5s. 6d.
House expenses - £411 18s. 8d.
House repairs - £260 13s. 0d.
Rates, taxes, insurance, &c. - £75 17s. 9d.
Medical - £50 3s. 0d.
£3609 6s. 5d.
Girls' school at St. John's Wood
Similar items - £3772 6s. 9d.
-------------
£7471 13s. 0d.
Secretary, clerk, and rent of office - £350 0s. 3d.
Probate office, &c. - £7 15s. 9d.
Printing, stationery, &c. - £177 1s. 3d.
Election and meetings - £7 13s. 0d.
Incidental - £3 13s. 2d.
Expenses of special appeal - £177 5s. 5d.
Balance in hand - £57 4s. 4d.
-------------
£729 13s. 2d.
-------------
£8201 6s. 2d.
Report of the commissioners 1868
The main building was designed by architect Philip Charles Hardwick
"We recognize Mr. Hardwick again in (1161), "The Clergy Orphan School, Canterbury," an important building, which has the merit of, to a great degree, explaining externally the real arrangement. Still, we can scarcely call it a good architectural composition. The large four light windows, both in the main and dormer gables, coming immediately on the head of puny single-lights, are too crushing, and the succession of these little lancets, which almost touch, and are continued along the whole front and wing of the building close under the eaves, is productive of a marked yet not happy effect. We understand they are to light a series of dormitories; but could not these have been differently planned?"
Civil Engineer and Architect's Journal 1854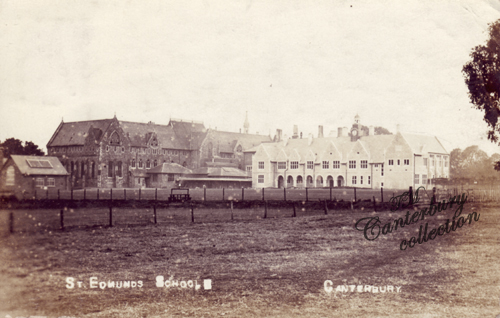 "St. Edmunds, School" a postcard from my collection
A detail of the above card showing a close-up of the "New Building"
Posted from Canterbury 1908, "I thought you would like this for your photo book. The white building is new. This is taken from the footer field where we have the sports. You know the old well door is done away with. Love from Eric. (to W. J. Burges esq. High View Shrewsbury Lane, Shooters Hill, S.E.)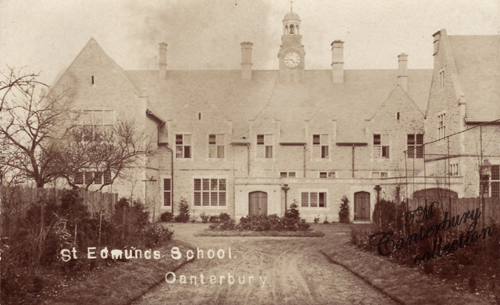 A postcard showing a close-up of the "New Building" the other side - Posted April 2, 1908, Canterbury to Miss M. Philpott, The King School, Canterbury - "Have just received the cover(?), it's awfully pretty thank you so much. I must take it home and let M. see it. Love Doss.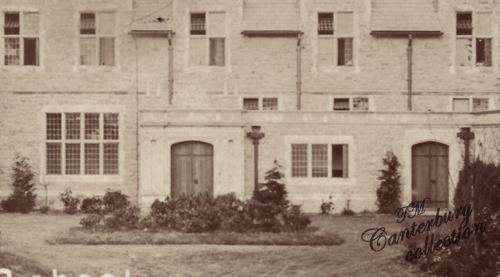 September 1866 - Clergy Orphan School - Memorial to the late Treasurer. Two stained glass windows, by Ward and Hughes, have been placed in the chapel of the Clergy Orphan School, Canterbury, one on either side of the central window of the apse; that on the north side has been provided by the contributions of old pupils, and bears the following inscription: "In honorum Dei, beneficiorum in hac schola acceptorum memores, fenestram hanc posuerant quidam olim alumni. A.D. MDCCCLXVI. Psalm Ixviii. 5" That on the south side is in memory of the late Dr. Russell, Treasurer of the Clergy Orphan Corporation and is inscribed - "Johanni Russell, S.T.P., hujus scholae quae eo potissimum auctore in hune locum percommodum migravit, amico per multos annos strenuo atque constanti. A.D. MDCCCLXVI."
1872
Rev. J. Clarke, B.A., Chaplain, Canterbury Clergy Orphan Asylum
B. Green, B.A., Assistant Master, Clergy Orphan School, Canterbury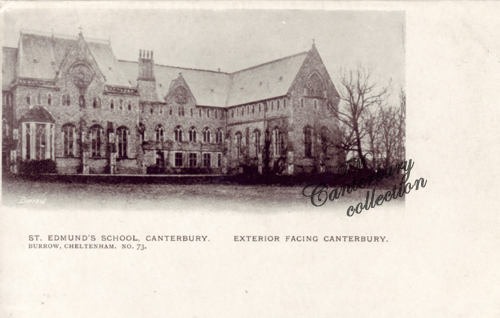 St. Edmund's School, Canterbury "Exterior Facing Canterbury" postcard from my collection
1902 THE CLERGY ORPHAN CORPORATION
Under the Patronage of his majesty the King.
President - The Lord Archbishop of Canterbury
Vice-President - The Earl of Cranbrook
Treasurer - E. Lonsdale Beckwith, Esq.
"These Schools, founded in 1749, are for the absolutely free maintenance, clothing, and education of the Orphan (fatherless) Children of the Clergy of the Established Church of England and Wales.
3228 children have been admitted to the benefits of these Schools which now contain 240. Of this number 132 boys are being educated in St. Edmund's school in Canterbury.
The School buildings stand in 30 acres of land on St. Thomas's Hill, and have accommodation for 150 boys. They include a Chapel, Junior Wing, Sanitarium, Swimming Bath, Laboratory, Drawing and Music Rooms, Gymnasium, Fives Courts, Cricket Pavilion, Carpenters' Shop. Originally (1749) at Thirsk, in Yorks, and afterwards at St. John's Wood (1812-1854), this school was built in 1854 after the designs of Mr. P. Hardwick, R.A., and enlarged in 1897 by Sir A. Bloomfield, A.R.A.
Boys who show marked ability are retained for a further period of one to three years, and some proceed to the Universities with Scholarships and Exhibitions founded by Benefactors of the Corporation and Grants form the Corporate Funds.
By means of an "Apprenticing" Fund the Corporation is enabled to give both boys and girls, when they leave School, some help in making a start in life. Between 500 and 600 pounds is spent in this way every year.
That the education in the Schools meets modern requirements is proved by the successes gained in:
a. Open Scholarships and Exhibitions at the Universities
b. Commissions in His Majesty's Service
c. Home, India and Colonial Civil Service
d. Cambridge Higher Local Examinations, and Oxford Local Examinations
e. Associated Board of the Royal Academy and Royal College of Music.
f. "Science and Art Department, South Kensington" and "Royal Drawing Society"
£8500 a year must be raised from voluntary sources (Annual Subscriptions, Donations and Church Collections) to supplement the Funded Income of the Corporation in order that the School, may be maintained alike in numbers and efficiency. Annual Subscriptions are especially needed.
The Committee during the last three years, have admitted all the candidates without election by vote.
Bankers: Messrs. Drummond, Charing Cross, London, and Messrs. Hammond, Canterbury
WM. CHAS. CLUFF, M.A., Secretary."
1899
WTHBB - Saturday, July 22, 1899
The Poet Laureate hs consented to distribute the prizes at St. Edmund's School, St. Thomas's Hill, on Tuesday, the 1st of August. The announcement in the London papers erroneously gave the 3rd of August as the date.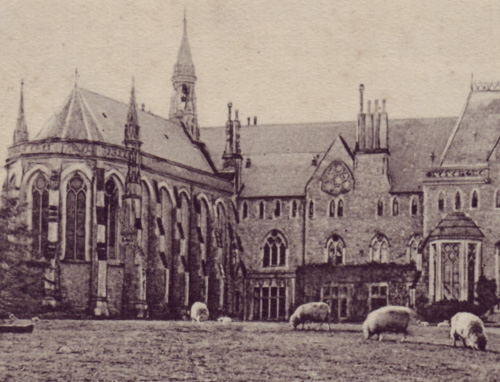 Detail from the above postcard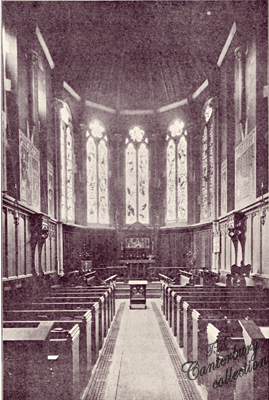 "St. Edmund's, The Chapel" c. 1903
detail from the above postcard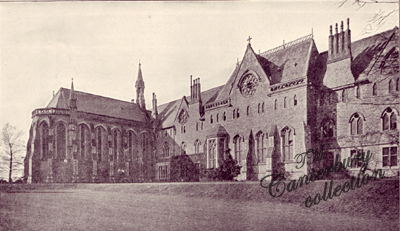 The School c. 1903
---
1858 - 1862 Rev. Daniel Butler, Head Master *1846 The Rev. Daniel Butler, M.A., Head Master of the Clergy Orphan School, St. John's Wood, London