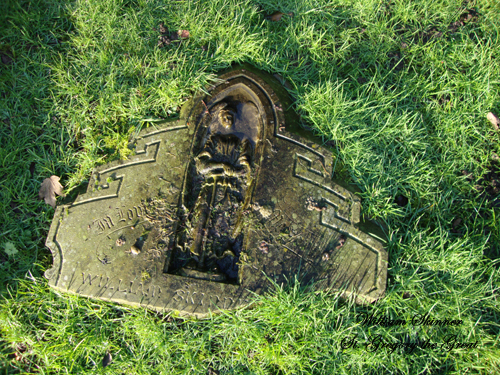 In Loving Memory
WILLIAM SKINNER SENr.
(broken tombstone, see below)
Died March 2nd 1873
Aged 48 Years
Also of SOPHIA his wife
died July 15th 1887
Aged 61 YEARS
Also of the herementioned Children
of
William Skinner Junr.
Selina Fanny born September 1st 1867
died April 1st, 1873
Alice Jane born September 22nd 1868
Died February 27th 1869
Agnes born November 22nd 1873
died February 23rd 1874
Bessie born January 24th 1875
Died July 12th, 1878
Edith born March 15th, 1875
Died July 18th 1878
Frank born July 14th, 1878
Died July 17th, 1879
Leslie Clare born November 30th 1884
died Feb 19th 1883
Lilly May born May [?] 1885
died June 4th 1885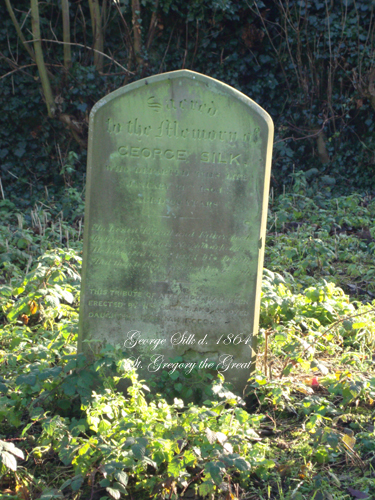 Sacred
to the Memory of
GEORGE SILK
Who departed this life
January 21st 1864
Aged 60 Years
---- ----
An honest Friend and Father good
Beloved by all his Neighbourhood,
He laboured hard until his Death
And then to Christ resigned his Breath
----- -----
This Tribute of Affection has been
Erected by his eldest and beloved
daughter Hannah Hobbs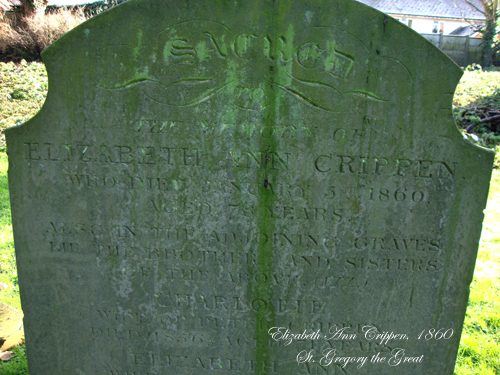 _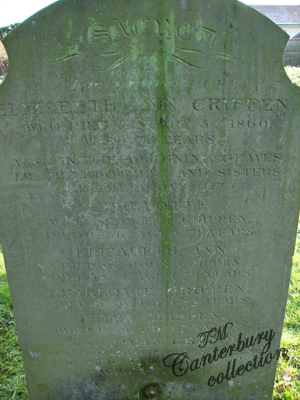 Sacred
to
The Memory of
ELIZABETH ANN CRIPPEN
Who died January 5th, 1860
Aged 78 Years
Aslo in the Adjoining Graves
lie the Brother and sisters
of the above (viz.)
Charlotte
wife of Peter CRIPPEN
died 1856 Aged 71 Years
Elizabeth Ann
Wife of John CRIPPEN
died 1858, aged 78 Years
Charlotte CRIPPEN
died 1859 Aged 72 Years
Peter CRIPPEN
Died 1859, Aged 76 Years
Also of John CRIPPEN
husband of Elizabeth Ann Crippen
who died ..... 3.. 1864
Aged 8[1] Years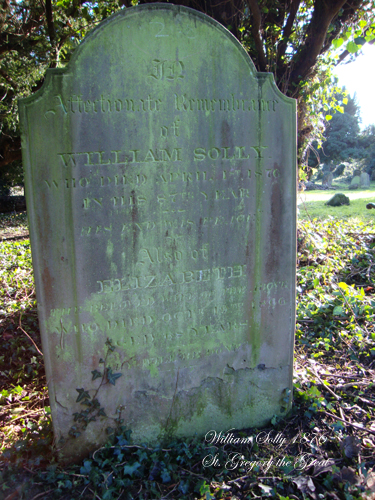 In
Affectionate Remembrance
of
WILLIAM SOLLY
Who died April 1st, 1876
In his 87th Year
His end was peace.
Also of
ELIZABETH
the beloved wife of the above
who died October 19th 1866
Aged 68 Years
Thy Will be Done
*footstone
__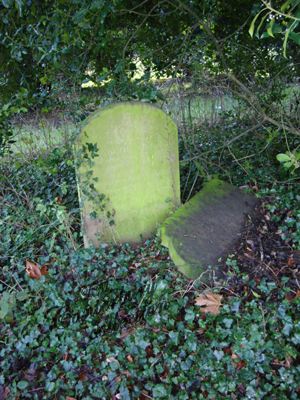 To
The Memory of
ELIZABETH CARPENTER
who died May 11th, 1867
aged 80 Years
---
Affliction sore long time she bore
physicians were in vain
But after all God did her call
and ease her of her pain.
also of
JOHN CARPENTER
husband of the above who
died August 4th, 1872
aged 78 years
His end was peace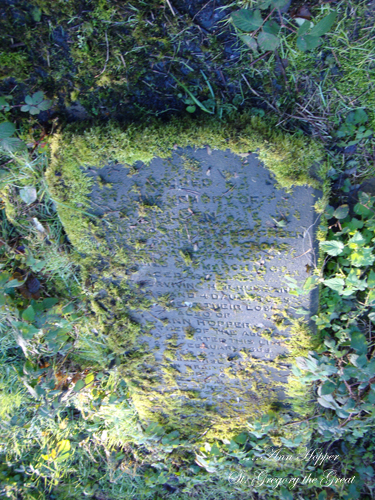 much of this is unreadable
Sacred to
The Memory of
-----
-----
-----
-----
-----
Aged [?]3 Years
Surviving Her Husband
Sons and 4 Daughters
... Their Loss
Also of
ANN HOPPER
... the.. of the above..
... departed this life
2.. February 186[5]
Aged .3 Years
------
------
------
------
------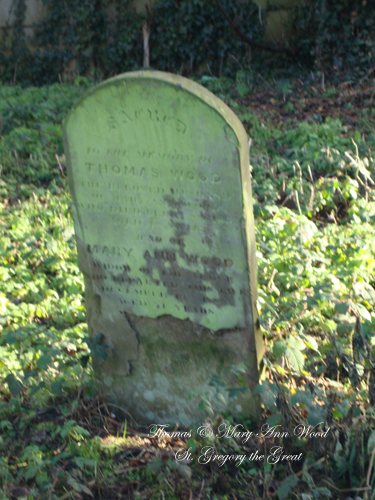 Sacred
To the memory of
THOMAS WOOD
The beloved husband
of Mary Ann Wood
who died February 8th, 1862
aged 48 years
Also of
MARY ANN WOOD
Widow of the above
who departed this life
December 19th, 1888
Aged 71 Years
In Loving Memory Of
ELIZABETH PEMBLE
who died October 16th, 1881
In her 63rd Year
Watch therefore for we know not
what hour your Lord doth come
Also of
ALICE JANE her daughter who
died February 5th, 193(?)
In her 88th Year
*Alice Jane Pemble was living at 2 Guildhall street in 1881 with her widowed Aunt Harriett Laming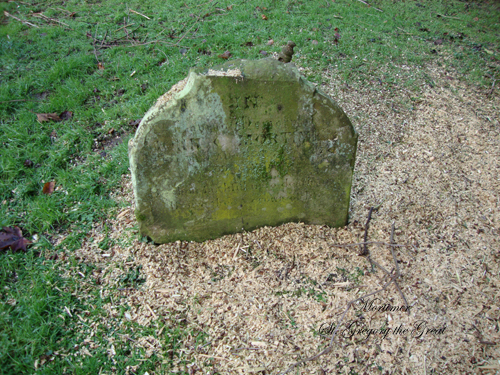 In
Loving Memory of
JOHN C. MORTIMER
who died August ...1870(?)
...thou faithful unto death and
... thee crown of life.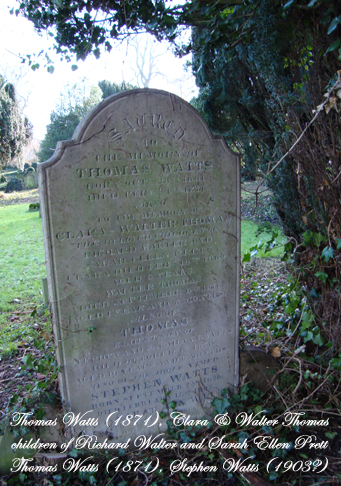 Sacred
to
The Memory of
THOMAS WATTS
born Oct 28th 1801
Died Feby 24th 1871
Also
to the Memory of
CLARA, WALTER THOMAS
The beloved Children of
RICHARD WALTER AND
SARAH ELLEN PRETT
Clara died Feby 19th 1869
Aged 5 Years
Walter Thomas
died September 6th 1871
Aged 1 Year and 8 Months
Also of
THOMAS
Eldest son of
Stephen and Sarah Ann WATTS
died October 1st 1871
Aged 10 years and 6 months
Also of the Above Named
STEPHEN WATTS
born September 25th (23rd) 1820 (1826)
Died February 18th 1902
Also of SARAH ANN WATTS
wife of the above Stephen Watts
died October 27th 1904
aged 75 years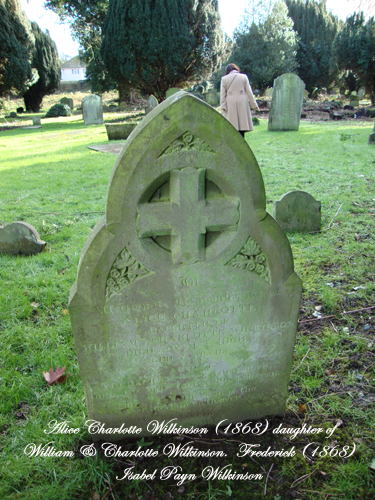 In
Affectionate Remembrance of
ALICE CHARLOTTE
daughter of
WILLIAM & CHARLOTTE WILKINSON
Died Novr 1st 1868
Aged 7 Years
Also of
FREDERICK son of the above
Died 4th Decr 1868 Aged 4 Months
Jesus said of such is the
Kingdom of Heaven
Also of
ISABEL PAYN WILKINSON
(the rest of the tombstone is buried)
Sacred
To the Memory of
CHARLES WHITEHEAD
who died May 11th 1870,
Aged 59 Years
--
Then rest thee in thy lonely bed
Nor shall our hearts repine
Thy ... and offerings are finished
A happy lot is thine
Also of JANE
wife of the above
who died Jany [?]0th 189[3]
Aged 76 Years
(could possibly be the Charles and Jane that lived in Burgate street at No. 17/18)
In
... Remembrance of
JOHN THOMSETT
The ... husband of
PATIENCE THOMSETT
died November ... 1873
Aged 75 Years
Also of
WILLIAM
the beloved son of
JOHN and PATIENCE THOMSETT
died July 1, 1868
... ( stone front cracked off )
*death of a Patience Thomsett of St. George's, Canterbury, May 15th at the Kent & Canterbury Hospital 1882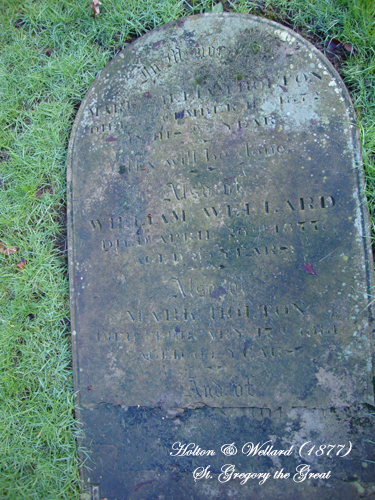 The gravestone has fallen over and is laying on the ground
In Memory of
MAR... ..... HOLTON
Died ... ...ber 11th, 1872(?)
In His 8th Year
Thy will be done
Also of
WILLIAM WELLARD
Died April 26th, 1877
Aged 85 YEARS
Also of
MARK HOLTON
died February 17th, 1881
Aged 61 YEARS
And of
( the stone is cracked and missing this piece )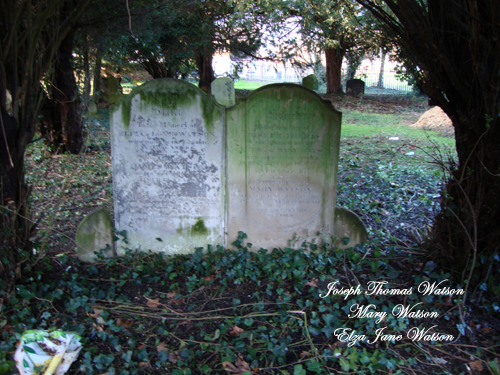 Sacred
to the Memory of
ELIZA JANE WATSON
who died July 20th 1876
aged 36 YEARS
Also of
JAMES WATSON
who died October 12th 1880
Aged 72 Years
Sacred
to the memory of
JOSEPH THOMAS
the beloved son of
JAMES and MARY WATSON
who died June 13 1866
in the 21st Year of his age
His end was peace
Also of the above
MARY WATSON
wo died August 17th 1868
in the 62nd year of her age
.....
......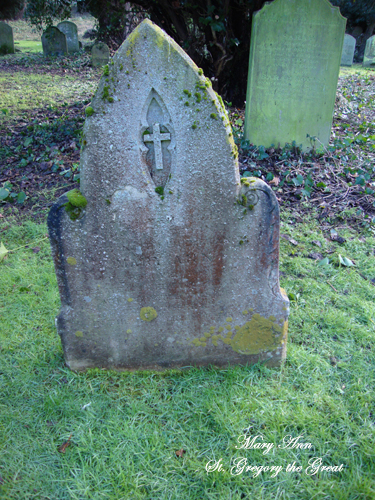 ....
...ted in
Affection ... remembrance
MARY ANN
the beloved wife of
the late LIEUT. EDWARD ....LOW..N
who departed this life
2.. October
In the .. year of .....
(the stone behind on the right reads)
In
Affectionate Remembrance
of
SARAH
the beloved wife of
WILLIAM FREDERICK BOURNE(?)
who departed this life
August 10th(?) 1866(?)
Aged [27]
Also of
SARAH LOUISA
Only child of the above
who departed this life
December [9] 18[68]
aged 6 months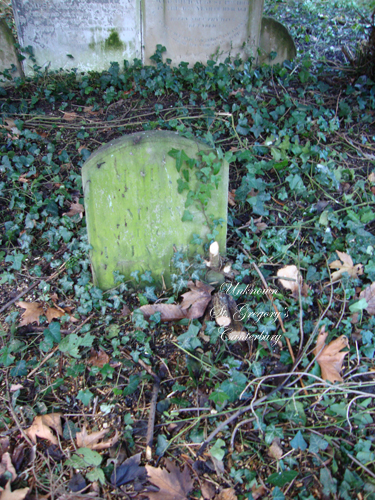 Unknown small gravestone, probably a footstone
..
18??
M .. W
18??
? W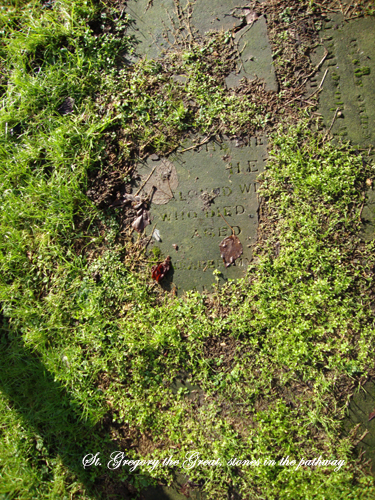 Stones in the pathway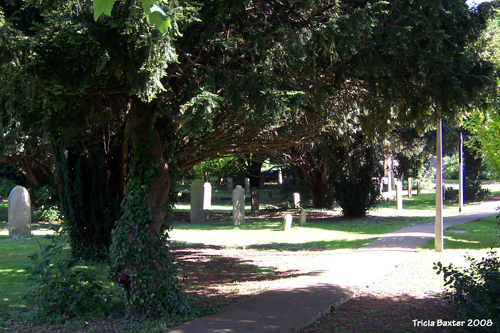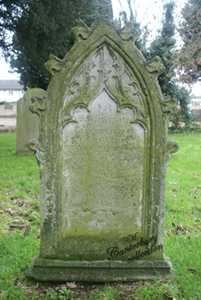 In
affectionate
Rembrance of
Caroline
The beloved wife of
Richard Cockersell
Born July 31st 1820
Died May 13th 1873
The will of God be done
Also of
Richard Cockersell
Died Feby 8th 1897
Aged 78 years
*Caroline of St. Peter's place, Richard of Hospital Lane (Castle Street)
A R. Cockersell, of the BLACK HORSE public house in Orchard Street, Canterbury 1855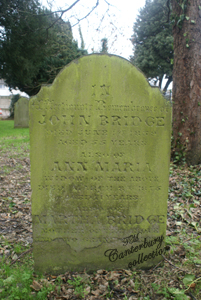 IN
Affectionate Rembrance of
JOHN BRIDGE
Died June 1st 1859
Aged 55 Years
Also of
ANN MARIA
Widow of the above
died March 8th 1875
Aged 71 years
Also of
MARTHA BRIDGE
Mother of the above
and two grand children
[balance of the stone is flaked off]
*Upper Bridge Street (St. George's), daughter Anne, grandson Henry Eyles
John was an Agricultural Labourer born in Ashord and Ann was of Mersham
In Affectionate Remembrance of
WILLIAM HOLTON
The dearly beloved husband of
PHOEBE HOLTON
Born 4th December 1840
Died 3rd August 1886
'Prepare O partner of my joys and woes,
to lay thee down in blessed repose,
our hearts were one through years of earthly love,
may we be one through Christ in realms above'
Also of
The wife of the above
Died Oct 20th 1916
Aged 75 years
*The couple were running the "Union Castle" public house in the early 1880's at 48 Union Street. He was from Bucking, Buckingshire and she was from Tunbridge, Kent
SACRED
To the beloved Memory of
JAMES SMITHSON, who died
Septr 4th 1867. Aged 82 Years.
He left surviving, Caroline his
second wife and three children
by his first wife Lucy, who was
interred in St. Mary Bredins
Church-yard in this city.
[possible scripture, some flaked off and damaged]
...aused me to understand
...thoughts
...
...
...
...
...
James Smithson of Ivy Lane, a Victualler of the Navy Arms Public House in Ivy lane, he was born in Canterbury and Caroline in Kingstone/Bishopsbourn, Kent
*Lucy died 1840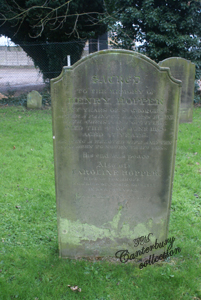 Henry & Caroline HOPPER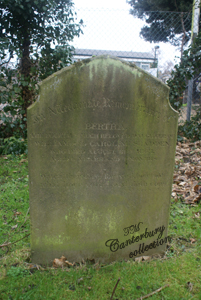 Bertha SLADDEN
To the beloved memory of
James SMITHSON who died
Sept 4th 1867. Aged 82 Years.
He left surviving Caroline his
second wife and three children
by his first wife LUCY who was
interred in St. Mary Bredins
Church-yard in this city.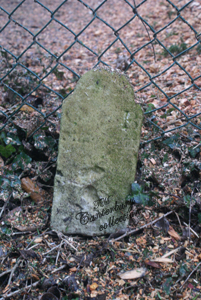 Small stone not much readable except for the B in the top right hand corner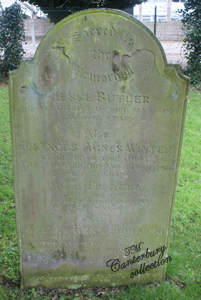 Jessie BUTLER & Frances Agnes WINTER & Walter Henry JOHNSON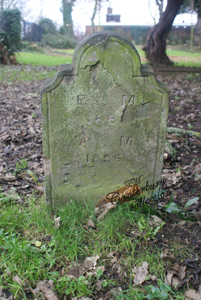 E. M.
188[?]
A. M.
1896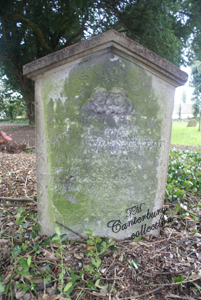 Rebecca CHAPMAN and possibly other names but not readable at the top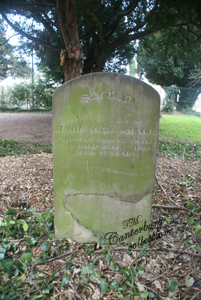 Margaret SMALL
MARSH
James SMALL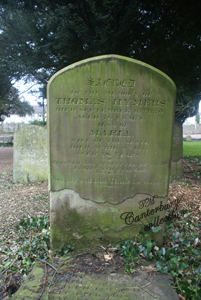 Thomas & Maria HYMERS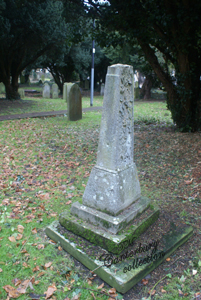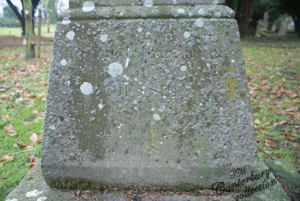 Jessie & Jane CALDWELL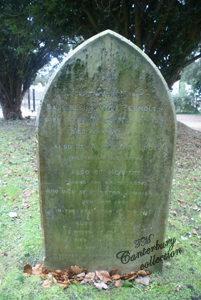 Samuel Hammon REYNOLDS
Alice & Lucy REYNOLDS
Herbert REYNOLDS, died Kingston, Jamaica
Ellen REYNOLDS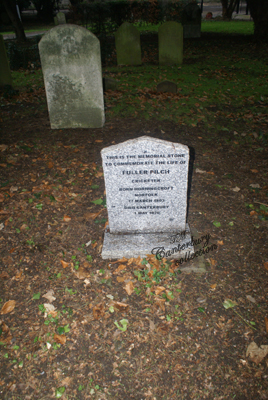 _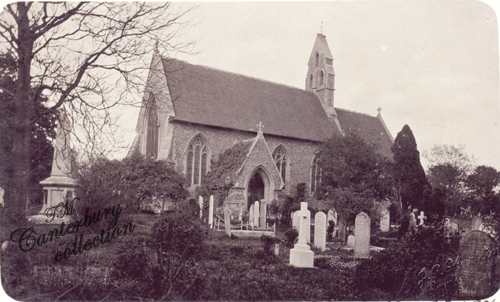 Fuller PILCH memorial (the old memorial is shown on the left of the postcard with the obelisk)
George Sainthill NUGENT b. 1799 d. 1865 & wife Elizabeth NUGENT
Miltary Road, George S. Nugent, Proprietor of Houses, with wife Elizabeth, South Mimms, Middlesex (Baptism of a George Nugent Jan 9, 1828 to George Sainthill Nugent and Elizabeth Nugent, St. Dionis Backchurch, City of London)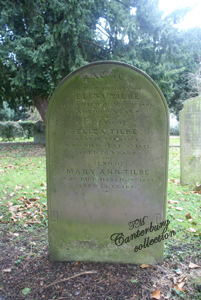 Eliza TILBE (1881), Eliza TILBE (1871), Mary Ann TILBE (1864)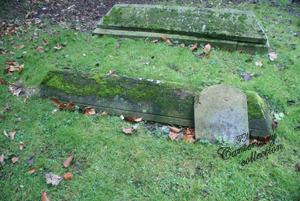 Footstone resting on a tomb, footstone is E.S. 1856
Sarah BLAK....
James LILLEY (1899) and Susannah LILLEY (1878)
1860's James Lilley of Monastery Street, Carrier & Dealer in Poultry, with a Lodger Susannah BANGHAM, and sons Arthur and James BANGHAM
The couple were married in 1866 at St. Paul Deptford, Lewisham, he was a bachelor, she was a widow, (parents Thomas Lilley, Stephen Ells) both fathers were mail contractors
1881 James Lilley, widower, Poulterer born Sturry, son James Lilley, Game Dealer born Canterbury, with James Lilley, grandson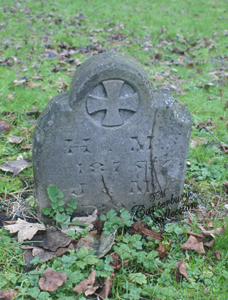 H.M. 1875
J.M. 1891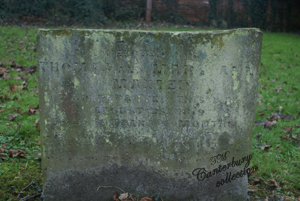 [broken stone]
Thomas and Mary Ann MAXTED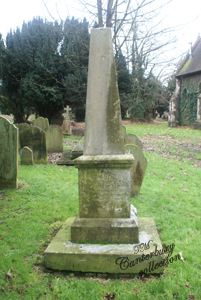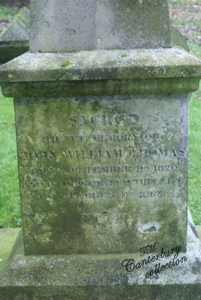 John William THOMAS (1863)
John DEAN, Harriett DEAN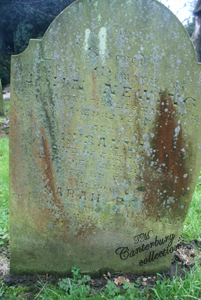 John NEWING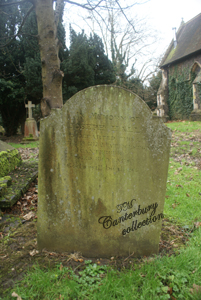 Joseph HALL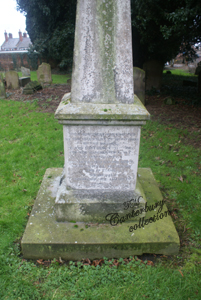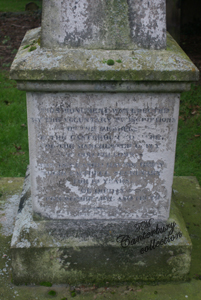 This monument was erected
by the Voluntary Subscriptons
of the members
of the Canterbury District
of the Manchester Unity
of odd fellows
the deceased having been
their faithful secretary
for 18 years
he died in
Friendship, Love and truth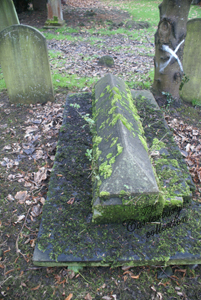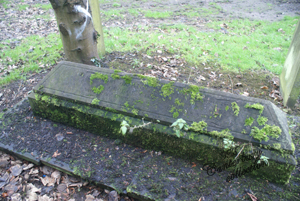 In Memory of Ann the Beloved wife of
GEORGE GRAY of Dover
Who died April 1[5] 1857 aged [4]8 Years
(other side)
In Memory of Geroge GRAY of Dover
who died March 29th 1865 aged 64 years
His end was Peace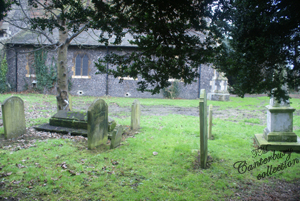 Showing the memorials for PRETT and GRAY on the left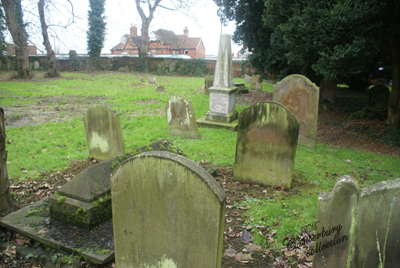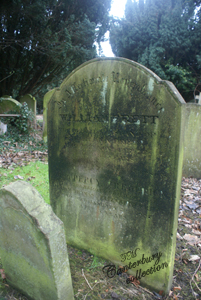 William PRETT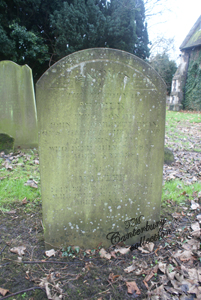 Arthur DEAN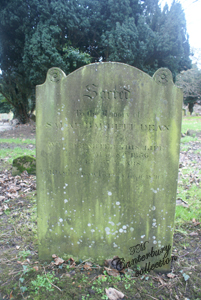 Sarah Barbett DEAN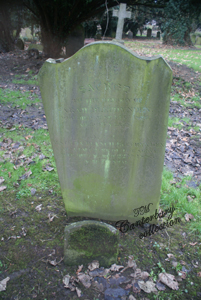 Sarah BLECHYNDEN (1866) & Matilda Blanche BLECHYNDEN (1883)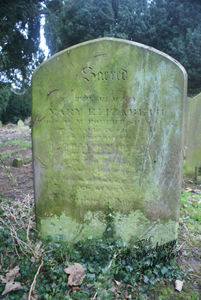 Mary Elizabeth SHINDLER widow of Mr. Robert SHINDLER of St. Pauls in this city
(1851 no. 16 Best Lane..Mary Shindler unmarried, house proprietor born Canterbury, (visiting with Thomas Wilkinson, Solicitor) in 1861 she is still here as a boarder.
Marriage of a Mary Elizabeth SHINDLER, 1842 (possibly William MARCHANT)
1841 Dane John Terrace, a Thomas Wilkinson, Solicitor, looks like Mary and Mary Shindler are at the same abode
Death of a Mary SHINDLER 1842, Canterbury
Death of a Mary SHINDLER 1863, Canterbury (her brother is Stephen SHINDLER of Surrey)
A John SHINDLER, Gardener, Canterbury 1644
A Thomas SHINDLER of Canterbury 1753 (Christie's auction, June 23 2004, a pocket watch was sold "Lot 56 - Thomas Schindler: a gilt paircase verge pocket watch with under painted horn. Signed THOS. SHINDLER, Canterbury, No. 303, 60 mm" sold for 1135 pounds
A grandfather clock sold at Bonhams - "A late 18th century mahogany and line inlaid longcase clock of small size, Thomas Shindler, Canterbury" sold for 1763 pounds
Thomas Shindler was a maker of longcase clocks who was made free of Clockmakers Company in 1747
Thomas Shindler, part of a grand Jury Sept 11, 1756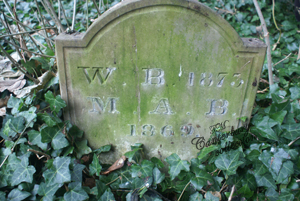 William BIRCH (1873) of St. Mary Northgate Mary Ann BIRCH (1869)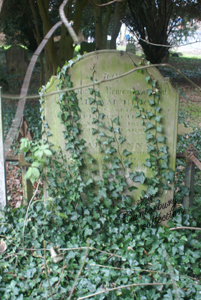 William BIRCH (1873) of St. Mary Northgate Mary Ann BIRCH (1869)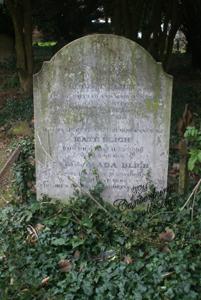 Robert BLIGH son of William and Mary Ann BLIGH, Kate BLIGH, Ada BLIGH (children of John and Caroline BLIGH)
Burial, Kate Bligh age 6, March 28th, 1868, and Ada BLIGH age 2 3/4 29th of March 1868 (G355)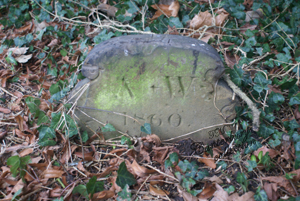 Footstone
A.W.
1860
Broken Tombstone - FOSTER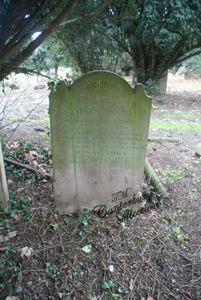 Charles and Amey TWYMAN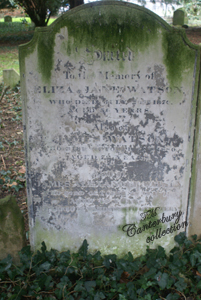 Eliza Jane WATSON & James WATSON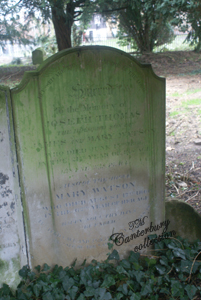 Joseph Thomas WATSON, the beloved son of James and Mary WATSON also Mary WATSON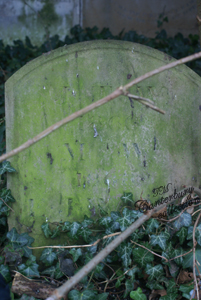 Footstone
J. T. W. 1866
M.W. 1868
William BULLINGER
*Westgate street, William Bullinger (b. Canterbury) wife Mary (nee Bent b. Waltham), children James (moved to America), Hester Ann, Eliza, Zillah Jane (m. John Sanders a missionary), Ethelbert William Bullinger
born c. 1795 widowed c. 1858 d. 1873, age 78 (& Wesleyan Preacher) Member of the Methodist Church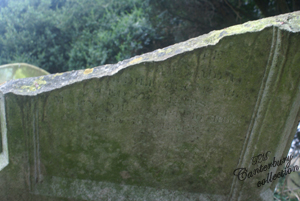 Died Decr 12 1873
Aged 78 Years
Mary died Sept 16 1858
Aged 5[9] years
Footstone
M.E.M.
1859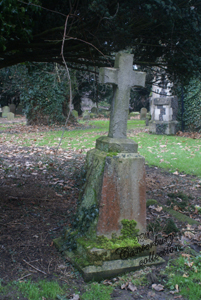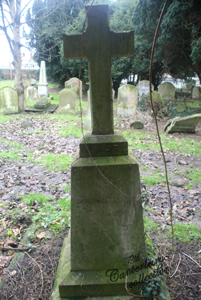 Samuel HULSE
DODD family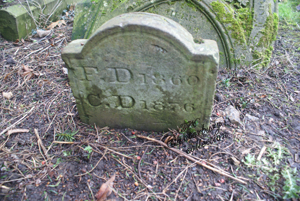 Footstone
F.D. 1860
C.D. 1876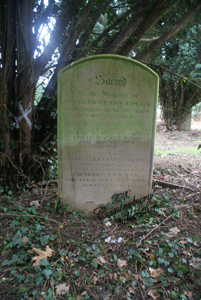 William Henry COURT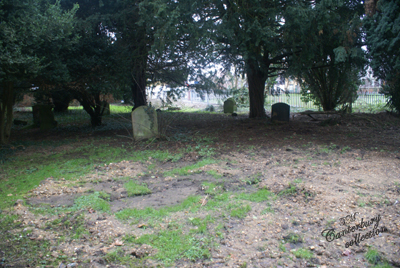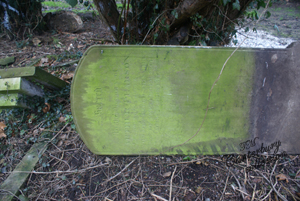 Arthur PEARSON (tombstone sitting on it's side)
Mary and James BLIGH
... August vvii: mdccvciii: Deceased November vii: mdccclr....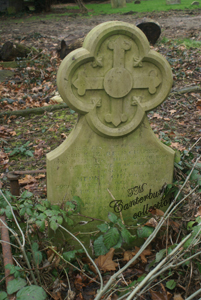 Ann Elizabeth CHAPMAN & Henry CHAPMAN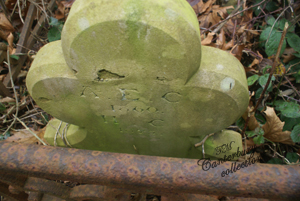 A.E.C.
1860
H.C.
1873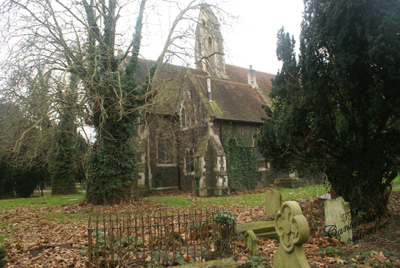 George Russell PARKER
[damaged and broken stone]
Maria ROOKE
Sarah THWAITES (of St. George the Martyr)
Thomas TILBE
Eliza TILBE
William Thomas TILLY
Elizabeth TOLHURST
Dinah TOWNLEY
William TURMAINE
Fanny TURNER
Elizabeth WALLACE
Charlotte VILE
James Studwell & Jane VIDGEN
Percy TWYMAN
Jessie Mary TWYMAN
James POPE
Amelia POTTER
Louisa POTTS
Alexander Christopehr POULTIER
Edward RAVINE
Elizabeth RATCLIFF
Sophia QUESTED
Edward QUESTED
Elizabeth QUESTED
Henry RUSSELL
Charles ROOKE
William ROOKE
Thomas SAKER
Maurice & Esther Elizabeth SAUNDERS
Elizabeth Ann SHEPHERD
Thomas William & Martha SHARPE
Sarah WILLOTT
Elizabeth SCARR
William SKINNER Senr.
Eliza Mary SLADE
Toke James SIMMONDS / Jane SIMMONDS / Louisa Jemina SIMMONDS
---